Albany County, Wyoming
Albany County can boast of being the site for both the Territorial Penitentiary and the University of Wyoming, some of Wyoming's earliest manufacturing and mining and the earliest women voters and jury members. Laramie, home to Wyoming's first lottery, justly earned a reputation as a rowdy Wild West town during its first few years of existence.
The county was created on Dec. 16, 1868, when the 8th Legislative Assembly of the Dakota Territory took the western part of Laramie County to make Albany and Carbon counties. Albany County was named by a Dakota legislator to memorialize Albany, N.Y., his home town.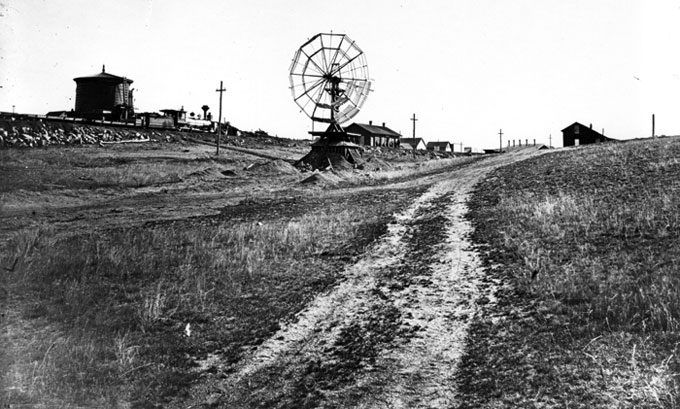 Laramie, Albany, Carbon and Carter counties were tall, narrow bands that stretched from Colorado to Montana, and those four county divisions came with the organization of the new Wyoming Territory a year later. The Dakota lawmakers also selected the brand-new Laramie City, named for the Laramie River and for Jacques LaRamie, a French Canadian fur trapper and the first white man thought to have visited the area, as the county seat.
Albany County is located in a broad basin that forms the Laramie Plains. On the west, the Medicine Bow Mountains, also called the Snowy Range, the northern extension of the Rocky Mountain chain, form the border of the Laramie Plains. The Laramie Mountains, sometimes called the Black Hills in early writings about this area, rise to the east of the plains. The mean elevation of the county is 6,500 feet above sea level.
Overland Stage Line
The Union Pacific Railroad brought commerce and population to Laramie, but in the decade before the UP arrived in 1868, Albany County had been the location of the Overland Trail used by emigrant wagon trains and stage lines.
Ben Holladay moved the route for his Overland Stage Line from the more northerly Oregon Trail route in 1862 in the belief it would be safer from Indian attacks, and also probably to be closer to Denver, by then booming from the Pikes Peak gold rush. Holladay named the route for his company and maintained stations along the line, which passed from Colorado into what's now Albany County then headed west across Wyoming Territory. The present U.S. 287 follows the old stage route north from Colorado.
Holladay's stations served travelers and agents at Virginia Dale, Colorado Territory, and in Wyoming Territory at Willow Springs, Big Laramie, Little Laramie, Cooper Creek and Rock Creek. Holladay outfitted his stations with hunters, blacksmiths and various other accommodations.
Indian attacks on travelers and the stations increased in 1865, and the U.S. Army established a post named Fort John Buford on the Big Laramie River as near to the Overland Stage route as possible. In 1866, the name was changed to Fort Sanders in honor of Brig. Gen. W.P. Sanders. The garrison at Fort Sanders frequently protected railroad crews from Indian attack all along the line over the Laramie Range and across the plain. Initially, Fort Sanders was the county seat for the original Laramie County (as created by the Dakota Territory), which was almost all of what later became the Wyoming Territory. On Jan. 3, 1868, Dakota lawmakers moved the Laramie County seat to Cheyenne and created a new Carter County out of the western half.
Union Pacific Railroad
Union Pacific Railroad employees, laying tracks westward from Omaha, reached Cheyenne in November 1867. They resumed their progress the next spring across the Laramie Range via a "gangplank" of land that rose in an even grade to a summit at 8,200 feet before descending into Laramie.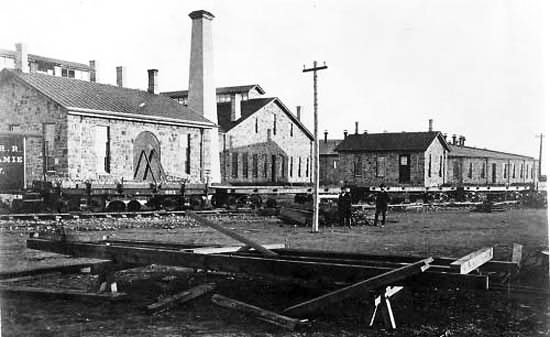 As the line entered Albany County, the U.P. established Buford station and then a few miles west Sherman station, which had a telegraph and freight station and a five-stall roundhouse repair shop to ensure engines were ready to make the steep climb ahead over the Laramie Mountains and the steep descent to the Laramie Plains. Other stations were located at Red Butte, Cooper, Lake, Lookout Miser, Wyoming Station, Rock Creek and Como.
The Rock Creek station particularly flourished, as it was located on a route that took mail and freight to points north and became a point where cattle were loaded into railroad cars for shipment east. Once a bustling town with five saloons, two hotels, a post office, stockyards and a school, a few ruins are all that remain of Rock Creek today.
The U.P. platted Laramie City in April 1868 and within a week about 400 lots were sold. That figure was inflated to more than 1,000 by The Frontier Index, the newspaper printed by U.P. at each "end of tracks" town it reached. Of Laramie City, the publication's headlines trumpeted, "The HalfWay Town Between Salt Lake and Omaha! Everybody Buying Lots!"
The railroad was completed to Laramie City, known as the "Gem City," a month later. By then nearly 500 houses, most of them pretty flimsy, had been erected. Typical of most "end of tracks" towns, Laramie City was populated by rough characters who followed the railroad. After construction was completed, the town was dominated by a rowdy and lawless group that discouraged public service.
Struggles for order
Seven city officials were selected by a group of townspeople at a meeting on May 2, 1868, but in subsequent weeks officers of the new government began resigning. The criminals thieved and killed and brazenly flouted any law or decency, without much to stop them. By autumn, the townsfolk were fed up, formed vigilance committees and took dramatic action on the night of Oct. 18 to round up and apply swift justice.
By the end of the night, three men were hanged from rafters of an unfinished cabin and about two dozen wounded. The next morning, a fourth was strung up on a telegraph pole. Real law and order was established when the Wyoming Territory was organized in 1869, and Gov. John Campbell appointed Nathaniel K. Boswell as the first sheriff for Albany County.
A native of New Hampshire, Boswell, referred to as "Boz" in some accounts, came to Wyoming in 1868 and settled in Laramie. He established the soda works near the deposits south of town, which were later sold to the Union Pacific Railroad Company. Boswell served as sheriff for nine years, territorial penitentiary warden and then deputy United States marshal. He was responsible for breaking the gang of road agents that robbed stagecoaches and express trains in Wyoming in the late 1870s. In 1883, he was hired as chief detective of the Wyoming Stock Growers Association.
The first census of the new Wyoming Territory in 1869 listed the county population at 2,027, and the railroad helped make Laramie a manufacturing capital of the state. The U.P. established rolling mills to make railroad rails and machine shops to maintain the locomotives. Tax receipts from the railroad largely supported the Albany County budget in the 1870s.
The railroad constantly needed ties and timber to lay tracks and build bridges, and timbering became an important part of the economy. The tie drives down the Laramie River were large, exciting and very dangerous. Timber supply in Albany County was considered virtually inexhaustible, with millions of ties and board feet of lumber harvested each year. The lumber industry continues to be important in Albany County.
Before Fort Sanders was one year old, it came into prominence as the first county seat of Laramie County, a subdivision of Dakota Territory. It held this title until January 3, 1868, when Laramie County was divided and Cheyenne, child of the Union Pacific Railroad, became county seat, and South Pass City became county seat of the newly created western half, called Carter County.
Laramie City
The Wyoming Territorial Legislative Assembly passed a law to allow Laramie City to incorporate in 1873, and Laramie City residents formed their first city government, which provided public safety, fire protection and a safe drinking water supply. The earliest settlers had brought water to town from springs east of Laramie via open ditches. Their work is credited with enabling people to plant trees and water gardens and thus beautify the high plains town.
Albany County yielded its northern region to create parts of Crook and Pease (later Johnson) counties in 1875, without protest. But county residents pressed the Wyoming Territorial Legislative Assembly to move the southeastern border with Carbon County so that Albany County would include the mining areas of Centennial, Keystone and Jelm, and in 1886, the assembly agreed.
In 1888 the Wyoming Territorial Assembly brought the northern boundary of Albany County further south to create Converse County. In all there were at least six changes to Albany County boundaries and one failed attempt at a change. The final shape and size of the county was set in 1955 when citizens of the northern part of the county (in accordance with a 1949 act of the legislature) voted to detach from Albany County and join Converse County. Altogether, Albany County was trimmed from the original 14,904 square miles to the present 4,401 square miles.
Fort Sanders closed in 1882, and U.S. Army personnel were sent to Fort D.A. Russell at Cheyenne. Still, Laramie was bustling. During the decades around the turn of the last century, the town boasted three cement plaster mills, a Portland cement works, brick-making plants, a tie treatment plant, a large brewery, saw and planing mills, tanneries, a flour mill and a full complement of retail stores to serve the growing population, which included the faculty and students of the University of Wyoming.
The Laramie Glass Works, which employed several workers from Belgium, lasted only two years 1887-89. In the early 20th century, Laramie also had stockyards, where cattle were fed and watered until the train arrived to ship them to Omaha and Chicago markets.
The first hospital in Laramie was the Union Pacific Hospital, which opened in 1868 and operated until 1871. It reopened in 1876, run by the Catholic Church's Sisters of Charity. In 1877, the Territorial Legislature appropriated $3,000 for a new hospital in Laramie. Construction proceeded only after many delays, however, and that hospital finally opened in 1883. It closed in 1895, and the property passed to the Episcopal diocese as an orphanage, then a University of Wyoming dorm. It was razed in 1963.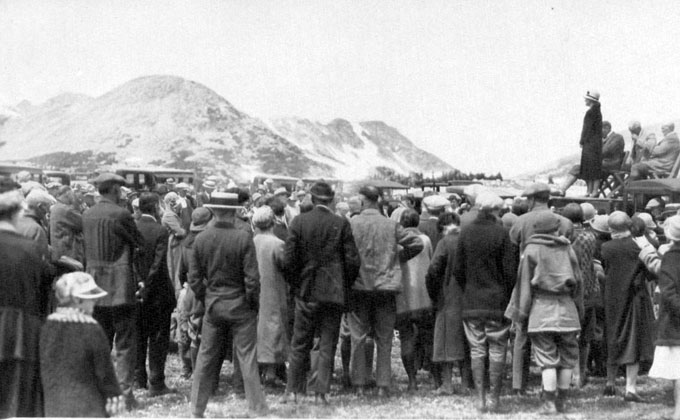 Women Voters in 1870
One of the first acts of the Wyoming Territorial Legislative Assembly on Dec. 10, 1869, was to enfranchise women, and Albany County wasted little time putting this law into action. The first opportunity was a call to serve on a grand jury on March 7, 1870. Local women overcame their initial reluctance to serve when Territorial Chief Justice John Howe and Associate Justice John W. Kingman of the territorial courts urged them to mete out justice to murderers and horse thieves, who were not being held to account by male jurors.  
Justice Howe told the men and women of the jury he had "long seen that woman was a victim to the vices, crimes and immoralities of man, with no power to protect and defend herself from these evils." Jury duty gave women "such powers of protection," he said. "It seems to me to be eminently proper for women to sit upon grand juries, which will give them the best possible opportunities to aid in suppressing the dens of infamy which curse the country."
Women's service on juries did not last long, however. Associate Justice W.T. Jones opposed the idea, and when Howe left the bench Jones and new Chief Justice Fisher ruled that women could not serve on juries. 
At the election of Sept. 6, 1870, when the polls opened, Louisa A. Swain, 70, deposited her vote, one of 93 women to cast ballots that day in Laramie.
Early Day Lottery and Newspapers
Laramie's post office and local newspapers, the Laramie Daily Sun and the Laramie Sentinel, profited greatly from the so-called Wyoming Lottery begun in 1875 by a man named William Pattee. The lottery-by-mail operation was little more than a scam, but the enterprise earned large sums for the newspapers that printed the broadsides and lottery tickets. The post office achieved first-class status with all the 3-cent stamps it sold to Pattee to send circulars around the country.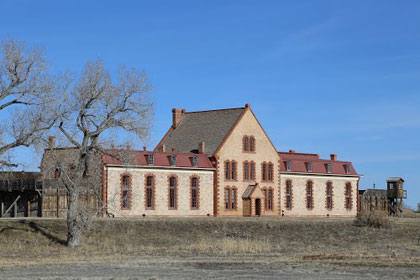 Pattee sold tickets for $1 each (6 for $5) and promised monthly drawings for $50,000. He reportedly deposited $4,000-5,000 a day in the bank. Drawings were never held, but Pattee cultivated local favor by supporting local charities, and he refrained from selling lottery tickets locally. The lottery was terminated in 1876 when Congress made it illegal to use the U.S. mail to defraud. Pattee disappeared, but supposedly was sighted in Wyoming some years later when he attempted a mining fraud in the Ferris Mining District.
The Sentinel, which stopped publishing in 1895, is remembered for giving a start to humorist Edward Wilson "Bill" Nye, who came to Laramie in 1876 to start his newspaper career. Nye remained with the Sentinel until 1879 and then founded the Laramie Boomerang, named for his beloved mule. The paper continues publication today.
Wyoming Territorial Penitentiary
Laramie was selected by the Legislative Assembly as the site for the Wyoming Territorial Penitentiary. County officials chose a spot on the west side of the Big Laramie River for its water supply and proximity to building stone. The cornerstone was laid on July 15, 1872, and the prison opened the following January under Warden N. K. Boswell.
The Wyoming Territorial Penitentiary housed federal prisoners from 1873 to 1890, when it became a state prison. It finally closed in 1903, when it was replaced by a new state prison in Rawlins. Over the decades, the Territorial Penitentiary housed 1,063 unfortunate souls, who cut ice, quarried stone, hand-rolled cigars and manufactured brooms and bricks.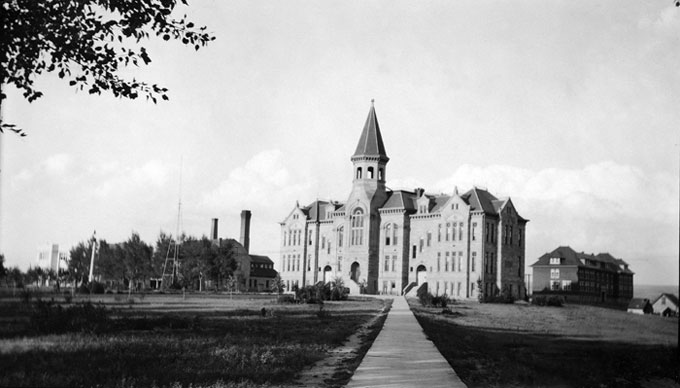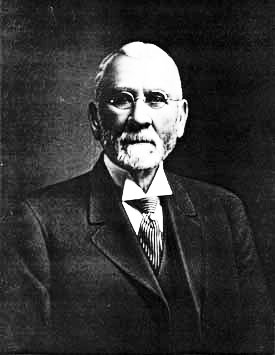 The most notorious inmate was the outlaw Butch Cassidy. In the 20th century, the building served for decades as a cow barn for the University of Wyoming's College of Agriculture. It is now a museum on 197 acres, the only federally constructed territorial penitentiary with most of the original structure preserved, along with several restored historic buildings.
The University of Wyoming
In a rare exercise of cooperation, the legislators from Laramie and Albany counties joined forces to win passage in 1886 of a bill to locate the Wyoming Capitol in Cheyenne and the University of Wyoming in Laramie. University Board Chairman Dr. J.H. Finfrock and trustees named former Territorial Gov. John Hoyt, as president of the institution. The university opened the doors of its single building, Old Main, in September 1887 to a student body of 42 young men and women and a faculty of five.
Also in these years, Laramie banker, philanthropist and University of Wyoming trustee Edward Ivinson, who had lived in Laramie since its founding, rose to local prominence. He became a Republican candidate for governor in 1892, the only time he pursued that office. Ivinson played an important role in Laramie's history, and he began construction on a grand mansion in 1892, which stands today on the street in town that bears his name.
The University of Wyoming remains the state's only four-year university, and now enrolls about 13,000 students and employs 700 faculty members. Located on the university's campus is the renovated Wyoming Geological Museum, which features a 75-foot Apatosaurus skeleton and "Big Al," a display a cast of the most complete Allosaurus fossil ever found. The Wyoming Legislature supports the university with hundreds of millions of dollars annually for salaries and construction.
Iron, Gold, Copper, Coal, Gypsum and Oil
Albany County's mineral deposits were known from early times. Iron ore from Iron Mountain in the Laramie Range supposedly yielded 85 percent pure metal when first developed. But by the time of a 1921 report on the state's mineral production, Albany County is mentioned only for gypsum production valued at $3,644.87.
Fifty years earlier, however, great hope was held out for the oil, copper and gold prospects of the Medicine Bow Range. In early 1868, gold was discovered in the interior of the range along what came to be known as Moore's Gulch. Soon the Last Chance gold camp was established at the present site of Rob Roy Reservoir, near the top of the range. Next, the Douglas Creek District was organized, and in 1869 about 400 ounces of gold were recovered. Draglines were used to recover gold from gravel in the gulches. An estimated 4,000 ounces were recovered, according to a 1994 state geologist report.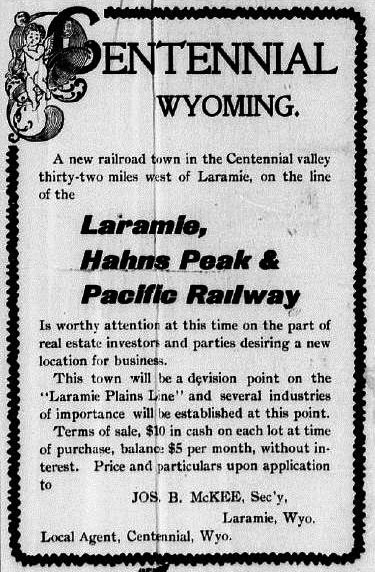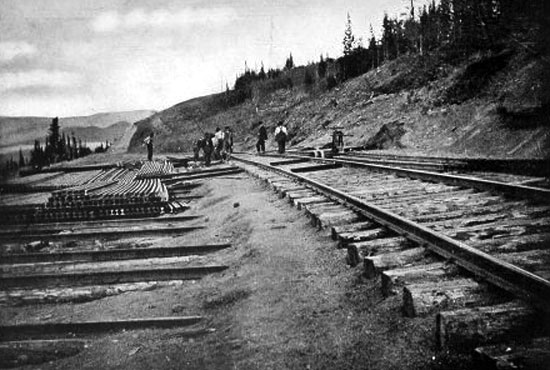 Gold was discovered along eastern flank of the Medicine Bow Range in 1874, and the Centennial Ridge District was established there in 1876 (named after the American centennial). But in 1877, the gold vein ran into a fault and prospectors lost track of it, so operations ended with a total production of 4,500 ounces.
The promise of new gold discoveries attracted Boston financier Isaac Van Horn, who with associate Fred A. Miller decided to turn Centennial into a major business center. They established the Laramie, Hahns Peak and Pacific Railway Co. in 1901, with plans to haul ore out of the mountains to Laramie. They built a sawmill and lumber yard, and started the Centennial Post newspaper at Centennial.
The railroad finally reached Centennial in 1907, when mining operations in the Medicine Bows had mostly stopped, so the line turned south to carry lumber, cattle and coal to North Park, Colo. Horn and Miller sold out in 1914. New owners renamed it the Laramie, North Park and Western Railroad. Eventually the Union Pacific bought it, and the line ended in 1987.
A third mining district was the Keystone, whose lode was staked in 1876, along Douglas Creek in the Medicine Bow Range. By 1890, a 40-ton stamp mill was operating there to recover gold. Total gold product ion was estimated at 5,000 ounces.
The New Rambler mine west of Douglas Creek, near the Carbon County line in southwestern Albany County, produced 6,100 tons of copper ore. In the 1870s, copper and gold were discovered in the hills near the Laramie River in what became known as the Jelm Mountain district, but it was known more for mining scams than production.
The lake Owen complex south of Keystone and New Rambler received some interest in the early 1980s by prospectors looking for platinum and gold.
The first coal mined in what became Wyoming was used for blacksmithing. Probably the first such mine was opened by the Denver and Salt Lake Stage Co. in 1865, near where the Overland Trail crossed Rock Creek. Other coal mining in Albany County has been largely for local consumption.
On the eastern side of the Laramie Plains is a great deal of gypsum, which the Consolidated Plaster Company used in the manufacture of stucco and plaster of paris at its operation near Laramie beginning in 1889. Ten years later, Consolidated Plaster began making cement plaster. The company was succeeded by the Acme Cement Works and others. Mountain Cement Company continues this manufacturing process at its plant near Laramie today.
Oil was produced at Rock River and Big Hollow. According to the Oil and Gas Conservation Commission, producers reported production in Albany County of 12,000-15,000 barrels of oil a month in the 1970s and 1980s, but about half that rate since that time.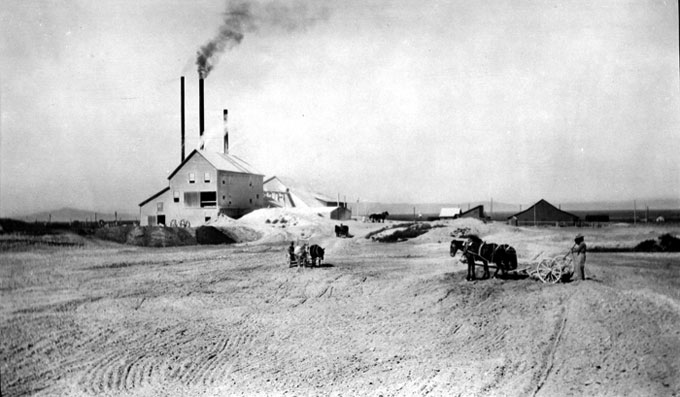 An Unfortunate Modern-Day Incident
On Oct. 6, 1998, Matthew Shepard, a University of Wyoming student, was robbed and beaten to death by two young men believed to have targeted Shepard largely because he was gay. The capital murder trial was covered by national and international media. Shepard's family created the Matthew Shepard Foundation to support activities that "replace hate with understanding, compassion and acceptance." All of Wyoming struggles with this event.
Albany County today
About 31,000 of Albany County's current 37,000 residents live in Laramie. The town of Rock River has about 250 residents and a kindergarten-through-12th grade school, total enrollment about 100 students. Centennial, 30 miles west of Laramie, is a community of about 250 and offers food, lodging and entertainment to people traveling the Snowy Range Scenic Byway over the Medicine Bow Range. Other small communities continue at Albany, Fox Park and Woods Landing.
As typical with towns that sprang up along the railroad, Laramie attracted the worst sort of scoundrels and was a rough and lawless place after the Union Pacific arrived in 1868. Big dreams of gold and copper mining fortunes played out. But Albany County also attracted strong, intelligent people eager to seize opportunities. Albany County boasts the territory's first woman to serve on a jury and the first woman to vote. The first woman elected to the Wyoming Legislature in 1910, Mary Godat Bellamy, came from Laramie. Laramie had the territory's first hospital and in 2006 its progressive tradition continued when it became the first city in Wyoming to restrict smoking in public buildings. Laramie is home to the state's only university, which attracts talented academics, scholars and cultural events to the city and houses exceptional museums.
Albany County is equally rich in natural beauty, which travelers can experience as they cross the Medicine Bow Range on Wyoming Highway 130, known as the Snowy Range Scenic Byway, from Laramie to the Upper Platte River Valley. After six years of construction, it was completed in 1926 and was called the "Great Skyroad." The highway climbs from 8,100 feet to 10,847 feet over the course of 29 miles and offers stunning views of the quartzite peaks, mountain lakes, alpine vegetation and wildflowers.
Resources
Primary Sources
Beeler, H.C., "Mineral and Allied Resources of Albany County, Wyoming, and Vicinity." Compiled for the Laramie Commercial Club, 1906.
Downey, Stephen W., president, Centennial Gold Mining Co. "The Centennial Gold Mining Co. of Wyoming Territory Superintendent's Report. Oct. 10, 1877."
Hausel, W. Dan. Mining History and Geology of Some of Wyoming's Metal and Gemstone Districts and Deposits. The Geological Survey of Wyoming, 1994.
Morgan, G. B. state geologist. "Eleventh Biennial Report of the State Geologist for the Period October 1, 1920 to and including September 30, 1922."
Trenholm, Virginia Cole, ed. Wyoming Blue Book. Vol. 1. Wyoming State Archives and Historical Department. 1974.
Newspapers
"All Are Boosting for the Laramie, Hahn's Peak and Pacific," The Centennial Post, December 26, 1908, p. 1 c. 1.
"The city of the Plains – Laramie City!" Frontier Index, April 28, 1868, p. 2, c. 1.
"Creditors Demand Sale of Laramie, Hahn's Peak and Pacific Railroad," The Centennial Post, August 9, 1913, p. 1 c. 4.
"Yesterday, for the first time in the world, Wyoming put into practice the theory of female suffrage," Laramie Daily Sentinel, p. 2, c. 1.
Secondary Sources
"Albany County." Wyoming Places, accessed March 23, 2013 at http://wyld.sdp.sirsi.net/maps/index.html?q=Albany%20County.
Armstrong, Paul L. "History of the Post Office at Laramie, Wyoming." Annals of Wyoming 11:1, pp. 53-80.
Bartlett, I.S., ed. History of Wyoming, vol. 1. Chicago: S.J. Clarke Publishing Co. 1918.
"Born in the Guilded [sic] Age, Centennial keeps its historic allure..." Centennial, Wyoming, accessed March 26, 2013 at http://www.centennialwyoming.com/hist.html.
Ewig, Rick. "Wyoming Scrapbook: Wyoming Women Jurors." Annals of Wyoming 62:3, pp. 14-142.
Homsher, Lola M. History of Albany County, Wyoming to 1880. Annals of Wyoming 21:2-3, pp. 181-213, accessed Oct. 10, 2014 at  https://archive.org/details/annalsofwyom21121949wyom.
Laramie Plains Museum. "Ivinson Family History," accessed April 2, 2013, at http://www.laramiemuseum.org/historyofivinsonfamily.html.
Larson, T.A. History of Wyoming. Lincoln: University of Nebraska Press. 1965.
__________. "Wyoming's Contribution to the Regional and National Women's rights Movement." Annals of Wyoming 52:1, pp. 3-17.
McCoy, Michael. Wyoming: Off the Beaten Path. Guilford, Conn: Globe Pequot Press, 1995.
Pence, Mary Lou. "Fort Sanders – Sentinel of the Laramie Plains," Annals of Wyoming 33:1, pp. 82-99.
­­­­­­______________. The Laramie Story. Self-published, 1968.
Trenholm, Virginia Cole. Footprints on the Frontier. Douglas, Wyo.: The Douglas Enterprise Co., 1945.
Viner, Kim. "How Albany County Got Its Shape." Laramie Boomerang, Oct. 11, 2014.
Wyoming State Historical Preservation Office. "Wyoming Territorial Penitentiary," National Register of Historic Places, accessed April 2, 2013 at http://wyoshpo.state.wy.us/NationalRegister/Site.aspx?ID=44.
Wyoming Territorial Prison State Historic Site. "About." Accessed March 26, 2013. http://www.wyomingterritorialprison.com.
Illustrations