Who Cast the First Vote?
July 28, 2019
Louisa Swain of Laramie, about 70 years old, cast the first documented vote by a woman in Wyoming on September 6, 1870. According to the Laramie and Cheyenne newspapers, Swain beat Augusta C. Howe, the 27-year-old wife of the U.S. Marshall Church Howe of Cheyenne, to the polls by 30 minutes.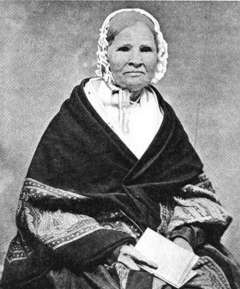 Newspapers have survived for Laramie, Cheyenne and South Pass, though other towns existed in Wyoming Territory in 1870. None of these other towns put forward candidates for the honor of being the first, though this does not mean that women did not vote or vote early in the day at these locations.
Cora Beach, in her book Women of Wyoming (1927) stated that Judge M.C. Brown, Laramie's first mayor, had witnessed the voting in that city and had corroborated the story that Swain, who she erroneously calls Eliza, cast the first vote. Beach goes on to say that, "Those interested afterward made investigation, while there were still living many people who had participated in the elections throughout the territory, and the evidence was satisfactory that the Laramie polling place really had been opened before those in Cheyenne or any other place."
Resources
Beach, Cora, Women of Wyoming. Casper, Wyo.: S.E. Boyer & Co., 1927, 30.
Wyoming Newspapers, accessed July 17, 2019 at newspapers.wyo.gov/:
Cheyenne Daily Leader, September 6, 1870 p1 c 1,
Laramie Daily Sentinel, September 7, 19, 1870, p2 c1, p3 c2
Illustration
The photo of Louisa Swain is from Wikipedia. Used with thanks.