Edward Ivinson, Laramie Banker and Philanthropist
Edward Ivinson made a fortune in banking in Laramie, Wyo. in the 19th century and turned to philanthropy late in his life, making large contributions to benefit his town and community. Ivinson was born Sept. 20, 1830 in the Virgin Islands on St. Croix, where his father, Thomas, had moved from northwest England to manage a sugar cane plantation.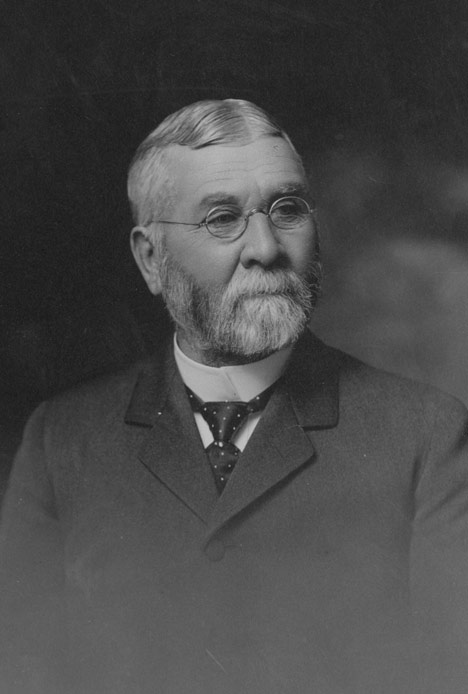 Edward returned to England at age seven to be formally educated and remained there until the early 1850s, when he emigrated to New York City. In New York he met and married Jane Wood, who had also recently arrived in the city. Edward was 23 and Jane 13 at the time; their marriage lasted 61 years. The couple soon moved west, first to Indiana and then to Peoria, Ill. There they adopted a young girl, Maggie Watson, she being the only child the Ivinsons would ever have.
Coming to Laramie
After moving to Memphis, Tennessee about 1862, Ivinson purchased a large dry goods business. The Ivinsons decided, however, to move on to California and Edward traveled alone in the fall of 1867 to the winter terminus of the Union Pacific Railroad near Cheyenne.
According to the Cheyenne Leader, Ivinson scouted the new town for business opportunities but decided instead to temporarily locate 50 miles further west, in the soon to be new town of Laramie City, Dakota Territory, where he arrived in February, 1868. Laramie at the time was just a collection of tents and temporary buildings. As the railroad approached in May, Laramie became a true end-of-the-tracks town, replete with rowdies, thugs, shady women and a few reputable merchant and ranch families.
Ivinson opened a grocery store in what is now downtown Laramie and was joined by his wife, their daughter and the family maid on 10 May 1868. For unknown reasons they decided to make Laramie their permanent home.
A banking career
After running the store for three years, Ivinson bought the only bank in town from Cheyenne banker Posey Wilson and began what would become a 50-year career as a banker. He chartered his bank through the Comptroller General of the U.S. in 1873, becoming the Wyoming National Bank of Laramie.
After the town settled down it became mostly a ranching and railroad community. The University of Wyoming opened in September 1887, bringing much desired higher education to the territory. Ivinson played a key role, serving two terms as a trustee and was the board's first treasurer. In this capacity he directly received funds from the territory (and later state) to disburse for all university operations and building projects.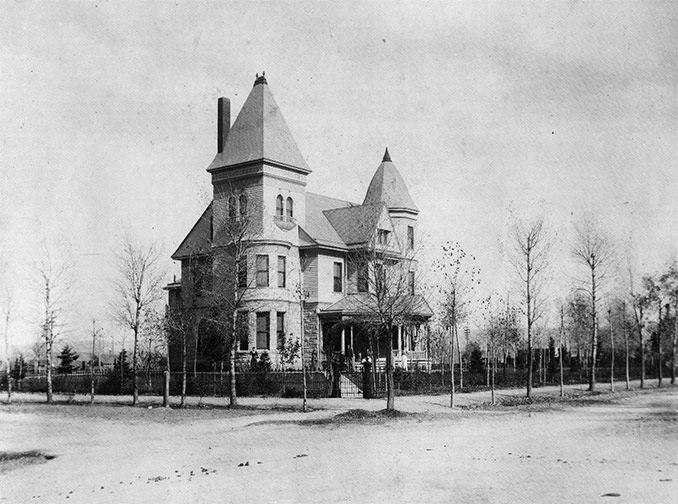 Ivinson was the principal stockholder in the bank until he sold his shares in 1888 and turned the business over to the purchasers. In the interim he was also involved in other business enterprises including ranching, real estate, mining and railroad construction. Of these, only his real estate investments proved financially sound. At one time or another, he owned most of the lots in downtown Laramie and on three of them built substantial brick buildings, one of which is still standing and as of 2014 houses Jeffrey's Bistro on the northwest corner of Second St. and Ivinson Ave.
Interestingly, Ivinson's next foray into the banking business was in Ensenada, Mexico, where he owned and operated Ivinson and Co. He held onto that bank until 1893 when, on the heels of the nationwide depression that began that year, he purchased Merchants National Bank in nearby San Diego, Cal., where he and his wife Jane had spent many winters and which was the home of his daughter Maggie and her husband Galusha Grow.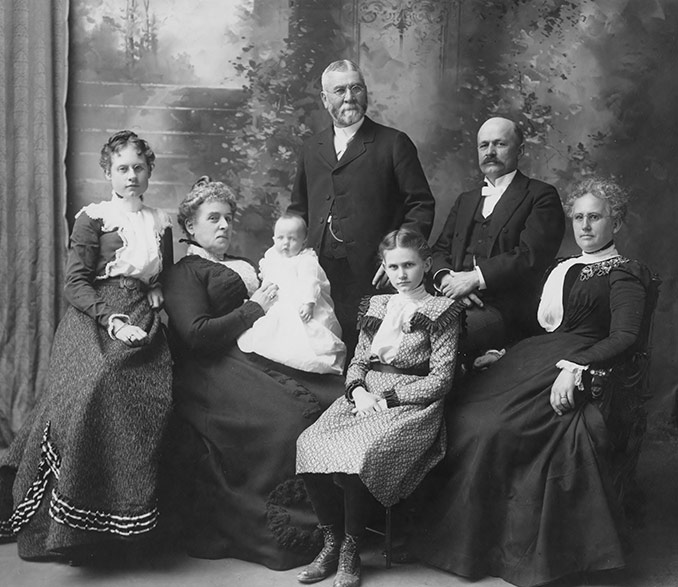 In San Diego, Grow ran the bank for Ivinson (who spent the summers in his newly constructed mansion in Laramie) until Grow's death in 1903. Shortly thereafter, Ivinson sold the San Diego bank at great profit and returned to banking in Laramie by purchasing the majority shares in the First National Bank. Ivinson retained a principal position in the First National until he finally retired in 1922, at the age of 92.
Edward Ivinson amassed a large fortune in his career as a banker and investor. Some in Laramie, especially early on, heavily criticized his business practices and claimed he made his fortune at the expense of local citizens. The criticism was pushed hard by Dr. James Hayford, editor of the Laramie Sentinel, through the end of the 1880s. Most of the criticism centered on the interest rates charged by his first Laramie bank. While there may have been some truth to the claims, Ivinson repaid any perceived debt to his community by turning to philanthropy in his later years.
Ivinson had always been interested in serving his community. He was prominent in the Episcopal Church, having served as its first Senior Warden, was a member of the Independent Order of the Odd Fellows (at the time the largest charitable fraternal organization in America) and served as Laramie's mayor. He also ran for governor in 1892, losing to his Democratic opponent John Osborne of Rawlins.
From banking to philanthropy
Not until his wife Jane died in 1915, however, did Ivinson turn his full efforts and fortune to philanthropy. In the next year he donated large sums of money to Albany County, a donation which fully funded construction of Ivinson Memorial Hospital, the first true hospital in the county. That same year he donated another large sum to pay for the completion of St. Matthew's Episcopal Cathedral, the large, graceful stone church still standing on Ivinson between 3rd and 4th streets downtown.
Those gifts were followed in 1919 by the donation of two sizeable tracts of property for the support of the Cathedral Home for Children, at the time an orphanage run by the Episcopal Church. In 1921 Ivinson moved out of his grand mansion in Laramie and donated it also to the Episcopal Church, which used it for many years as a boarding school for girls.
That same summer, he was married for the second time, to Augusta Haley, the wealthy widow of Ivinson's friend and sometime business partner, Ora Haley. Unlike the first marriage, this one was short; the newlyweds only lived together five months. They were not compatible.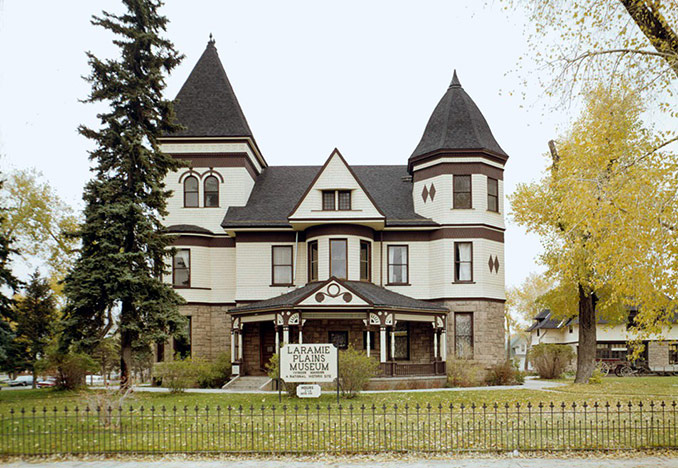 Shortly thereafter Ivinson gave large sums of cash to relatives, friends and former employees and paid for a striking monument in honor of all Albany County residents and University of Wyoming alumni who had served in the military in World War I.
It had long been a dream of Ivinson's wife, Jane, to provide a suitable place where women without means could reside in comfort at no cost. Ivinson's final gift to the community was the creation in 1928 of a permanent endowment, which was used to construct and maintain a home for aged ladies.
The endowment was funded with everything that remained of his estate; he left everything to it. His daughter, Maggie Grow, found out about it only upon his death and sued to overturn the will that funded the trust. She and the trustees settled out of court; they paid her about $45,000 in the spring of 1929.
The Ivinson Home for Ladies is still in operation in its gracious building just off Grand Avenue on the east side of Laramie. Part of its operating budget is still funded by Ivinson's gift.
All told, by the time of his death on April 9, 1928, it is likely that in 2014 terms, Edward Ivinson gave around $10-12 million dollars to Albany County and the city of Laramie. While he earned far more than that in his lifetime and spent it lavishly, at the end of his life he provided funds to help make his community a better place to live.
Resources
Primary Sources
Ivinson, Edward. Papers. Ivinson Home for Ladies, Collection 1, Box 1, folders 1-14.
Hebard, Grace. Papers. American Heritage Center, University of Wyoming, Collection 40008.
Jones, A.C. Papers. American Heritage Center, University of Wyoming, Collection 00069
Wyoming Newspaper Project, early Laramie and other Wyoming newspapers.
Secondary Sources
Viner, Kim. Edward Ivinson: a Biography. Laramie, Wyo,: published by the author, 2011
Viner, Kim. Rediscovering the Ivinsons. Laramie, Wyo.: published by the author, 2012
Illustrations
The three black-and-white photos are from the collections of the Laramie Plains Museum. Used with permission and thanks.
The people in the family photo are, left to right, Ivinson granddaughter Helen Jean Grow Fewel; Jane Ivinson; great-grandson William Galusha Frewel; Edward Ivinson; granddaughter Mary Elizabeth Grow; son-in-law Galusha Grow; daughter Maggie Ivinson Grow. Not pictured are grandson-in-law Lt. Christopher Frewel, U.S.N., who was in the process of changing duty stations from the Great Lakes to the San Francisco area at the time, and Frances Adele Grow, sister of the two granddaughters shown here.