Ames Monument
At an elevation of 8,247 feet, this monument stands at what once was the highest point on the route of the Union Pacific Railroad. The tracks were rerouted a few miles to the south in 1901, but the monument still looms over the surrounding plains and can be easily accessed from Interstate 80.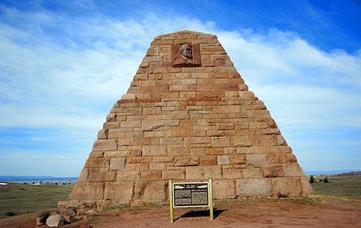 Completed in 1882 at a cost of $64,000, the structure honors Oakes and Oliver Ames, financiers and politicians whose business skills were largely responsible for the completion of the transcontinental railroad. The Ames brothers took control of the management and financing of the Union Pacific portion of the railroad at President Abraham Lincoln's request. Prior to their involvement with the railroad, only 12 miles of track had been completed. Not long after the railroad's completion in 1869, however, Oakes Ames found himself at the center of a massive scandal concerning the railroad's financing.
The monument was designed by Henry Hobson Richardson, famed architect of Trinity Church in Boston, and was Richardson's only commission west of St. Louis. The monument also features two bas-relief sculptures of the Ames brothers—Oakes on the east side, Oliver on the west—crafted by Augustus Saint-Gaudens, renowned sculptor whose creations include the Robert Gould Shaw memorial on Boston Common, the Parnell Memorial in Dublin, and a $20 double eagle gold piece for the U.S. Mint.
Resources
"Ames Monument," Wyoming State Historical Preservation Office articles on places listed on the National Register of Historic Places, accessed 9/20/11 at http://wyoshpo.state.wy.us/NationalRegister/Site.aspx?ID=1
"Ames Monument." Wikipedia, accessed 9/20/11 at http://en.wikipedia.org/wiki/Ames_Monument.
Ambrose, Stephen E. Nothing Like It in the World: The Men who Built the Transcontinental Railroad 1863-1869. New York: Simon and Schuster, 2000.
Dietrich, H.R., Jr. "The Architecture of H. H. Richardson in Wyoming: A New Look at the Ames Monument." Annals of Wyoming, 38:1, (April 1966), 49-53. Accessed 9/20/19 at http://uwlib5.uwyo.edu/omeka/archive/files/38_1ocr_v7_f372baeee8.pdf
"Oakes Ames, 1804-1873." From American Experience, Public Broadcasting System. Accessed 9/20/11 at http://www.pbs.org/wgbh/amex/tcrr/peopleevents/p_ames.html
Illustration