The Murder of Matthew Shepard
In the evening hours of Oct. 6, 1998, Matthew Shepard, a 21-year-old University of Wyoming student who was openly gay, went alone to the Fireside Lounge in Laramie after a meeting of the campus LGBT (Lesbian, Gay, Bisexual, Transgender) student group and a quick stop at the Village Inn. In less than two hours' time, he became part of a chain of events that attracted international media and political attention, spotlighted the ongoing public debate over hate crime legislation, and became one of the most prominent cases in Wyoming judicial history.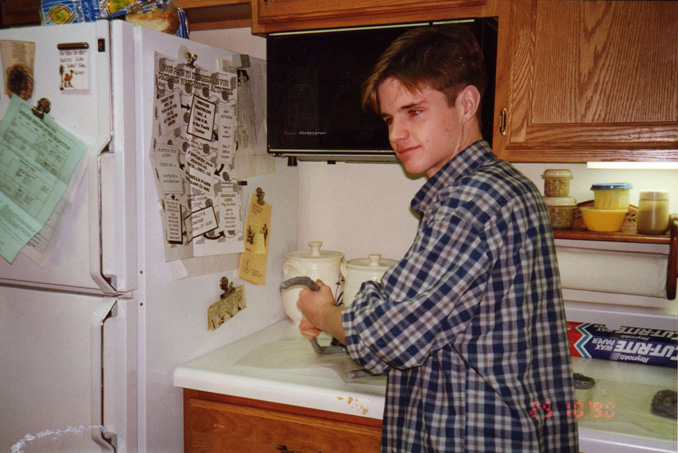 At the Fireside, Shepard sat at the bar drinking from a bottle of imported beer. After somewhat more than an hour, he was approached by two men his own age: Aaron McKinney and Russell Henderson, high-school dropouts with roofing jobs. They had purchased a pitcher of beer with small change and eventually engaged Shepard in a conversation. Shortly after midnight, Shepard left the bar with McKinney and Henderson; police and prosecutors would assert that the two men lured Shepard, perhaps under the pretense of themselves being gay, but in fact with the intent of robbing him. In his police confession, McKinney repeatedly described Shepard as "a queer," "the gay," and "fag."
McKinney and Henderson drove Shepard to a remote area in the Sherman Hills development east of Laramie. By McKinney's own confession, corroborated in most details by Henderson, McKinney told Shepard that the two men were not gay and that he was going to be robbed. McKinney began punching and pistol-whipping Shepard before continuing the assault at a buck-rail fence on Warren Livestock Company land. Investigators and an autopsy would later determine that Shepard was struck 19 to 21 times in the head with the butt of a .357-caliber Magnum Smith & Wesson pistol, the final blow irreparably damaging Shepard's brain stem.
At McKinney's direction, Henderson bound Shepard's wrists with white clothesline from McKinney's truck and left him tied—unconscious—relieving him of his wallet, identification, and shoes. The two assailants returned to Laramie at approximately 12:30 a.m.
Only a few minutes later, back in Laramie, McKinney and Henderson became involved in an altercation after two young men, whom police suspected of being engaged in vandalism, confronted them in a neighborhood McKinney and Henderson mistakenly believed was where Shepard lived.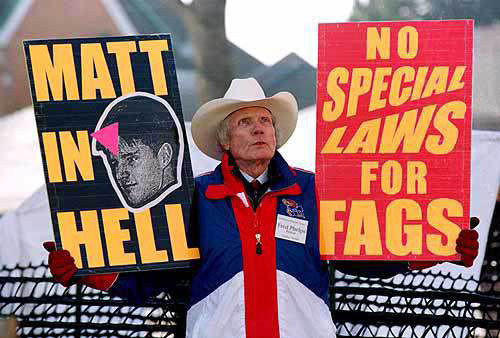 After the argument became a street fight, police responding to a vandalism call spotted fleeing individuals, one of whom was Henderson, and discovered Shepard's i.d. and credit card and the blood-mottled pistol in the truck. Both McKinney and Henderson were treated separately at Ivinson Memorial Hospital over the ensuing hours for head injuries sustained in the street fight. During the coming day, following their medical care, McKinney and Henderson would meet with their respective girlfriends, Kristen Price and Chastity Pasley, who would later be convicted for their roles that day in disposing of evidence and concocting alibis for the men in the Shepard case.
Shepard, meanwhile, remained tied to the fence, most likely still unconscious, for approximately 18 hours until a passing mountain biker, Aaron Kreifels, fell from his bike. He noticed what he thought might be a scarecrow slumped along the fence line, but which was in fact Shepard. Kreifels ran to a nearby residence to call authorities; sheriff's deputy Reggie Fluty and emergency medical technicians responded. Fluty later reported that Shepard, who was 5 feet 2 inches tall and boyish in appearance, looked at first to be a child and that his face was caked in blood except where tears had left tracks along his cheeks.
Attending physicians at Ivinson ascertained that Shepard's head injuries were grave and had him transported 65 miles to Poudre Valley Hospital in Ft. Collins, Colo., where he was admitted to the intensive care unit. The police investigation had continued, meanwhile, and McKinney, Henderson, Pasley and Price were all ultimately arrested.
Shepard lingered in a coma state for about four days at Poudre Valley while his parents, Judy and Dennis, were notified of his condition and began an arduous journey to Fort Collins from Dhahran, Saudi Arabia, where Dennis was employed as a safety specialist by Saudi Aramco among many expatriate staff.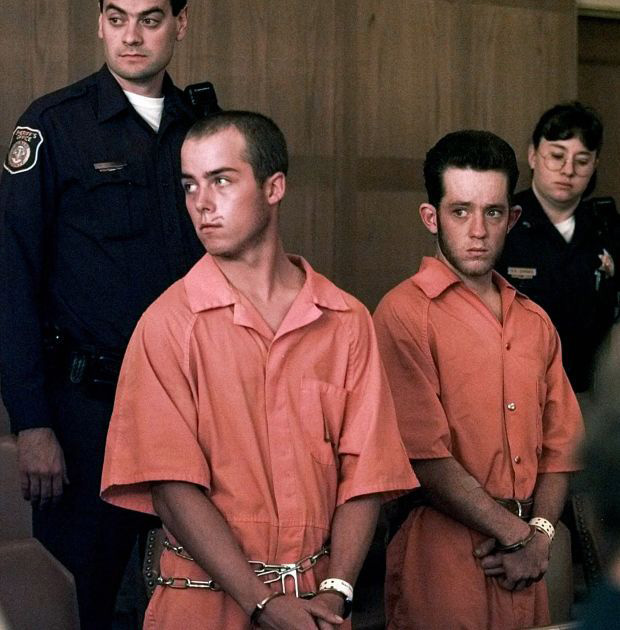 During their 36 hours of preparation and travel, the story of the attack spread from local to regional to national media, underscored by the reports from several of Shepard's friends that he was gay and their fears that he had fallen victim to an anti-gay hate crime. The Shepards were baffled to see front-page headlines on newspapers at the Minneapolis-St. Paul airport during transit.
By the time the Shepards reached Poudre Valley, the case was the subject of national broadcast coverage, a vigil of media and well-wishers had formed in front of the hospital, and President Bill Clinton had sent his best wishes to Matthew's parents. Matthew Shepard succumbed to his injuries in the early morning hours of October 12, and the charges against McKinney and Henderson were quickly upgraded to felony murder and kidnapping. Both Shepard's funeral at Casper's St. Mark's Episcopal Church, which cabinet member Togo D. West, Jr. attended on the Clinton administration's behalf, and his killers' Laramie courthouse judicial proceedings—ringed by unprecedented security—attracted international media, overflow crowds and protests by members of the Topeka, Ks.-based Westboro Baptist Church, of "God Hates Fags" picket-line fame.
Henderson's case moved forward first; in April 1999, he reached a pre-trial plea agreement, which took the death penalty off the table in exchange for two consecutive life sentences. McKinney's case proceeded to trial in the fall, a year after the attack. After his effort to mount a "gay panic defense" was ruled out by Judge Barton Voight, McKinney's counsel, prosecutor Cal Rerucha and the Shepards agreed to a similar plea bargain for consecutive life sentences and McKinney's agreement not to speak to the media about the case, a provision he would repeatedly violate in later years.
Wyoming legislators in 1999 considered a state-level hate crime bill that extended to anti-gay and -lesbian criminal motivations, but the measure failed the state House on a 30-30 tie on two consecutive days and has not since been seriously debated. McKinney and Henderson remain in the custody of the Wyoming Department of Corrections after several years of being shuttled among several out-of-state facilities; Henderson's appeal of his sentence was rejected in 2004 by Albany County District Judge Jeffrey Donnell.
Motivated in part by the hate-crime legislative debate, Judy Shepard established herself as a prominent LGBT rights activist who played a key role in finally securing passage of a federal LGBT-inclusive hate crime bill in 2009. The foundation she and Dennis established in Matthew's name in 1998 continues in its 15th year of pro-LGBT educational work with offices in Casper, Wyo., and Denver, Colo.
Resources
Primary Sources
Associated Press. "Gay Student Attacked in Wyoming," Oct. 9, 1998.
Brooke, James. "Friends and Strangers Mourn Gay Student in Wyoming," The New York Times, Oct. 17, 1998, A10.
Drake, Kerry. "Laramie Tragedy in Media Glare," Casper Star-Tribune, Oct. 10, 1998, B1.
Edwards, Tiffany. "Preparations Being Made for 'Media Circus,'" Laramie Daily Boomerang, March 24, 1999, 9.
State of Wyoming vs. Aaron James McKinney, Docket No. 6381, in the District Court for the Second Judicial District of Wyoming, the Hon. Barton R. Voight presiding. (Transcript, in two volumes, 1999).
Secondary Sources
Loffreda, Beth. Losing Matt Shepard: Life and Politics in the Aftermath of Anti-Gay Murder. New York: Columbia University Press, 2000.
Shepard, Judy. The Meaning of Matthew: My Son's Murder in Laramie, and a World Transformed. New York: Hudson Street Press, 2009.
For Further Reading and Research
Jimenez, Stephen. The Book of Matt: Hidden Truths about the Murder of Matt Shepard. South Royalton, Vt.: Steerforth Press, 2013. Published to coincide with the 15th anniversary of Shepard's murder, Jimenez' controversial book claims that Shepard and McKinney were both dealers in Laramie's methamphetamine trade and knew each other before the crime. It further claims the murder was the result of meth-trade rivalries and McKinney's meth-fueled rage at the end of a week-long binge—and not a hate crime.  The book's chronology is impressionistic and a substantial number of its sources are anonymous.
In recent years Wyoming State Archives producer Sue Castaneda and interviewer Mark Junge have recorded oral histories with nine or more people closely connected to the case. These include friends of the victim, the bartender at the Fireside the night Shepard was killed, and law enforcement officials, trial Judge Barton Voigt, and one of the defense lawyers. For access to transcripts and audio files, see https://archive.org/search.php?query=castaneda%20shepard.
Illustrations
The photo of Matthew Shepard is from the Matthew Shepard Foundation. Used with permission and thanks.
The photo of Fred Phelps of the Westboro Baptist Church is from iloveyoubutyouregoingtohell.org. Used with thanks.
The photo of Aaron McKinney and Russell Henderson at their arraignment, and the image in the photo gallery of protester Romaine Patterson and others dressed as angels are by Ed Andrieski of The Associated Press. Used with thanks.
In the photo gallery, the images of the fence, the candlelight vigil, the mourners and the protesters at the funeral are by Casper Star-Tribune photographer Dan Cepeda. Used with permission and thanks.