Parting of the Ways
About 18 miles after travelers on the Oregon Trail crossed the Continental Divide at South Pass, they reached a junction known now as the Parting of the Ways. The right fork went west toward Fort Hall in present southern Idaho, while the left continued southwest toward Fort Bridger and Salt Lake City. The Fort Hall route was a cutoff, opened in 1844. It saved about 46 miles and two and a half days' travel, but only by crossing a waterless, sagebrush desert.
Diarists sometimes referred to the roads at this junction as the California and Oregon trails. The northerly, straight-west route—the "Oregon" road across what's now known as the Little Colorado Desert—was most often called Sublette's Cutoff, although some called it Greenwood's Cutoff. The decision to take one branch or the other was not irrevocable. The trails diverged again farther on, offering more than one way to Oregon or California.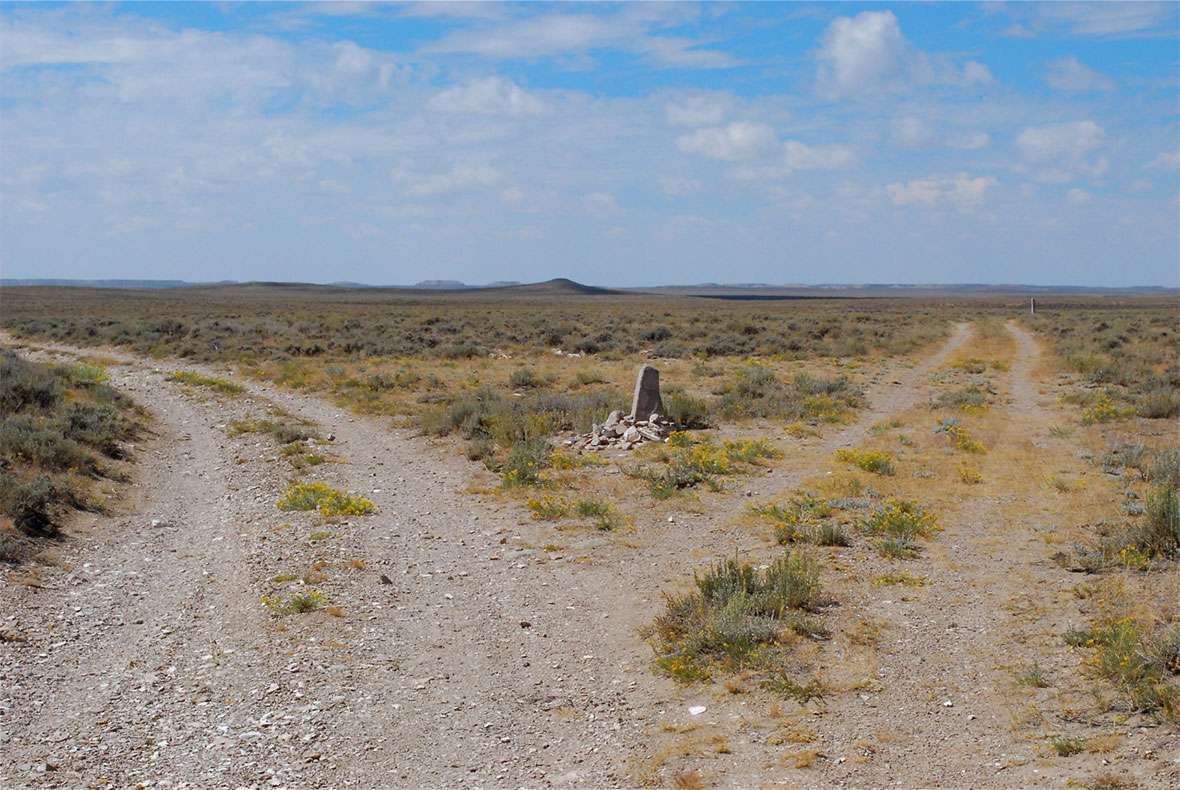 Joel Palmer's July 20, 1845, diary entry notes that "By taking this trail [the Sublette Cutoff] two and a half days' travel may be saved; but in the forty miles between Big Sandy and Green River there is no water and but little grass."
Despite its hardships, the cutoff became popular, as J. M. Hixson wrote four years later, on June 19, 1849. "Formerly the Oregonian and California emigrants went by Fort Bridger, but the past two years they had mostly taken the right hand road. So we took that although it was understood there was a forty-five mile desert before we came to Green River."
By July 25, 1849, an informal message system had sprung up at the junction. Elisha Perkins wrote, "At the forks of the regular road & where Subletts cutoff leaves by[passing] Ft Bridger I saw some 40 or 50 notes stuck up in forked sticks with directions and news & c. from those in advance to acquaintances behind, none however from anyone I knew."
These message posts were elsewhere as well and apparently unmolested. Perkins's entry continues, "This kind of post office is very common at the different points on the road & I have never known an instance of any note or scrap of paper being disturbed or misplaced. Every person looks to see who they are from & goes on leaving all as he finds it."
Apparently the sticks were not set deeply in the ground. About a week later, on Aug. 2, 1849, J. Goldsborough Bruff reported that "[a] notice requested travelers to throw stones up against the base, to sustain the stick."
The following summer, on July 15, 1850, John Steele's account of his company's night journey to the junction conjures up hardships of blind travel through barren country by covered wagon. "Owing to the rank growth of sage all the wagons followed the same track, and of course the dust was deep and suffocating; and besides this, many oxen and horses had died on the way, and it was difficult for us to avoid stumbling over the carcasses which lay near the road; and so, considering the darkness, and the tainted dust-laden air, neither of us desired to repeat that six miles' walk."
Conditions were not greatly improved, Steele continues, even after he and his party could see. "A little before dawn we found the junction, and the train halted, hoping that daylight might reveal a patch of grass. It was a vain hope; the sandy plain was dry, and produced only bunches of greasewood and sage." Despite previous days of little feed and water, they chose Sublette's Cutoff. "[O]ver the same barren waste, and the sun beaming from a cloudless sky, we came to Little Sandy."
Two years later, travelers were still coming through. On July 2, 1852, John Hawkins Clark's party found "[a] man stationed at the forks of the road ... trying to persuade the emigrants to take the right hand trail. 'Gentlemen,' says he, 'men, women and teams are starving on the Salt Lake road. There is no grass for a hundred miles, the water is poor and poisonous, and if by any chance any of you live to see Salt Lake the Mormons will rob and steal everything you have got, take your women and send you out of the country as bare as you came into the world.'"
Clark was not deceived, however. "The grand secret of this man's persuasive eloquence was that he was the proprietor of a ferry and wanted as much travel over it as he could get. As we were not of the number he could persuade we proceeded on to Little Sandy river, where we went into camp."
Parting of the Ways has been the subject of many misunderstandings. On Wyoming Highway 28 a few miles beyond the BLM interpretive overlook at South Pass, a marker erected by the Historic Landmark Commission of Wyoming in 1956 proclaims this site to be Parting of the Ways, stating, "This marks a fork in the trail, right to Oregon, left to Utah and California."
Thirty-two years later, the Oregon-California Trails Association erected another marker next to this one, which correctly states that the true Parting of the Ways lies another 9.5 miles to the west. This site on Highway 28 is now widely known as False Parting of the Ways and directions to trail sites in this area will often reference "False Parting." The real site will often be called "True Parting." At True Parting, the eye can follow the divergent trails for miles towards the horizon.
Parting of the Ways marked a spot where many emigrants bade a tearful farewell to friends they would probably never see again.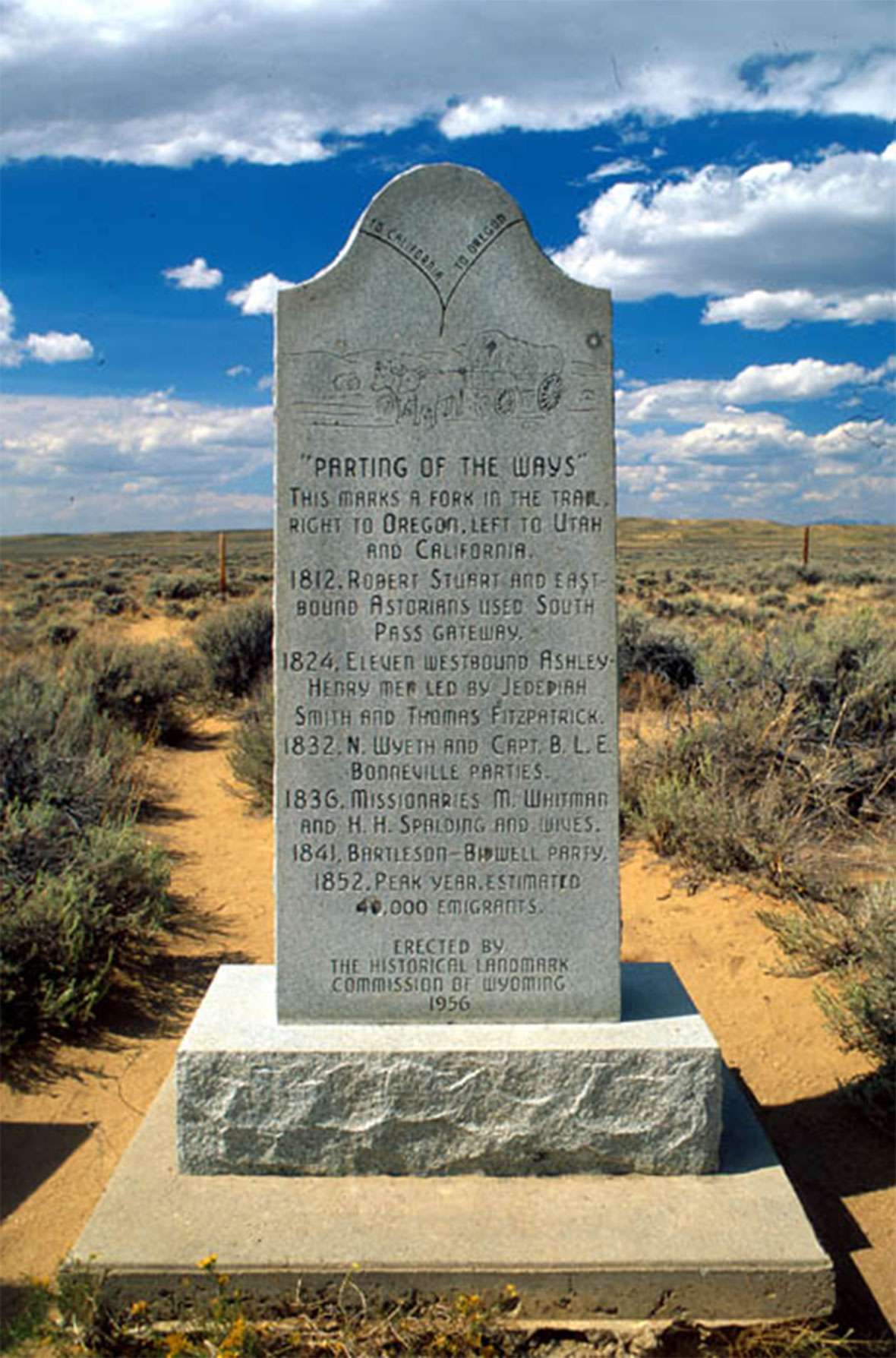 Resources
Primary Sources
Bruff, J. Goldsborough. Gold Rush: The Journals, Drawings, and Other Papers of J. Goldsborough Bruff, Captain, Washington City and California Mining Association, April 2, 1849–July 20, 1851. 1 vol. edition. Ed. by Georgia Willis Read and Ruth Gaines. New York: Columbia University Press, 1949.
Clark, John Hawkins. "Overland to the Gold Fields of California in 1852: The Journal of John Hawkins Clark." Ed. by Louise Barry. Kansas Historical Quarterly 11:3 (August 1942), 227–96.
Hixson, Jasper Morris. Diary, May-August 1849. "A Gold Hunter. The Itinerary Across the Continent in 1849. J. H. Hixson's Unique Diary. From the Missouri River to Sacramento in the Days of the Argonauts Mapped Out." Los Angeles Daily Herald, 13 January to 30 April 1890. Typescript, MSS C-F 118, Bancroft Library.
Palmer, Joel. Journal of Travels Over the Rocky Mountains, Fairfield, Wash.: Ye Galleon Press, 1996.
Overland Trail. Ed. by Thomas D. Clark. Lexington, Ky.: University of Kentucky Press, 1967.
Perkins, Elisha Douglas. Gold Rush Diary: Being the Journal of Elisha Douglass Perkins on the
Steele, John. Journal. Across the Plains in 1850. Ed. by Joseph Schafer. Caston Club. Chicago. 1930.
Perkins, Elisha Douglas. Gold Rush Diary: Being the Journal of Elisha Douglass Perkins on the Overland Trail. Ed. by Thomas D. Clark. University of Kentucky Press, Lexington. 1967.
Secondary Sources
Brown, Randy. Oregon-California Trails Association. WyoHistory.org offers special thanks to this historian for locating and providing the diary entries used in this article.
Wyoming State Historic Preservation Office. "The Parting of the Ways." Emigrant Trails throughout Wyoming. Accessed March 7, 2017, at http://wyoshpo.state.wy.us/trailsdemo/prtingoftheways.htm.
Illustrations