The Grave of Charles Hatch
On a high bluff overlooking the Big Sandy River about a mile and a half southwest of Farson, Wyo., lies the grave of California-bound emigrant Charles Hatch. Until recently, who he was, where he came from and how he died were all mysteries.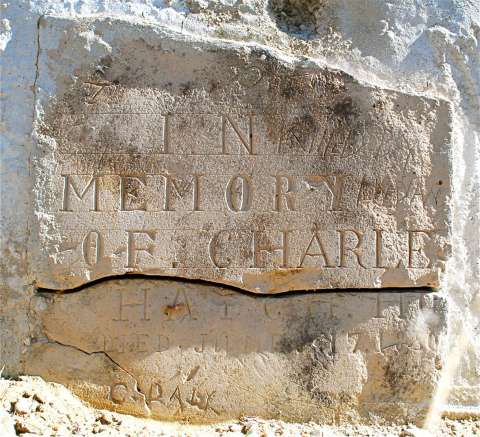 Now we know that Charles Hatch was born in Ballston Spa, or Ballston Springs, Saratoga County, N.Y., on Sept. 21, 1808, the 10th of the 11 children of Timothy and Abigail (Porter) Hatch. In 1815, the family moved 230 miles west to a homestead near LeRoy, N.Y., in Genesee County. When Abigail Hatch died in 1824, Timothy married Lucretia (Buell) Pierson, widow of Philo Pierson and a mother of six.
Lucretia and Philo Pierson's second child was Clymene Rebecca Pierson. Clymene was born was 12 in 1825 when her mother married Timothy Hatch. Charles Hatch and Clymene Pierson, step-siblings, were married July 26, 1830, in St. Marks Episcopal Church in Leroy, where Timothy Hatch was senior warden. They eventually became parents of six children born between 1835 and 1848. During that time, in 1841, they moved to a farm near Wheatland, Kenosha County, Wis. Here the family, including Charles, is found in the census taken on Aug. 7, 1850, but by then—apparently unknown to Clymene—her husband was dead on the trail.
In 1850, Charles Hatch, age 42, left his family in Wisconsin and joined the California Gold Rush. He died while his wagon company was camped on the Big Sandy, June 17, 1850, as inscribed on the headstone. While the approximate date of his death eventually reached his family, the circumstances were not set down and remain unknown. Family sources simply say, "Died while traveling overland to California."
We do know, however, that the middle of June 1850 was a cold and wet time in this part of what's now Wyoming. Trail diarists with other wagon-train companies noted that a freezing rain fell most of the night of June 16, followed by a driving snowstorm. James Shields and company crossed the Big Sandy the morning of the 17th, traveled a mile and a half and camped about mid-day. They must have been very close to where the unidentified company of Charles Hatch was camped.
Shields wrote: "There are several teams camped near us, some of their men are very bad off with the mountain fever, which many of the emigrants were afflicted with while near the South Pass." One of the companies noted by Shields must have included Charles Hatch, perhaps "afflicted" with mountain fever and near death.
Shields was probably referring to what's now known as Rocky Mountain spotted fever, carried by ticks.
When Hatch died, he was buried on the bluff by the river about a mile from the trail. Despite the uncomfortable conditions, someone took the time to neatly carve the inscription on the headstone that still stands over the grave. It reads: "In Memory of Charles Hatch Died June 17, 1850."
Later, someone scratched in crude letters: "Killed by Indians," but there is no evidence of Indian trouble on the trail along the Big Sandy or anywhere nearby at the time. On July 8 at South Pass an emigrant wrote: "Thus far I have heard of no troubles to the emigrants from Indians. In fact, no Indians have come within sight of my train since we reached the Platte, except the Sioux, who were exceedingly friendly and civil to us, and wished to barter." Diarists and newspapers would have mentioned any conflict with Indians, especially if an emigrant had been killed.
Clymene Hatch lived most of the rest of her life with one or another of her married daughters. One of these was Charlotte, who married New York banker and financier Rufus Hatch (no relation). Clymene died on Aug. 26, 1899, and is buried in the Rufus Hatch plot at Woodlawn Cemetery, Bronx, N.Y., many miles from her husband's lonely grave on the Big Sandy.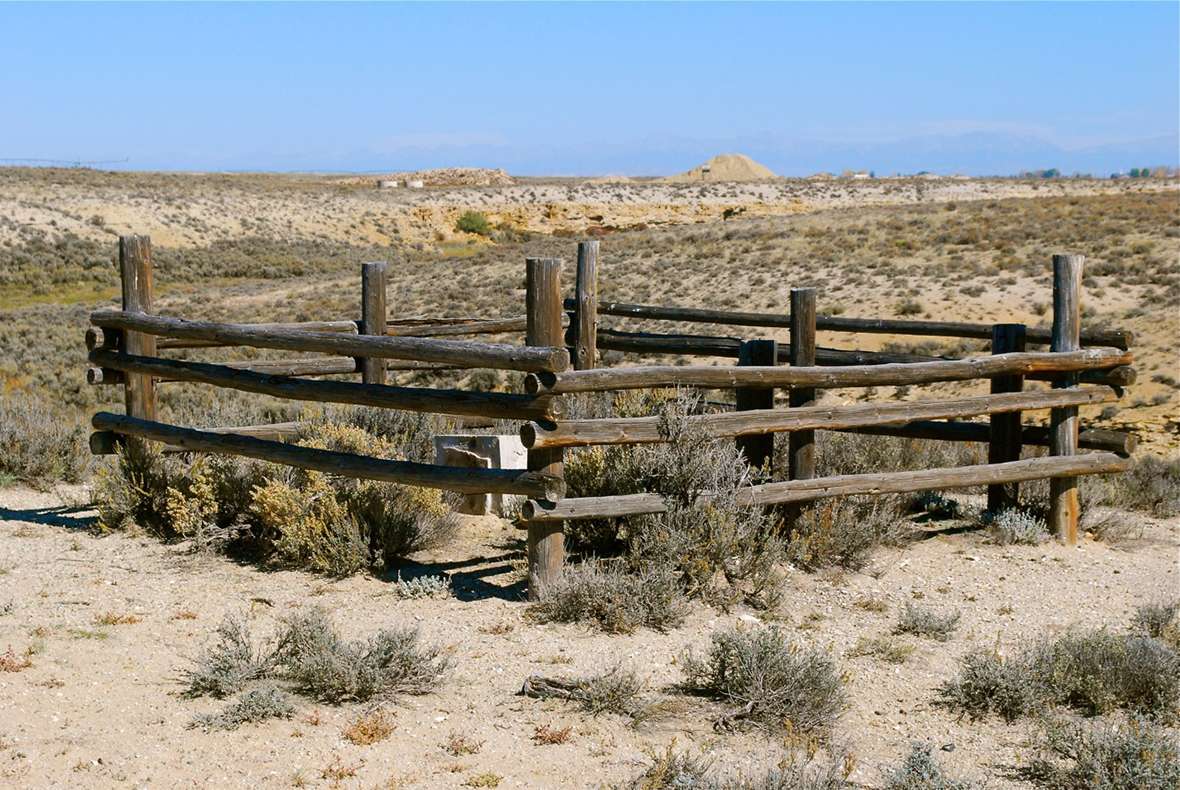 Resources
Sources
Lawrence, John S. Descendants of Moses and Sarah Kilham Porter of Pawlet, Vermont, with Some Notice of the Ancestors and those of Timothy Hatch, Amy and Lucy Seymour Hatch, Mary Lawrence Porter and Lucretia Bushnell Porter. Grand Rapids. 1910.
Shields, James G. Overland Journey from St. Joseph to Sacramento, April 9 to 13 August 1850. WA MSS 423. Beinecke Library. Typescript.
Anonymous. "From the Plains. South Pass of the Rocky Mountains." Letter dated July 8, 1850. St. Louis Republican. August 22, 1850. p. 2, col. 5.
Wisconsin. Kenosha County. Wheatland. 1850 U. S. Census. Accessed at ancestry.com.
Wyoming State Historic Preservation Office. "Charles Hatch Grave." Emigrant Trails across Wyoming, accessed April 14, 2017, at http://wyoshpo.state.wy.us/trailsdemo/charles_hatch.htm.
Illustrations
Both photos are by the author. Used with permission and thanks.