Haystack Butte
Haystack Butte was a minor landmark on the Sublette Cutoff of the Oregon Trail west of South Pass. Depending on where emigrants crossed the Big Sandy River, the butte was one to three trail miles farther west. Perhaps because many passed it before dawn or in the early evening when it was dark, the butte was not often mentioned in emigrant diaries. It was notable only because it stands out alone on the plain and is visible for miles. Viewed from a distance, the butte does look like a large haystack. Estimates of its height varied from 60 to 200 feet, with 60 feet probably the most accurate guess.
Different trail branches passed on each side of the butte. Some travelers they saw it on the on the right, others on the left. A trail branch coming up from Little Sandy Creek passed quite close to the butte and met the regular Sublette trace just beyond.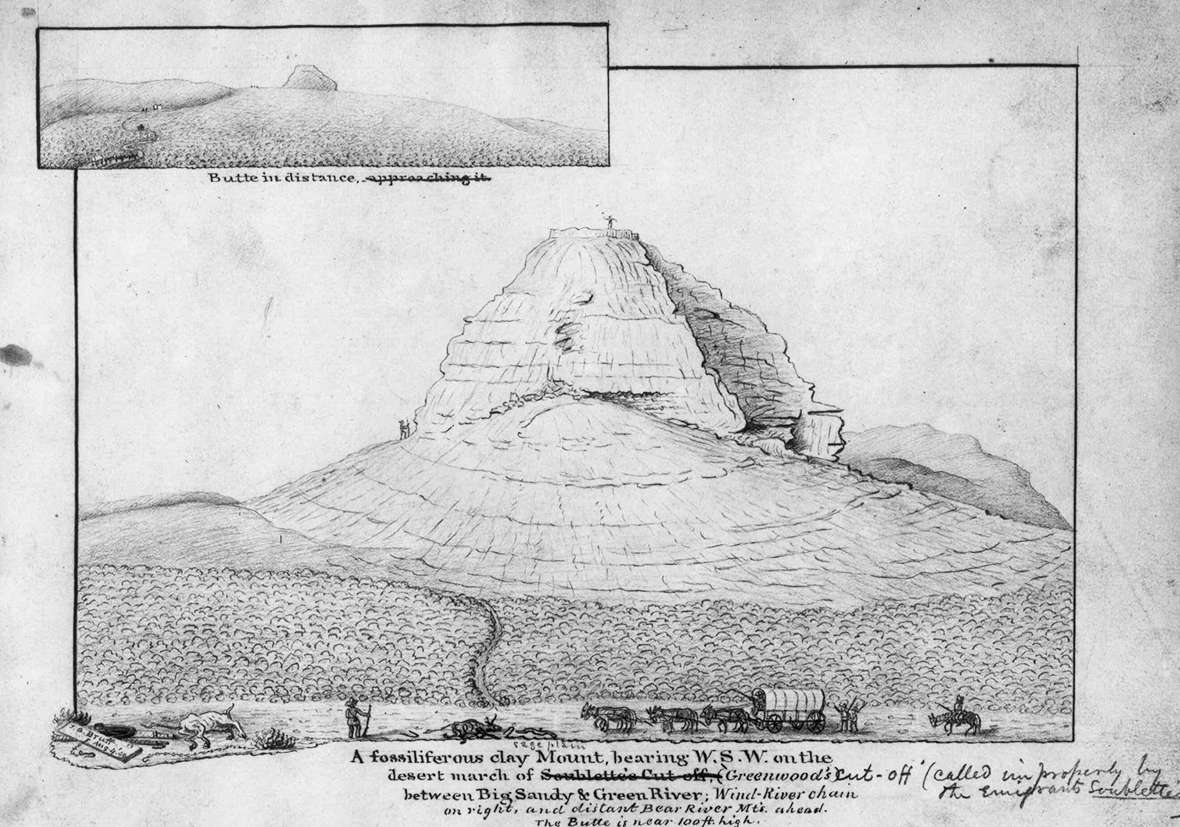 Hosea Horn described it in his Horn's Overland Guide as being three miles distant from the Big Sandy and as a "Clay Mound, north of road: —Resembling a bee-hive; 200 feet high."
Amasa Morgan noticed it not long after he crossed the Little Sandy more than five miles to the east. On July 16, 1849, he wrote, "I noticed a singular little mountain here in the shape of a hay stack. It looked in the distance just like a farmer's hay stack. At night we camped on Big Sandy."
P.C. Tiffany came by on June 25 and wrote, "A few miles brought us opposite a beautiful mound standing in the level plain to the right of the road. I had seen this mound before crossing the Big Sandy. When seen at different points it appears an exact resemblance to a large hay-stack. It covers probably half an acre of ground and is 60 or 70 feet high."
Still in 1849, J. Goldsborough Bruff sketched the butte and briefly mentioned it in his diary on August 4: "On right of the trail today, and near it, passed a singular clay mount, of buff colored clay and soft sand-stone, which I found contain'd fossils: digging out, with the point of my bowie-knife, a fragment of a bone & piece of madrepore [that is, coral].
The last diary entries mentioning the butte come from 1850. William Parker was there on June 12, and wrote, "About four miles from the Sandy is a conical mound about sixty feet high and when viewed from the south or east sides, it resembles a huge haystack. This may serve to identify the road."
Three days later J.F. Snyder noticed the landmark and was reminded of something other than a haystack: "At some distance to the left, I noticed an odd looking mound, the exact shape of a sugar-loaf, perhaps a hundred feet high, standing alone on the plain."
In later years, alternate trail variants were established and far fewer emigrants used the original Sublette Cutoff. Haystack Butte is rarely mentioned.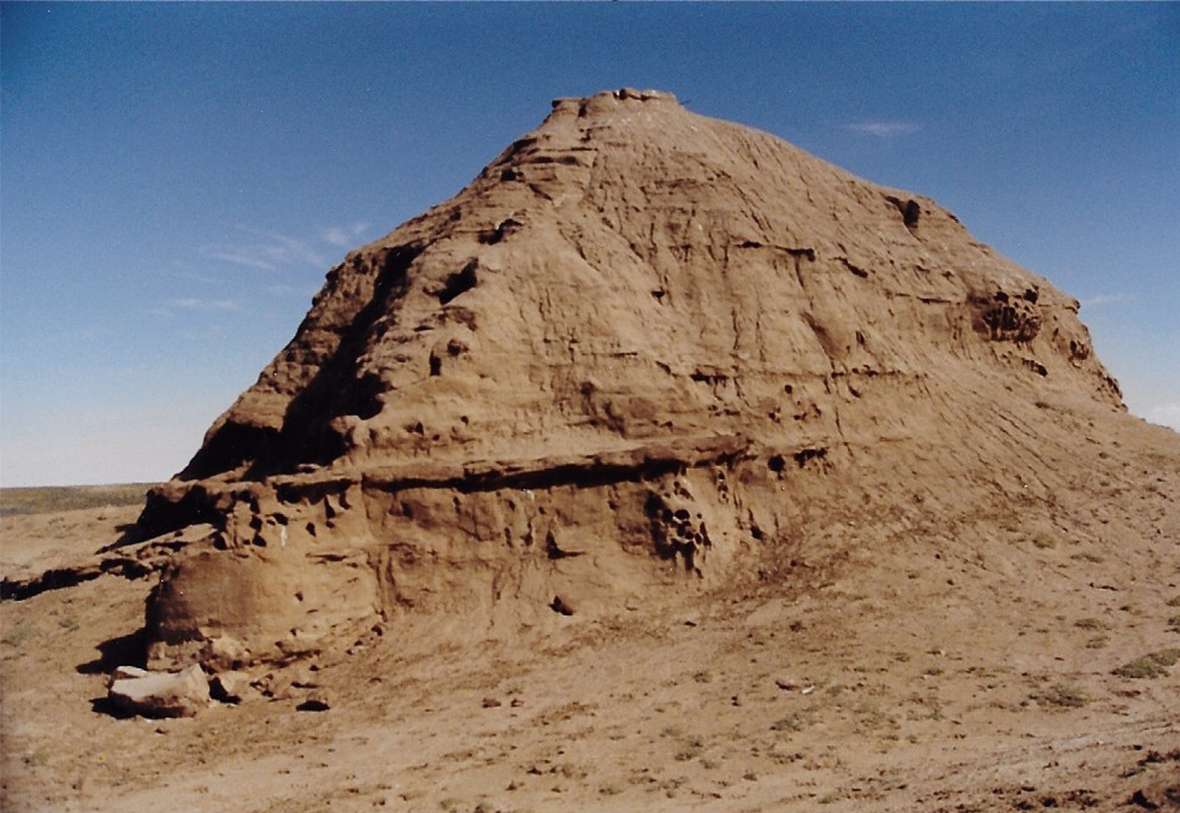 Resources
Bruff, J. Goldsborough. Gold Rush: The Journals, Drawings, and Other Papers of J. Goldsborough Bruff, Captain, Washington City and California Mining Association.April 2, 1849–July 20, 1851. Edited by Georgia Willis Read and Ruth Gaines. New York, N.Y.: Columbia University Press, 1949.
Horn, Hosea B. Hosea B. Horn'sOverland Guide, from the U.S. Indian Sub-Agency, Council Bluffs, on the Missouri River, to the City of Sacramento, in California. New York, N.Y.: J.H. Colton, 1852.
Morgan, Amasa. "Diary, 2 April to 28 July 1849." Mss. 2001/111. Bancroft Library, University of California, Berkeley, Calif.
Parker, William Tell. "Notes on the Way, 1850." Typescript. Henry Huntington Library, San Marino, Calif.
Snyder, John F. Diary. Ms. 180E. Typescript. Illinois State Library, Springfield, Ill.
Tiffany, Palmer C. "Overland Journey from Mount Pleasant, Iowa to California, Experiences at the Mines, and the Voyage Home by the Isthmus by P. C. Tiffany, 1849—1851."WA Ms. 474. Transcription by William Robertson. Beinecke Library, Yale University, New Haven, Conn.
Illustrations
Forty-niner J. Goldsborough Bruff's drawing of Haystack Butte is from an edition of his book of drawings and journals, Gold Rush, published in 1949. The photo is by the author. Used with permission and thanks.