The Graves of Martin Ringo and J.P. Parker
Two emigrant graves lie close together on private land a short distance west of Glenrock, Wyo., where Deer Creek flows into the North Platte River. The inscription on one indicates that it is the grave of a J.P. Parker, of Iowa, who died July 1, 1860, aged 41 years. Nothing else is known of this person.
"M. Ringo," reads the inscription on the stone on the other grave, with no date given. Ringo family scholarship in recent decades has turned up a great deal of information on him, however.
Martin Ringo was born in Kentucky in 1819, and raised in Indiana. In June 1846, in Liberty, Mo., he enlisted in Col. A.W. Doniphan's regiment of Missouri Mounted Volunteer Infantry. The regiment marched to Santa Fe and then south into Chihuahua, where the troops saw action in the war against Mexico. Ringo's service record shows only that he had to abandon his horse in New Mexico when it failed for lack of forage, and that he was honorably discharged in New Orleans in June 1847 at the end of the campaign.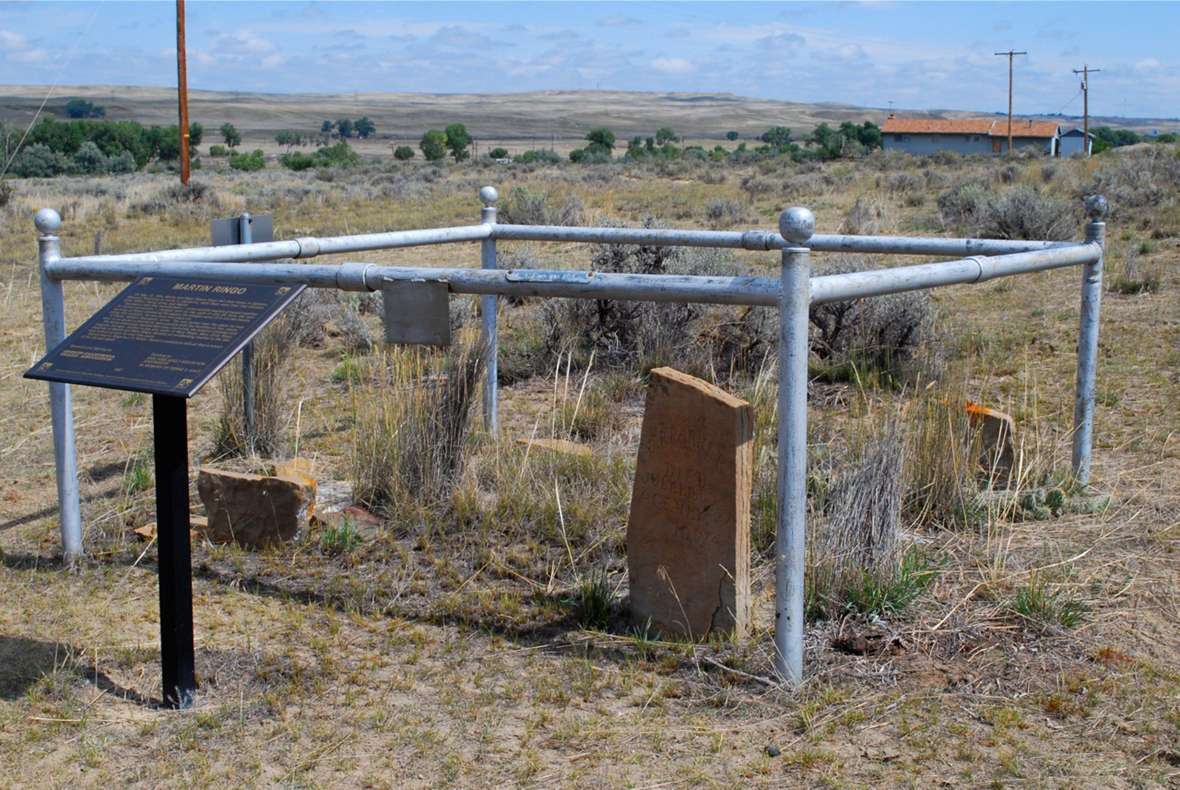 In 1848, he married Mary Peters in Liberty and returned with her to Indiana. Their first child, John, was born there; soon they returned to Missouri, perhaps to be closer to her family. Four more children were born by 1862.
Missouri was a violent, divided place after the Civil War broke out in 1861,with raiders on both sides burning farms and killing civilians. Trails historian and schoolteacher Randy Brown notes that Martin Ringo's family, located as it was in Wayne County, Indiana, where the Underground Railroad was active, may have had abolitionist sympathies. Mary Peters' family included many slaveholders.
Brown speculates that Martin and Mary may have tried to stay neutral. When that became impossible in war-torn Clay County, they moved to nearby Daviess County. Finally, they decided to head for California, where Mary's sister and her husband were running a cattle ranch near San Jose.
The Ringos left Missouri in May 1864. Trouble plagued the trails as well as Missouri that year, however. Between what are now western Nebraska and central Wyoming, raids on white travelers by Lakota Sioux and Cheyenne war parties had become chronic.
In a letter back to a Missouri newspaper, one member of the Ringos' party mentioned "some difficulties with Indians," otherwise unspecified, which caused three smaller companies to merge for extra protection at Scott's Bluff into a larger company of 70 wagons.
Clearly everyone was nervous. On the night of July 29, they camped a few miles west of Deer Creek. After dark one of the emigrants walked out about 50 yards from the wagons to check on some picketed horses and may have surprised a warrior in the act of stealing them. The emigrant was shot—though not fatally—the lone warrior stole three horses and the emigrants, fearing a much larger attack, all stood guard all night.
Just after dawn, Martin Ringo climbed up onto his own wagon, perhaps for a look around in the growing daylight, and in doing so accidentally discharged his own shotgun. "At the report of his gun I saw his hat blown up twenty feet in the air, and his brains were scattered in all directions," the same letter writer reported back to the Missouri newspaper.
Mary Ringo's diary, dry and factual up to this point, now overflows with emotion and despair: "And now Oh God comes the saddest day of my life for this day my husband accidentally shot himself and was buried by the wayside and oh, my heart is breaking, if I had no children how gladly would I lay me down with my precious dead—but Oh God I pray for strength to raise our precious children and oh may no one ever suffer the anguish that is breaking my heart, my little children are crying all the time and I—oh what am I to do. …"
With the wagon train, Mary and her children followed the stage road west from Salt Lake City, directly across central Nevada. At Austin, Mary sold one of the Ringos' two wagons and an ox team. Her journal ends there. Mary and her children lived with her sister on the California ranch for a year and then moved into San Jose, where "the way was rough but with her sheer determination [Mary] raised her family unaided," one of her daughters wrote decades later.
The oldest son, John Peters Ringo, left California in the 1870s and made his way to Texas, where he became a well-known gunman and outlaw, involved in range wars there and in Arizona. His body was found under a tree near Tombstone in July 1882 with a single gunshot wound to the temple. A coroner's inquest ruled the death a suicide.
Resources
Brown, Randy. "The Death of Martin Ringo." Overland Journal, 7 no. 1 (1989): 20-23.
Wyoming State Historic Preservation Office. "Martin Ringo and JP Parker Gravesites." Emigrant Trails Throughout Wyoming. Accessed Dec. 7, 2015 at http://wyoshpo.state.wy.us/trailsdemo/ringo_&_parker.htm.
Illustration
The photo of the Ringo and Parker graves is by Randy Brown. Used with permission and thanks.