Alvah Unthank Grave
Nineteen-year-old Alvah Unthank was working as a saddler in his father's store in Newport, north of Richmond, Wayne County, Ind., in 1850 when local men assembled a company to travel to California and prospect in the gold fields there.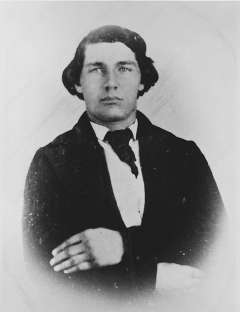 Two Newport schoolteachers, Henry Puckett and Steve Venard, began organizing the Newport Mining Company, and were soon joined by two others, Solomon Woody and Pusey Graves.
The first great wave of the California Gold Rush had come the year before, in 1849. This year, twice as many emigrants—50,000 or more—would travel the route by way of the Platte, North Platte, Sweetwater, Bear, Snake and Humboldt rivers that came to be called the California Trail.
Young Alvah was born near Whitewater, adjacent to the Indiana-Ohio line in Preble County, Ohio, on Jan. 3, 1831. He was the first child of Jonathan and Rachel Williams Unthank, natives of North Carolina and Tennessee, respectively. The Unthanks were Quakers, descendants of George Unthanke of Danby, Yorkshire, England, an early convert to the Society of Friends.
George's grandson, Joseph Unthank, his wife, Ann, and several children immigrated to America in 1735. Twenty years later they moved to New Garden, a new Quaker center in Guilford County, N. C., where succeeding generations were born, including Jonathan Unthank in 1807. Many Quakers owned slaves in North Carolina at the time. But while anti-slavery sentiment eventually became almost universal among slaveholding Quakers, they were divided on the process of abolition. Some were for immediate emancipation while others favored a more gradual transition for themselves and for their slaves.
It was said of John and Mary Unthank, Alvah's grandparents, that "they resided for a time in North Carolina, but not being in sympathy with the slave business, they freed their slaves and moved to Preble County, Ohio, which at that time was a wild forest." This was in 1810. Jonathan Unthank, later Alvah's father, was 3 years old at the time.
Jonathan grew up in Preble County, and in 1830, he married Rachel Williams of nearby Richmond, Ind. Her parents were William, a well-known Quaker minister, and Rachel Kemp Williams. Soon after the marriage the young couple moved to Newport, now Fountain City, where Jonathan joined his father and brother, Joseph, in a tanning business.
Jonathan later opened his own store in Newport. Bitterly opposed to slavery, Jonathan and Rachel worked closely with Levi Coffin in Indiana operations of the Underground Railroad. Newport was an important stop for fugitive slaves going north, and Coffin was known as "President of the Underground Railroad."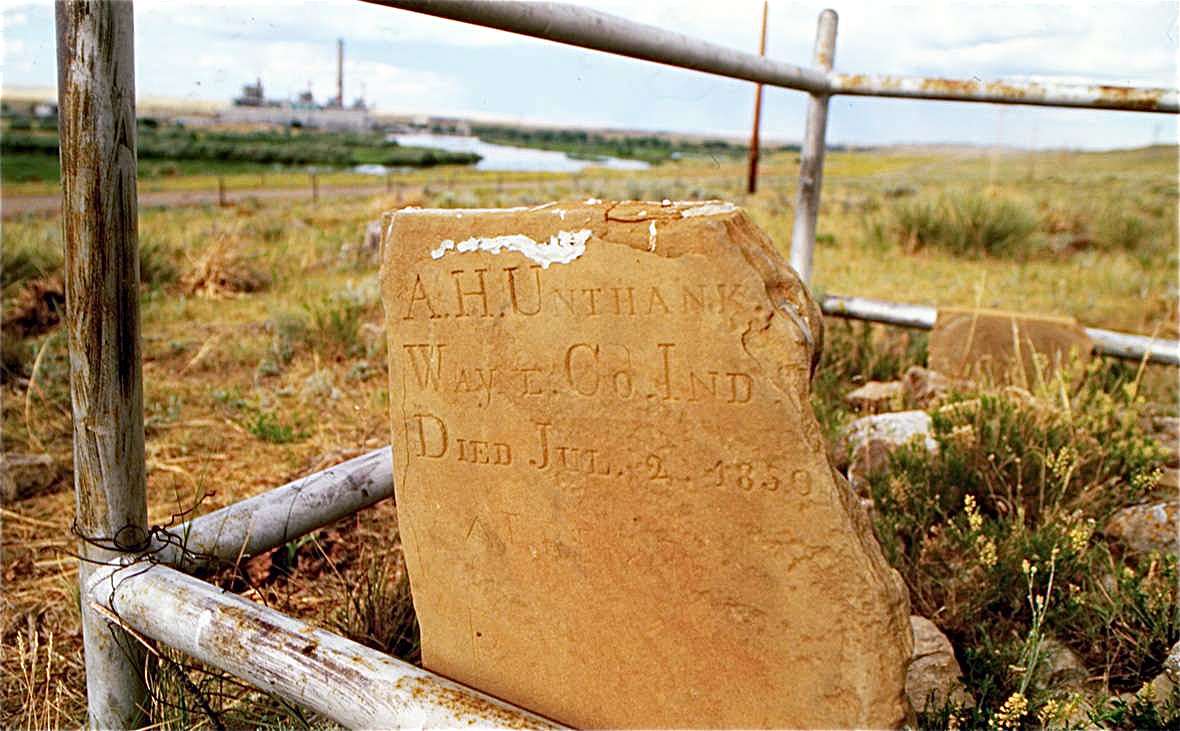 Leaving home
As finally constituted in 1850, the Newport Mining Company was made up of 27 men, mostly residents of Newport or Richmond. They left home on April 9. Two of Alvah's uncles, Joseph and John Allen Unthank, were members, although John left them and returned home when they reached St. Joseph, the jumping-off place on the Missouri River.
Several of the younger members of the group brought the company's herd of personally owned draft animals, mostly horses, overland from Newport to St. Joseph. Alvah was probably with these men while the main body of the company traveled by steamboat from Cincinnati to St. Joseph.
The Newport Company crossed the Missouri River on flatboats about five miles north of St. Joseph at Iowa Point on May 19, 1850, and the next day entered the St. Joseph Road, a major segment of the Oregon/California Trail through northeastern Kansas. Steve Venard was elected company captain.
Cholera on the trail
For the first month their trip was mostly routine, but their troubles began a few miles west of Ash Hollow on the Platte River in what's now western Nebraska, when Joe Lauter and Addison Lamb died of cholera within a day of each other. Several others were also afflicted but eventually recovered. Then, on June 26 at LaBonte Creek near present Douglas, Alvah began complaining of ill health. He seemed well enough to travel, however, so they kept moving.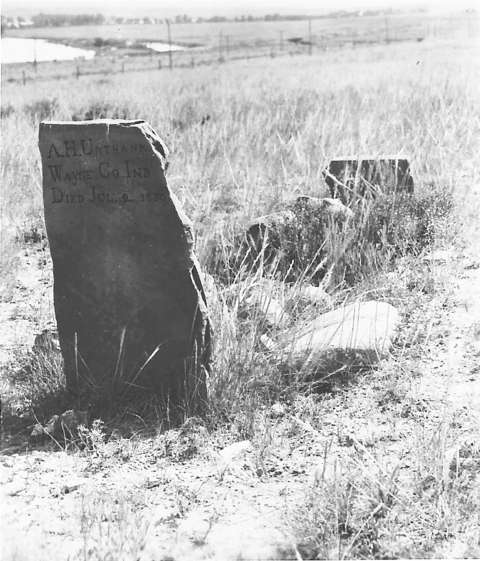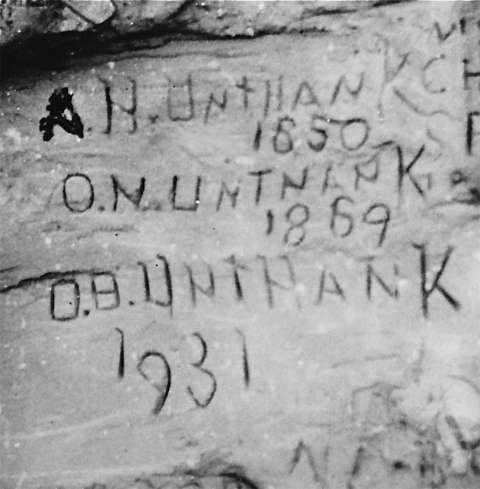 Three days later he had a serious relapse. The company stopped to "doctor and nurse Alvah." It soon became clear there was little hope of his recovery. Two company members, Pusey Graves and Henry Puckett, narrate his decline and death in journals written as letters they sent home.
On June 30, Graves wrote,  "Alvah getting worse. Is quite hopeless; appears to care but little; complains none."  On July 1, "Alvah is rapidly sinking. Lying by with heavy hearts."  And on July 2, Graves noted, "This morning I was awakened to see the last of Alvah. He passed quietly away his countenance wearing a pleasing smile as his inner being entered his spiritual possessions in the second sphere of life immortalized. Bid his father be of good cheer; his child has paid the great debt of Nature … He expressed no concern whatever concerning his past, present, or future; He lay calm, bore his suffering patiently and uttered not a murmur or groan."
Puckett wrote on July 2, "Alvah died this morning about 3 o'clock. We buried him at 1 P. M. This mournful event caused quite a sensation in our little company. On account of our more intimate acquaintance, and the associations of childhood, most of us felt his death much more severely than that of the others who had died … The bluffs near us afforded some very nice smooth stones, upon one of which we recorded in the best style our imperfect implements would allow, his name, age, state, etc., and placed it at the head of his grave."
Sol Woody used a sharpened nail as a chisel to inscribe the headstone. Woody's inscription reads "A.H. Unthank, Wayne Co. Ind, Died Jul. 2 1850."A few of Alvah's closest friends lingered at the grave after the others had left, covered it over with large stones, and transplanted over the grave a few bunches of cactuses in full bloom. Later that afternoon they moved on to Deer Creek at present Glenrock, Wyo.
The company suffered another death, that of Samuel Curtis, a cousin of Alvah's, at Bear River in western Wyoming. One member, Dr. James Backus, disappeared without a trace somewhere along the Humboldt River in what's now Nevada. The company, like many others, began to break up as they neared California. Six men turned off and went to Oregon, and by the time Pusey Graves crossed the Sierra Nevada, he was with just one other original member of the Newport Mining Company. Fourteen others reached California, straggling in as small groups.
Pusey Graves summed up the passing of Alvah Unthank with these words: "He was amiable and beloved by all the company and received the strictest attention and the best treatment that our circumstances would allow. His friends at home may rest assured that all was done that could be to make him comfortable."
The Unthank inscriptions
About a week before Alvah died, on the morning of June 25, 1850, he and his company had passed Register Cliff, where Alvah stopped briefly to inscribe his name: "A.H. Unthank 1850." No other company member's name is found in the lists of inscriptions for the site.
Seventeen years later, Alvah's cousin, Oliver Nixon Unthank, son of John Allen Unthank, the uncle who left Alvah and the Newport Company at St. Joseph, inscribed his name under Alvah's: "O.N. Unthank 1867." Oliver was a civilian telegrapher for the U.S. Army at Fort Laramie. The third Unthank in the group is "O.B. Unthank 1931." Oliver Brandon Unthank, a salesman living in Sheridan, Wyo., was the son of Oliver Nixon Unthank.
Discovery of the Grave
Some records show the Unthank grave was discovered and subsequently lost and forgotten several times during the late 1800s. Passing cowboys noticed it in the early 1880s; in 1886, railroad construction workers found the grave overgrown and the headstone fallen; in 1899, sheepherder Irby Lamb again found the headstone face down in the grass. He tidied up the grave and planted wild flowers.
Little was done to permanently preserve the grave until its last discovery around 1920. The Casper Lions Club, under the leadership of Charles B. Stafford, initiated a research effort to identify Alvah Unthank. They wrote letters to Indiana and Oregon. Relatives were found in Richmond, and the story of the Newport Company and Alvah Unthank eventually emerged. In 1924, Converse County Deputy Sheriff Howard Jackson of Glenrock, Wyo., built the iron fence that still surrounds the Unthank grave.
Resources
Graves, Pusey. Diary and Letters. Typescripts. Earlham College Library, Richmond, Ind.
Puckett, Henry. Diary. Typescript. Location of original ms. is unknown.
Nebraska State Historical Society, Lincoln, Neb.
WyomingHeritage.org and Wyoming State Historic Preservation Office. "Register Cliff." WyoHistory.org. Accessed May 2, 2016, at /encyclopedia/register-cliff.
Wyoming State Historic Preservation Office. "Alvah Unthank Grave." Emigrant Trails Throughout Wyoming. Accessed May 2, 2016, at http://wyoshpo.state.wy.us/trailsdemo/alvah_unthank.htm.
Illustrations
The color photo of the Unthank grave is by Richard Collier of the Wyoming State Historic Preservation Office. Used with permission and thanks. The rest of the photos are from the author's collection. Used with permission and thanks.