Prospect Hill
A short way west of Willow Spring, Oregon Trail travelers heading for Utah, Oregon or California came to a steep hill, where the road rose 400 feet in elevation in the space of a mile. "[A] pretty hard drag," California-bound W.S. McBride called it in 1850. He was right; many emigrants had to double-team their oxen to make the grade. But at the top, he and all other travelers then and now were rewarded with a sweeping view of new country. Diarists remarked often on the sight, and on how it lifted their spirits.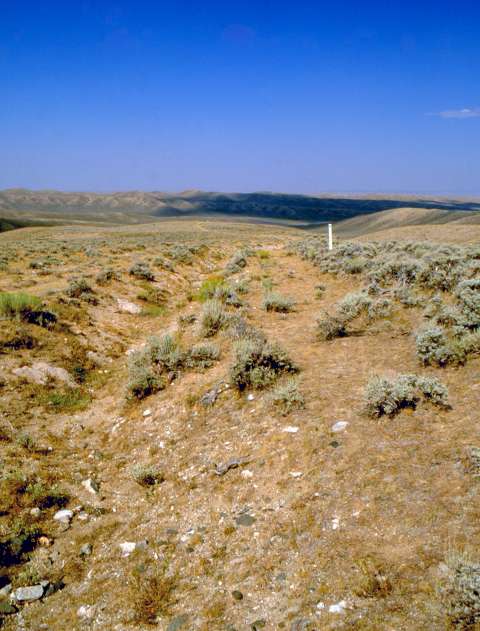 "From the top can be seen a vast extent of country to the south, west, and north. For about twenty or thirty miles to the south there appears to be a tolerably level bottom over which our future road runs. Beyond this there are vast ranges of high hills whose summits are spotted with snow," wrote William Clayton, diarist for the first Mormon pioneer company, on June 20, 1847. The location was attractive enough that its commercial possibilities occurred to him as well: "The view from this hill is one of romantic beauty which cannot easily be surpassed and as [Mormon Church] President [Brigham] Young remarked, would be a splendid place for a summer mansion to keep tavern."
From the top of the hill, emigrants looking from east to west along the southern horizon saw the Pedro, Shirley, Seminoe and Ferris mountains, as they are now named, and the Sweetwater Rocks to the southwest.
"Before us is stretched out the long ranges …" diarist John F. Snyder wrote on June 7, 1850. "Gazing on this scene," he continued, "I was forcibly reminded of [poet Thomas] Campbell's
'As yon summits, soft and fair, 
Clad in colors of the air; 
But to those who journey near 
Barren, brown and rough appear.'
… Descending 'Prospect Hill' by another long, inclined route," he concluded, "we slowly continued our march through heavy sand."
Poetry, shouts and song—year after year, reactions were similar. "As we reached the summit of Prospect Hill, the whole Sweetwater country broke upon our view, with mountains north and south, evergreen timber and snowbanks on their sides, land sage plains between," wrote Elizur Shaw on July 20, 1862. "We could scarcely repress a shout at our first view of the mountains. The road was good and we camped at three o'clock on Greasewood Creek, at a deserted stage station."
Prospect Hill is also known as Ryan Hill. Today, the U.S. Bureau of Land Management provides a hilltop viewing area with interpretive exhibits. Visitors can take in the landscape, virtually unchanged since covered wagon days, and walk wagon ruts and swales on public land. Swales have also been marked by white, 4-foot carsonite markers placed by the Oregon-California Trails Association.
Resources
Primary Sources
Clayton, William. The Journal of William Clayton. 1945. Reprint, Salt Lake City, Utah: International Society of Utah Pioneers, 1994.
McBride, W.S. Journal, 1850. HM 16956, Typescript. Huntington Library, San Marino, Calif.
Shaw, Elizur. Emigrant Life on the Plains. Ed. by Thomasine Swoape Smith. Privately printed, Medford, Ore., 1992.
Snyder, John F. Diary. Ms. 180E, Typescript. Illinois State Library. Springfield, Ill.
Secondary Sources
Brown, Randy. Oregon-California Trails Association. WyoHistory.org offers special thanks to this historian for providing the diary entries used in this article.
National Park Service. National Historic Trails: Auto Tour Route Interpretive Guide Across Wyoming. Salt Lake City: National Park Service, National Trails System, Intermountain Region, 2007, 56. Accessed March 23, 2016, at http://www.nps.gov/cali/planyourvisit/upload/WY_ATRIG%20Web.pdf.
U.S. Department of the Interior, Bureau of Land Management. "Tour the Trails in Wyoming." Accessed March 24, 2016, at http://www.blm.gov/wy/st/en/programs/nlcs/Historic_Trails/trails_tour.html.
Illustrations