Register Cliff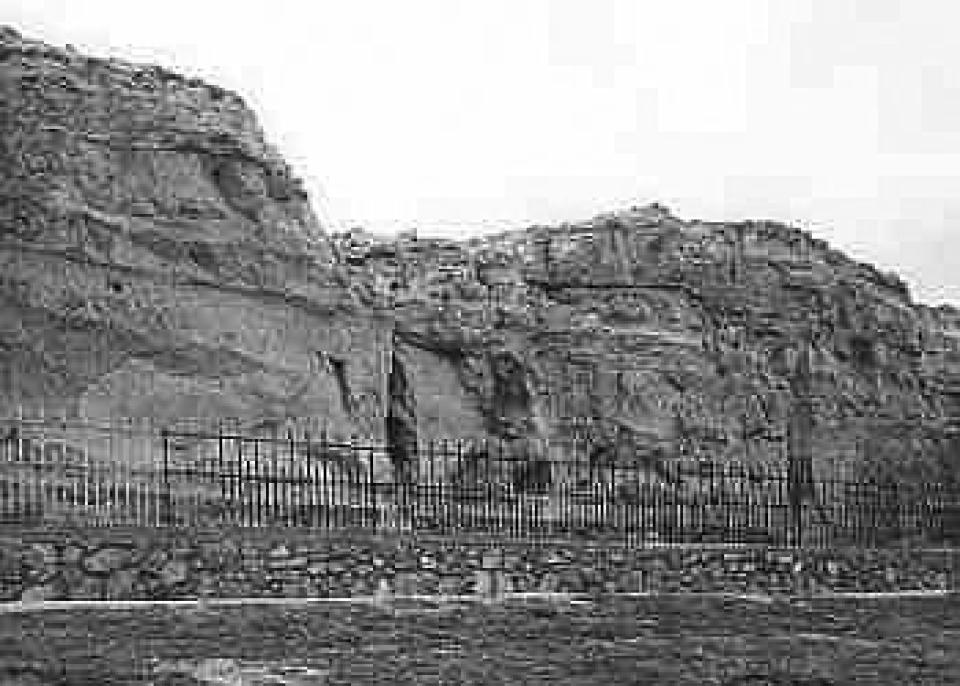 Register Cliff rises more than 100 feet above the North Platte River Valley south of Guernsey, Wyo. The area was the first night camp west of Fort Laramie for Oregon Trail travelers. Under the shadow of the chalky limestone bluffs on the south bank of the river, the emigrants paused to set up camp, pasture their animals and rest from the hardships of the trail.
The stopover gave them time to record their names and the dates of their passage. Many of the inscriptions at Register Cliff are from the 1840s and 1850s, the peak years of travel along the trail. Several states, especially Ohio, are well represented in the carvings.
It is likely that the cliff and its surroundings were a familiar stopping place as early as the fur trade era, though most inscriptions from that time have weathered away. The earliest known carving on the cliff reads, ''1829 This July 14,'' perhaps cut by a French speaker to commemorate Bastille Day. One unusual series of names, representing three generations of Register Cliff scribes, is that of T. H. Unthank, dated 1850; O. N. Unthank, 1869; and O. A. Unthank, 1931.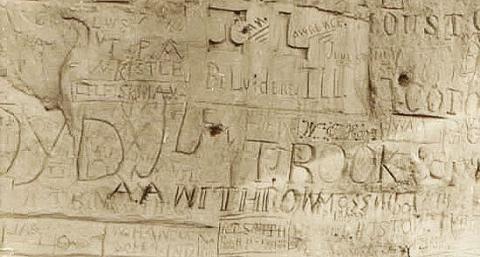 Register Cliff is one of the three best-known ''registers of the desert.'' The other two are Independence Rock, in central Wyoming, and Names Hill, in western Wyoming. Register Cliff is a short distance from the ranch buildings of Charles A. Guernsey, a cattleman of the 1890s for whom the town of Guernsey was named. Henry Frederick, who later owned the ranch, donated the site to the state of Wyoming as a memorial to the pioneers. Register Cliff was named to the National Register of Historic Places on April 3, 1970.
Resources
Illustrations
The photo of names carved on Register Cliff is from Wyoming Tales and Trails. Used with thanks.
In the photo gallery, the photo of the cliff in the afternoon sun is by the National Park Service, via Wikipedia; used with thanks. The photo of the Willard signature is by David and Kay Scott; used with permission and thanks. The photo of the Robb and Coolidge names is from Wikipedia. Used with thanks.  The photo of Register Cliff from the north side of the North Platte is by Geoff Dobson, from Wyoming Tales and Trails. Used with thanks.