Guernsey State Park
While most visitors to Guernsey State Park come to fish, camp and explore, at this park near Guernsey, Wyo., they will find several high-quality examples of historic Civilian Conservation Corps architecture. These structures, made of local sandstone with hand-forged iron and hand-hewn logs, were built during the Depression of the 1930s as part of efforts by President Franklin Delano Roosevelt and Congress to put people back to work and preserve America's natural resources.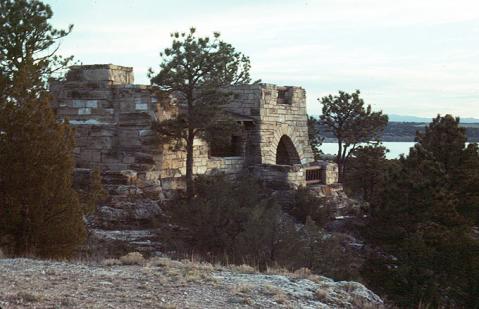 Brimmer Point, the Castle and the Guernsey Museum offer excellent views of the park as well as opportunities for close-up looks at the fine craftsmanship of the CCC buildings, known for reflecting the natural beauty that surrounds them.
The museum, on a high cliff overlooking the water, boasts a roof of hand-split cedar shakes and a floor of smooth flagstones. The Castle, with its giant fireplace and winding steps, leads to an observation area with a great view of the park and reservoir.
The CCC also constructed many of the roads, bridges and trails that wind throughout the park, taking advantage of the region's spectacular panoramas.
The reservoir, first filled in 1927 following the construction of the Guernsey Dam and Power Plant, was created on federal land purchased for the North Platte River project by the U.S. Bureau of Reclamation.  Visitors today can enjoy a lakeshore drive and a skyline drive.  Lake Guernsey State Park was named a National Historic Landmark in 1997. The Oregon Trail Ruts and Register Cliff are located nearby.
Resources
Illustration