Fort Fetterman
Established on a bluff above the North Platte River in 1867 where the Bozeman Trail left the old Oregon Trail route to head north for the Montana gold fields, Fort Fetterman was used frequently as a staging location for U.S. Army expeditions during the Indian Wars. The fort was named for Capt. William J. Fetterman, killed with all 80 of the men under his command in December 1866 near Fort Phil Kearny, further north along the Bozeman Trail.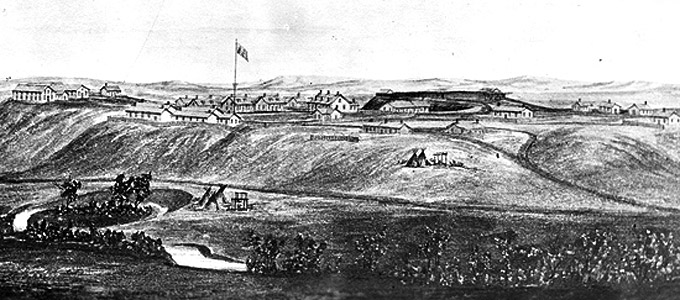 After Bozeman Trail forts Reno, Phil Kearny and C.F. Smith were abandoned in 1868 under the terms of the Fort Laramie Treaty, Fort Fetterman became a prime military establishment and strategic supply base in the heart of Indian country.
Major William McEnery Dye with companies A., C., H., and I. of the Fourth Infantry began construction of Fort Fetterman in July 1867, and Brigadier General H. W. Wessells became first commanding officer in November of the same year. Quartered in temporary dwellings, the garrison found the first winter difficult. The following year these dwellings were replaced by more substantial structures of adobe, wood and stone. The development of the post continued until 1870 when it became well established and destined to play a conspicuous part in United States military and Indian affairs for the next few years.
In 1876, as the Indian Wars drew to a close, Gen. George Crook led three marches from Fort Fetterman, including one that ended in the famous Battle of the Rosebud in southern Montana. At the Rosebud, Crook's army was stalled by a force of Cheyenne and Lakota Sioux, preventing Crook from joining Custer's troops who would soon fight the Battle of Little Bighorn.
In 1882, the fort closed to military operations, but became known as Fetterman City and notorious for its saloons and brothels serving cowboys during the 1880s cattle boom. A few years later, when the railroad advanced to Douglas, Wyo., about seven miles south, this settlement was abandoned. In 1897, famed western writer Owen Wister used Fetterman City, which he called "Drybone," in his novel Lin McLean.
The Wyoming Historical Commission gained ownership of the site in 1962, and new exhibits were created in the 1990s. Today, an ordnance warehouse and restored officers' quarters help visitors understand the fort's earlier uses.
Resources
Lindmier, Tom. Drybone: A History of Fort Fetterman, Wyoming. Glendo, Wyo.: High Plains Press, 2002.
Fifer, Barbara and Fred Pflughoft and David Morris, photographers. Wyoming's Historic Forts. Helena, Mont.: Farcountry Press, 2002.
"Fort Fetterman." Wyoming State Historic Preservation Office. Accessed 9/22/11 at http://wyoshpo.state.wy.us/NationalRegister/Site.aspx?ID=119
Fort Phil Kearny/Bozeman Trail Association. "A Brief History of the Bozeman Trail," by Susan Badger Doyle, accessed 9/16/11 at http://www.bozemantrail.org.
Fort Phil Kearny State Historic Site. "Fort Fetterman: The Last and Longest-Operating Fort on the Bozeman Trail," by Robert C. Wilson, accessed 9/16/11 at http://philkearny.vcn.com/fortfetterman.htm.
Wyoming Tales and Trails. "Fort Fetterman," accessed 9/16/11 at http://www.wyomingtalesandtrails.com/fetterman.html.
Illustration