Refining Wyoming's Oil for 120 years
Visitors strolling among exhibits at the New York Bicycle Show of 1899 discovered little that was new, save for a few tweaks in enameled coloration, frame design and tube material.
There was, however, one notable exception. "A new automobile that was entered at the show was a hydrocarbon affair that had the front wheels set in forks like those on a bicycle," The New York Sun reported. "The display of motor carriages attracted great attention. The interest in this part of the show has set the bicycle makers talking harder than ever as to whether all the wheel manufacturers would soon be building them."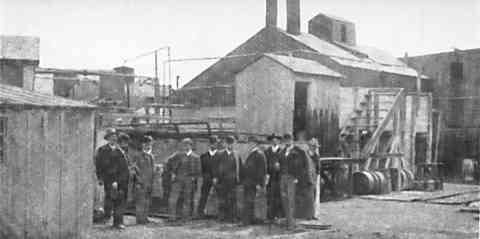 Before long, one such motor carriage, Henry Ford's Model T, would revolutionize transportation in America and help give rise to whole new industrial sectors. Basic among these would be the production of fuel for automobiles, and by 1920, there would be 9 million gasoline-powered vehicles on the road.
But early attempts in the U.S. to refine crude oil focused neither on motor fuel nor lubricants. By 1851, Samuel Kier had distilled liquid petroleum to produce lamp oil. Kier and a partner subsequently created the first U.S. petroleum refinery in Pittsburgh, Pa.
After Edwin L. Drake drilled his pioneering oil well at Titusville, Pa., in 1859, refining capacity increased in concert with the state's growing oil production. By the late 1860s, Pittsburgh alone was home to 58 refineries.
Early refineries employed horizontal cylindrical stills that could handle only a few barrels of crude oil at a time. Temperatures were raised slowly and distillates like gasoline—which initially had no commercial value—were removed, while lamp oil and kerosene were collected.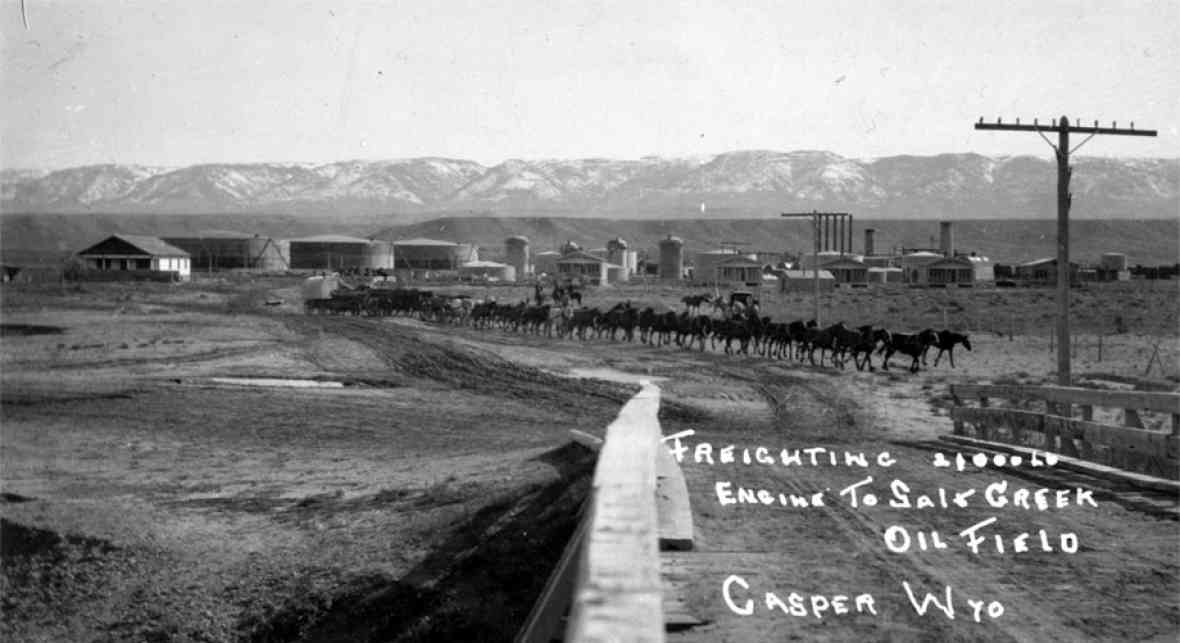 Wyoming refineries and their oil fields
In Wyoming, refineries accompanied the development of major oil fields, particularly, in the early days, the prolific Salt Creek and Shannon fields of central Wyoming.
In 1889, oilman Philip Martin "Mark" Shannon brought in his first producing well at the Salt Creek-Shannon Field near present Midwest, Wyo., the output of which was of sufficiently high quality that the oil could be used as a lubricant without refining. The main customers for this unrefined product were railroads.
So in order expand their markets, and with a reliable supply of crude oil tied up, Shannon and a group of Pennsylvania investors constructed the state's first refinery in 1895. It was located on a site east of Center Street and near the Chicago & North Western railroad tracks in Casper, Wyo. The plant was capable of producing 100 barrels of lubricants per day, ranging from light cylinder oil to heavy grease.
The refinery's boiler fires were started on March 5, 1895, for what was essentially a skimming operation. The first production run consisted of car, valve and engine oil for the Union Pacific's Denver and Gulf Railroad.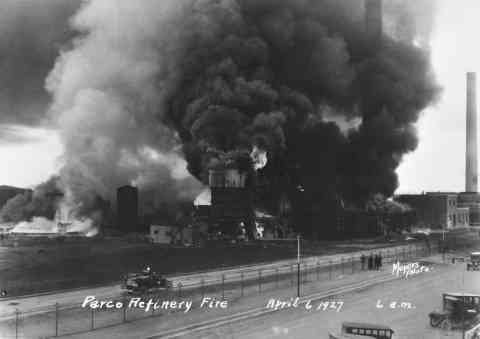 "Workmen are now busy sinking a six hundred barrel storage reservoir for crude oil and a number of other new tanks and the machinery necessary to finish all grades of oil will be placed as soon as workmen can do so," the Natrona Tribune reported on April 18, 1895.
By 1898, the Pennsylvania Oil and Gas Co.'s Casper refinery had two oil stills, a total refining capacity of 200 barrels per day and the capability to produce seven grades of oil products on a regular basis.
"The axle grease adjunct of the refinery of late having a full exposition in The News, is of daily increase in scope of custom and utility," the Wyoming Derrick observed on April 28, 1898. "This axle grease has worked a revolution in local freighting, as a heavy laden freight wagon using this grease travels forty-five miles with one greasing on its axles, while three greasings with the old-time axle greases are necessary for the same distance."
Even so, transportation difficulties hobbled the refinery, which relied on horse-drawn wagons to haul crude oil 50 miles from Salt Creek to Casper—a round trip that often took 10 days to complete—and by the state's remoteness from large eastern markets.
Early Casper refineries
In 1903, the Societé Belgo-American des Pétroles du Wyoming bought the Pennsylvania Oil and Gas refinery, along with Salt Creek oil properties, for $600,000.
The following year, the Casper City Council granted Belgo-American 40 acres of land suitable for refinery construction. If a refinery were constructed, the council agreed to supply the plant with free city water. The city also made concessions for a Casper-to-Lander railroad proposed by the company.
But in the end, neither a new refinery nor railroad was built. Sketchy business dealings by Belgo-American officials, coupled with legal complications, doomed the plans, and even operations at Wyoming's first refinery were suspended.
In 1907, a committee of the Casper Commercial Club circulated a petition asking the city council to declare the Pennsylvania Co. refinery a dangerous firetrap, to order its removal and to have an adjacent oil pond filled up. The city council agreed, but no cleanup occurred until years later.
The Natrona County Tribune complained on Sept. 25, 1907 that the refinery was "very little considered by the people generally and is even ridiculed and criticised among business men in Casper. This industry is in its infancy, really, although the refinery has been established about fifteen years. The difficulty and expense experienced in the transportation of the crude from the wells to Casper, fifty miles, necessarily makes the development of the industry slow, but is a valuable resource of the community and it must be realized that as such Casper can ill afford to discourage it."
In 1910, Franco-Wyoming Oil Co. bought Belgo-American. The old Pennsylvania Oil and Gas refinery was finally demolished in 1911.
"The Franco-Wyoming company at once removed the building and machinery, and the city filled up the pond of sludge which was an eye-sore and a nuisance, and thus removed all evidence of the first oil refinery in the state of Wyoming, of which in the early days Casper was the proud possessor," Casper historian Alfred James Mokler wrote in the 1920s.
But such reversals of fortune for the state's refinery sector did not portend a bleak future. To the contrary, as demand for petroleum products increased, oil drilling expanded and more efficient pipelines replaced horses and wagons, new refineries, both large and small, sprang up across the state.
Even as the state's first refinery was razed, the City of Casper in 1911 granted to the Natrona Pipe Line and Refinery Co., a subsidiary of the Franco-Wyoming Oil Co., permission to use city streets so it might build a pipeline and provided a lease for 20 acres of land east of Highland Cemetery to build a refinery.
Also in 1911, the Midwest Oil Co. unveiled plans for a pipeline from Salt Creek and a Casper refinery of its own, potentially yielding both oil and natural gas.
"Both the gas and oil will be pumped through the large pipe line and at the refinery the gas will be separated from the oil if found in sufficient quantity will be piped about town for domestic lighting and heating purposes," the Casper Press reported on Feb. 17, 1911.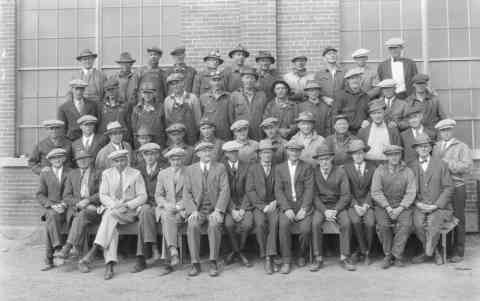 On a Sunday night in December 1911, the Midwest refinery began receiving oil into a 55,000-gallon storage tank.
By June 1912, the Natrona Pipe Line and Refinery Co. operation included 1,000 galvanized barrels for handling lubricants, a tank-car system was in the works and a 48-mile-long telephone line connected the greater Salt Creek Field and two pumping stations with the refinery.
World's largest gasoline-producing refinery
Standard Oil of Indiana purchased an 84-acre tract of land on the west side of Casper south of the North Platte River in 1913 for the purpose of building a refinery, which went into production in 1914.
The plant employed the Burton-Humphreys thermal cracking process, which greatly increased the production of gasoline. In 1922, the Standard Oil Refinery would become the largest volume gasoline refinery in the world, turning 1.35 million barrels of crude oil per month into 615,000 barrels of gasoline, in addition to other products.
A merger in 1914 consolidated production and refining assets of the Midwest Oil Co., the Franco Petroleum Co. and the Natrona Pipe Line and Refinery Co. under the name Midwest Refining Co.
The Midwest Refining Co. by then owned three plants on adjacent tracts, which essentially formed one refinery. About half the output was kerosene, gasoline and "common products," while the other half consisted of fuel for the Northwestern and Burlington railroads. The Franco Petroleum Co. built a second plant near the Midwest operations in 1914.
In 1920, Standard Oil of Indiana acquired a one-third interest in Midwest Refining in a deal that included an exchange of four shares of Midwest Refining stock for one share in Standard Oil of Indiana. By June 1921, Standard Oil owned 85 percent of Midwest's stock.
Refineries around the state
Oil refining between 1900 and 1920 wasn't limited to Salt Creek production. Plants constructed in Cowley, Wyo. (1908) and Greybull (1916) processed crude oil from fields in the Bighorn Basin.
"I have convinced myself beyond a question of doubt that the statement made by owners of the oil wells and refinery at Cowley to the effect that the product of their wells are superior to the eastern coal oil and gasoline is absolutely correct," Frank H. Church of the Chalmers-Detroit automobile company proclaimed in 1909. He said five gallons of the Cowley product took his automobile "about half as far again as five gallons of eastern gasoline, according to the distance registered, and the running conditions were absolutely the same."
A Glenrock, Wyo., refinery owned by Mutual Refining and Producing of Kansas City made its initial production run in December 1918, starting with a single, 600-barrel still.
After many delays, the McWhorter-Osage Refinery in northeastern Wyoming was turning out gasoline and kerosene in 1920. "Tractor men and owners of automobiles may now run their machines with homemade gas," the Newcastle Newsletter informed readers on June 17 of that year.
Laramie, Wyo., officials designated Aug. 4, 1920, as "Refinery Day," to mark the start-up of Midwest Refining's new 6,000-barrel capacity facility in the Gem City.
"The Laramie Council of Industry is sending out invitations to petroleum production and refining men and it is understood that the mayor and board of aldermen of that city are arranging for a reception to visitors that makes the first Wednesday of August a chesty heavyweight in Laramie's history," Wyoming Oil World noted on July 24, 1920.
That same summer, Standard Oil of Indiana acquired about a one-third interest in Midwest Refining in a deal that included an exchange of four shares of Midwest Refining stock for one share in Standard Oil of Indiana. By June 1921, Standard Oil owned 85 percent of Midwest's stock.
1920s production boom
By 1920, Wyoming was home to 16 refineries, with two more under construction, and a total capacity of 88,000 barrels of crude oil per day. These plants ranged in size from Midwest Refining (Standard Oil of Indiana) in Casper at 50,000 barrels to Southwestern Oil's tiny Thornton, Wyo., refinery with a capacity of 50 barrels.
Construction contracts for another Casper-area refinery, owned by the Texas Company, were let in 1922. As originally built, it consisted of eight continuous crude stills, two steam stills and three batteries of Holmes-Manley vertical stills. It included a complete treating plant for gasoline and kerosene. By 1927, it had the ability to handle 6,000 barrels of crude oil per day.
White Eagle Oil and Refining Co. also owned a small refinery near Casper in the 1920s.
Casper was Wyoming's refining powerhouse; by 1926, the city's refineries could handle 58,500 barrels of crude oil per day, or half the state's total refining capacity.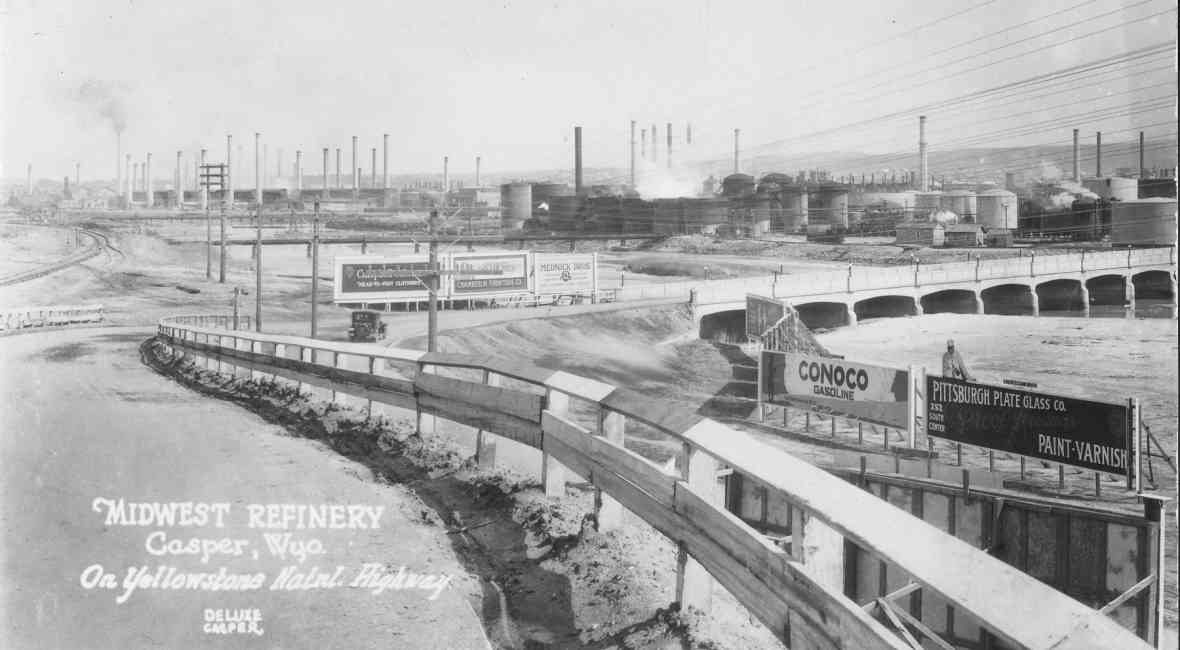 Parco, a refinery and a company town
One Wyoming community was built around an oil refinery. Originally called Grenville, a railroad hamlet on the Union Pacific line seven miles east of Rawlins, Parco, Wyo., was a company town financed by oil baron Frank Kistler to house workers of the Producers and Refiners Corp. (PARCO) refinery, which was built on the site in 1922-1923.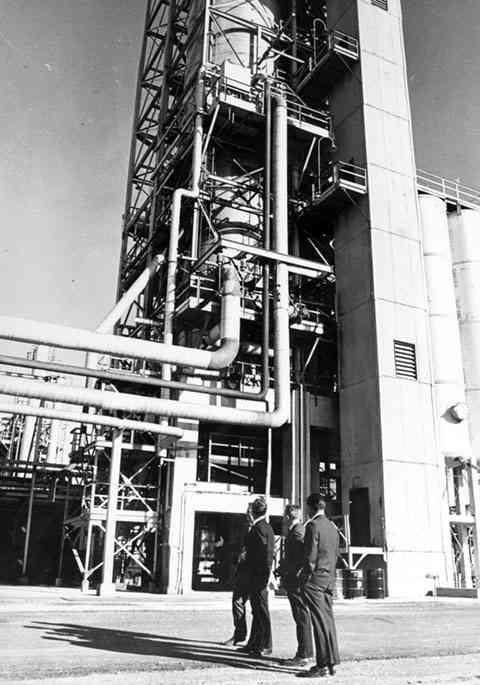 The design was Spanish Colonial, modeled after Southwestern adobe missions. In addition to residences, the town included a central plaza, fountain and park.
Oil prices had briefly topped $3 per barrel in the boom of the early 1920s. In the Great Depression, however, they crashed, disastrously; Salt Creek crude at one point hit a low of 19 cents per barrel. Some oil refineries, including PARCO, went broke. It was acquired by Sinclair Consolidated Oil Corp. and in 1942, the refinery and town were renamed Sinclair.
Cody and Cheyenne refineries
Husky Oil incorporated in 1938 and its first refinery was built in Cody; a second was built later in Riverton. During World War II, Husky produced bunker fuel for U.S. Navy ships. The Riverton operation was moved to Canada in 1946 to process heavy oil into asphalt and bunker fuel.
In 1940, the Frontier Refining Co. was formed in Cheyenne, Wyo. It was owned by M.H. "Bud" Robineau. During World War II, an adjacent facility produced 100-octane fuel for airplanes.
In 1991, Wainoco purchased Frontier Oil Corp., whose primary asset was its Cheyenne, Wyo., oil refinery. Wainoco later changed its name to Frontier Oil Corp. In 2011, Holly Corp. and Frontier merged and changed the name to HollyFrontier.
Booms, busts, closures and cleanups
Throughout the state's history, refineries have been subject to changing fortunes in the oil business, ranging from price fluctuations and business restructuring to new government regulations.
Development of the Lost Soldier Field in northeastern Sweetwater County in the late 1940s resulted in yet another oil boom. By the 1960s, many major oil companies had offices in Casper.
But following a price downturn in 1964, several majors relocated to Denver, and Mobil announced that it would end operations at its Evansville/Casper refinery, a descendant of the White Eagle Refinery started in 1923. The property was acquired by Sinclair in 1968 and named the Little America Refining Co.
By 1978, Wyoming had 12 operating refineries employing 1,900 people and capable of processing 188,630 barrels of crude per day—about half of the state's total daily crude production.
The Husky Oil Refinery in Cody closed during the oil-price bust of the 1980s.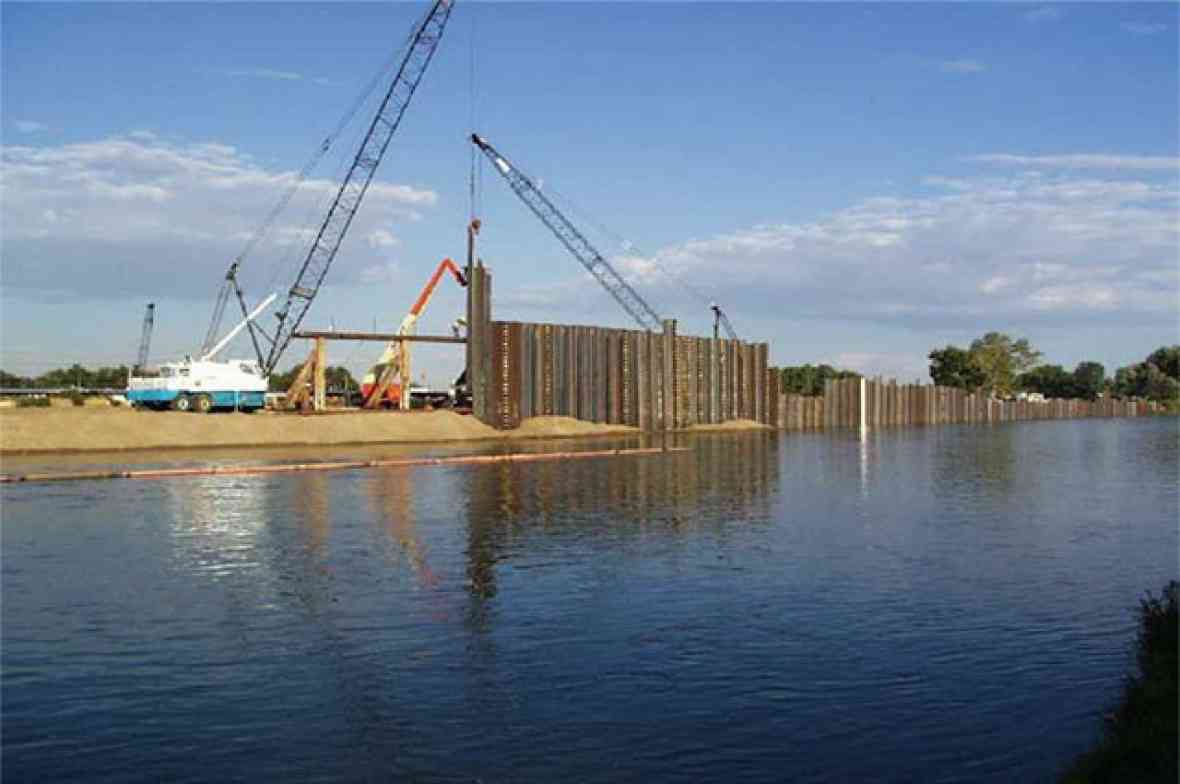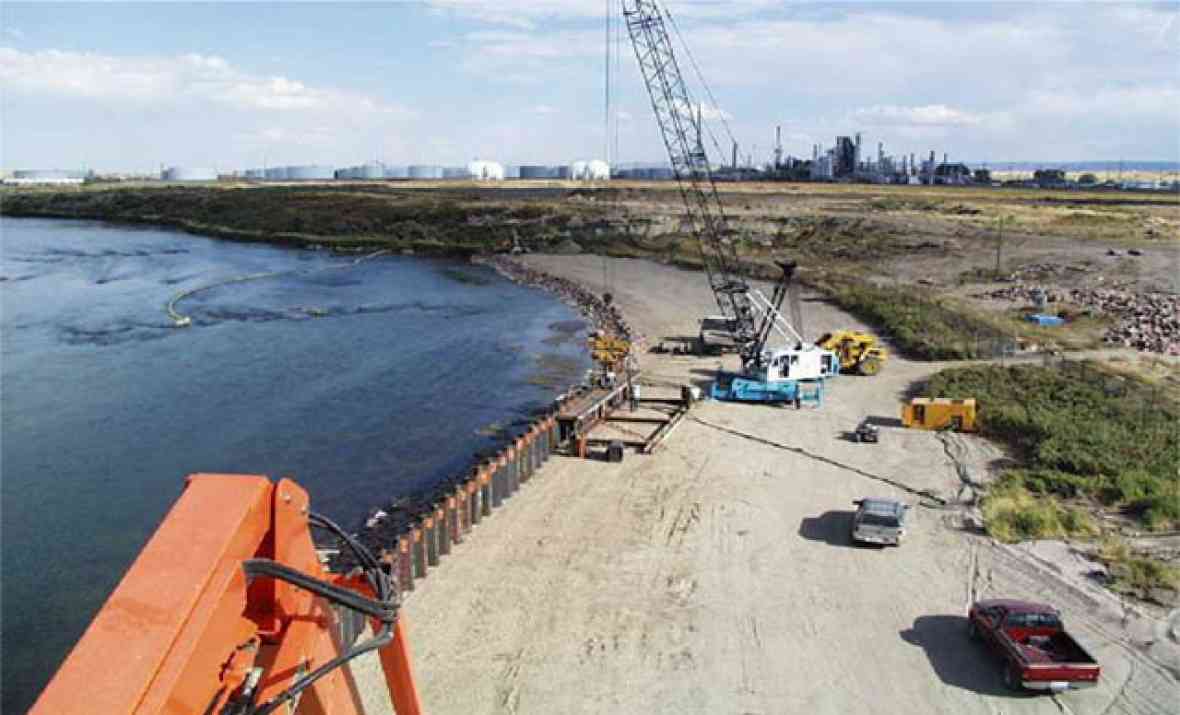 In 1981-1982, Texaco closed three U.S. refineries, including its Casper plant. Company officials blamed a drop in demand for petroleum products and an oversupply of gasoline.
In 1996, a Texaco site cleanup began, which included removing more than 90,000 cubic yards of contaminated soil and building a subsurface barrier wall to protect the North Platte River from pollution.
The Standard Oil Refinery in Casper was renamed the Amoco Refinery in 1985, when the American Oil Co., a division of Standard Oil, took over retail branding. After 77 years in operation, the refinery closed in 1991. BP, previously known as British Petroleum, acquired the site in a 1998 merger with Amoco.
The BP Amoco Refinery closure left behind pollution from nearly eight decades of production, including asbestos, oil spillage and more than 200 miles of buried pipe.
"Unfortunately, the closure came suddenly and without a good exit strategy between the community and the regulators," a 2007 Wyoming Department of Environmental Quality document stated. "The property was fenced and left idle."
In 2002, BP Amoco and the City of Casper signed an agreement pertaining to site remediation. BP Amoco was obliged to clean up the former refinery site and a second site to a "brownfields" rather than a residential standard, and the city would receive $28 million over 10 years for commercial and recreational projects. The rehabilitated area became known as the Platte River Commons, which includes an office park, the 18-hole Three Crowns Golf Course and the new offices of the Wyoming State Oil and Gas Commission.
Spills, leaks and accidents
Oil refining has always been dangerous for its workers, and since 1910 when the Franco-Wyoming Co. closed its Casper plant and left a sludge pond for the city deal with, refineries in Wyoming have left an checkered pollution record behind them.
A lightning strike caused a conflagration on June 17, 1921 at the Midwest Refinery's tank farm west of Casper. Since the tanks were across the North Platte River from the Midwest and Standard Oil refineries, however, those facilities were not affected. Three injuries were reported, but only one worker was hospitalized.
On April 6, 1927, workers at the Parco Refinery east of Rawlins were not so lucky. Sixteen men were killed when a chamber in a high-pressure still exploded, which set off a fiery chain reaction to other stills and oil storage tanks.
In recent years, Wyoming Refining Co.'s refinery in Newcastle, Wyo., has faced spills, leaks and other environmental issues. In 2008, the company settled a dispute with 47 Newcastle residents related to plant emissions, and a year later, it paid a civil penalty of $150,000 and agreed to $14 million in upgrades to settle several alleged emission violations. Houston-based Black Elk Refining LLC purchased the company in 2011.
More recently, the Sinclair Oil Corp. was cited in 2013 for 22 safety violations at its Sinclair, Wyo., refinery and hit with a $707,000 fine. It was the largest workplace safety fine in Wyoming history. In 2012, an accident at the same plant had prompted a $103,200 fine.
Wyoming's remaining refineries
In January 2015, Wyoming, far from the center of the nation's refining business in Louisiana and Texas, had six operating refineries: Sinclair Refinery in Sinclair, capacity 80,000 barrels per day (bpd); HollyFrontier Refinery in Cheyenne, 52,000 bpd; Sinclair's Little America Refinery in Evansville/Casper, about 24,500 bpd; Wyoming Refining Co. in Newcastle, 14,000 bpd; Antelope Refining in Douglas, 4,500 bpd; and Silver Eagle Refining in Evanston, 3,000 bpd.
Antelope Refining was the state's newest refinery. It began operations in 2008.
---
Resources
American Oil and Gas Historical Society. "Producers and Refiners Corporation," accessed Jan. 19, 2015, at http://aoghs.org/stocks/producers-and-refiners-corporation/.
Casper Press. "Pipe Line Seeks Entry to Casper," Feb. 19, 1911, 1.
Casper Press. "Refinery Receiving Oil." Dec. 15, 1911, 1.
Cowley Weekly Progress. "Wyoming Product Greatly Superior," Dec. 17, 1909, 1.
Douglas Enterprise. "Mutual Plant Made Initial Run Tuesday," Jan. 7, 1919, 2.
Geological Survey of Wyoming. "The Wyoming Mineral Industry," public information circular No. 8, 1978, 13.
Husky Energy. "History," accessed Jan. 22, 2015, at http://www.huskyenergy.com/abouthusky/history.asp.
Laramie Boomerang. "New Refinery Has Capacity 2,000 Barrels," Oct. 4, 1917, 6.
Mackey, Mike. "Cheyenne 100-Octane Aviation Fuel Plant," accessed Feb. 24, 2015 at /encyclopedia/cheyennes-100-octane-aviation-fuel-plant.
Mokler, Alfred James. "History of Natrona County Wyoming." Chicago, Ill.: Lakeside Press, Chicago, 1923.
Natrona County, Wyoming. "Oil and Gas," accessed Jan. 19, 2015, at http://www.natrona.net/index.aspx?NID=418.
National Register of Historic Places. "Parco (Sinclair) Historic District," May 6, 1987.
Natrona Tribune. "Now An Oil Refinery," Nov. 22, 1894, 5.
Natrona Tribune. "Casper Oil Refinery," March 7, 1895, 5.
Natrona County Tribune. "Oil Refinery To Be Moved," June 5, 1907, 1.
Newcastle Newsletter. "Osage Refinery Making Gas," June 17, 1920, 1.
Oil150.com. "Refining Crude Oil: History, Process and Products," accessed Jan. 22, 2015, at http://www.oil150.com/files/refining-crude-oil-history,-process-and-products.pdf.
Roberts, Phil. "History of Oil in Wyoming," accessed Jan. 18, 2015, at http://www.uwyo.edu/robertshistory/history_of_oil_in_wyoming.htm. Click here to see Phil Roberts talk more about the history of oil on Wyoming PBS.
Semi-Weekly Boomerang. "Casper Oil Refinery," March 11, 1895, 1.
Simonaitis, Patrick. "Wyoming company plans business park at former Texaco Refinery site," Casper Star-Tribune, Dec. 26, 2013, accessed Jan. 20, 2015, at http://trib.com/news/local/casper/wyoming-company-plans-business-park-at-former-texaco-refinery-site/article_82566ea9-3360-57f5-9c92-s8724ad683b2a.html.
Sinclair Oil Co. "Sinclair History." Accessed Feb 2, 2015, at https://www.sinclairoil.com/sinclair_history.html.
U.S. Energy Information Administration. "Gasoline Explained." Accessed Jan. 19, 2015, at http://www.eia.gov/EnergyExplained/index.cfm?page=gasoline_history.
U.S. Environmental Protection Agency, Region 8. "Containment/Stabilization of Subsurface Hydrocarbon Contamination at Texaco Refinery Casper, Wyoming." Accessed Jan. 21, 2015, at, http://www.epa.gov/osw/hazard/correctiveaction/pdfs/r8s_texa.pdf.
U.S. Federal Trade Commission. "Petroleum Industry of Wyoming," Jan. 3, 1921, p. 30-36, accessed Jan. 15, 2015 at https://books.google.com/books.
Vandewater, Bob. "Texaco says West Tulsa Refinery closing permanently," Oklahoma City Oklahoman, Feb. 11, 1982. Accessed Feb. 4, 2015, at http://newsok.com/texaco-says-west-tulsa-refinery-closing-permanently/article/1973484.
Wood, H.L. "Wyoming's Oil Industry," Fuel Oil Journal, June 1914, 12.
Wyoming Department of Environmental Quality. "BP (Amoco) Refinery: RCRA fact sheet," 2014, accessed Jan. 18, 2015 at http://www.epa.gov/epawaste/hazard/correctiveaction/pdfs/casper11-07.pdf
Wyoming Derrick. "Wyoming's Oil Fields." April 28, 1898, 1.
Wyoming Oil World. "Will Hold Celebration to Mark Initial Run of New Midwest Refinery," July 24, 1920, 1.
Wyoming State Geologist. "Biennial Report, 1920-1922," 30, from Wyoming State Library collection.
For further research
Bleizeffer, Dustin. "Fuel Factories: Communities at Risk." WyoFile, Feb. 4, 2011, accessed Feb. 27, 2015 at http://www.wyofile.com/specialreport/wyo-refineries/. Article looks at the uneven safety records and past pollution violations of Wyoming Refining Co.'s refinery in Newcastle and HollyFrontier's refinery in Cheyenne in the context of both plants' use at the time of highly toxic hydrofluoric acid. Company officials, local residents and emergency response officials comment.
Thissen, Daniel "Doc." "'Historically Insignifcant'" Factory Site Becomes A Significant Laramie Bridge. Laramie, Wyo.: Albany County Historical Society, 2019, accessed Aug. 5, 2019 at https://www.wyoachs.com/larmies-living-history-businesses/2019/5/10/hist...
Kendrick, Gregory D. "Parco, Wyoming: A Model Company Town." Annals of Wyoming, 55:1 (Spring 1983), 2-8, accessed Feb. 27, 2015 at https://archive.org/stream/annalsofwyom55121983wyom#page/n9/mode/2up.
Illustrations