The Other Roughriders: Col. Torrey and Wyoming's Volunteer Cavalry
Rough Riders are usually associated with Theodore Roosevelt, but his was not the only cowboy regiment organized to fight in the Spanish American War of 1898. Wyoming had its rough riders, too, but due to a train mishap and the shortness of the war, they never saw combat.
When war with Spain over Cuba appeared likely in the spring of 1898, Jay L. Torrey, rancher and former legislator from Embar, Wyo., traveled to Washington, D. C., to convince Congress to authorize an army unit of cowboys. While other men made similar proposals, Torrey is credited with originating the idea of the rough riders.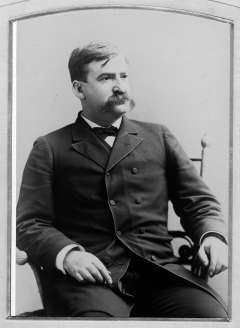 Born in Pittsfield, Ill., Torrey came to Wyoming to help his elder brother, Capt. R. A. Torrey, manage his ranch in the Big Horn Basin. The elder Torrey, who had been commander at Fort Washakie for a time, purchased pioneer J. D. Woodruff's ranch holdings on Owl Creek about 25 miles west of Thermopolis in the late 1870s. Jay Torrey later bought his brother's interest and enlarged the operation.
In 1894 Torrey was elected to the state legislature, representing Fremont County. which at that time included much of the Bighorn Basin. Even though he was a freshman legislator, he was elected speaker of the House. By the time hostilities with Spain appeared likely, he was politically well-known throughout the state though he had served only the one term in the legislature.
When Congress finally authorized "cowboy units," three men were given command of the three volunteer cavalry organizations. Col. Leonard Wood, assisted by former undersecretary of the Navy Theodore Roosevelt, was in charge of the First Volunteer Cavalry. Melvin Grigsby, South Dakota attorney general, was given command of the Third. Torrey was authorized to raise men for the Second Volunteer Cavalry.
Of the 842 recruits, 591 were from Wyoming. The volunteers were assigned to companies largely on the basis of their home towns. For example, most men in Troop E were from Sheridan, Crook or Weston county and the men in Troop G had been recruited from Albany County. Also assigned to the Torrey command were troops from Colorado, Nevada, Idaho and Utah.
The recruits met strict requirements. They had to be between 18 and 45 years of age, stand between 5'4" and 5'10" in height and weigh no more than 165 pounds. The 230-lb. Torrey was exempted from the requirements. Of course, all had to be expert horsemen.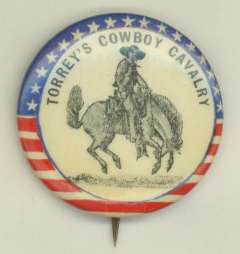 The troops assembled at Fort D. A. Russell near Cheyenne, now Warren Air Force Base, in May 1898, while the job of finding suitable horses took place. Torrey insisted on having the best mounts available and by the middle of May, only 175 of the needed 1,000 horses had met his high standards for the government-authorized price of no more than $110 per animal.
The horses for each unit were of the same color. A lot-drawing for colors gave Wyoming units bay horses while the Nevada contingent drew chestnut and the Utah group, black. The two Colorado units would ride black and chestnut mounts.
Intensive training continued amid a great deal of patriotic fanfare until June 13 when the troops, by then dubbed "Torrey's Rough Riders," were finally ordered to Jacksonville, Fla., the staging area for Cuba. The send-off from Cheyenne was a festive occasion and all across the country, people cheered the passage of the rough riders on their way to war.
On June 26 while the two trains carrying the troops and their horses were nearing Tupelo, Miss., the first train stopped to take on water. The second train rounded a sharp curve and smashed into the rear car of the parked train. Five men were killed and 15 were injured. Col. Torrey injured both feet and had to be on crutches for several weeks after the accident.
After days' delay, the Torrey group arrived at the base in Jacksonville. At the same time, Roosevelt's rough riders were charging up San Juan Hill in Cuba. Within a month, the war was over and Wyoming's rough riders were still in Jacksonville having never been ordered to the front.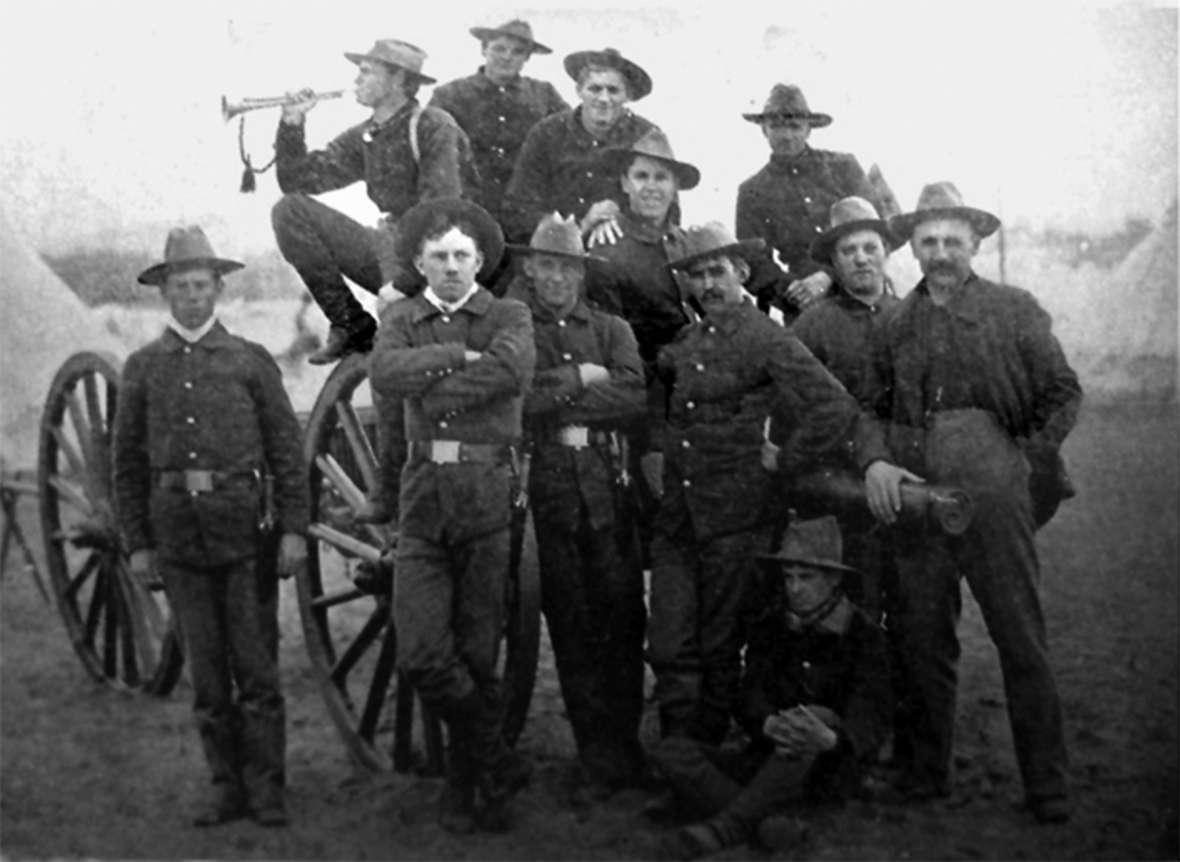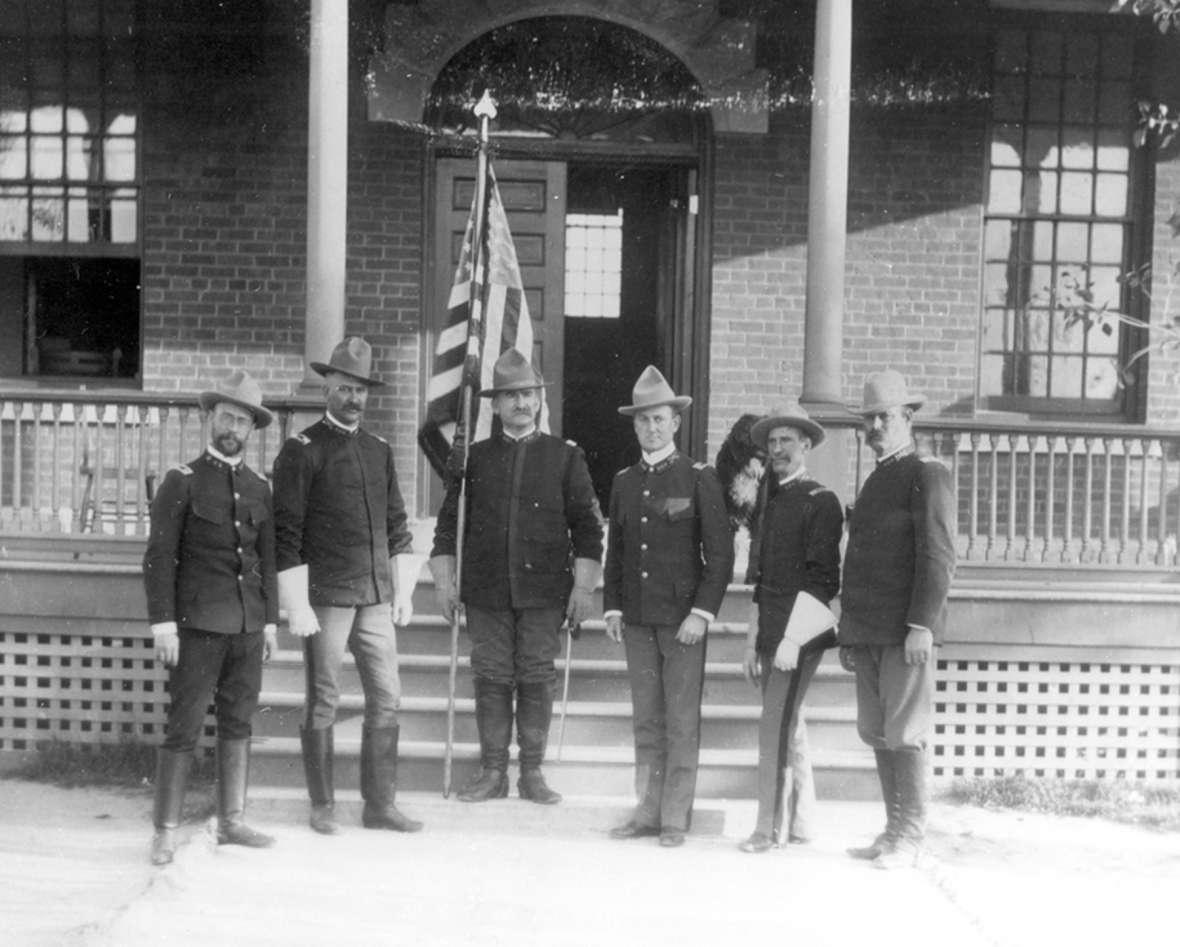 Typhoid fever took its toll while the disappointed volunteers awaited their discharges. More than 30 men died of the disease—one newspaper report places the number as high as 50--before the unit was finally returned to Fort D. A. Russell and mustered out in late October 1898.
Most of the cowboys, hunters, miners, ropers and blacksmiths who made up "Torrey's Rough Riders" returned to their home towns. A year later in an elaborate ceremony, the victims of the train mishap, all of whom were from Wyoming, were reinterred in the Fort Russell cemetery.
While Theodore Roosevelt was elected vice president and later became President after the death of William McKinley, Col. Jay Torrey returned to his ranch in the Big Horn Basin where he lived until about 1906. He sold his Wyoming interests that year and moved to Missouri. Although he was a very successful and prosperous farmer, he failed in an attempt to represent Missouri in the U. S. Senate. After a trip to Wyoming in 1920, he became ill and died Dec. 4 at West Plains, Missouri. Roosevelt, the more famous rough rider, had died a year earlier.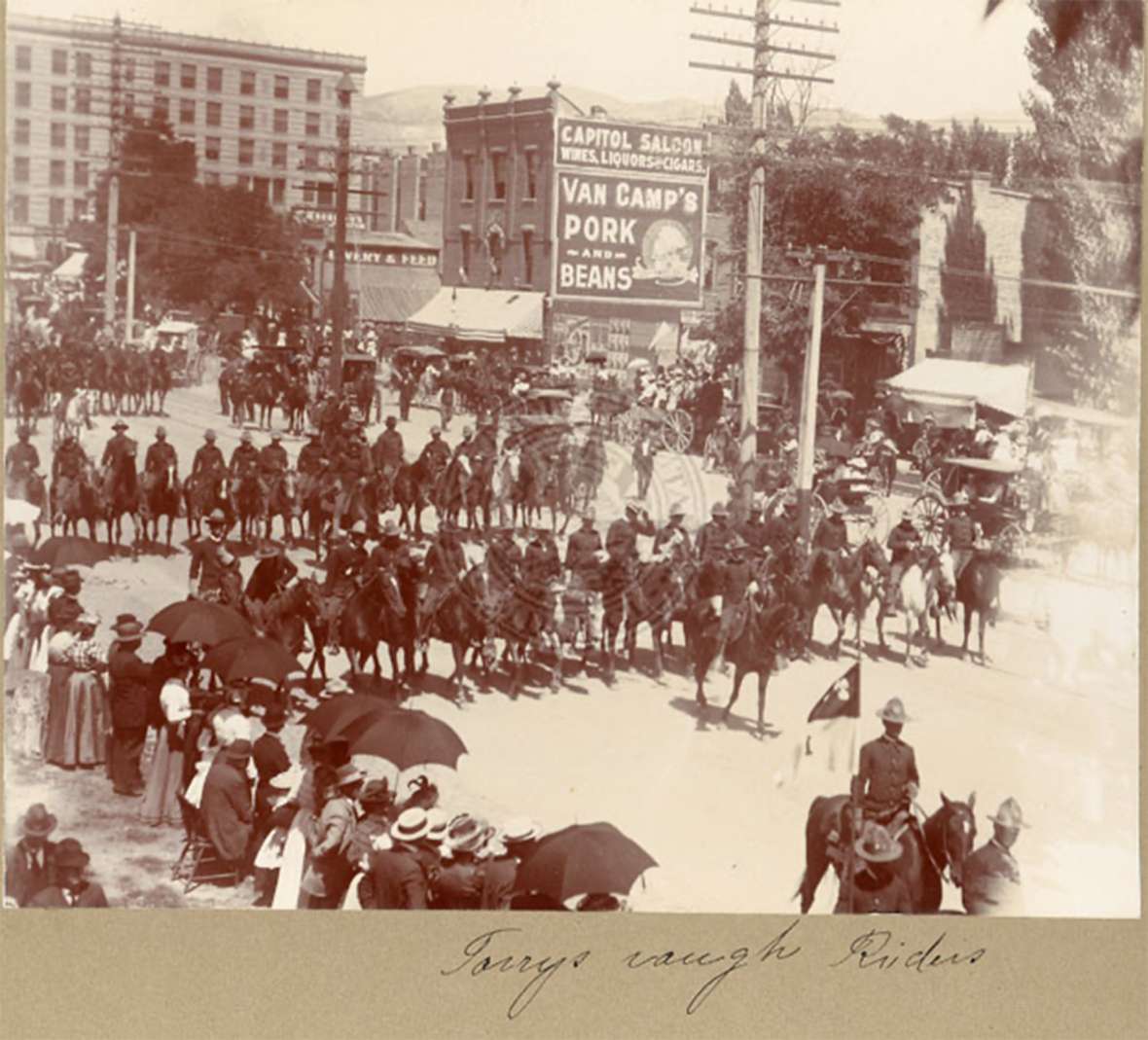 Editor's note: The author originally published this article as one of his "Buffalo Bones" series, written for Wyoming newspapers in the 1980s while was working for the Wyoming State Archives and Historical Department. We've republished it here with special thanks.
Resources
For further reading and research
"Five Troopers Killed." Cheyenne Daily Sun-Leader, June 27, 1898, p. 4, col. 2. Wyoming Newspapers. Special thanks to Lucia McCreery for this and the Wyoming Press citation, below.
Larson, T.A. History of Wyoming. Lincoln, Neb.: University of Nebraska Press, 1965, 311-312.
"On this day in 1898 . . . Spanish-American War Begins." Wyoming State Archives blog, April 25, 2014, accessed June 5, 2020 at https://wyostatearchives.wordpress.com/2014/04/25/on-this-day-in-1898-spanish-american-war-begins/.
Roberts, Richard C. "Utah in the Spanish American War." Utah History Encyclopedia, accessed June 5, 2020 at https://www.uen.org/utah_history_encyclopedia/s/SPANISH_AMERICAN_WAR.shtml.
Wyoming Press, Aug. 27, 1898, p. 3 col. 2. Wyoming Newspapers.
Illustrations