Butch Cassidy in Wyoming
Robert LeRoy Parker, later known as Butch Cassidy, was the eldest of 13 children of Maxi and Anne Gillies Parker. He was born April 13, 1866, in Beaver, Utah. His family's struggle with finances and his father's loss of property to a neighbor in the good graces of The Church of Jesus Christ of Latter-day Saints may have impacted the young Roy's attitude toward citizens in places of authority.

After his family moved south to a new homestead in Circleville in 1879 the young man met Mike Cassidy, a local ranch hand who taught him to ride, rope and shoot—and how to rustle livestock. The young man was so impressed with his mentor that in later years he took his last name.
The outlaw Butch Cassidy
While the circumstances surrounding Roy's leaving home are murky, his youngest sister, Lula, writes in her memoir that he took the blame for a local rustling incident to clear the charges against two married men. When he was 18, he drifted up to Colorado and then Wyoming Territory where he continued his life as a rustler, using hideouts in Brown's Park, a remote area where the borders of Wyoming, Colorado and Utah intersect, and perhaps in the Hole-in-the-Wall country of the southern Bighorn Mountains in northern Wyoming Territory.
Although strong evidence points to his participation in a bank robbery in Telluride, Colo., on June 14, 1889, with the McCarty brothers, the newspapers at the time did not mention his name. During this period he primarily worked as a ranch hand for various outfits in Brown's Park, the remote Bighorn Basin in northern Wyoming Territory and around Dubois on the upper Wind River.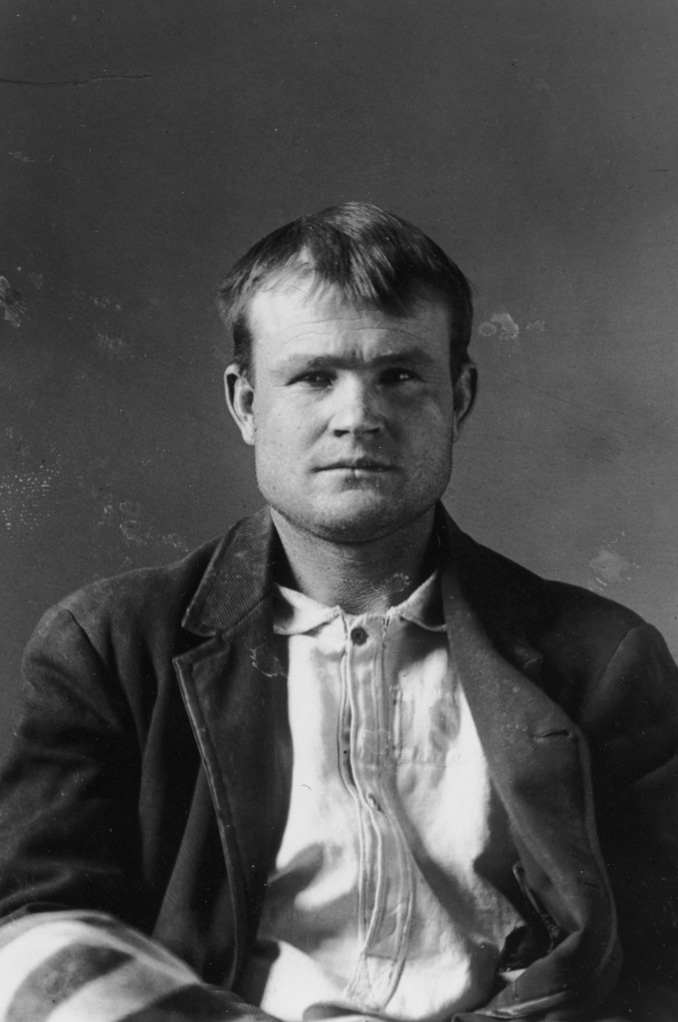 Roy Parker's purchase of a stolen horse for five dollars from a rustler named Billy Nutcher led to his eventual conviction in Judge Jesse Knight's court in Lander, Wyo. in 1894 and incarceration at the Wyoming State Penitentiary—the former territorial prison—in Laramie, Wyo. By this time Roy had taken the name of George Cassidy, with a nickname "Butch," according to court and prison records. He was sentenced to two years. The prosecuting attorney on the case was Will Simpson, the grandfather of U.S. Senator Alan Simpson and longtime University of Wyoming Vice President Pete Simpson.
Not much is known about Cassidy's time in jail, but according to some accounts, he conducted himself as a model prisoner. Although he was a little known rustler, Judge Knight and others were impressed by his intelligence and charisma, and saw him as a potential threat.
Yet Knight and Gov. William Richards organized an early release and pardon for Cassidy. Partly this may have been due to an error Knight made during the trial. Knight was quite frank in a letter to the governor, saying that he was "distressed" that he had failed to tell the jury that it is a crime to buy stolen goods in Wyoming only if a person does so knowingly—and it's not clear if Cassidy knew the horse he bought was stolen. Richards asked Knight to circulate a petition of Fremont County leaders vouching for Cassidy's character, providing the governor with some political cover for this pardon.
Cassidy was released early in 1896, after 18 months in prison. "The question is," Richards wrote to Knight, "will Cassidy do as we tell him to?"
Cassidy did not. Within a few months he formed a gang, known as the Cassidy Gang or the Wild Bunch, and eventually became one of the most successful robbers of his era. He made allies of some ranchers supposedly by paying off their mortgages and spreading money liberally to the poor. People told these stories often, and a kind of Robin Hood folklore arose around the bandit.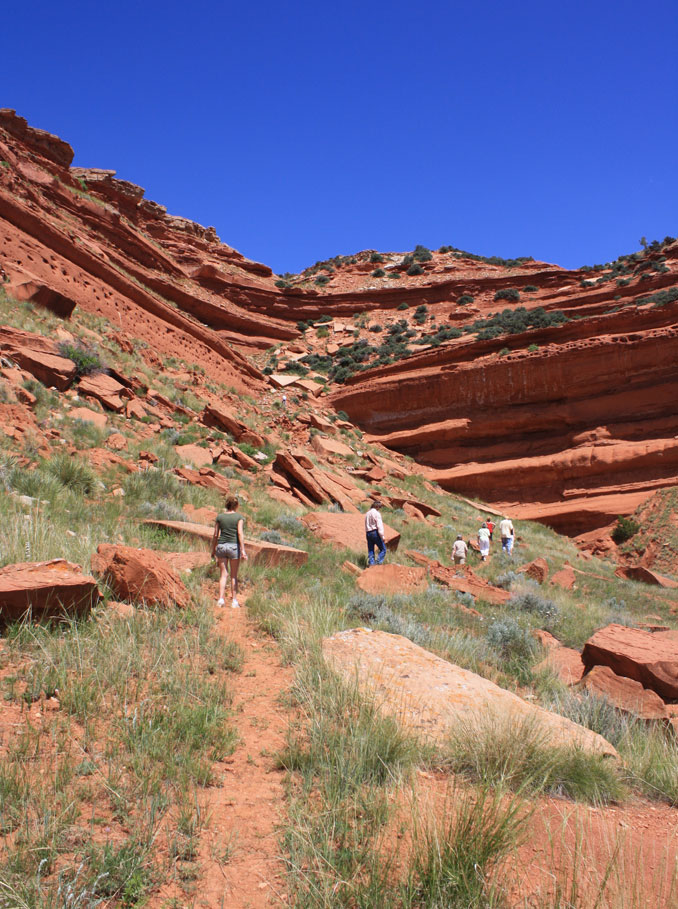 The Wild Bunch used hideouts from Arizona's Mogollon Rim and Utah's Robbers Roost to South Dakota's Black Hills. In Wyoming and its adjacent borderlands, the gang used many refuges, including Brown's Park, Hoback Canyon, Hole in the Wall, Powder Wash, the Red Desert, Star Valley, Wind River Canyon and the Wind River Mountains. Indeed, the outlaws adopted namesakes of the lands that they used and were known also as the Bitter Creek Gang near Rock Springs, the Hole-in-the-Wall Gang, the Powder Wash Gang and the Red Desert Gang.
Wilcox and Tipton robberies
Although many people told tales of Cassidy's gang robbing banks and stagecoaches in Wyoming, the only two confirmed Wild Bunch crimes in the Cowboy State, aside from Cassidy's early rustling, were the robberies of Union Pacific trains at Wilcox and Tipton.
According to the Laramie Boomerang, six masked men flagged the Overland Flyer down at 2:15 a.m. on June 2, 1899, near Wilcox in Albany County northwest of present Rock River. After they commandeered the train and pulled it over a bridge, they blew open the baggage car with an oversized dynamite charge, dazing the baggage man. The Rawlins Semi-Weekly Republican reported that after placing an excessive charge on the safe, they "wrecked the car, blowing the roof off and sides out, portions of the car being blown 150 yards." Taking more than $50,000 in gold, cash, jewelry and banknotes from the safe, the outlaws escaped on horseback.
Cassidy, if he was there, appears to have left the scene separately, and three other bandits fled north through Casper, heading for the Hole-in-the-Wall country. Converse County Sheriff Joe Hazen was mortally wounded in a shootout on Castle Creek north of Casper. Posses of hundreds of men, funded by the Union Pacific, some equipped with bloodhounds shipped in from Beatrice, Neb., pursued the robbers for weeks. The robbers eluded the posses and disappeared into the country near Hole in the Wall.
Arguably Cassidy's most infamous crime, the Wilcox robbery won national attention and the ire of three governors—probably the newspapers in making this claim were referring to the governors of Wyoming, Colorado and Utah—of President McKinley, the Department of State and the Union Pacific Railroad.
The fact that Cassidy had the temerity to rob a train carrying gold for payment of troops fighting in the Spanish-American War was viewed by McKinley and others as much more than an inconvenience. From that time forward, Cassidy was labeled a national terrorist. Authorities set huge bounties--$18,000, newspapers reported, after the Wilcox robbery—for the capture of the outlaws, dead or alive.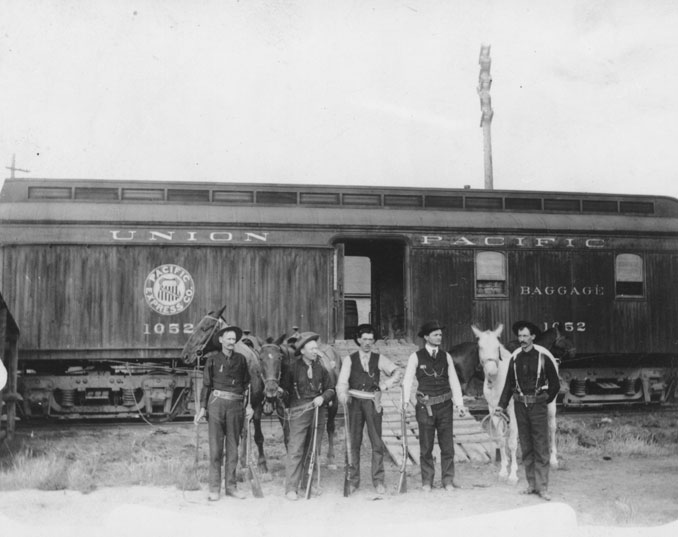 Cassidy's participation in the Wilcox robbery has never fully been established. The Pinkertons—the famous detective agency of the era—suspected several men, including Flat-nosed George Currie, Harvey and Lonny Logan and Bob Lee. The shooting of Sheriff Hazen and the robbers' hasty retreat, some of it on foot, appears to point to some poor planning, which was not a trademark of Cassidy. Supposedly, unsigned bank notes, singed bills and bills stained with raspberry juice from a damaged fruit crate were used to track down robbers including Lonny Logan and Bob Lee, within a few years.
Although bounty hunters, lawmen like Joe LeFors and Pinkerton detectives like Charlie Siringo and Tom Horn pursued Cassidy from Wyoming to Texas, he was not deterred. His Wild Bunch continued their activities throughout the West.
On Aug. 29, 1900, Cassidy again struck a Union Pacific train in Wyoming near Tipton, about 50 miles west of Rawlins. Again, using too much dynamite, the bandits blew up the safe in the express car, gathered the money and valuables and rode southward towards Brown's Park.
According to lawman Joe LeFors and Union Pacific staff, only $50.40 was taken. The Saratoga Sun noted the following month, however, that it was unlikely so small an amount had been stolen, and that railroad officials were most likely using the claim to cover up the inconvenient truth of how vulnerable train shipments were to robbery. Although the true amount stolen is still not known, estimates range from $50,000 to $100,000.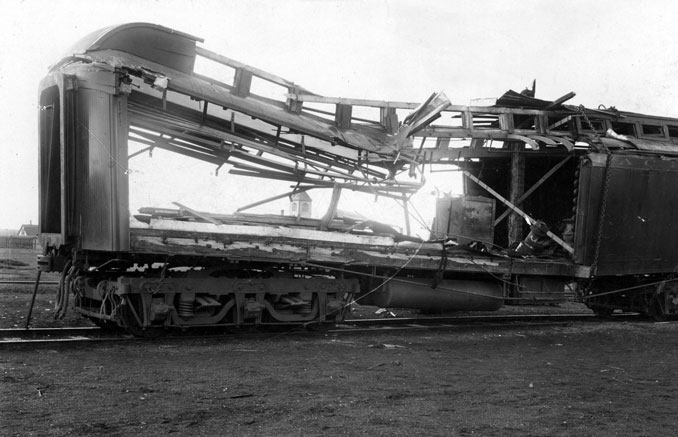 Was Cassidy at Tipton? There is little agreement among authors or literary sources. The robbers do appear to have prepared better this time, however. They hid fresh horses every 20 miles along a planned escape route, supposedly a trademark of a Cassidy job.
In addition, there may be a Cassidy imprint in the story in the Sept. 11, 1900, Wyoming Tribune attributed to a Conductor Kerrigan in which the robbers refused to steal from the Union Pacific railroaders and cordially called out to them, "goodbye boys," as they left.
South America and beyond
Cassidy remained active for another year and may have participated in a Wagner, Mont., train robbery on July 3, 1901. However with many of his henchmen and friends either captured, killed or on the run, Cassidy must have felt that his time was drawing to a close. By most accounts, Cassidy left New York in February 1901 with his most frequent partner, Harry Longabaugh—the Sundance Kid—and Longabaugh's companion Etta Place and sailed to Buenos Aires, Argentina.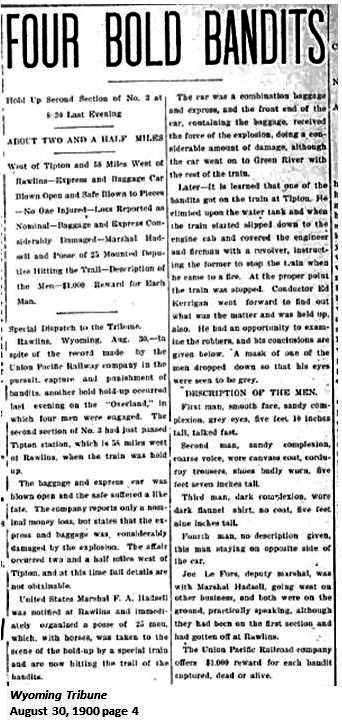 They purchased a ranch in Cholila, Argentina and prospered, raising cattle and horses. Then, under pressure from authorities investigating a holdup, they left. Etta traveled back to the United States and then disappeared. In a magnificent vanishing act, Butch and Sundance also slipped from view.
After working for several mining companies--ironically Cassidy was a payroll guard for the Concordia Tin Mines in Tres Cruces, Bolivia--and engaging in several bank and payroll robberies, the pair may have ended up in a gunfight with local police in San Vicente, Bolivia. By some accounts they died, with Cassidy killing Sundance and then shooting himself after both were badly wounded. Other reports point to stories that show Cassidy escaped and made his way back to the United States using a different name.
According to the reminiscences of Cassidy's early girlfriend, Josie Bassett of Brown's Park, Lander lawman Hank Boedecker, family members Lula Parker Betenson and Bill Betenson and others, Cassidy returned in the 1920s to Brown's Park, Colorado, Fremont County in Wyoming and Circleville, Utah, among other places in the American West.
Outlaw historian Larry Pointer remarked during a 2012 presentation at the Wyoming Territorial Prison "surely all of these people were not delusional." But perhaps these citizens wanted to see Cassidy again. During the outlaw's heyday, he had appeared to the press and the public to be the invincible bandit, the invulnerable bank robber, the unvanquished. As the Aug. 13, 1898, Wyoming Press reported, "Butch seems to have as many lives as the historical cat." As someone who dominated the headlines for years, his death would have been difficult to accept.
Still, there is no definitive proof that he returned from South America. At least one man, William T. Phillips, also known as William Wilcox, was a Cassidy impersonator and returned to Wyoming in search of the real outlaw's reputed gold cache buried in the Wind River Mountains. Phillips also visited Cassidy's friends such as Mary Boyd, another former paramour, and others. Phillips died in Spokane, Wash. in 1937.
Cassidy is supposedly buried in dozens of spots around the United States, Europe, Central and South America, often reported as dying and being buried more than once in one locale. In the United States there is no known grave for the public and his supporters to visit. Historians Pointer and Art Davidson, for example, offer several contrasting opinions: that Cassidy either rests in a quiet spot in Utah known only to his family, or his ashes were scattered in Washington state in the Little Spokane River, or his remains are located in an unmarked grave at Johnnie, Nev., where he may have died in a mining accident.
Cassidy is immortalized on the landscape of the American West in places named after him, and at modern-day festivals held in his honor at reputed treasure locations and robbery sites. Places on the landscape directly named after Cassidy include Cassidy's Corner and Cassidy Creek in Wyoming, Cassidy Point in Browns Park, Colorado and Cassidy Arch, Cassidy Rock, Cassidy Cave, Cassidy Trail and Butch Cassidy Draw in southern Utah.
Butch Cassidy is clearly a household name in America today. As C. Watt Brandon stated in the Sept. 29, 1950, Kemmerer Gazette, "The name of Butch Cassidy will probably never disappear from the records of Wyoming's last frontier." And thanks to the iconic film Butch Cassidy and the Sundance Kid released in 1969, it is doubtful that the name of Butch Cassidy will disappear from the frontier of the public imagination anytime soon.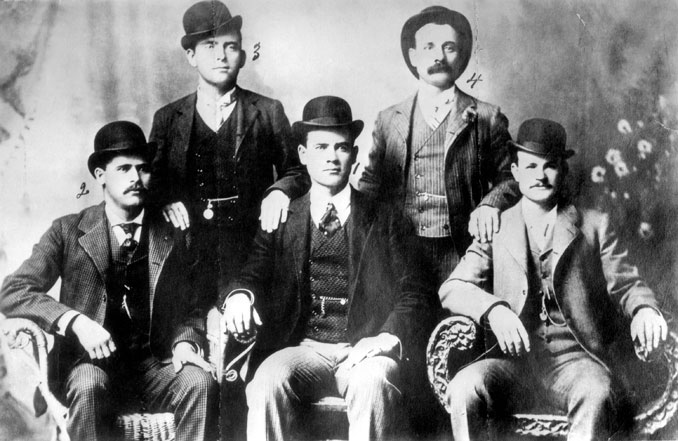 Resources
Primary Sources
"Butch Cassidy Killed in South America," Bill Barlow's Budget, May 29, 1913, p. 1.
"Conductor Held up By Six Masked Bandits. Express Car Blown to Pieces with Dynamite. Takes Place Near Wilcox- Express Rifled for Nearly Two Hours- Escape Made," Rawlins Semi-Weekly Republican, June 3, 1899, 1.
"Four Bold Bandits." Wyoming Tribune, August 30, 1900, p.4. Accessed April 19, 2013 at the Wyoming Newspaper Project.
Franc, Otto. Sworn Statement to Judge Jesse Knight, June 19, 1893. Simpson family papers, American Heritage Center, University of Wyoming.
"Militia Ordered Out to Pursue Robbers," Rawlins Semi-Weekly Republican, June 14, 1899,1.
"A Tough Road to Tackle: Avenging Fate Has Run Down the Robbers," Saratoga Sun, Sept. 18, 1900.
Simpson, Will. Letter to Charles Kelly. May 5, 1933. 3. Simpson family papers, American Heritage Center, University of Wyoming.
"Train Robbers Were Very Considerate to the Members of the Train Crew. Refused to Take a Watch," Wyoming Tribune, Sept. 11, 1900,4.
Wyoming Press, Aug. 13, 1898, page 2, column 1. Accessed April 18, 2013 at the Wyoming Newspaper Project.
Wyoming State Journal, June 22, 1942.
Secondary Sources
Betenson, Lula Parker. Butch Cassidy, My Brother. New York: Penguin Books, 1976,49.
Blewer, Mac. Wyoming's Outlaw Trail. Charleston, S.C.: Arcadia Publishing, 2013.
Buck, Daniel and Anne Meadows. "Butch and Sundance Still Dead?" Quarterly of the National Association of Outlaw and Lawman History 30.2 (2006): 40-49.
Burroughs, John Rolfe. Where the Old West Stayed Young. New York: Bonanza Books, 1962.
Davidson, Art. "Sometimes" Cassidy. Salt Lake City: Hawks Publishing, 1994, 246.
Dougherty, Michael and Heidi Dougherty. The Ultimate Wyoming. Bozeman, Mont.: Ultimate Press, 2003.
Kelly, Charles. The Outlaw Trail. Lincoln: University of Nebraska Press, 1938.
Patterson, Richard. Butch Cassidy, A Biography. Lincoln: University of Nebraska Press, 1998.
Pointer, Larry. In search of Butch Cassidy. Norman: University of Oklahoma Press, 1977.
Potts, Eva, Wells Burton and Roberta Vaughn. Mystery in History- Legends of Currant Creek Ranch of Sweetwater County. Cheyenne, Wyo.: Vaughn Printing, 2005.
For Further Reading
For interesting disagreement on the value and reliability of the William T. Phillips manuscript, see:
Kemmick, Ed. "'The Bandit Invincible': Local author explores the mystery of Butch Cassidy. Billings (Mont.) Gazette, May 2, 2012. Accessed April 18, 2013 at http://billingsgazette.com/news/local/the-bandit-invincible-local-author-explores-the-mystery-of-butch/article_18333d98-9f32-5423-ad05-f8ca84cac843.html#ixzz2Qr9zyckW. Good article on Larry Pointer's conclusions on William T. Phillips and the recent discovery of the full Phillips manuscript.
Phillips, William T., and Larry Pointer. Bandit invincible: Butch Cassidy's story: the original manuscript. [S.l.]: LLP Pub., 2012. Pointer argues that 1930s Cassidy impersonator William Phillips must have spent time in prison in Wyoming with Cassidy in the 1890s.
Buck, Dan. "Butch Cassidy's 'Lost Manuscript' a Hoax. KimMacQuarrie.com, accessed April 19, 2013 at http://lastdaysoftheincas.com/wordpress/butch-cassidys-lost-manuscript-a-hoax#.UXF4huA-hjG. Buck, a longtime outlaw historian and expert on Cassidy's time in South America, argues that Pointer has it wrong, and carefully traces confusion over the issues as different versions of the content and implications of the Phillips manuscript were published in the press in the summer of 2011.
Buck, Daniel and Anne Meadows. "'We Parkers Always Enjoy a Good Story.' Butch and Sundance's Reunion in Mexico City." WOLA Journal, XV: 4 (Winter 2006), accessed April 19, 2013 at http://diggingupbutchandsundance.files.wordpress.com/2011/01/weparkers.pdf. Traces some of the wildly conflicting versions of Parker family stories about whether or not Cassidy returned from South America.
Illustrations
The color photo of the Parker homestead near Circleville, Utah is by StarVapor, from Panoramio. Used with thanks.
Cassidy's ca. 1894 prison mug shot is borrowed from Dan Buck's blog post on the William T. Phillips manuscript and related controversies at http://lastdaysoftheincas.com/wordpress/butch-cassidys-lost-manuscript-a-hoax#.UXF4huA-hjG. Used with thanks.
The photo of Hole in the Wall is by Tom Rea.
The photos of the five members of the Wilcox posse, the exploded Union Pacific baggage car and the Wild Bunch in Fort Worth are all from the collections of the American Heritage Center at the University of Wyoming. Used with permission and thanks.
The "Four Bold Bandits" clipping about the Tipton robbery is from the Wyoming Tribune, August 30, 1900, p.4, from the Tipton listing at Wyoming Places. Used with thanks.