The Murder of Allie Means
"Allie Means Shot!" blared the front-page headline of The Gillette News. Understandably, the August 26, 1905 murder threw small town Gillette, Wyoming into "a great state of excitement." In his early twenties, Sam Allison "Allie" Means' murder sparked a chain of events impacting Wyoming for years to come. The cause of Means' murder? A young woman.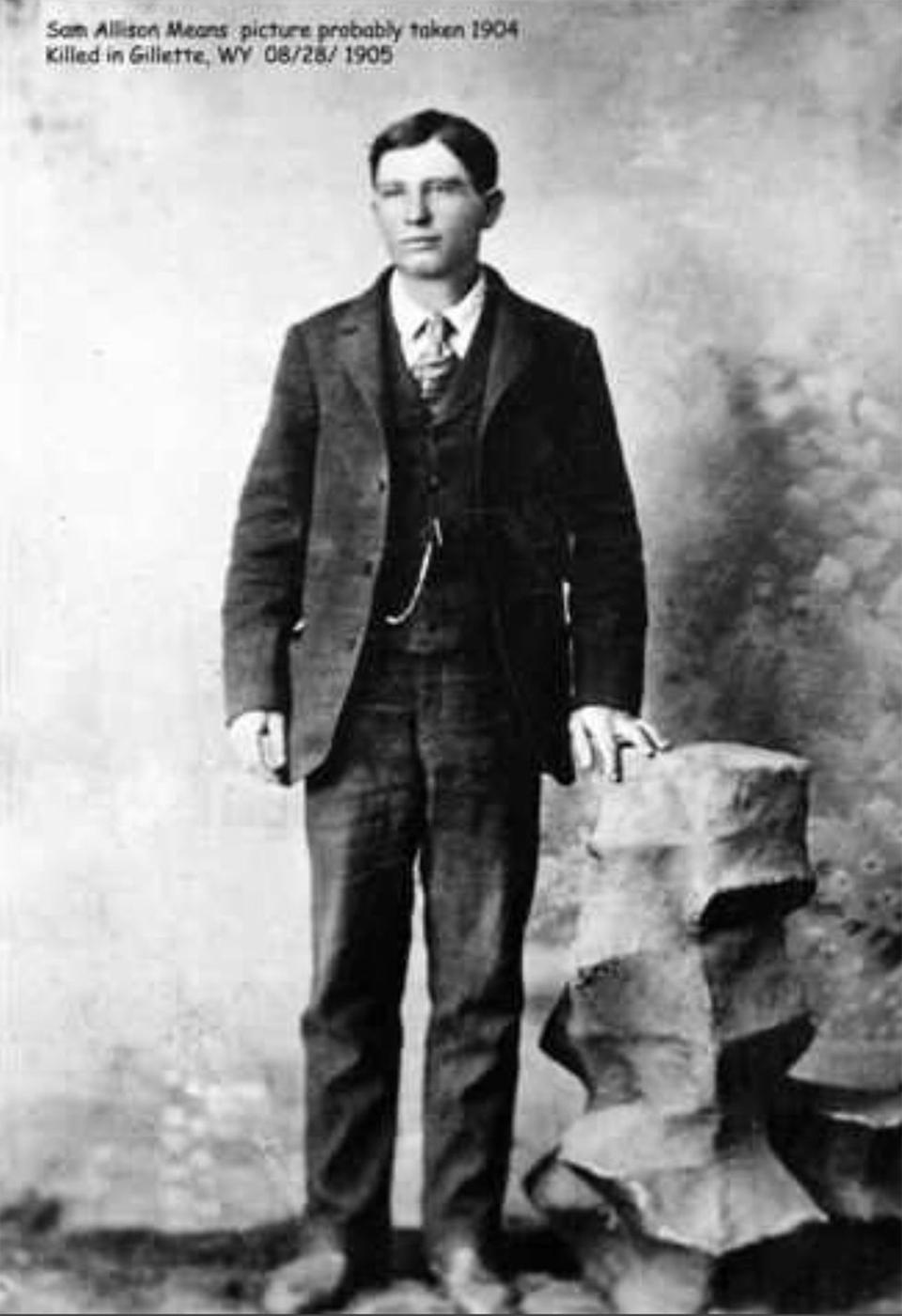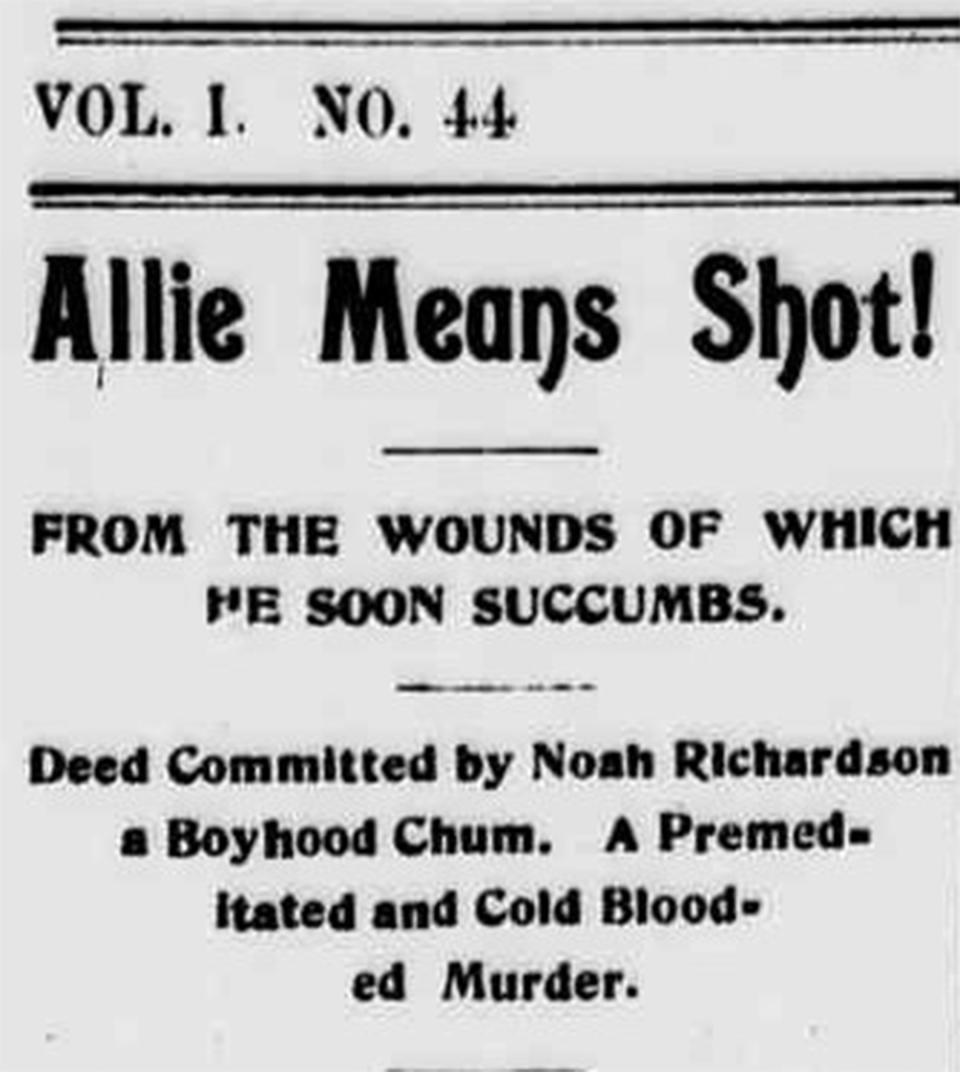 Allie Means and Noah T. Richardson both hailed from the San Antonio, Texas area. Work brought each of them north. Means found work in April 1905 as a night wrangler for the Cross Ranch on the Little Powder River headquartered 55 miles north of Gillette. Richardson worked as a cowboy at the T7 Ranch 20 miles south of Gillette. At the time of his death in August 1905, newspapers reported that Means was well liked by everyone. Everyone except, perhaps, Noah Richardson.
The crime
On the fateful day of the shooting, the cowboys from the Cross Ranch owned by the Biddle Cattle Company were gathered just outside of Gillette. Richardson met up with the cowboys and brought along a girl named Frances Williams. Women were considered a rare commodity in the small cattle towns of northeast Wyoming, and it is not surprising Frances found herself to be quite popular. While socializing, Frances hit it off with Means, which caused tension. Means and Richardson quarreled throughout the day and the other cowboys had to break them up. When she was ready to leave, Frances asked Means, and not Richardson, to take her back to town. This infuriated Richardson, as he believed he had already "won" Frances. As Means took Frances back to Gillette, Richardson followed and caught up to them close to town.
The two men exchanged "sharp words," the newspaper reported. Then, Richardson fired four shots at Means, three of which hit Means. What happened to Frances Williams at this point in the story is unclear. But being close to Gillette, Means was able to spur his horse onward and escape Richardson. Means made it to Montgomery's Buffalo Hump Saloon in Gillette where he fell onto a table calling for a doctor.
Richardson, following Means, made his way across the street and into the neighboring Dodd House and Saloon. There, Richardson "flourished his shooter and demanded of the barkeeper another gun," but the bartender was able to grab the gun and subdue Richardson. Deputy Sheriff Lew Jenne arrested Richardson and transported him to the county jail in Sundance, Wyoming. At the time, Gillette was a fledgling town in Crook County with less than 200 residents. Campbell County wouldn't be established with Gillette as its county seat until 1911.
Allie Means was taken to Dr. N. H. Baker's office in Gillette where the doctor dressed his wounds. Means' injuries were severe, and he was transported by railroad to Sheridan for more advanced medical treatment. Residents of Gillette along with Means' ranch co-workers raised $165 ($5,500 in 2023) for his medical treatment. Despite the generosity of Gillette and the best efforts of Sheridan doctors, Means succumbed to his wounds after two days and died on August 28, 1905. He was only 24 years old.
Word of Allie Means' murder reached his family in Texas. According to the Gillette News, "B. B. Means, of San Antonio, Texas, brother of Allie means… is here looking after the prosecution of the defendant." Another brother, Montie Means, traveled to Wyoming as well. (Montie must have become smitten with northeast Wyoming because he remained in Gillette. During the Great War in 1917, Montie was drafted out of Gillette to serve in the Army. After the War, Montie returned to Gillette, married Mildred Sanburn in 1921, and lived in Gillette until his death in 1974.)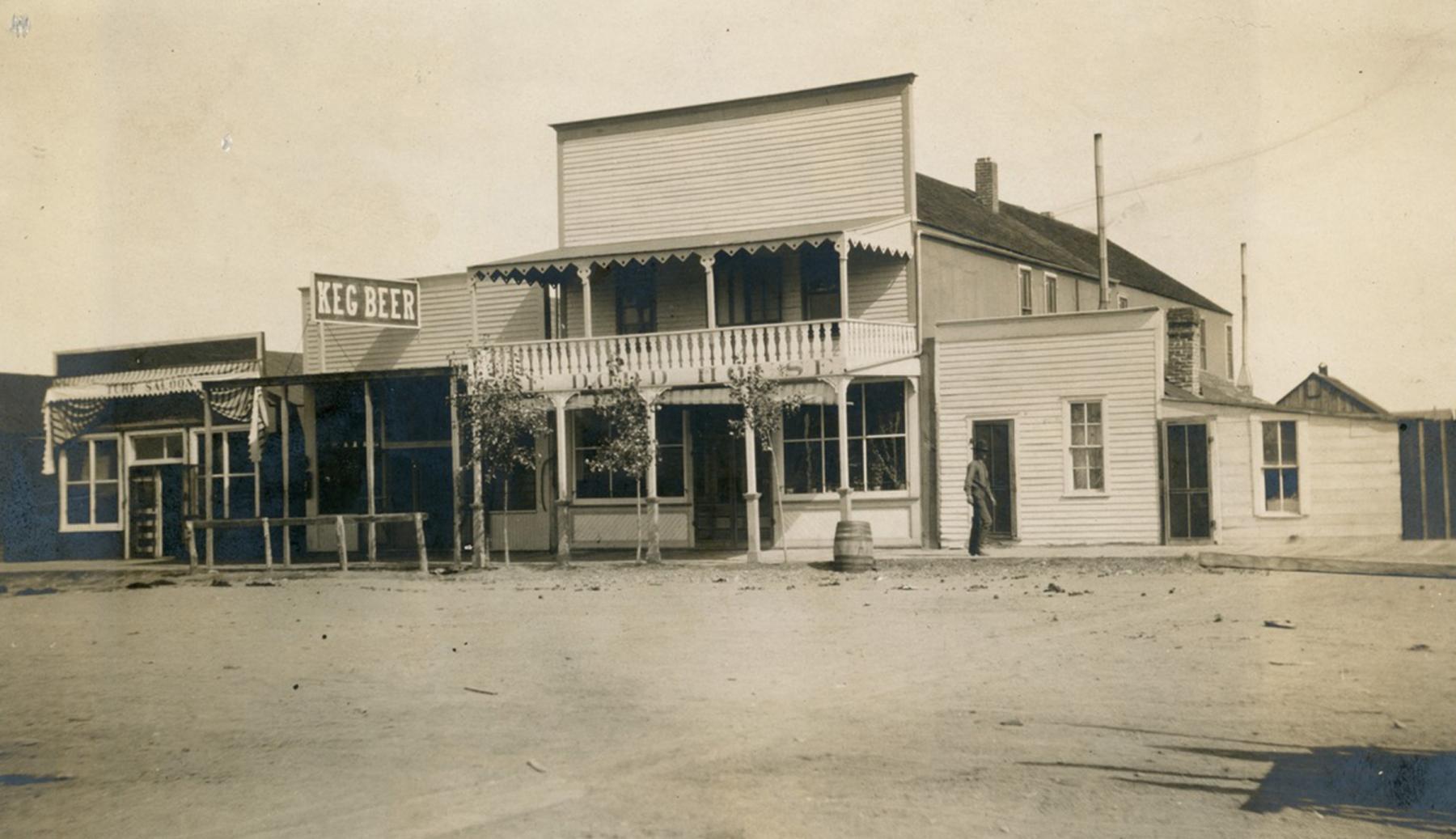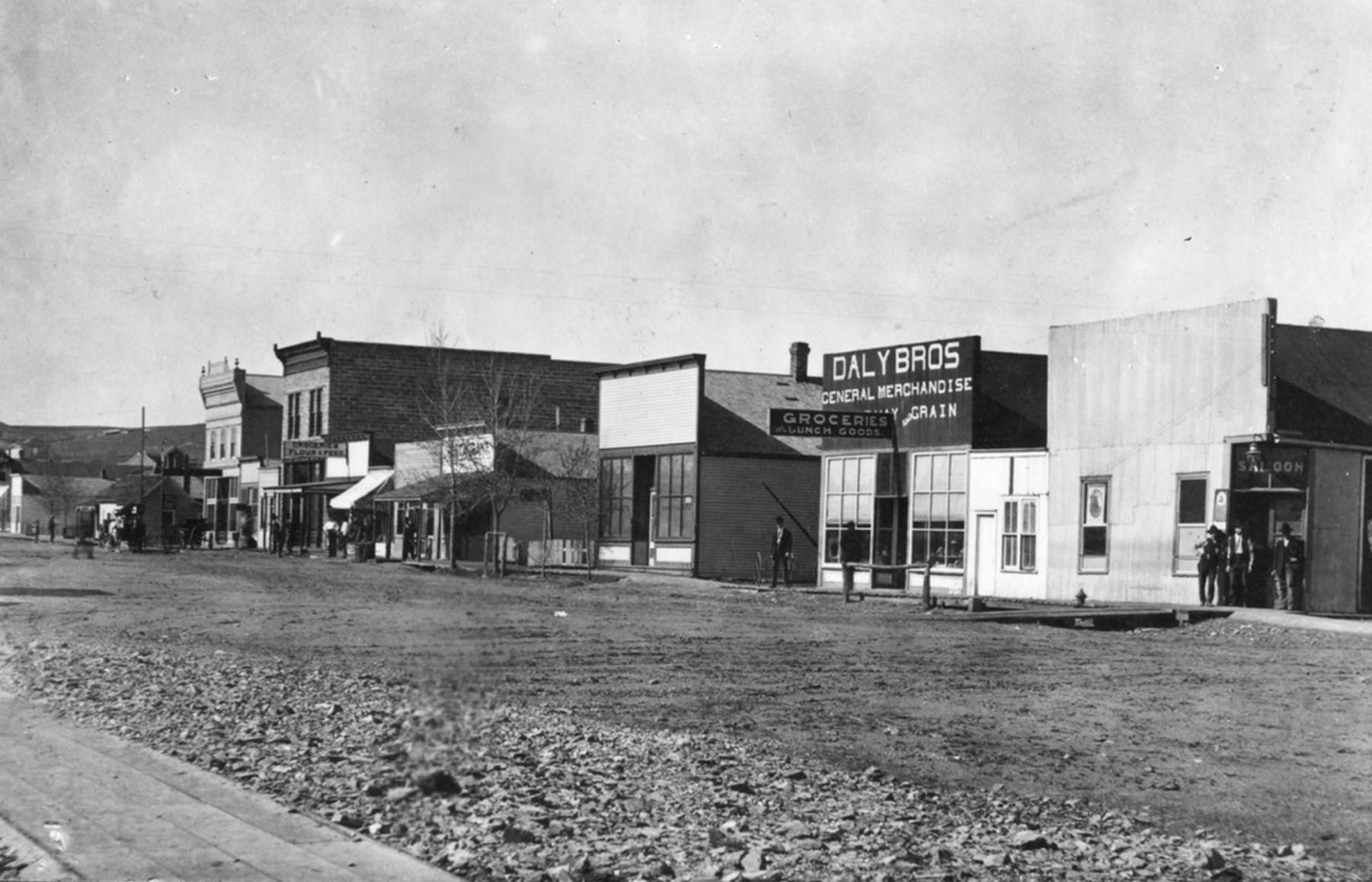 Two trials
In late 1905, Richardson faced trial in Sundance. Frances Williams was paid $20 by Crook County to act as a witness in the trial. The jury convicted him of first-degree premeditated murder, a sentence carrying the death penalty by hanging. Naturally, Richardson attempted to appeal the case to the Wyoming Supreme Court, but it was "discovered that all of the records in the case were lost, having mysteriously disappeared." Whether the records were genuinely lost, or whether Richardson had inside help remains unclear. The clerical error resulted in a new trial for Richardson. In his second trial, the court found Richardson had suffered from a "brainstorm," presumably a bout of mental illness, at the time of the murder. His conviction was reduced to second-degree manslaughter and his sentence reduced to life in prison for which Richardson was "overjoyed."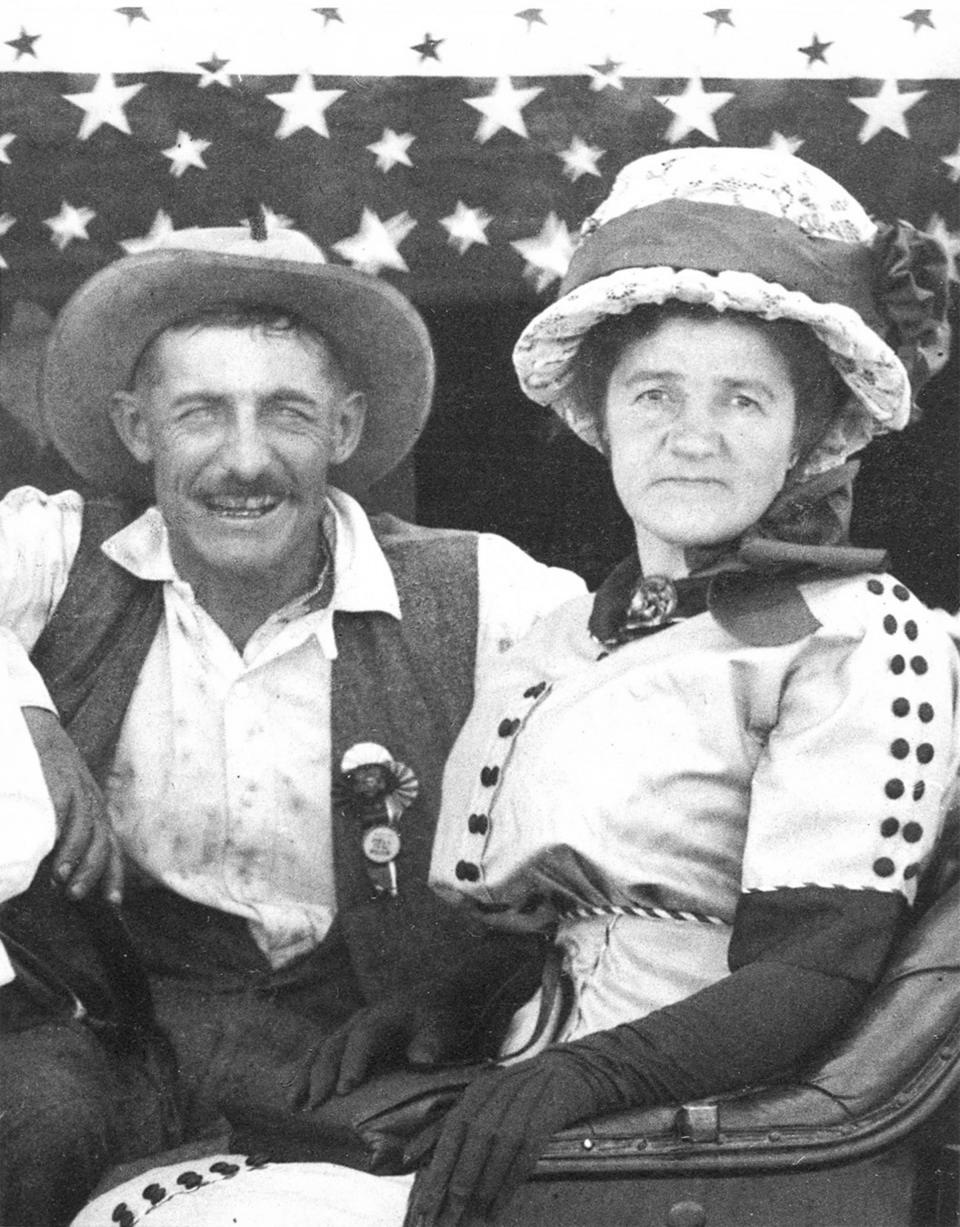 A prison break
To serve out his life sentence, Richardson was shipped to the Wyoming State Penitentiary in Rawlins. Prisoners there worked in a broom factory and, after 1911, on road projects for the state. Overcrowded conditions and changes in leadership caused an outbreak of violence in 1911.
When prisoners set fire to the broom factory in July, newspapers believed that the event was the "climax to a series of mishaps." But conditions continued to worsen. Violence broke out again in October 1912 when inmates lynched a Black man, Frank Wigfall, who was accused of rape. With officials focusing on investigating Wigfall's death, Bert Dalton, a member of the Whitney Gang serving a 20-year sentence, led a prison break on October 12 with 19 other men through the penitentiary fence.
The next day, while Warden Felix Alston led a posse of prison guards to track Dalton, Richardson and seven other inmates overpowered another guard, John M. Neale, and took his keys. They then stole some of the prison's firearms and made their escape. The armed men fled through Rawlins, ducking into alleyways, and cutting through yards. Crossing through Charles Stressner's yard, the men caught the attention of Stressner's wife who roused her husband to grab his gun and head off the convicts. Meeting the men in the street, Stressner raised his gun at the inmates. Without hesitation, Richardson fired his weapon. The shot hit Stressner in the head, killing him instantly.
A long chase
The convicts splintered into small groups and fled to the train tracks south of town. A posse of prison guards killed one of the men and caught another hiding under a railcar, returning him to the penitentiary by automobile. Having now committed the second murder in his life, Richardson and two other convicts–Ernest Baxtrum and J. H. Burke–made their way south from Rawlins.
The posse followed their trail for two weeks. Burke had been wounded in the escape and must have been slowing them down; when the posse found his body, the deputies concluded Richardson and Baxtrum had turned on Burke and murdered him.
The convicts were in a sheep wagon at Powder Wash outside Baggs near the Colorado border, about 70 miles south of Rawlins, when the posse caught up with them. Richardson, who had reportedly declared after the escape that he would "rather be dead and in hell" than back in the pen, stepped boldly from the wagon and "stood up in plain view of the pursuers while firing between twenty and thirty shots at them" before he was killed, the Northern Wyoming Daily Herald reported. Baxtrum was found dead inside the wagon.
Aftermath
The dispute between Allie Means and Noah Richardson over who had "won" Frances Williams in 1905 turned into quite the saga for Wyoming. The murder of Means by Richardson led to Means' brother Montie Means moving to Gillette, serving in the Army in World War I, and raising his family in Gillette after the War. The reduction in Richardson's sentence to life in prison meant he was at the penitentiary during the October 1912 prison break, resulting in Richardson's murder of Charles Stressner. Today, visitors to the Campbell County Rockpile Museum can see Allie Means's saddle on display. It's the very same saddle he rode the day he attempted to escort Frances Williams home—and was murdered by Noah Richardson.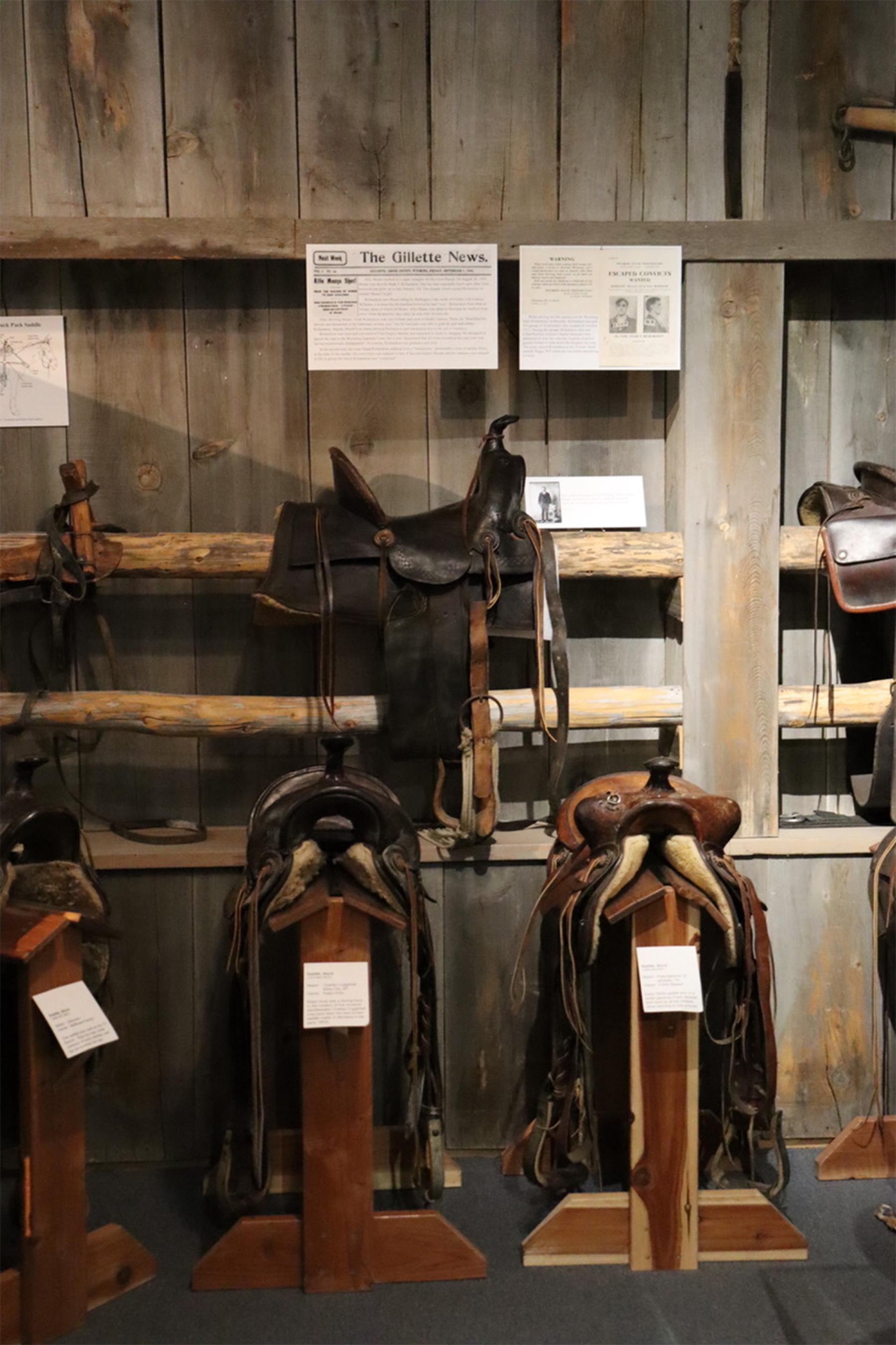 Resources
Primary Sources
Secondary Sources
Blust, Dick Jr., "A Lynching in Rock Springs." WyoHistory.org, March 20, 2022. Accessed June 12, 2023 at https://www.wyohistory.org/encyclopedia/lynching-rock-springs
Campbell County Historical Society and Campbell County Rockpile Museum. "Gillette, Wyoming Walking Tour." 9th edition, March 2020.
Doeden, Kathy. "National Register of Historic Places Registration Form: Cross Ranch Headquarters." National Park Service, August 1994. Accessed May 10, 2023 at https://npgallery.nps.gov/NRHP/GetAsset/NRHP/96000118_text.
Wyoming Economic Analysis Division. "Historical Decennial Census Population for Wyoming by Counties, Cities, and Towns." Accessed June 7, 2023 at http://eadiv.state.wy.us/demog_data/cntycity_hist.htm
Kazanjian, Howard & Chris Enss. (2014) The Death Row All Stars: A Story of Baseball, Corruption, and Murder. Two Dot, Globe Pequot Press.
"Felix Alston (1869-1956): Warden of the Wyoming State Penitentiary." April 22, 2015. The Wyoming State Museum. Accessed June 12, 2023 at https://www.yumpu.com/en/document/read/38395543/felix-alston-1869-1956-the-wyoming-state-museum
Mankin, Julie. "Campbell County's Historic Ranches: The T7 Ranch." The Gillette News Record, May 2, 2011, Accessed May 10, 2023 at www.gillettenewsrecord.com/archives/article_7bab5c08-2e19-5233-a49b-501a627f3ec5.html.
"Montie Cell Means." Find A Grave, Accessed April 29, 2023 at www.findagrave.com/memorial/84093270/montie-cell-means.
Pelt, Lori Van. "Wyoming's First State Prison." WyoHistory.org, Nov. 8, 2014, Accessed April 29, 2023 atwww.wyohistory.org/encyclopedia/wyomings-first-state-prison.
"Robert Wayne Means." Gillette News Record. April 25, 2018. Accessed April 29, 2023www.gillettenewsrecord.com/obituaries/article_00d95ed5-aafc-5cda-b787-745997a00571.html.
"Sam Allison 'Allie' Means." Find A Grave, Accessed April 29, 2023 atwww.findagrave.com/memorial/53212162/sam-allison-means.
Illustrations
The photo of Sam Allison "Allie" Means is from findagrave.com. Used with thanks.
The headline from The Gillette News, the photo of Lew and Carrie Jenne, the two street scenes of early Gillette and the photo of Allie Means's saddle are all from the collections at the Campbell County Rockpile Museum in Gillette, Wyoming. Used with permission and thanks.
The wanted poster for Noah Richardson is from the Wanted Outlaw Posters Collection, Manuscripts Division, Department of Rare Books and Special Collection, Princeton University Library. Used with thanks.