Newcastle, Wyoming
Newcastle, Wyo. began as a product of the Chicago, Burlington and Quincy Railroad. In the 1880s when railroad officials planned to expand from the Midwest toward the Northwest, they owners looked for routes with a ready coal supply to fuel their locomotives.

Coal had recently been discovered in northeastern Wyoming on the southern edge of the Back Hills, just a few miles west of the Dakota Territory line. The settlement of Cambria was established there in 1887, and the Burlington started building northwest from Alliance, Neb in 1888.
Plans were already underway to create a city where a spur left the main Burlington line to head north a few miles to the coal mines at the new town of Cambria. A railroad subsidiary, The Lincoln Land Company, bought a plot of land with that in mind. The name of Newcastle, Wyo., came from, the Cambria Coal Company's Superintendent J. H. Hemingway, recalling his own coal-shipping hometown of Newcastle-upon-Tyne, in England.
The site was rough. Dense patches of trees surrounded deep gullies, and rocks and shale banks had to be graded before any construction could begin. In July 1889, the Kilpatrick Brothers & Collins Construction Company sent a group of workers to the area; other railroad and construction crews followed.
The land company offered lots for sale on Sept. 10, 1889, asking high prices. On the same day, Tubb Town, a local squatters' settlement, moved lock, stock and barrel into the new city in its entirety. The town of Newcastle was incorporated in October, and held its first election Nov. 12, 1889.
Burlington construction crews, meanwhile, arrived at the present site of Newcastle within a few days of the election, and by Dec. 1 had completed a seven-mile branch line north to the coal mines at Cambria. The Burlington Railroad had its coal, and Wyoming had a new town.
Early days
In its early days, Newcastle had a wild reputation. Cowboys, miners and railroad workers from nearby sites found the town–with its 14 saloons, numerous dance halls, prostitutes and gambling–a great place to spend leisure time and hard-earned money. Early newspaper articles cite several instances of miners "shooting up the town," and the city's first ordinance banned the discharge of firearms within the city limits.
The townspeople quickly began whipping their new home into shape. Yard tracks were laid, a roundhouse was built and Newcastle was established as a railroad division headquarters. Kilpatrick Brothers & Collins built a large multi-purpose structure that temporarily served as the community hall, schoolhouse and church.
During the population boom that first winter, a housing shortage led residents to camp in dugouts along the banks of Cambria Creek. The first business in Newcastle was the Kilpatrick Brothers & Collins Commissary. Eleven more buildings were erected in 1890 and Newcastle quickly began to grow.
Settlers moved in even before the town had a reliable water supply. Early entrepreneurs hauled barrels of water from Fuller Springs in Cambria, selling it for 10 cents a gallon. Soon the Burlington Railroad, which needed more than 66,000 gallons of water for daily operations, built a temporary pipeline from Cave Springs. A permanent, seven-mile pipeline from Cambria Canyon, seven miles northwest of Newcastle, was completed in December 1890.
By 1892, the town had a population of around 1,000 people.
The town's first mayor was Frank Mondell, who later would represent Wyoming for 26 years in the U.S. Congress—with a .45-calibre bullet lodged close to his spine. After the town's first boom that winter began to subside, it became clear there were more gamblers and other lowlifes than the community could support. Mondell and his town council gave the city marshal a list of 20 men they demanded should leave town in 24 hours. But a hotelkeeper, who had extended credit to many of the rowdies but had yet to collect his money, shot Mondell. Mondell carried the bullet in his back the rest of his long life.
Health and entertainment
Unfortunately, illness raged in early Newcastle before town founders were able to make plans for a hospital. In 1900, a smallpox epidemic left the whole town quarantined, and later diphtheria and scarlet fever epidemics reduced the town's productivity and population. "Pest houses" provided care for single men who had no family or wives to care for them. Still, the demand for space for patient care was so great that during epidemics, doctors convinced the madam of the local brothel to move her girls to a hotel and donate their rooms for the cause.
Early Newcastle residents enjoyed frequent festivities and entertainment. Their first Independence Day celebration also celebrated Wyoming's upcoming admittance into the United States, as statehood was due to become official on July 10, 1890. Residents went all out for the festivities with decorations, a 114 gun salute—one gun for each year since nationhood in 1776—a parade, speeches, horse races, a baseball game, foot races, fireworks and a boisterous all-night dance party.
People came from neighboring communities to attend the Castle Theater, built by John Owens in 1890 and the only theater within100 miles. For a 50-cent box seat fee or a 25-cent general admission fee, the public could see entertainers sing, eat fire, perform contortionist routines and execute feats of superhuman strength.
The town welcomed its first circus in 1892, and the excitement preceding the performance was matched only by the stampede that resulted when local horses saw exotic camels and elephants roaming the town.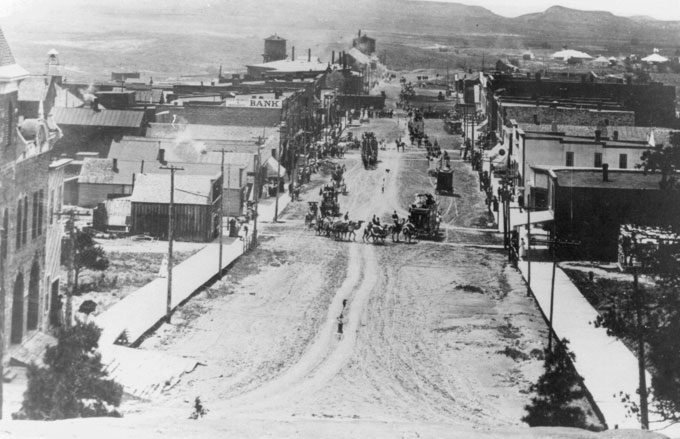 That same year, a dam was built across Cambria Canyon northwest of Newcastle. It created a reservoir, Lake Mondell, named for the politician, which for a brief time was a popular place to boat and swim. Two years later, torrential rainfall caused a flood that washed out the dam; it was never rebuilt.
On April 25, 1903, more than 2,000 people crowded Main Street to hear President Theodore Roosevelt speak. The president, then on an eight-week, 262-speech tour of the West, was cheered by locals and flag-waving school children as he walked a flower-strewn path from his train to a platform. He spoke for half an hour, thanking Wyoming's congressional delegation for its support, detailing the recent federal irrigation law, and advocating for good citizenship and common sense.
Later, Hunyadi Beach, east of Newcastle on Salt Creek, was likewise a popular recreational area with opportunities for boating, picnicking—and dancing. It was finally abandoned in the 1920s.
Modern times
Slowly, over the decades, Newcastle moved toward better systems of health care. Mrs. William Cash, an early Newcastle resident, started a birthing center to care for laboring moms and babies, which operated from 1918 through 1922. By the 1920s, Newcastle boasted two hospitals; one closed in 1938, and one in 1940.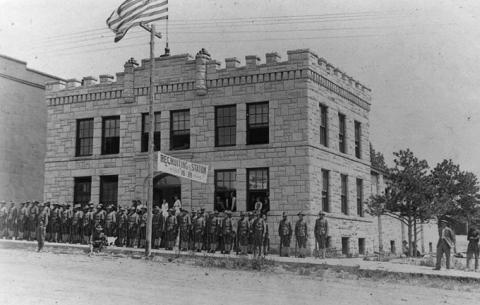 Dr. E.J. Carlin opened a medical practice in the early 1940s, but moved away in 1948, taking his practice with him. Meanwhile, the Newcastle and Upton Lions clubs had petitioned the Weston County Commissioners for a permanent hospital. The idea was approved in 1945, but due to short funds the hospital did not open until September 1949. In 1986, another hospital opened, and Weston County Health Services continues to serve patients there today.
Such advancements, coupled with steady success in the nearby coal mines, led Newcastle to benefit from a reputation of prosperity and old-fashioned work ethic.
The first Newcastle residents were coal miners and railroad workers. The 1900 census counted 756 people in the city, with a steady climb to 3,395 by 1950 as workers continued to move their families to the area. City government and schools also grew and began to establish themselves as primary local employers.
In 1927, the Wyoming Refining Company established an oil refinery on Main Street, and the refinery remains one of Newcastle's primary employers. In recent years the refinery has been plagued by spills, leaks and soil contamination, and has paid a lawsuit settlement and state and federal penalties. In 2011, the refinery was purchased by Black Elk LLC, of Houston, which has announced plans to upgrade pollution protections and increase output.
Like their early counterparts, many Newcastle residents work or operate cattle ranches. Another enduring employer is the former Burlington Railroad, now merged with the Santa Fe Railroad as BNSF, which still has a headquarters right on Main Street. Two nearby coal mines (Arch Coal Company's Black Thunder Mine and Kennecott's Jacobs Ranch Mine near Wright, Wyo., about 65 miles west of Newcastle) attract commuting workers from Weston, Campbell and Natrona counties. Weston County Health Services operates a hospital, clinic and retirement home, offering employment in the medical and social work fields.
Pope & Talbot operated a sawmill in Newcastle until 2000, when a reduction in public timber availability left the business running at half speed. The Wyoming Department of Corrections' Wyoming Honor Conservation Camp & Boot Camp is located just north of Newcastle and provides work experience for prisoners who have met "good behavior" standards.
And finally, Newcastle's location on the fringes of the Black Hills of South Dakota brings a trickle of tourists that becomes a steady flow in summer. The 2010 census counted 3,532 people in Newcastle, just 137 more than in 1950.
Resources
Primary Sources
Secondary Sources
Larson, T.A. History of Wyoming, Lincoln: University of Nebraska Press, 1965, p. 214.
Morris, Edmund. Theodore Rex. New York, Random House, 2001. Chapter 15, "The Black Crystal, pp. 214-235, is a great discussion of Roosevelt's 1903 western tour, when the president came through Wyoming twice.
Nelson, Dick J.: Wyoming counties of Crook, Weston, and Campbell, 1875 to 1951. San Diego: Mae M. Nelson, Pioneer Printers, 1951
Nickerson, Greg. "The Burlington Route: Wyoming's Second Transcontinental Railroad." WyoHistory.org, accessed 1/24/12 at /essays/burlington-route-wyoming's-second-transcontinental-railroad.
The Weston County Heritage Group. Weston County, Wyoming: The First 100 Years. Dallas: Curtis Media Corporation, 1988, 30-33. 
Illustrations