The Grave of Ephraim Brown
Out of nearly 200 people who died from murder or other homicides on the Oregon Trail in the mid-1800s, only one lies in a grave with a known location. Missourian Ephraim Brown, a leading figure on a wagon train bound for California, was killed near South Pass in 1857 in what appears to have been a bitter family dispute. Details, however—who killed him, why and how—are frustratingly sketchy.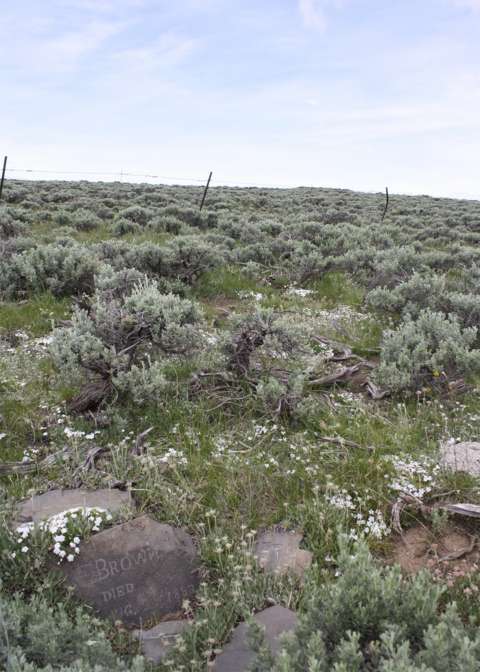 Arguments and fights were frequent on the overland trails, and murders happened from time to time. The many irritations of the journey tended to make for short tempers. Disagreements over divisions of property, not to mention outright theft, led to conflict and, once in a while, killings.
For the years 1841 through 1865, Richard L. Rieck, the leading expert on trail deaths, has documented 89 murder victims by name and another 83 "unknowns" who were slain by their fellow emigrants. During that time as many as half a million people made the trip west. Rieck's numbers do not include another dozen or more anonymous individuals reported as dying after incidents of violence, and many more reported cases of attempted murder.
Bodies of obvious murder victims were occasionally found on the trail. Most often the perpetrators were unidentified and escaped punishment. Others who killed emigrants in fights or in self-defense were sometimes banished from their company. Still, there were 21 reported murder trials that resulted in executions on the trail.
But of the graves of the nearly 200 people involved in these incidents, only one survives, that of Ephraim Brown, killed in 1857 on the trail at Rock Creek near South Pass.
Ephraim Brown and his family
Ephraim James Brown was born in Kentucky about 1823. In 1846 he married 16-year old Nancy Ann Sheckles. They settled on a farm in Ralls County, in northeast Missouri near the Mississippi River. Nearby were several farms occupied by her extended family.[1] Among these were two of Nancy's married sisters, Rebecca Sheckles Witt and Mary Frances Sheckles Menefee, wife of Nimrod W. Menefee. The Menefees lived with an aunt next door to the Browns; Ira Sheckles, the sisters' younger brother, also lived there. All told, these relatives numbered 33 people at the time of the 1850 census. Many of them would be in the wagon train of 1857.
About 1852, Ephraim Brown and Nim Menefee, brothers-in law, went to California where for a year or two they were partners in a general store in Sacramento. After saving a portion of their profits and perhaps selling the store—the record is unclear—they returned to Missouri with a plan of returning to California with their families.
The ensuing wagon train of 1857 became a general migration of many members of these extended families, including Nim's father, Arthur Menefee, and several more of his grown children and teenage daughters. By then Arthur, age 61, had married the young widow Rebecca (Sheckles) Witt, then about 24, the sister of Nancy (Sheckles) Brown and Mary (Sheckles) Menefee.
Ephraim and Nancy Brown were the parents of four children, of whom only three can now be identified—William, Ann and Harriet.[2]
The only account of the journey is Arthur Menefee's diary. It is short on detail and lacks a company roster. Some members of the company can be identified, however, including three unmarried brothers of Nancy Brown: Ira, Napoleon and Jackson Sheckles. The count for the number of people in the wagon train comes to 27, but the list is probably incomplete. The center of authority in the company was the trio of Arthur Menefee, his son Nim Menefee and Nim's brother-in-law Ephraim Brown. All three were married to daughters of Paulina and Ira Sheckles, Sr.: Rebecca, Mary and Nancy.
Arthur Menefee's account
So it was a big company comprised primarily of kinfolk, perhaps a dozen wagons and many animals including at least 125 head of loose cattle. They left home on May 13, 1857, apparently in different contingents, for on May 24 while camped at the Grand River in western Missouri, Arthur Menefee wrote: "Nim and Ephraim coming up about 1 o'clock. Great joy in camp. All supted together in mutual friendship & harmony and continued until next morning when a little storm rose between Mary & Nancy."
Arthur Menefee was a dispassionate and impersonal diarist. After June 4, when he briefly described the marriage of his widowed daughter, Mrs. L. Underwood, to J. Westfall, while they were in St. Joseph, he rarely mentioned anyone by name. Even on the day Ephraim Brown was killed, he remained uncannily reserved.
On August 2, the company was camped at Rock Creek about 15 miles east of where the trail crosses the Continental Divide at South Pass. Arthur Menefee wrote: "Next morning at the point of leaving a conflict took place, which terminated in the death of E. Brown. Buried him & left at 12 A. M. traveling over a tolerable road until we arrived at the Mormon Station, distance 11 miles." The Mormon Station was a post maintained by the short-lived Brigham Young Express service on the south side of the upper Sweetwater. "Still not satisfied with the justice unfortunateness of the past day," Menefee continued, "owing all the Women's tounge [sic]. I feel somewhat better health." He never commented on the incident again, at least in his diary.
Clues to a killing
What happened? After his entry of May 24 Menefee made no other reference to disagreements between the women of the train until his "owing all the Women's tounge" comment. In two obituaries in 1936 for Anne Louise Brown, the daughter of Nancy and Ephraim, it is written: "[Ephraim] Brown was fatally shot in a quarrel shortly after the trek began." The second obituary adds that when the quarrel took place, they were "standing guard over the stock to prevent Indian raids."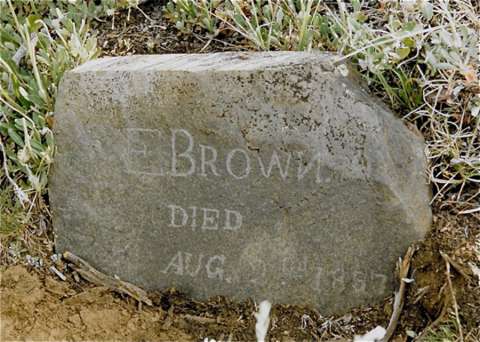 It is not known if the fight was prompted by a quarrel between Nancy Brown and Mary Menefee, who after all were sisters, and it is useless to speculate. On Aug. 11 while they camped east of Commissary Ridge on the Sublette Cutoff, about 100 miles west of South Pass, Menefee wrote: "Here we tried the Boy & dismissed him from the Train after finding him guilty, thence pursuing our journey…." The "boy," presumably Ephraim Brown's antagonist, is unidentified.
Aftermath
While traveling down the Humboldt River in western Nevada on Sept. 19, Menefee wrote: "Nancy Brown left us & four other wagons," so there the company broke up, but it is not known who split off with Nancy, perhaps one or more of her brothers.
The remainder of the Menefee company reached Eagle Valley, present Carson City, Nev., on Oct. 11. Most of them went on to California, but Arthur Menefee stayed in the valley and died there two months later.
Nancy Brown also remained in the valley for the winter and did not proceed to California until the following year. She married ex-Forty-niner Chester Swift in Sacramento in 1859 and had several more children. Swift was a teamster for the Nevada mines, but also a habitual gambler. He lost their home in Carson City sometime in the 1870s and then deserted the family.
Nancy made a meager living as a cook and by selling pies but was forced to give up her three young Swift children to an orphanage in Vallejo, Calif. She appears in the 1880 census living alone in Bodie, Calif., apparently running a rooming house. Soon thereafter she went to Merced, Calif., where her daughter Ann Louise Brown Carter was living with her husband and family.
Not having heard from her husband Chester Swift in many years, Nancy married William Newman in 1882 and then was able to retrieve her children from the orphanage. When Chester Swift showed up not long after, the marriage to Newman was dissolved, and then both men abandoned her and the children. She never married again.
In the 1890s Nancy Brown Swift moved with her daughter Lillie May Swift French to a ranch near Winslow, Ariz., where Nancy died March 22, 1901. The location of her grave, unlike the grave of her first husband Ephraim Brown, is now unknown.
Resources
Sources
Ancestry. "Johnson Barnard." "Nancy Sheckles." "Arthur Menefee." "Ephraim Brown." "Paulina Nelson." ancestry.com
Brown, Randy. "The Grave of Ephraim Brown." The Overland Journal. Vol. 7. Number1. (1989). 25 – 27.
Find a Grave. "Ann Louise Brown Heffner." findagrave.com.
French, Inez Eleanor. Letter to Raychell Sumner, containing "Notes for Lillie May Swift," 1983. Cited in email message to author from Paul Carter. April 25, 2017. E-mail.
Menefee, Arthur M. "Travels Across the Plains, 1857." Nevada Historical Quarterly 9. (1966). 1–29.
U.S. Census. Missouri, Ralls County, District 73. 1850.
"Mrs. Annie Heffner." Obituary clipping, unknown date, unknown newspaper, author's collection.
Rieck, Richard L. E-mails to author. May 1, 2017.
Illustrations
---
[1] Ralls County was settled in the 1820s and 1830s principally by settlers from Kentucky and Tennessee; Ephraim and Nancy Brown's farm was in Salt River Township. In the immediate neighborhood lived Nancy Brown's grandfather, Johnson Barnard, her mother, Paulina Nelson (née Barnard), three aunts with their families, and the two married sisters, Rebecca and Mary, wife of Nimrod Menefee. The aunt next door to the Menefees, in whose house Ira Sheckles also lived, was Adaline Barnard Fagan. The siblings' father, Ira Sheckles, Sr., had died in 1842.
[2] William was born in 1847, Ann Louise in 1849, and Harriet, a deaf-mute, was born in 1853. Nothing is known about the fourth child. He or she probably died young and is only remembered in sister Ann's obituary of 1936, where it is stated that four Brown children survived their father's death.