Beethoven's Birthday in Wyoming
Ludwig van Beethoven was baptized on Dec. 17, 1770, in Bonn, in what's now Germany. December 2020, therefore, marks the 250th anniversary of his birth. Because of Covid-19, most of the live concerts that were scheduled in Wyoming to celebrate the anniversary had to be canceled. But 50 years earlier, in 1970, two community orchestras in Wyoming celebrated the 200th anniversary with special concerts: the Casper Civic Symphony and the Cheyenne Symphony and Choral Society. The Grand Teton Music Festival Orchestra performed one Beethoven work that year.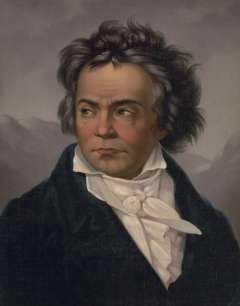 There is no record of Beethoven's actual birth date, but historians presume it was probably the day before the baptism. Though prosperous, Beethoven had an otherwise difficult life. His alcoholic father abused him, he was unhappy in love, with one possible exception, and—by far the worst—he began to lose his hearing at about the age of 28. This was when he was still a celebrated piano and organ virtuoso, and was well launched into composing.
In a moving document, the Heilegenstadt Testament, he wrote about his hearing loss, "But what a humiliation for me when someone standing next to me [in the countryside] heard a flute in the distance and I heard nothing … Such incidents drove me almost to despair; a little more of that and I would have ended my life—it was only my art that held me back. Ah, it seemed to me impossible to leave the world until I had brought forth all that I felt was within me."
Out of all this misery, Beethoven composed some of the most sublime music in the world, hence musicians continue to honor him. In 1970, Wyoming played its part.
The Casper Civic Symphony
The Oct. 17, 1970, Casper Star-Tribune announced the Casper Civic Symphony's first concert of the season, an all-Beethoven program scheduled for the next day. "[T]he concert was planned six months ago," the paper reported, "and has been rehearsed intensively for the past seven weeks, twice with the [soloists]." The report further noted that the 70-member symphony was made up mostly of "local amateur musicians who give freely of their time and talent for the joy of making music," and that sponsors included the City of Casper and the Wyoming Council on the Arts. More than 300 donors were listed in the concert program.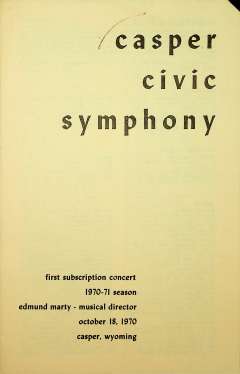 That Sunday, Oct. 18, the orchestra performed Beethoven's Coriolanus Overture, the Symphony No. 1 in C, and the Triple Concerto. The latter composition features three solo instruments—highly unusual for a concerto, which normally showcases two soloists at most, but much more often, one.
The three solo instruments of the "Beethoven Triple" are a standard chamber music group—violin, cello and piano—for which many masterworks have been composed. Beethoven, however, is the only major composer known to have produced a triple concerto for this combination of instruments. For the Casper concert, the guest artists were the Western Arts Trio, a faculty chamber group from the University of Wyoming.
Reviewer Leon Campbell wrote in the Star-Tribune the next day: "The orchestra has never sounded better" and was in "top form." He added, "Sunday was a beautiful autumn day in Casper, and it was heartening to see so many people attending the concert. Better yet, at least a third of the audience was the under-20 group."
Early fall weather is a perennial concern for community music boosters. Many people who otherwise would have attended a concert might choose instead to be outside enjoying the last warmth and sunshine. So a good turnout was an accomplishment by the orchestra's promoters, and may have been due both to the drawing power of Beethoven and the Civic Symphony's past performance record.
The Cheyenne Symphony and Choral Society
A concert program plus four newspaper clippings from November 1970 tell the story of the Cheyenne Symphony and Choral Society's Beethoven celebration.
Two articles published before the performance confine themselves to announcing the concert for "Monday night," profiling the soloists and listing the mostly Beethoven program. This included the famous Fifth Symphony in C minor and the same Triple Concerto presented in Casper the month before. The Western Arts Trio was again the solo group.
The concert on Monday, Nov. 23, included two selections by other composers as well. Two reviews followed, both by Alice Ross, who bubbled with civic pride: "The [Cheyenne] symphony … is an impressive sight, before the concert even begins, especially to the many faithful citizens who have watched its growth. Rex Yocum, the director [conductor] has proved to be a most excellent choice. He is known here, lives here, is executive-coordinator of music in the schools, and has just the right combination of musical ability and warmth to get continually fine response from the orchestra."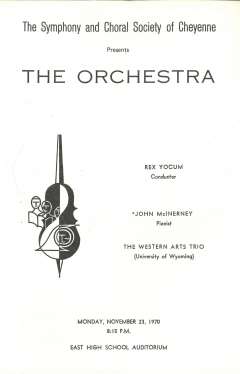 (Yocum, longtime band director at Cheyenne East High School as well as director and conductor of the orchestra, was in fact so popular and well known as a music educator in town and around the state that at the time of his retirement in 1986, Gov. Ed Herschler declared May 30 as Rex Yocum Day and Cheyenne Mayor Don Erickson declared May 4-11 as Music Week—all in honor of Yocum's career.)
Ross's other review states, "This civic orchestra provides a stimulating experience for musicians of all ages and degrees of skill, to carry forward their interest in an art that has been known for generations, to benefit humanity." Referring to the Western Arts Trio's "smash hit" performance, Ross added, "It would be impossible to say which of these three artists was the greater performer, for all were truly great." Like Campbell, Ross credited "The work of the symphony, all of it demanding ... impressive throughout the evening. We hope to hear much more from all these musicians, with the talent, money, staging and faithful planning which is always required." Cheyenne's concert program listed about 165 donors.
The Grand Teton Music Festival
A professional group of imported musicians from its beginning in 1962, the Grand Teton Music Festival performed Beethoven's Symphony No. 4 in B-flat on Aug. 8, 1970. There was no mention in the program booklet whether this performance was intended to celebrate the 200th anniversary, or just included because it is standard orchestral repertoire.
Orchestras in Wyoming were right to salute Beethoven, one of the greatest Western composers, and the all-important bridge from the Classical to the Romantic period of music history: from crystal-clear structures to the full emotional passion that music can evoke.
(Editor's note: Special thanks to Rachel Bailey, Wyoming Symphony Orchestra; Lindsey Reynolds, Cheyenne Symphony Orchestra; Willow Larson, Grand Teton Music Festival; Vince Crolla, Casper College Western History Center; and Conrrado Saldivar, Natrona County Public Library Reference Department for their special efforts to provide information for this article on short notice.)
Resources
Primary Sources
Campbell, Leon. "Beethoven Program Opens Season." Casper Star-Tribune, Oct. 17, 1970. Newspapers.com. Database available to patrons at the Casper College Western History Center, Casper, Wyo., and at the Natrona County Public Library, Casper, Wyo.
_____________. "Casper Symphony Has Never Sounded Better." Casper Star-Tribune, Oct. 19, 1970. Newspapers.com. Database available to patrons at the Casper College Western History Center, Casper, Wyo., and at the Natrona County Public Library, Casper, Wyo.
Casper Civic Symphony. Concert Program, Oct. 18, 1970. Casper College Western History Center, Casper, Wyo.
"Duane Rex Yocum." Find A Grave, accessed Dec. 11, 2020 at https://www.findagrave.com/memorial/88767671/duane-rex-yocum.
Larson, Willow, Development Associate & Board Liaison, Grand Teton Music Festival. Personal email to author, Dec. 7, 2020.
Ross, Alice. "Beethoven Concert Delights Audience." Unidentified newspaper clipping, n.d. Cheyenne Symphony Archives, Cheyenne, Wyo. (Hereafter CSA).
_________. "Choral Society Concert Monday." Unidentified newspaper clipping, n.d. CSA.
_________. "Local Music Enthusiast Finds Symphony Performance Inspiring." Unidentified newspaper clipping, n.d. CSA.
_________. "Western Arts Trio to Perform With Symphony." Unidentified newspaper clipping, n.d. CSA.
Symphony and Choral Society of Cheyenne. Concert Program, Nov. 23, 1970. CSA.
Secondary Sources
Solomon, Maynard. Beethoven. New York: Schirmer Books, 1977. London: Collier Macmillan Publishers, 1977.
Illustrations
The Beethoven portrait by Ferdinand Schroner is from the Library of Congress, via Wikipedia.
The Oct. 18, 1970 Casper Civic Symphony Program is from the Casper College Western History Center. Used with permission and thanks.
The Nov. 23, 1970 program of the Cheyenne Symphony and Choral Society is from the offices of the Cheyenne Symphony Orchestra. Used with permission and thanks.