Point of Rocks Stage Station
The Point of Rocks Stage Station was built in 1862, after Indian raids prompted Stagecoach King Ben Holladay to move his overland stage line south from the Oregon Trail-South Pass route to the Overland Trail route across what's now southern Wyoming.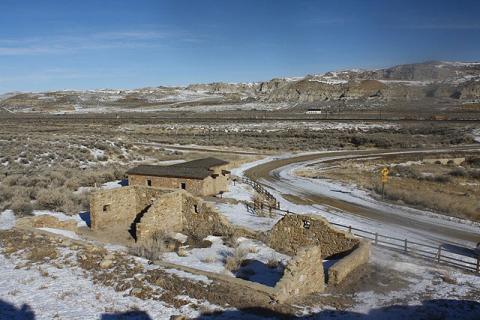 Located on the south bank of Bitter Creek in Sweetwater County about 25 miles east of present-day Rock Springs, the station was built of native sandstone. Mud mortar chinked the walls. The station has at various times served as a stage stop, freight station, store, school, ranch headquarters and a home. The stables are currently a stabilized ruin; the station is a securely roofed stone building with unglazed windows and dirt floors.
From 1862 to 1868, the station served coaches of Holladay's Overland Stage Company and later the Wells, Fargo and Company, when the latter purchased the business. Specific references to events that occurred around Point of Rocks are scarce but the entire vicinity was the scene of considerable American Indian hostilities during the Civil War years. 
Over the years, the station supposedly withstood at least one Indian attack and attempted burning, and the robbery and murder of stagecoach passengers by Jack Slade, notorious outlaw and onetime stage-line superintendent. In some references the station is called ''Rock Point'' or ''Almond.''
For a number of years the station was the terminal for stage and freight operations running north to South Pass City and the Sweetwater gold mines. The westward construction of the Union Pacific Railroad reached Point of Rocks in the summer of 1868, making the spot the junction of the Overland Trail and the UPRR.
In 1877, Lawrence Taggert, a Union Pacific Railroad section foreman, moved his family into the building. His wife used one room as a schoolroom and served as teacher. A daughter of the Taggerts, Mrs. Charles Rador, lived in the station as a child and in 1897 moved into the building with her husband. Rador operated his sheep-ranching outfit from the station, and the Radors resided there until 1910.
The last person to live at the stage station was Jim McKee, at one time supposedly a member of the Hole-in-the-Wall gang. McKee is thought to have spent much of his time looking for a cache of hidden loot from one of Butch Cassidy's robberies.
The Point of Rocks Stage Station became the property of the state of Wyoming in 1947 and was added to the National Register of Historic Places on April 3, 1970. Today, this structure is one of the only stage stations remaining intact on the Overland Trail.
Resources
Illustration
The photo of the stage station and stables is by Tom Rea.