Piedmont Charcoal Kilns
Three beehive-shaped charcoal kilns stand next to the crumbling remains of a railroad station about 10 miles southwest of present-day Evanston, Wyo. Built to produce charcoal for Utah smelters, the Piedmont Charcoal Kilns are a type of structure once common on the frontier. Charcoal production began in Piedmont about the time the Union Pacific Railroad was built through the area late in 1868.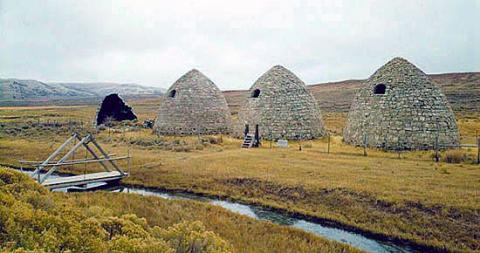 Little remains of Piedmont now but drafty shacks. Once, however, the town bustled. In 1869, Mormon pioneer Moses Byrne built the five original kilns. The station was originally named for him, but changed to avoid confusion with Byron Station west of Green River, also on the UP line.
Piedmont served as a terminal for helper engines. It had a roundhouse, water tank, telegraph office and a few business establishments. A short distance to the west was another station, Hilliard.
Their location on the railroad, combined with a ready timber supply in the Uinta Mountains to the south, made Piedmont and Hilliard ideal points for charcoal processing and shipping. To make charcoal, the 30-foot-tall kilns were filled with wood and a fire started. Then the kilns were sealed so that the fire could be regulated, and the wood was allowed to smolder slowly for several days. Finally, the drafts were closed, the fire was allowed to die and the wood was left to cool.
Charcoal production from around 35 kilns in the area reached an estimated 100,000 bushels per month in 1873. The price of charcoal peaked at 27 cents per bushel but later fell to only 7 cents as demand declined. While most of the charcoal made its way to the Salt Lake Valley, some was shipped to Fort Bridger for blacksmith forges and heating stoves.
The Piedmont Charcoal Kilns were added to the National Register of Historic Places on June 3, 1971. Today, the abandoned U.P. grade serves as a county road, Piedmont is a ghost town and yet the surviving kilns serve as an impressive reminder of a highly industrialized part of Wyoming Territory.
Resources
Illustration