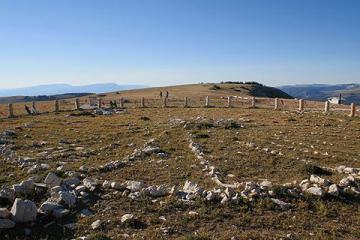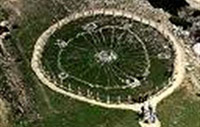 Situated atop Medicine Mountain at an elevation of 9,642 feet in Wyoming's Bighorn Mountains, the Medicine Wheel attracts thousands of visitors each year. The wheel itself measures nearly 80 feet in diameter and consists of 28 alignments of limestone boulders radiating from a central cairn associated with six smaller stone enclosures found around the wheel's perimeter. While the exact purpose of the wheel, its age, and the identity of its makers are unknown, researchers believe the wheel was constructed over a period of centuries from about 1,500 to about 500 years ago.
The land surrounding the wheel has been used by prehistoric American Indian groups for at least 7,000 years. In contemporary times, the region's Arapaho, Bannock, Blackfeet, Cheyenne, Crow, Kootenai-Salish, Lakota Sioux, Plains Cree, Shoshone and other tribal people generally venerate the site, and some use it to fast, pray and experience vision quests.
The Medicine Wheel appears to be part of a much larger network of prehistoric trails, sites and important landmarks encompassing more than 23,000 acres.  Visitors must hike 1.5 miles to reach the Medicine Wheel, and there can view the scenic Bighorn Basin and many of the trails and landmarks while experiencing the awe-inspiring power of Medicine Mountain.
The site, previously known as Bighorn Medicine Wheel, was listed as a National Historic Landmark on Aug. 29, 1970, and was renamed Medicine Wheel/Medicine Mountain National Historic Landmark in 2011. An interpreter is often available at the wheel to provide background information and answer questions. 
Resources
Illustrations