Medicine Lodge Archaeological Site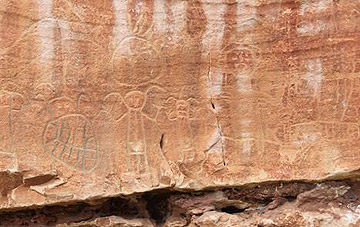 Known for its carved rock-art images--petroglyphs--and painted rock-art images--pictographs-- Medicine Lodge is one of Wyoming's premier archaeological sites. Rock art covers the face of a 750-foot long sandstone bluff, which shelters the area at its base from wind. Here, archaeologists have found evidence of human habitation stretching back 10,000 years.
Interpretive signs along the base of the bluff guide visitors through the history of the Medicine Lodge site and the surrounding region. Located near abundant water sources and five different vegetation zones, the area is home to hundreds of species of wildlife. Today, visitors can learn of Medicine Lodge's extensive history while enjoying excellent trout fishing, wildlife viewing and camping in the foothills of the beautiful Bighorn Mountains.
Resources
Illustration