Wyoming's First State Prison
The cornerstone for what became Wyoming's first state prison was laid in 1888, two years after the territorial Legislature approved a $75,000 appropriation, but the prison itself did not open for 13 more years. Poor economic conditions caused the funding and construction delay.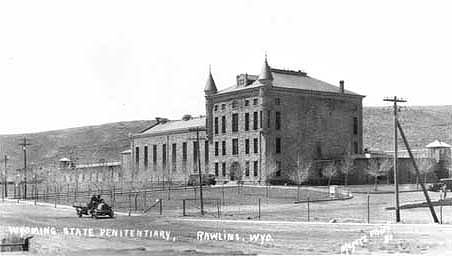 By 1890, when Wyoming became a state, legislators believed that too much money had been spent in previous years on institutions. They focused instead on what they saw as necessities, as big-ticket expenditures on state institutions would have required them to raise property taxes, which were already high. Because the federal penitentiary located in Laramie, Wyo.—the Wyoming Territorial Prison—was considered adequate to house the new state's prisoners at the time, lawmakers did not make a further appropriation to complete the Rawlins facility for several more years.
The structure, when it was finally funded and built, was constructed from local sandstone, and the original cell block contained 104 cells. The first inmates arrived in December 1901, when male prisoners were transported by train from the Wyoming Territorial Prison. Women convicts joined them in 1902, serving their sentences in a separate ward. In 1904, 32 additional cells were built.
Women were housed at the prison only until 1909, after which they were sent to Colorado. A second cell block, constructed in 1950, included hot running water and cells for solitary confinement. In 1966, a 36-cell maximum security addition was built. The prison remained operational for 80 years, until a new penitentiary was built south of Rawlins.
Among the interesting prisoners held here were Annie Bruce, who killed her father with a strychnine-laced pie in 1907; Henry Edmundson, who was pardoned by Governor John Kendrick because the prisoner's behavior was so bad that the governor preferred he leave the state; and Bill Carlisle, the gentleman bandit who robbed trains in 1916, escaped and robbed again, was again imprisoned, and finally earned parole in 1936.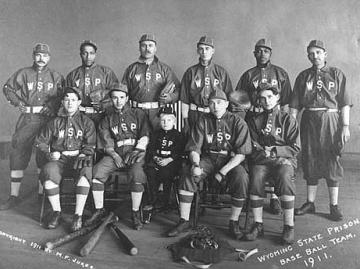 A prisoner uprising occurred in 1912 because of deteriorating conditions. Disgruntled inmates burned the broom factory. Twenty-seven prisoners escaped, and one Rawlins resident was killed in the aftermath. Disciplinary measures in the early days were quite strict, but changes were made in the 1960s to include more education and rehabilitation programs. Hot water was not added to the original cell block until 1978.
"The history of the state of Wyoming is right here," says Tina Hill, site director at what's now called the Wyoming Frontier Prison. "Through the history of the 'Old Pen,' you can see how our citizens viewed themselves and how they responded to crimes and criminals."
Two hundred fifty people died here. Fourteen men were executed. The first two were hanged on the traveling Julien gallows, the same contraption used to hang convicted murderer Tom Horn in Cheyenne in 1903. Seven others were also were hanged, and five were executed in the gas chamber, which was added to the prison in 1936.
Hill explains others died of natural causes, committed suicide or were victims of inmate violence.
In 1980, prisoners were relocated to the modern North Facility on the outskirts of town. The old penitentiary remained in operation until 1981. In 1987, before the old penitentiary was reopened as a museum, the movie Prison, starring Viggo Mortensen, was filmed here.
A joint powers board turned the abandoned building into a museum in 1988 and renamed the facility the Wyoming Frontier Prison. Visitors today can tour the cells where 13,500 inmates, including 11 women, served time. The modern North Facility closed for safety reasons and was vacated in July 2001 when the South Facility opened.
In 2011, the Wyoming Frontier Prison irrigated five acres in front of the property and along Seventh Street and began a community garden there. Upcoming projects include restoration of the baseball field in the exercise area. Hill says that the inmates played local teams throughout the years the WFP was operational. The earliest photograph of the WFP baseball team is dated 1911. Although baseball continued as a pastime for prisoners when they moved to the new facility in the 1980s, Hill says that basketball is now their preferred sport.
Resources
Author's telephone interview with Tina Hill, Wyoming Frontier Prison site director, 8 Nov. 2011.
Larson, T. A. History of Wyoming. 2nd ed., rev. Lincoln: University of Nebraska Press, 1978, 146, 257, 332-333.
Trapp, Sarah. "A Little Background on Our Piece of Wyoming's History." Wyoming Frontier Prison, accessed 11/8/11 and 1/8/12 at http://www.wyomingfrontierprison.org.
Van Pelt, Lori. "Too Many Ghosts to Identify," Wyoming Rural Electric News, December 2005.
Wyoming Department of Corrections. "Wyoming State Penitentiary," accessed 1/8/12 at http://doc.state.wy.us/institutions/WSP/index.html.
-----. "History of the Wyoming State Penitentiary," accessed 1/8/12 at http://doc.state.wy.us/institutions/WSP/history.html.
Wyoming Frontier Prison. "Inmate Profiles," accessed 11/8/11and 1/8/12 at http://www.wyomingfrontierprison.org.
Illustrations
The photo of the 1911 state prison baseball team, by M.F. Jukes, and the photo of the prison's exterior in 1926 are both from the Wyoming State Archives, Department of State Parks and Cultural Resources. Used with permission and thanks