The Vore Buffalo Jump
Five hundred years ago, American Indian tribes began driving bison into a natural sinkhole bordering the northern Great Plains and the Black Hills. This perfect trap allowed the people to acquire large amounts of meat and hides to be used for their own survival.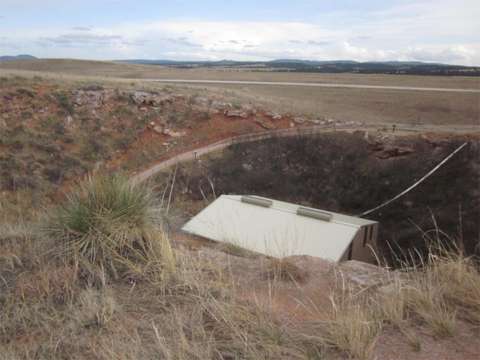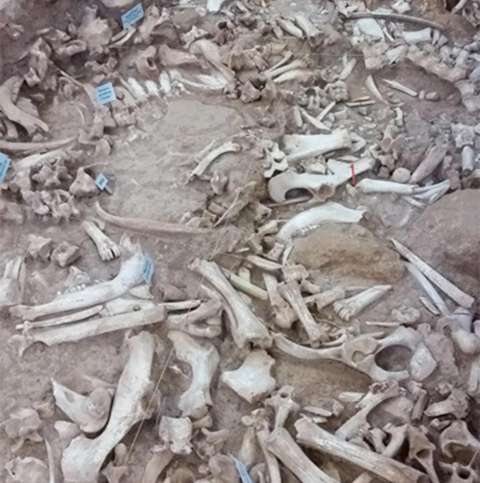 The site was discovered just west of the Wyoming-South Dakota border about halfway between Sundance, Wyo. and Spearfish, S. Dak, during construction of I-90 in the early 1970s. In 1989, the family of Woodrow and Doris Vore donated the site to the University of Wyoming, and today, the sinkhole is known as the Vore Buffalo Jump.
Archaeologists estimate that at least 4,000 bison were killed over a period of about 250 years at this place. The Vore site is known for its massive quantities of bison bone and stone artifacts, which have been remarkably preserved in discrete layers. The sinkhole contains hundreds of layers of sediment, known as varves, which have washed into the depression annually. Scientists count varves like tree rings and combine this information with other dating methods to estimate when each bison jump occurred.
Resources 
Raventon, Edward. Buffalo Country: A Northern Plains Narrative. Boulder, Colo.: Johnson Books, 2003.
"The Vore Buffalo Jump," accessed 9/19/11 at http://www.vorebuffalojump.org/.
Illustrations
The photos are courtesy of the Vore Buffalo Jump Foundation. Used with permission and thanks.