Trail End State Historic Site
The Trail End State Historic Site, consisting of the Kendrick mansion (formally known as Trail End) and the Carriage House Theatre, occupies 3.8 acres of land on a hilltop overlooking Sheridan, Wyo. Since 1982, the main house has functioned as a historic house museum focusing on regional and social history of the late nineteenth and early twentieth centuries. The Carriage House functions as a community theater.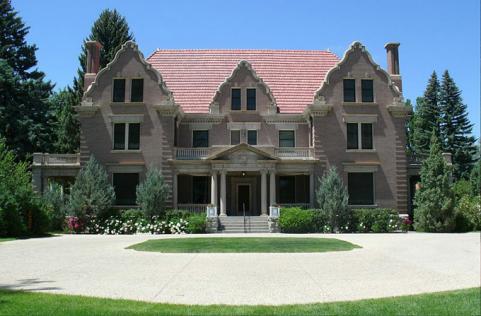 Trail End was the home of the John B. Kendrick family. Born in Cherokee County, Texas, Kendrick (1857-1933) first came to Wyoming in 1879 with a trail herd of Texas cattle. He moved to the Sheridan area in 1889 and eventually founded the Kendrick Cattle Company. In 1891, he married Eula Wulfjen (1872-1961) of Greeley, Colorado. They had two children, Rosa-Maye (1897-1979) and Manville (1900-1992).
The building of Trail End began in 1908, with Glen Charles McAlister of Billings, Montana, serving as lead architect. Architect D. Everett Waid of New York, New York, was later hired to deal with interior design issues. Due to construction difficulties, low cattle prices, conflicts between the two architects, and a string of labor disputes, work was put on hold for nearly eighteen months in 1910 and 1911. Because the Carriage House was finished first, the Kendricks lived there for three years, until the main house was ready for occupancy in July 1913. The mansion was estimated to cost more than $160,000 to build and furnish.
Trail End is one of the few examples of Flemish Revival architecture in the western United States. The building's curvilinear limestone gables are hallmarks of this style. Along with Kansas brick, Missouri roofing tiles, and Montana granite, the Indiana limestone was shipped to Sheridan on railroad cars, then transported to the building site by horse-drawn wagon.
Trail End contains almost 14,000 square feet of living space, including ten bedrooms, twelve bathrooms, eight fireplaces, formal drawing and dining rooms, a library, ballroom, musicians' loft and kitchen facilities. Most interior furnishings and finishes, including Honduran mahogany woodwork and a custom-designed white oak staircase, were machine-tooled in Grand Rapids, Mich. While the bulk of laborers were local, skilled craftsmen were imported from Nebraska and Michigan to do much of the installation and finish work. Electricity and indoor plumbing were included at the time of construction, as were other modern technologies such as an intercom system and in-house stationary vacuum cleaner.
John Kendrick had only a short time to enjoy their new home. He was elected governor of Wyoming in 1914 and the family moved to the state capital in Cheyenne. Two years later, he was chosen to serve in the United States Senate, an office he held until his death in 1933. During that time, the Kendricks used Trail End primarily as a vacation home.
From 1933 to 1961, Eula Kendrick lived at Trail End with her son and his family. After her death, the others moved out and the house stood empty for seven years. In 1968, when it was about to be torn down, Trail End was purchased by the Sheridan County Historical Society, which transferred ownership to the State of Wyoming in 1982. The facility is currently managed by the State Parks, Historic Sites and Trails Division of the Wyoming Department of State Parks and Cultural Resources. The Carriage House Theatre is operated by the Sheridan Civic Theatre Guild.
Nearly all the furnishings and personal items on display at Trail End are original to the house and/or the Kendrick family. Special exhibits and displays throughout provide information on early twentieth century daily life, entertainment, interior design and changing technology as well as ranching on the Northern Plains.
Resources
Primary Sources
Archives at the Trail End State Historic Site that pertain directly to construction of the mansion include the Manville Kendrick Archival Collection, the Construction Era Documents Collection, and the Trail End Research Archives.
"Building Trail End." Trail End State Historic Site. Excerpts from local news items about the construction, and from Kendrick's correspondence with architects, builders and artisans. Accessed Dec. 12, 2012 at http://www.trailend.org/letters-building.htm.
Secondary Sources
Georgen, Cynde A. One Cowboy's Dream: John B. Kendrick, His Family, Home & Ranching Empire. Virginia Beach, Virginia: Donning Company Publishers, 2004.
"Trail End (John B. Kendrick Mansion)," National Register of Historic Places, accessed Dec. 14, 2012 at http://wyoshpo.state.wy.us/NationalRegister/Site.aspx?ID=368.
Illustration