South Pass City
A classic boomtown in Wyoming's old Sweetwater Mining District, South Pass City was laid out in 1867, peaked about 1870 and soon began a long and steady decline.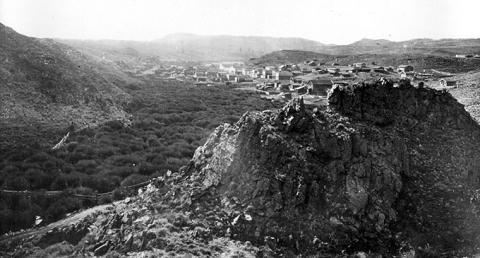 The Carissa, South Pass City's principal mine, produced more than $15,000 of gold by 1868 when only hand processing was available. With the development of stamp mills, the region produced about $7 million worth of the precious metal before diminishing returns caused residents to seek their fortunes elsewhere.
The town was named for the famous, nearby landmark of South Pass, on the transcontinental emigrant route that hundreds of thousands had traveled during the 20 years before the town was founded. 
South Pass City is also considered the birthplace of women's suffrage. In 1869 during the first session of Wyoming's territorial legislature, South Pass City saloonkeeper William Bright introduced the bill that succeeded in making Wyoming the first government in the world to guarantee women the right to vote.
Wyoming Territory won the added distinction of having the first woman ever appointed to public office, when Esther Hobart Morris of South Pass City succeeded incumbent James Stillman as justice of the peace. Starting on Feb. 14, 1870, she presided over 34 cases during her term, which ended Nov. 14.
A century after it was founded, South Pass City was donated to the state of Wyoming, and the site was added to the National Register of Historic Places on Feb. 26, 1970.
South Pass City today is operated as a state historic site.

The site includes more than 20 original buildings, most of them meticulously restored. Among these are the E. A. Slack cabin, where Morris lived with her second husband and sons.  Slack, her son, published the South Pass News and lived in the cabin in 1871.
Other buildings include the Carissa Saloon, the Exchange Bank, which operated until 1870 and became a saloon in 1890 and the South Pass Hotel. The Gold Mining Interpretive Center and the newly restored Carissa Mine buildings are also open to visitors.
Resources
Chisolm, James.  South Pass, 1868. Edited by Lola M. Homsher. 1960.  Lincoln: University of Nebraska Press, 1975.
Massie, Michael A. "Reform is Where You Find It: The Roots of Woman Suffrage in Wyoming." Annals of Wyoming, Spring 1990, accessed 11/18/11 at http://wyoarchives.state.wy.us/Research/pdf/WomanSuffrage.pdf. This article is especially good on William Bright, South Pass City, Esther Morris and the personalities and politics leading to the bill's passage.
Sherlock, James L. South Pass and Its Tales. 1978. Reprint, Basin, Wyo.: Wolverine Gallery, 1989.
South Pass City State Historic Site, "The Friends of South Pass," and "Wyoming's City of Gold," accessed 10/4/11 at http://www.southpasscity.com/info.aspx.
Spita, Joyce. A Quick History of South Pass City, Atlantic City: Wyoming Ghost Towns.  Colorado Springs, Colo.: Little London Press, 1980.
Wyoming State Historic Preservation Office. National Register of Historic Places, "South Pass City," accessed 10/4/11 at http://wyoshpo.state.wy.us/NationalRegister/Site.aspx?ID=164. Includes significant detail on the historic buildings.
Illustrations