Niobrara County, Wyoming
Niobrara, the smallest of Wyoming's 23 counties, is bordered on the north by Weston County, on the east by Nebraska and South Dakota, on the south by Goshen and Platte counties, and on the west by Converse County. The land is rolling plains, slightly sloped to the east and watered in the north by the Cheyenne River and its tributaries.
The land in what's now Niobrara County was once roamed by tribes of the northern plains, including the Crow, Lakota Sioux, Cheyenne, Arapaho and Pawnee. A treaty signed at Fort Laramie in 1868 set aside land north of the North Platte River and east of the Bighorns for the Indians. Gold was soon discovered in the Black Hills of Dakota and Wyoming territories, however, and when the tribes refused to sell their land the government ordered them to leave it. The result was the so-called Great Sioux War of 1876, which included Custer's defeat at the Little Bighorn. The following year, the tribes were moved onto reservations in Montana, the Dakotas and Nebraska.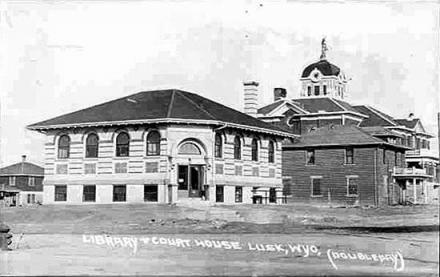 Meanwhile, the gold rush to the Black Hills was at its peak. A road opened to transport miners, stagecoach passengers and freight between Cheyenne, Wyoming Territory, and the mines near Deadwood, Dakota Territory. The route passed through what's now Niobrara County. Before 1876, white travelers were subject to Indian attacks, and road agents preyed on the gold shipments and the stage passengers.
Niobrara County includes the towns of Lusk, Manville and Van Tassell, and census-designated place Lance Creek. The county's population was counted at 6,321 in 1920, the first federal census after it was fully organized in 1913. In 1940 the population peaked at 5,988, and since then has declined steadily to 2,484 as of the 2010 census.
Early white settlement
By 1876, meanwhile, a stage station with a stone barn had been established at Running Water, where the Cheyenne-Deadwood stage road crossed the Niobrara River. French trappers had known that stream since the early days of the fur trade as l'Eau Qui Court, a name Anglos translated as Running Water.
In the early 1880s, miners prospected in the area for gold, silver and copper. Soon there were three settlements—Running Water and two mining camps, Silver Cliff and New Rochelle. Frank Lusk, a local rancher, gave land for a townsite, a post office was established, and the three settlements were consolidated into the town of Lusk.
In 1886, the Fremont, Elkhorn, and Missouri Valley Railroad, building west from Chadron, Neb., crossed the state line and reached Lusk.
The trains brought workers and miners, and copper deposits were developed into mines. Homesteaders began arriving as well. Manville, Wyo., named for a prominent cattleman, was established 10 miles further west along the railroad line. For the next 20 years, the population and economy grew around Manville due to increased mining and dry farming.
The two communities were included in Converse County when it was established in 1888 with a county seat at Douglas, 45 miles west of Manville.
Dinosaurs
The eastern part of Converse County—what's now Niobrara county—proved rich ground, meanwhile, for pioneer fossil hunters beginning in the late 1880s. John Bell Hatcher, collecting fossils for O.C. Marsh of Yale University, discovered part of a dinosaur horn in rocks of the Cretaceous Lance Formation, northwest of Lusk, in 1887. Marsh was then two decades into his fierce competition with paleontologist E. D. Cope of the Philadelphia Academy of Natural Sciences. Their competition eventually ruined both men, financially and professionally, but it resulted in the discovery and description for science of more than 1,400 species of previously unknown, extinct vertebrates, including hundreds of species of dinosaurs.
Marsh sent Hatcher back to Lance Creek in the summer of 1889, and between then and 1892 Hatcher found parts of more than 50 skeletons of the Ceratopsia, the horned dinosaurs of which Triceratops is most familiar, including more than 30 of the enormous skulls.
In 1895, a party of fossil hunters from the University of Kansas traveled by wagon and train from Lawrence, Kan., to Wyoming to hunt dinosaurs in the same Lance Formation. Their trophy was a Triceratops skull that's still on display today at the university's natural history museum in Lawrence.
And in 1908, one of the most famous dinosaur fossils ever found – a fossil Trachodon, a duck-billed dinosaur with most of its skeleton, some of its muscles and much of its skin preserved -- was found in the same Lance Formation by George Sternberg, hunting dinosaurs with his father Charles Sternberg, and his brothers Charles and Levi. The so-called mummy dinosaur is still on display at the American Museum of Natural History in New York.
A new county
By 1910, homesteaders, probably tired of making the trip to Douglas to do county business, began advocating for a new county in the eastern part of Converse County.
Residents around Manville were opposed to the new county; those living in the eastern section, including Lusk, were in favor. The creation and subsequent organization of a new county became the subject of a spirited debate that lasted more than a year.
Opponents of the new county said the population was too small and taxable wealth insufficient to withstand the new tax burden a new county would impose. Advocates, however, argued that the population and taxable wealth were increasing and new businesses and industries were expanding the economy of the area.
By early 1911, petitions both for and against the creation of Niobrara County circulated. The local newspapers, the Manville Register and the Lusk Herald, waged an editorial battle. On Jan. 19, 1911, the petitions were waiting for the state Legislature in Cheyenne. Residents Harry C. Snyder, Thomas Bell, George Voorhees and Russell Thorp made the trip to Cheyenne to appeal on the proposed county's behalf. Snyder, a lawyer from Lusk, pushed for the new county to be named for the same stream where the stage station had first been located, better known now by its Indian name, Niobrara.
On Feb. 14, 1911, both houses of the Legislature approved creation of the county—a move that still would have to be confirmed by local voters. Two days later, residents of Lusk, the most populated town in the area at 414 residents and therefore the likely county seat, held a victory celebration. All the while, however, Manville and Keeline citizens formulated a plan to stop organization of the county, or at least to deprive Lusk the honor of being chosen as the county seat. At the time, Manville had a population of 133 and Keeline, named for 4J Ranch owner George A. Keeline by rancher Addison A. Spaugh, was still being established.
Niobrara County couldn't be formally approved until the November 1912 general election. Citizens of Manville and Keeline hoped that delaying key elements of the organization would give them time to gather a sufficient number of anti-county voters to stop the process. They circulated a petition to try to prevent Gov. Joseph M. Carey from appointing commissioners who would be in charge of organizational matters until after the election. But on March 22, 1911, Gov. Carey appointed three.
During their first meeting on March 30, 1911, the men set May 2, 1911, as the date for voters to approve or veto formation of the county. Because voters in and around Lusk outnumbered those in the western parts of the county by more than two to one, it seemed likely that Lusk would be the county seat. Still, organized opposition to the very existence of the county continued. Clubs for and against the county were formed, rallies fired up county residents, and newspapers continued their battles.
Finally, 626 residents voted to approve the county and 203 voted against it. Lusk received the most votes—625—to become the county seat. A primary election for new county officers was set for August 1912. At the general election three months later Thomas Bell, E.A. Cook and R.F. Burhoop were chosen as county commissioners, and voters also chose a county clerk, sheriff, county attorney, schools superintendent, coroner, surveyor and justice of the peace.
On Jan. 1, 1913, the commissioners took office and elected Thomas Bell chairman, and the following week accepted oaths of office from the new county officers.
During its first years, the residents of Niobrara County struggled with finances, but no enormous tax burden materialized, largely because new oil discoveries in the late 19-teens gave the local economy a sudden upswing.
Hard times and Prohibition
Though people with jobs in the oil fields and refineries prospered in the 1920s, farmers and ranchers, their families and their bankers had a much tougher time. Falling crop and livestock prices after World War I plunged Wyoming agriculture into a depression nearly 10 years before the stock market crash of 1929 brought on the Great Depression nationwide.
Prohibition offered some workers and small ranchers a way to make extra money. Out of desperation, many turned to making moonshine whiskey, and some stories point to Niobrara County as the origin of some of Wyoming's finest moonshine.
The railroad
Industry in Niobrara County, meanwhile, extends as far back as the Texas cattle drives that began bringing herds into Wyoming in the late 1870s. Transporting the western beef to eastern markets was a major railroad business, and in April 1886 the Fremont, Elkhorn, and Missouri Valley Railroad began building westward from Chadron, Neb., to take advantage of the increasing herds in Wyoming Territory.
After the FE&MV reached Lusk, a tributary rail line, the Wyoming Central Railway Co., was surveyed to Manville. Railroad organizers built a water tank and a stockyard with loading chutes directly opposite the tracks. Settlers and emigrants entered the area almost as soon as the railroad began construction. In 1887, the Wyoming Lumber Company opened a sawmill in Manville.
In the early 1900s, homesteaders began using dry farming, combining drought-resistant crops with good surface conditions to preserve the scant moisture. In what soon became Niobrara County they raised wheat, oats, potatoes and small fruits.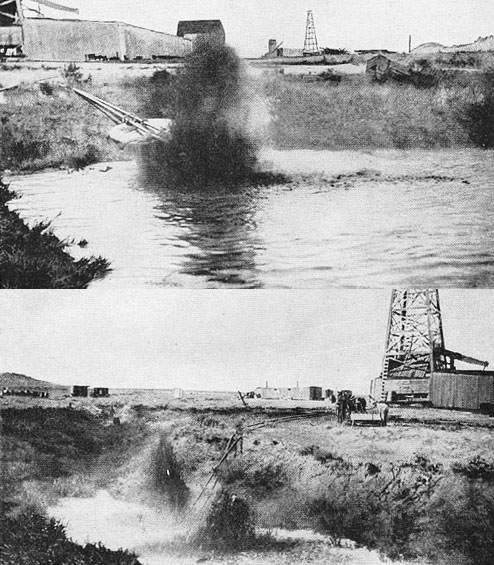 By 1915, according to a history of Wyoming published three years later, Niobrara's population stood at 3,488 and the property assessed at $6,463,414. In 1916, the state auditor's report cited 30,000 head of cattle, 51,452 sheep and 8,803 horses in Niobrara County. The combined value totaled nearly $2 million.
Oil and gas
Indians had known of the existence of oil in the area, and white settlers made their discovery in the early 1900s. The Union Oil Company of California drilled at Harney Creek, several miles northwest of Manville, in 1911, but the well was dry. They kept drilling and eventually struck oil at Buck Creek, which became the discovery well for the East Lance Creek Field and sparked the first Lance Creek oil boom.
Oil was discovered 20 miles north of Lusk at the community of Lance Creek in 1917. Dr. J.E. Hawthorne of Lusk had begun exploration in 1912, but his funds ran out before he could drill deep enough to hit oil. California oil magnate Henry Allen Rispin continued Hawthorne's work, but he and several others abandoned the effort before finding success. The Ohio Oil Company struck oil sand on March 13, 1918, and soon drilling produced a well that flowed at a rate of 1,500 barrels per day.
In September 1918 a natural gas well was discovered near Lance Creek.
At least 16 oil companies had staked claims in the area by 1918, and activity boomed until the Ohio Company shut down its production there in April 1920. The Lance Creek oil field boomed again a decade later, but by then most of the early drillers had moved away. In 1933, the Ohio Oil Company slowed its operations in 1933 as the Great Depression spread across the country and oil prices fell and kept falling.
Meanwhile, local residents Roy E. Chamberlain and Jim Hoblit were themselves in need of work. They risked their personal savings to open a refinery to provide home-heating fuel and gasoline for Niobrara County residents. The C&H Refinery was successful even during such financially unstable years, and in 1936 Chamberlain sold his interest to Hoblit and made a profit. Joe Chamberlain--no relation to Roy Chamberlain--purchased the refinery in 1974, but the business—too small to survive in the era of big oil—closed 1978.
Two decades later Pakistani businessman Zahin Khalid restored the refinery to operability, and as of 2012 still hopes to sell it to the state or other interested buyer as a historical relic of the early days of Wyoming's oil business.

The Wyoming Women's Center
Lusk is home to the Wyoming Women's Center, the state's first correctional facility for women. The women's center first opened with 39 inmates in Evanston, Wyo., in 1977 on the grounds of the Wyoming State Hospital. When it opened in September 1977, it housed 39 inmates. Before that, female inmates were sent to a facility in York, Neb., until that facility became overcrowded.
The Evanston prison was never fully secure, however, and state legislators were on the lookout for a bigger, more permanent facility. Several Wyoming towns were considered for the site, but Lusk was willing to donate the land and residents welcomed the idea, so in 1981 the state legislature authorized a permanent facility to be built in Lusk. Original plans estimated the building could house 50 inmates in the first year, with a staff of 32 and potentially more inmates in the future.
Construction was finished in 1984 at a cost of $9 million. The original building could house up to 82 inmates, and in 1996 double bunk beds were added to increase the capacity to 144. At that time the inmate population was 95, and continuing to grow. By August 1999, the population was 151. The next month, 50 inmates were moved to Oklahoma to relieve the building's overcrowding, and later women were also sent to a facility in Brush, Colo.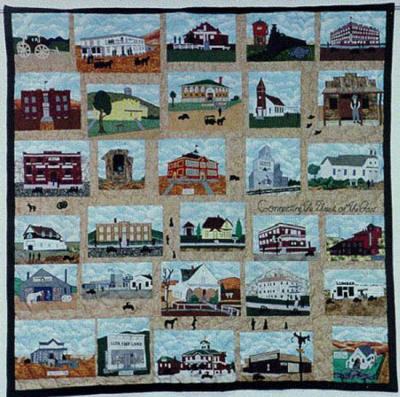 In 2004, construction began on more space, expanding the kitchen and dining areas, adding areas for education, vocational and industrial training, and adding a medical intensive treatment unit. Work was finished in 2007, and today the center can house 261 inmates in the main facility, with 32 additional beds in the intensive treatment unit.
The prison offers opportunities for inmate education and vocational training, including ABE/GED certifications, college courses, workforce-training services, parenting and computer informational classes.
The center also has an Aquaculture Program, in which inmates help raise fresh- and salt-water fish for consumer sale. The program began in August 2007 after 6 months of preparation and $2.1 in construction costs. Inmates began raising tilapia, and the program soon expanded to include Pacific white shrimp to be sold to markets around the country. Soon inmates also began raising fathead minnows to be sold around the state for bait.
Niobrara County today
Today, employment is fairly evenly divided in Niobrara County today among business and service industries, sales and construction work, with small percentages in farm/forestry occupations. Major employers in Niobrara County are the public schools, the Union Pacific Railroad, the Wyoming Women's Center and local government agencies.
Business and service industries make up about 20 percent each of the county's employment, and construction, farming and forestry employ small proportions of the population.
Resources
Bartlett, I.S. History of Wyoming. Chicago: The S.J. Clarke Publishing Company, 1918, 533-534.
Brown, Barnum and J.P. Sams. A Triceratops Hunt in Pioneer Wyoming: the Journals of Barnum Brown & J.P. Sams: University of Kansas Expedition of 1895. Edited by Michael F. Kohl, Larry D. Martin and Paul Brinkman. Glendo, Wyo.: High Plains Press, 2004.
Colbert, Edwin H. The Great Dinosaur Hunters and their Discoveries. New York: Dover Publications, 1968, 1984, 86-88, 95-197.
Donahue, Jim, ed. "Administrative History of Niobrara County." Wyoming Blue Book, vol. 5, part 1, Cheyenne, Wyo.: Wyoming State Archives, 1991, 546-551.
Fugleberg, Jeremy. "Wyoming microrefinery is rare but rundown piece of oil industry history." Casper Star-Tribune, June 3, 2012. Accessed Oct. 24, 2012 at http://trib.com/news/state-and-regional/wyoming-microrefinery-is-rare-but-rundown-piece-of-oil-industry/article_0485ab6c-42e4-540b-8523-4914450f24b4.html.
"Historical Decennial Census Population for Wyoming Counties, Cities and Towns." U.S. Census Bureau. Accessed Oct. 10, 2012, at http://eadiv.state.wy.us/demog_data/cntycity_hist.htm.
"Wyoming Women's Center." Prison Talk, accessed Nov. 19, 2012 at http://www.prisontalk.com/forums/showthread.php?t=186389
Whitehead, Anne Wilson. A History of Manville, Wyoming, and the Manville Ranching Community. Cheyenne, Wyo.: Pioneer Printing and Stationery Co, 1998, 11-14, 119-121, 142.
"Women's prison to open Sept. 15," Casper Star-Tribune. Aug. 28, 1984.
Wyoming Department of Corrections. "Fish and Water Lead to Success for Wyoming Women Inmates." CriminalJustice.com: Where justice never sleeps. June 28, 2010. Accessed Oct. 27, 2012, athttp://www.corrections.com/news/article/24929-fish-and-water-lead-to-success-for-wyoming-women-inmates
Wyoming Department of Corrections. "Wyoming Women's Center's History." On the department's website, accessed Oct. 27, 2012 at http://corrections.wy.gov/institutions/wwc/history.html
For further reading
For much more on the history of Lusk and Niobrara County, visit the "historicals" section of the Niobrara County Library's website. See, for example, matchups of historic photos with the squares of the quilt shown here, or OW Ranch foreman Addison Spaugh's description of the 1884 spring roundup on Lance Creek, when 20 different cattle outfits represented by nearly 200 men with 2,000 horses rounded up and worked 400,000 cattle over the course of six weeks.
Illustrations