Dry Farming in Wyoming
"The man with the hoe," the Laramie Republican reported on Nov. 26, 1906, "has turned his face toward Wyoming." Since the late 19th century, immigrant farmers had been transforming rangeland into farms in the semi-arid West. Many engaged in dry farming—agriculture without irrigation. The practice required the use of drought-resistant crops and careful management of the soil to conserve moisture.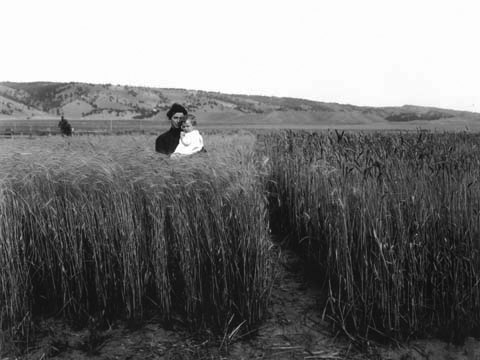 Promoted by agricultural experts and organizations, the idea was endorsed by Wyoming officials to stimulate agricultural development and encourage immigration. And by the first decade of the 20th century, the state was actively backing the practice with a state dry farming director and several state-supported experimental farms.
Some writers claim that the first successful dry farmers in Wyoming were Swedish settlers in Salem, near Pine Bluffs in eastern Laramie County, in the late 1880s. By the early 1890s, dry farming was widespread throughout the state, with experiment stations managed by the university and the federal government.
Politicians and civic leaders soon equated dry farming with progress and the development of Wyoming. They believed agricultural opportunities would expand and enrich local communities. "The importance of the dry farming movement in developing Wyoming and all the other Trans-Missouri States," Gov. B. B. Brooks noted confidently in 1908, "cannot be over-estimated."
Brooks' successors in the governor's office were equally supportive, advocating state funding to promote dry farming and appointing individuals to attend national dry farming congresses. To Henry B. Henderson, state examiner—one of the state's top financial officers—and Wyoming booster, dry farming was the agricultural future of Wyoming. He spoke frequently on the subject, attended dry farming congresses, which promoted the idea, solicited funds for experimental farms and managed a dry farm.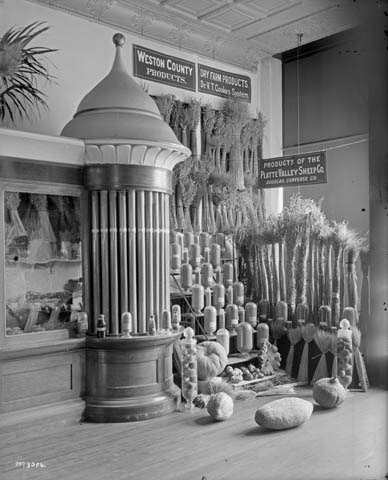 Another key supporter of dry farming was William C. Deming, editor of The Wyoming Tribune, who believed that in time every quarter section of land near Cheyenne would contain 160-acre farms. As farmers mastered the techniques of dry farming and began to prosper, he expected the small towns between Cheyenne and the Nebraska line would also grow and thrive.
Geologist Ferdinand V. Hayden of the U.S. Geological Survey had expressed a similar notion about the area around Cheyenne in 1871, but not until the turn of the century did the proliferation of small farms become a reality. Deming seemed poised to witness the subsequent agricultural transformation in Laramie County. Adding its voice of approval was the state engineer's office, which regulates water rights, probably because, unlike irrigated farming, dry farming did not require regulatory water supervision.
Lastly, to educate farmers and to encourage immigrants, dry farming opportunities were advertised by land companies, railroads and a state dry farming association, as well as by local governments and businessmen.
Frank Mondell
Congressman Frank W. Mondell, who represented Wyoming in the House of Representatives for 25 years, has often been portrayed as a staunch advocate of dry farming. In 1907, however, at a public-lands convention dominated by Wyoming and Colorado stock growers, Mondell was anything but sympathetic to the desires of small farmers and settlers, who dreamed of establishing homes and lives on relatively small plots of land.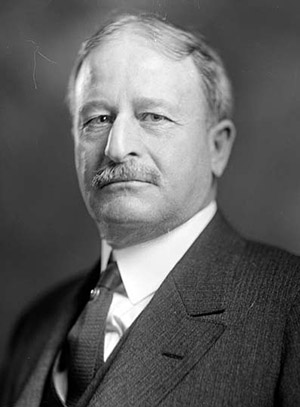 Speaking to the delegates, he declared, "For myself, I am inclined to the belief that our people will not, when fully informed, lend their favor to such a change of national policy being pursued that will invite settlement and development, encourage the home builder, and develop our waste places for the habitation of an independent home-owning citizenship."
A great round of applause and cheers followed Mondell's statement. One representative asked for opposing views. Another claimed, "There is no other side," which quickly elicited a great outpouring of laughter.
Mondell's stance stood in marked contrast to that of state and local officials. Apparently, his political supporters clouded his vision. However, after noticing the influx of homesteaders in the state, he found it expedient to change his position, and within a year he was playing a different tune.
At the 1908 meeting of the National Dry Farming Congress, Mondell presented himself as a friend of dry farmers. He recounted his personal farming experience in Weston County to show that he was a kindred spirit.
But this change in his sympathies is probably best shown by his authorship of federal legislation establishing a 320-acre homestead law.
"I am confident that the passage of the enlarge[d] homestead bill will greatly stimulate and encourage dry farming development," Mondell told a dry farming congress in 1909. In 1910 he became president of the International Dry Farming Congress.
Vernon T. Cooke
The man chiefly responsible for promoting dry farming statewide was Vernon T. Cooke. Born in 1849 in London, Cooke was trained in medicine and eventually settled in the Pacific Northwest where he became well versed in dry farming techniques. He said that he had graduated from a prominent German university and had acquired practical experience in managing large estates in Germany and West and South Africa. By the 1890s he was a recognized authority on dry farming in the American West. He developed a particular style of dry farming called the Cooke method.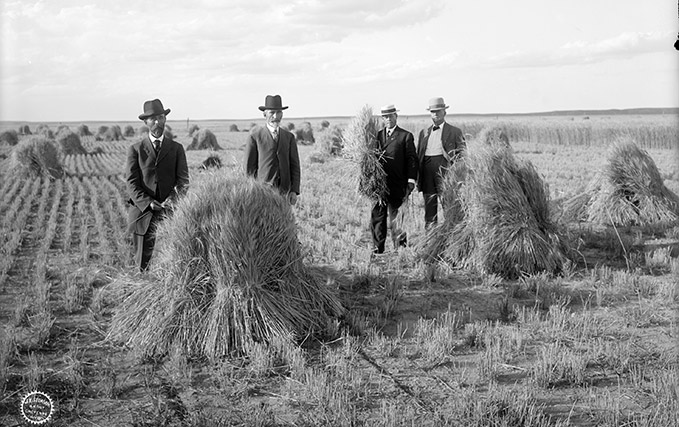 In 1905, the Cheyenne Commercial Club invited Cooke to visit Wyoming and evaluate the possibilities of dry farming. Not surprisingly, he found the climate favorable and saw opportunities for growth and development. Impressed by his assessment, the Commercial Club members retained him to supervise experimental work first within the city limits of Cheyenne and later on a farm just east of the city. During that time, Cooke became well acquainted with agricultural development across the state and established a network of personal and professional connections.
In 1907, Gov. B. B. Brooks appointed Cooke as the first state dry farming director. Although he was accountable to the Wyoming Department of Immigration and later the state Board of Farm Commissioners, he was given a free hand in exercising his duties.
During the next couple of years, his principal task was to supervise dry farming operations near Cheyenne and in Casper; Lyman in the Bridger Valley in southwestern Wyoming; Jireh, west of Lusk; Ulm, northeast of Buffalo; Grover in Star Valley near the state's western border; and in the Eden Valley, south of Farson. Initially, these farms raised various grains, but later experimented with vegetables, trees and raising livestock.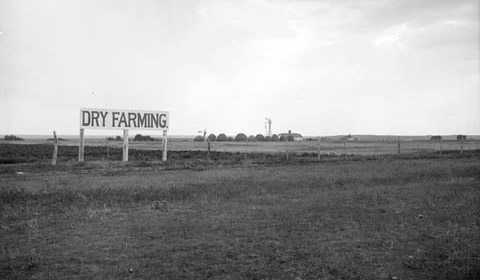 By documenting rainfall and crop production, Cooke provided convincing proof about the efficacy of dry farming. Filed with his reports were testimonials from successful farmers whose personal perspectives, he hoped, would assure the incredulous and wary. In addition to managing the experimental farms, Cooke visited towns and rural communities, gave lectures and, in newspapers, wrote promotional and how-to articles about dry farming.
In November 1911, Cooke decided to take the position of dry farming supervisor in the Department of Agriculture in Brazil. A few years later, he returned to the states and settled in Denver and later Strasburg, Colo. While visiting his son in Peoria, Ill., he contracted pneumonia and died suddenly on April 12, 1930. He was buried in Colorado Springs, Colo.
Dry farming today
Cooke's successors as dry farming director were equally enthusiastic and knowledgeable. Coming with impressive backgrounds from Utah were Edward H. Hamilton in 1911 and William Littlefair Quayle in 1913. Both men continued the promotional campaign laid down by Cooke.
In 1919 the Legislature abolished the State Board of Farm Commissioners and subsequently, the office of dry farming director, and placed the existing dry farms under the care of the university's agricultural experiment station, where educational and experimental programs continue to the present day.
Resources
Primary Sources
"Congressman Mondell's Experience in Dry Farming." The Dry Farming Congress,
Formerly the Trans-Missouri Dry Farming Congress, Handbook of Information. Third annual session of the Dry Farming Congress, Cheyenne, 1909.
Cooke, Vernon T. Annual Report of Dry Farming Director to Governor B.B. Brooks. Cheyenne, 1908. Microfilm Publications reel 64-33-101, Wyoming State Archives, Department of State Parks and Cultural Resources, Cheyenne.
Proceedings of the Public Land Convention Held in Denver, Colorado, June 18, 19, 20,
1907. Denver: Western Newspaper Union, 1907.
Scrapbooks, H61-27 William C. Deming Collection, Wyoming State Archives, Department of State Parks and Cultural Resources, Cheyenne
State Board of Immigration. Dry Farming in Wyoming. Cheyenne, Wyo. 1909.
State Dry Farming Commission. Dry Farming in Wyoming. Cheyenne, 1915.
__________________________. Dry Farming in Wyoming, 1911 (Cheyenne: Cheyenne Printing Company, 1912)
___________________________. Dry Farming in Wyoming, 1911-1912 (Cheyenne: The S.A. Bristol Company, 1913)
Wyoming State Engineer. Sixth Biennial Report of the State Engineer to the Governor of Wyoming for the Years 1901 and 1902. Laramie, 1902.
____________________. Seventh Biennial Report of the State Engineer to the Governor of Wyoming for the Years
1903 and 1904. Laramie, Wyo. 1905.
____________________. Eighth Biennial Report of the State Engineer to the Governor of Wyoming for the Years 1905 and 1906. Laramie, 1906.
____________________. Ninth Biennial Report of the State Engineer to the Governor of Wyoming, 1907-1908. Cheyenne, 1908.
Secondary Sources
Cassity, Michael. Wyoming Will Be Your New Home . . . Ranching, Farming, and Homesteading in Wyoming, 1860-1960. Cheyenne: Wyoming State Historic Preservation Office, Wyoming State Parks and Cultural Resources, 2011.
Larson, T.A. History of Wyoming. Lincoln: University of Nebraska Press, 1965, 359-

365.
Illustrations
The photo of U.S. Rep. Frank Mondell is from Wikipedia. Used with thanks. The rest are all by the great Joseph Stimson, from the collections of the Wyoming State Archives. Used with permission and thanks.