Wyoming's Historic Governors' Mansion
Located five blocks from the Wyoming State Capitol in Cheyenne, Wyo., the Historic Governors' Mansion was designed by architect Charles Murdock of Omaha, Neb., and built in 1904.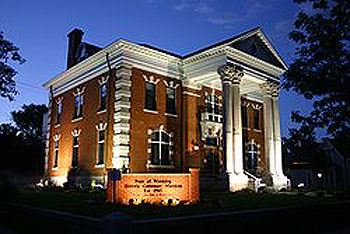 Home to 19 of Wyoming's first families, the mansion's first resident was Gov. B.B. Brooks and its most famous was perhaps Gov. Nellie Tayloe Ross, who served from 1925-1927 and was the first female governor in the United States.
The overall appearance of this Colonial Revival home is modest, befitting the comfortable and gracious atmosphere that was intended for both its occupants and visitors. Four stately, Corinthian sandstone columns hint at the structure's history of hosting state dinners for dignitaries and other important events. The total cost of construction of the two and a half story mansion with full basement and separate carriage house was $33,253.29. This included original furnishings, the $3,000 lot and $2,036 for landscaping,
There never was a fence surrounding the structure, nor was on-site security used. Wyoming's first families lived in the mansion until October 1976 when Gov. Ed Herschler moved to the new Governors' Residence near Frontier Park. The Historic Governors' Mansion opened to the public in July 1977, and an extensive renovation was completed in 2004. Each room was restored to reflect a particular historic period from the early 1900s through the late 1960s. The basement was remade into a Cold War-era fallout shelter, its 1959 form. 
Resources
Illustrations
The photo of the Governors' Mansion is from a Nov. 4, 2010 Wyoming Arts Council blog. Used with thanks.