Earhart Once Piloted "Weird Windmill Ship" across Wyoming
Most people associate Amelia Earhart with aviation, worldwide fame and her mysterious disappearance in 1937 during an attempt to fly around the world. Fewer may realize that the record-setting pilot flew an experimental aircraft across Wyoming and made plans for a vacation home in the mountains above Meeteetse.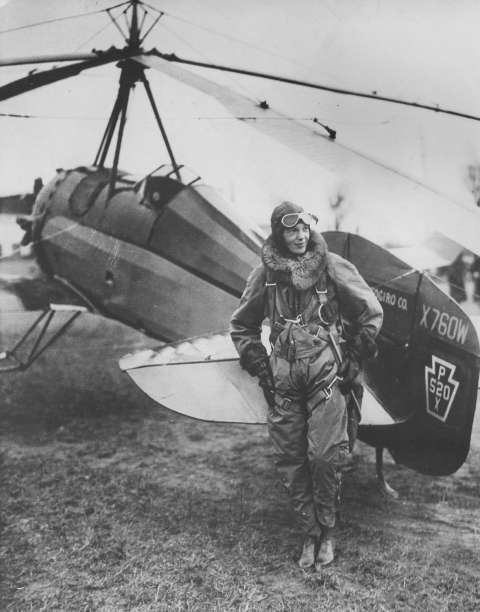 The Kansas native with a penchant for "first-time things" and a love of "shining adventure," as she called it, flew an autogiro across the country in June 1931, stopping at Cheyenne, Laramie, Parco (present Sinclair), Rock Springs and Le Roy, Wyo., west of Fort Bridger.
Earhart wanted to set a transcontinental record in the awkward-looking craft, which resembled a fixed-wing propeller plane with an engine on the front, but was equipped also with four long rotor blades that spun at 100 revolutions per minute –much slower than the 400 revolutions per minute of modern light helicopters—above the open cockpit. The 52-gallon fuel capacity of the rotorcraft, dubbed the "flying windmill" by the press, made frequent stops necessary. Amelia made time to visit with local dignitaries and give flight demonstrations. She charmed the crowds who greeted her on the ground.
The Laramie Republican-Boomerang's front-page report described her as "a petite tousle-haired sky goddess in a weird windmill ship" who "greeted a crowd of pop eyed spectators" numbering several hundred. While she had flown over previously, this 20-minute stop was the first time Earhart had actually visited Laramie.
Earhart, who was born in Atchison, Kan., on July 24, 1897, first gained fame when she rode as a passenger in 1928 across the Atlantic Ocean in the Friendship, a Fokker trimotor piloted by Wilmer Stultz. Mechanic Lou "Slim" Gordon also participated in the 20-hour, 49-minute flight, the brainchild of Amy Guest of Philadelphia, who hoped to promote good relations between the United States and Britain. Her family dissuaded her from going on the flight. Guest had asked New York publisher and promoter George Palmer Putnam to find someone else to replace her.
Earhart was a social worker in Boston at the time, but she loved flying and had been taking flight lessons for several years. She was vice president of the Boston chapter of the National Aeronautic Association. On May 15, 1923, she received her pilot's license from the international aviation organization to which the American National Aeronautic Association belonged. Earhart was the 16th woman in the world to receive the license.
She had owned a Kinner Airster, but sold the plane in 1924 because of recurring sinusitis problems that made it difficult for her to fly. She bought a canary-colored Kissel Kar automobile, which she named Yellow Peril, and made a 7,000-mile cross-country trek with her mother, Amy Otis Earhart, visiting several national parks en route.
Lady Lindy
In 1928, despite her lack of experience in a trimotor, and with only 500 hours of flight time logged, Amelia Earhart became the first woman to cross the ocean in an airplane. Her good manners and her striking resemblance to pilot Charles A. Lindbergh, who had made a successful solo flight across the sea May 20, 1927, likely led to her being chosen to ride on the Friendship. She was called "Lady Lindy," and recognition was her only remuneration for the flight; payments she received for writing newspaper articles and for other advertising activities were donated to help finance the flight.
At the time Putnam met Earhart, he was married to Dorothy Binney. Putnam and Earhart became friends, and their relationship grew even closer after the Friendship flight. Putnam and his first wife divorced after 20 years of marriage. He married Amelia Earhart in a simple ceremony at his mother's home in Noank, Conn., on Feb. 7, 1931. On that day, Amelia presented him with a frank, rather businesslike letter outlining her wishes that the marriage not be confining for either of them. If they found they weren't happy after a year, then she wanted the marriage to end.
But in June 1931, as Earhart flew the autogiro from coast to coast, the couple appeared to be pleased with each other. In Laramie, she told reporters that she telephoned her husband every night.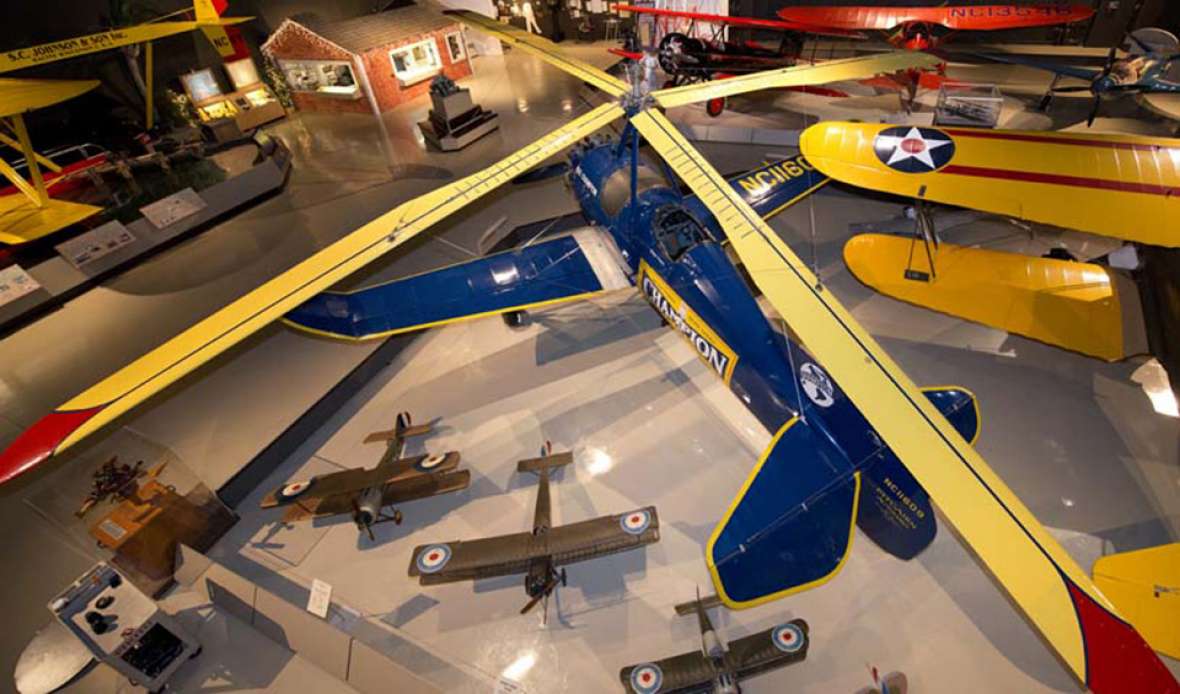 The autogiro
Earhart referred to the autogiro as "the answer to an aviator's prayer," although other pilots disagreed with that assessment and accidents were common. Spanish mathematician Juan de la Cierva invented the rotorcraft in the early 1920s and his American partner, Harold Pitcairn, who had begun Eastern Air Transport in 1926 and was the developer of Mailwing biplanes, marketed the autogiro. The aircraft was equipped with an engine to get it started, but once aloft, air pressure kept the rotor blades spinning. The rotors allowed the craft to make short takeoffs and landings, somewhat similar to those of a helicopter.
Putnam had ordered an autogiro for Amelia, who had set a woman's autogiro altitude record of 18,415 feet in a company model on April 8, 1931, but he canceled the order when he learned that Beech-Nut Packing Company's rotorcraft was available for promotional purposes. Earhart flew the PCA-2 sponsored by Beech-Nut to promote its chewing gum. Another autogiro, manufactured a few months later that same year and sponsored by Champion Spark Plug Company, carried a factory price of $15,000—around $235,000 today.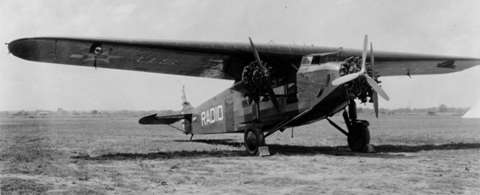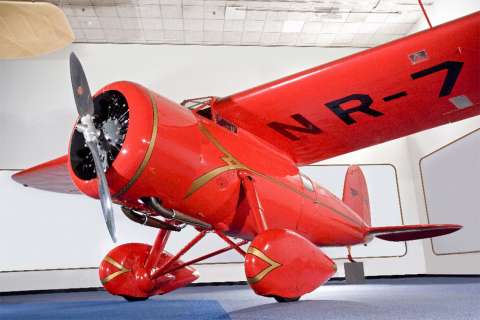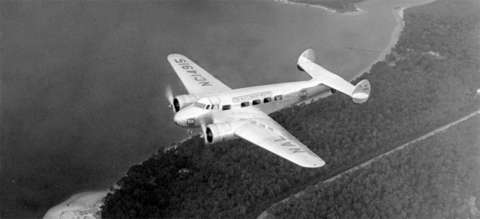 Putnam arranged for Earhart's transcontinental tour in the Beech-Nut craft. She took a single lesson in December 1930 from the manufacturer's test pilot, James G. Ray, in Willow Grove, Pa. When she and her mechanic, Eddie de Vaught, departed from Newark, N.J., in late May, for her transcontinental jaunt, Putnam and his son David handed out chewing gum to onlookers.
76 towns in three weeks
According to a schedule of the trip posted on the website of the Lincoln Highway National Museum and Archives, Earhart arrived in Cheyenne on June 2, 1931, late in the afternoon. She apparently stayed overnight and departed a few minutes after 6 a.m. the next day for Denver, which took about an hour and a half of flight time. The Denver Post reported thousands watched her. The newspaper's owner and publisher, Frederick G. Bonfils, greeted her at the airport. This was her first visit to Denver, and she stopped for breakfast at the Brown Palace hotel and then returned to the airfield to give demonstrations.
She returned to Cheyenne about 4:30 p.m. that day, according to a report in the Wyoming State Tribune and Cheyenne State Leader, which estimated "fully half of the population" of the city had gone to the airport during Earhart's time there. She departed Cheyenne at about 9 a.m. on June 4, made the half hour flight to Laramie, and after her brief stop there, went on to Parco, arriving about 11:30 a.m., and flying on to Rock Springs, where the gathered throng numbered about 2,000 people. The Rock Springs Rocket reported she had lunch with the local Lions Club, then flew to Le Roy, near Fort Bridger, to refuel before her flight across the Wasatch Mountains to Salt Lake City.
Earhart arrived in Oakland, Calif., on June 6, and the crowd there was so large that it broke the barricades. However, she had not set the record she hoped for; she had wanted to be the first to cross the country in the autogiro. Instead, pilot Johnny Miller had won that honor. Amelia continued her tour, returning east. On June 12, 1931, she crashed the autogiro in Abilene, Texas, but she had managed to aim the aircraft away from the onlookers and no one was hurt. A replacement craft was sent.
Although the Aeronautics Board of the Department of Commerce issued a formal reprimand citing Earhart for pilot carelessness, an official of the National Aeronautics Administration, an organization for which Earhart served as vice president, interceded and she was not grounded. Earhart said that the crash was caused because the wind stilled beneath her.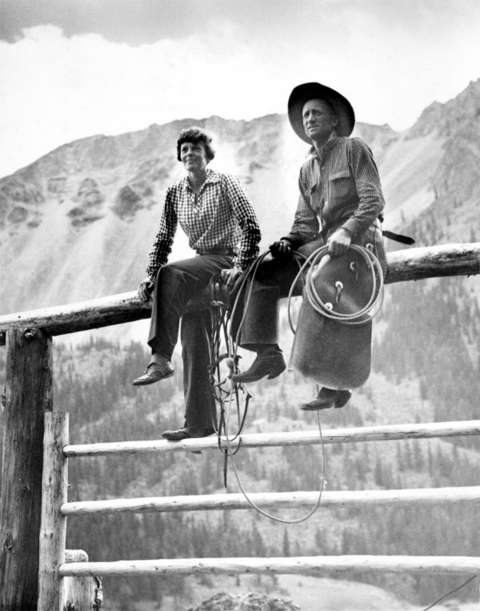 On the tour, she stopped in 76 towns during about three weeks of traveling. She flew an average speed of 80 mph, about five hours daily, often landing 10 times in a day. She became the first pilot to fly an autogiro round-trip across the United States. She later made two additional cross-country tours in the autogiro.
Wyoming hideaway
In 1926, George Putnam invited Carl M. Dunrud to travel with his expedition to Greenland. Dunrud had guided Putnam on a pack trip in Yellowstone National Park a few years earlier, and Dunrud later acquired the Double Dee Ranch in the rugged Absaroka Range of northwestern Wyoming, southwest of Meeteetse in Park County. Dunrud recalled in a memoir that Putnam wanted "to make Amelia Earhart the world's leading woman pilot."
On May 20, 1932, the fifth anniversary of Lindbergh's historic flight and a year after her transcontinental autogiro tour, Earhart flew solo across the Atlantic Ocean in a single-engine Lockheed Vega, becoming the first woman to do so, and finally earning her "Lady Lindy" title. In July, she became the first woman pilot to fly solo across the transcontinental United States from Los Angeles to Newark. She earned numerous accolades for these flights and many other record-setting aviation adventures during her lifetime. She was also eventually awarded the American Distinguished Flying Cross.
In 1934, Earhart and Putnam stayed at the Double Dee, a dude ranch owned by Carl and Vera Dunrud. The Dunruds' two sons, Richard and Jim, were toddlers, but they have fond recollections of Earhart. Richard called her "a very generous person," and he treasures a bamboo fishing pole and a .22-caliber rifle that she sent to them. Tires for Carl Dunrud's truck were also prized gifts during those Depression-era years.
Carl Dunrud wrote that during their 1934 visit, Earhart and Putnam filed a mining claim and commissioned him to build a small log cabin for them near the Wood River and at the base of Mount Sniffer about a mile from the old mining town of Kirwin. Jim Dunrud remembers that his mother told him that Earhart "didn't like the limelight much." Richard keeps correspondence between his father and George Putnam with instructions on how their vacation cabin should be built.
Earhart wanted to fly the "world at its waistline," something no other pilot had done. In 1935, she had served as a counselor to female students at Purdue University, in Indiana. Her world flight was to be funded by donations to Purdue passed on to Earhart to establish the "Purdue Flying Laboratory" and to help further the progress of women in aviation.
Before embarking on the 1937 flight along the Equator, Earhart sent two coats to Carl Dunrud, a long leather flight jacket and a buffalo coat that had been given to her by cowboy actor William S. Hart. Dunrud later gave the coats to the Buffalo Bill Center for the West in Cody, Wyo., where they are now kept.
During her first world flight attempt in March 1937, Earhart flew west from California and then crashed on takeoff from Hawaii, escaping injury but damaging her plane. Repairs to the Lockheed Electra caused lengthy delays, which made an alternate route and a reversal of the direction of the flight necessary because of changing seasonal weather patterns. She raised additional funds through promotional activities.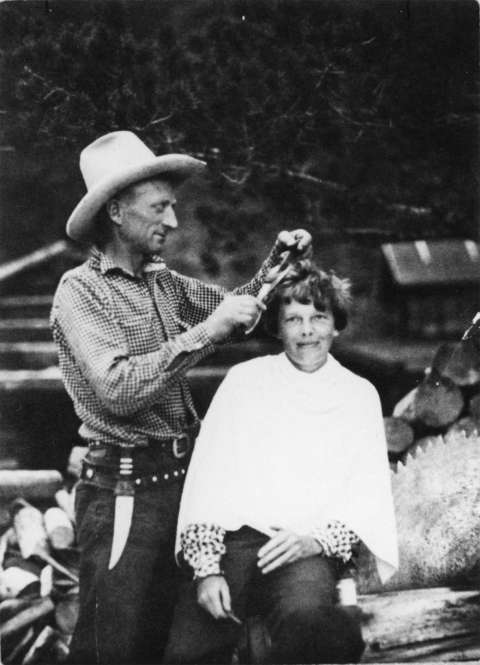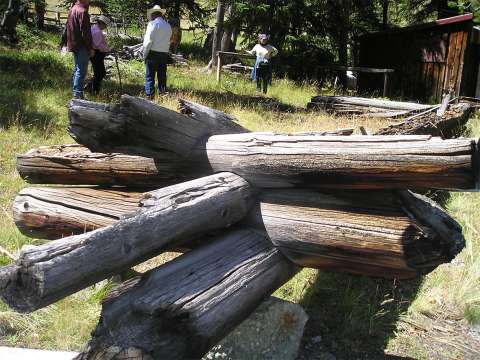 On her second attempt, Earhart departed from Miami on June 1, 1937, and successfully logged 22,000 miles with stops in Brazil, West Africa, India and Australia. On July 2, she and her navigator, Fred Noonan, departed from Lae, New Guinea, to make the 2,556-mile flight east across open water to Howland Island, a U.S. possession near the Equator in the central Pacific. They never made it to the atoll. She had reported their position via radio at 8:44 a.m. that day. The U.S. Coast Guard's Itasca, stationed near Howland Island, picked up her signals but was unable to contact her.
The search continues
President Franklin Roosevelt authorized a search of a quarter of a million square miles of the Pacific Ocean, the largest land/sea search ever undertaken and thought to have cost about $4 million. That effort was abandoned on July 18, 1937, but George Putnam kept trying to find out what had happened to his wife. He completed Earhart's book Last Flight to help pay for his efforts. Work on the Wyoming cabin stopped after Earhart's disappearance. On Jan. 5, 1939, Amelia Earhart was officially declared deceased. Putnam remarried twice after Earhart's death. He died in 1950.
Amelia Earhart's fame continues in contemporary times. Two women re-created her world flights, one in 1967 and one in 1997. Another female pilot in 2001 re-created one of Earhart's earlier cross-country flights in an Avro Avian biplane.
Independent searchers still spend millions of dollars combing the Pacific trying to discover what happened to Earhart, Noonan and the Lockheed Electra. One organization, The International Group for Historic Aircraft Recovery (TIGHAR) has focused its efforts on the island of Nikumaroro, formerly Gardner Island, about 400 miles south of Howland Island.
A substantial donor to TIGHAR, Riverside, Wyo., resident Timothy Mellon, the chairman and majority stockholder of Pan Am Systems and the son of philanthropist Paul Mellon, sued the group in June 2013, asserting that TIGHAR's team had actually found Earhart's Electra in 2010, but did not release that information to the public because they wanted fundraising efforts for future expeditions to continue. A judge dismissed the lawsuit in 2013.
In Earhart's hometown of Atchison, Kan., an annual festival is held in late July in honor of her birthday and to celebrate the accomplishments of the aviatrix. In Wyoming, the Meeteetse Museum sponsors a trek to the old mining town of Kirwin each August, which includes a hike to the cabin site that Putnam and Earhart chose before she disappeared.
Resources
Primary sources
"Amelia Earhart Visits City in Autogiro," Laramie Republican-Boomerang, June 4, 1931, 1.
Cassidy, Megan. "Wyoming Man Denies Plot Against Amelia Earhart Plane Recovery Group." Casper Star-Tribune, Aug. 11, 2013. Accessed Feb. 26, 2016, at
http://trib.com/news/local/casper/wyoming-man-denies-plot-against-amelia-earhart-plane-recovery-group/article_c31f3ffe-5a21-516c-b9ea-8a38a8318f6e.html.
Denver Post, June 3, 1931, 1.
Dunrud, Carl M. Let's Go! 85 Years of Adventure. Cody, Wyo.: WordsWorth, 1998, 25, 91, 95-98.
Dunrud, Joan. Meeteetse Museums. Telephone interview with author, March 23, 2016.
Lorenzi, Rosella. "Hunt for Amelia Earhart Resumes in Pacific." June 1, 2015. Discovery News. http://news.discovery.com/adventure/hunt-for-amelia-earhart-resumes-in-pacific-150601.htm.
Rock Springs Rocket, June 4, 1931.
TIGHAR. "TIGHAR Sued in Federal Court." The Institute for Aviation History Forum. Comments listed with date of June 8, 2013. Accessed Feb. 26, 2016, at https://tighar.org/smf/index.php?topic=1206.0.
Wyoming State Tribune and Cheyenne State Leader, June 4, 1931, 1.
Secondary sources
Experimental Aircraft Association. "1931 Pitcairn PCA-2 Autogiro 'Miss Champion' - NC11609" https://www.eaa.org/en/eaa-museum/museum-collection/aircraft-collection-folder/1931-pitcairn-pca-2-autogiro-miss-champion---nc11609.
House, Marguerite. "Amelia Earhart's Wyoming Connection." Buffalo Bill Center of the West. Nov. 10, 2014. Accessed May 3, 2016, at
Lincoln Highway National Museum and Archives, "1931 Amelia Earhart Travels the Lincoln Highway, Beech-Nut Transcontinental Autogiro Tour." Accessed March 18, 2016, at http://www.lincoln-highway-museum.org/earhart/earhart-index.html.
Lovell, Mary S. The Sound of Wings. New York: St. Martin's Press, 1989.
Rich, Doris. Amelia Earhart: A Biography. Smithsonian Institution Press, 1989.
Rumm, John. "Her Plane Vanished, Her Flight Jacket Didn't." Buffalo Bill Center of the West. March 17, 2014. Accessed Feb. 26, 2016, at
Van Pelt, Lori. Amelia Earhart: The Sky's No Limit, American Heroes series. New York: Forge, 2005.
­­­­___________­­­­."Airborne Amelia: Famed Aviatrix Left Her Mark in State." Casper Star-Tribune, April 10, 2005, C1.
___________­­­­." "Splendid Dreams, Fond Memories: Former Kirwin Residents Recall Mining Town's Heyday," Casper Star-Tribune, Aug. 23, 2005, B1.
___________­­­­." "Amelia Earhart Once Winged Her Way Across Wyoming." Wyoming Rural Electric News, October 2006, 18-20.
___________­­­­." "Amelia's Autogiro Adventures," Aviation History, March 2008.
For further reading and research
Amelia Earhart wrote several books about her experiences. Her husband, George Palmer Putnam and her sister, Muriel Morissey, also wrote books that contain more information about Earhart:
Earhart, Amelia. 20 Hrs., 40 Mins.: Our Flight in the Friendship. New York: G.P. Putnam's Sons, 1928.
___________­­­­." The Fun of It. Press of Braunworth & Co., Inc., 1932.
___________­­­­." Last Flight. Crown Trade Paperbacks, 1988.
___________­­­­."Wide Margins. New York: Harcourt, Brace, 1942.
Morissey, Muriel with Carol L. Osborne. Amelia, My Courageous Sister. Osborne Publisher, 1987.
Morissey, Muriel. Courage Is the Price. McCormick-Armstrong Publishing, 1963.
Putnam, George Palmer. Soaring Wings. New York: Harcourt, Brace, 1939.
Information about the women who re-created Amelia's flights:
Television documentaries:
National Geographic's "On Assignment," The Travel Channel's In Search of Amelia Earhart (Pioneer Productions, 2002), PBS The Final Hours: Amelia Earhart's Last Flight (Romeo Delta Productions, 2001).
Books by the women who re-created Amelia's world flight:
Finch, Linda. No Limits. World Flight, 1996.
Pellegreno, Ann. World Flight. Ames, Iowa: Iowa State University Press, 1971.
Dr. Carlene Mendieta, a periodontist, re-created Amelia's 1928 cross-country flight in an Avro Avian biplane. See more: Pro, Johnna A. "Happy Landings: Crowd Welcomes Pilot Recreating Earhart Flight," Pittsburgh Post-Gazette, Sep. 6, 2001. Accessed March 18, 2016, at http://old.post-gazette.com/regionstate/20010906earhartreg3p3.asp.
More information about ongoing search activities:
Museums, archives and other resources:
Illustrations
The photo of Earhart and her autogiro is from the George Palmer Putnam Collection of Amelia Earhart papers, Purdue University Libraries, Archives and Special Collections. Used with permission and thanks.
The photo of the Fokker trimotor is from the Aviation History Online Museum. Used with thanks.
The photo of the Lockheed Vega is from the Smithsonian National Air and Space Museum. Used with thanks.
The photo of the Pitcairn autogiro is from the website of the Experimental Aviation Museum. Used with thanks.
The photo of the Lockheed Electra is from a website on the history of the Lockheed Martin aerospace company. Used with thanks.
The photo of Earhart getting her hair cut is courtesy of the Dunrud family. Used with permission and thanks, and thanks also to Joan Dunrud and David Cunningham of the Meeteetse Museums.
The Charles Belden photo of Earhart and Carl Dunrud on the corral gate is from the collections of the Buffalo Bill Center of the West, in Cody, Wyo., gift of Mr. and Mrs. Charles Belden. Used with permission and thanks.
The photo of the remains of the cabin on the DD was taken by the author in 2005.