Connor Battlefield
In the summer of 1865, the territory of Plains Indian groups was becoming progressively restricted as waves of white settlers headed west, causing increased tension on the frontier. Against this backdrop, the mission of Brig. Gen. Patrick E. Connor, commander of the Powder River Expedition, was clear: attack the Indians in retribution and force them into submission to maintain peace.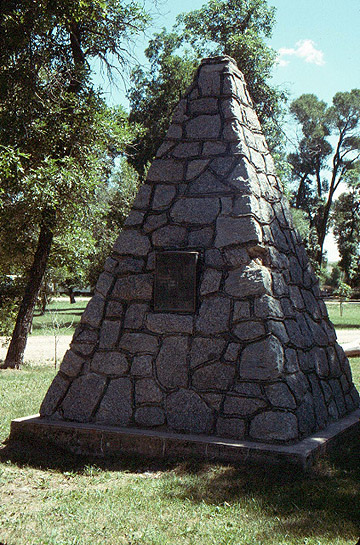 Connor was in command of 2,500 soldiers divided into three columns. One column, about 1,400 officers and men, came north up the east side of the Black Hills from the Missouri River, a second of about 600 soldiers came north up the west side of the Black Hills from Fort Laramie, and a third, including Connor himself and about 360 troops and 95 Pawnee scouts, came up the North Platte from Fort Laramie and up the Bozeman trail to the east side of the Bighorn Mountains. Where the trail intersected Powder River, they built Fort Connor.
On August 29, Connor's force attacked an Arapaho village of about 500 people led by Black Bear and Old David on Tongue River, at the site of present Ranchester, Wyo. Caught by surprise, the Arapaho suffered 63 killed, lost several hundred ponies, most of their lodges and were driven 10 miles up Wolf Creek. Eventually, Black Bear's forces counterattacked and compelled the soldiers to depart. Connor's group was attacked for several days while withdrawing down the river and then back south up Powder River to Fort Connor.
In the short run, Connor's assault provoked the Arapaho a few days later to attack a surveying and roadbuilding party under James Sawyers, at the Bozeman Trail crossing of Tongue River near present Dayton, Wyo., just a few miles from where Connor had attacked them a few days before. In that fight, three whites were killed in a running battle that lasted two weeks.
After Black Bear's village was attacked and burned, its people were forced to drain the resources of other Arapaho bands if they were to survive. Many joined the Cheyenne and Lakota resistance of the coming years, but the attack was still a severe blow to the strength of the Arapaho tribe.
Today, a monument stands at the site of Connor's attack on the Arapaho.
Resources
Fort Phil Kearny State Historic Site. "Connor Battlefield Wyoming State Park: Connor Battle; 1865" by Mary Ellen McWilliams, accessed 9/13/11 at http://philkearny.vcn.com/connorbattlefield.htm
Hafen, LeRoy R. and Ann W. Hafen, eds. Powder River Campaigns and Sawyers Expedition of 1865: A Documentary Account Comprising Official Reports, Diaries, Contemporary Newspaper Accounts, and Personal Narratives. Glendale, Calif.: A.H. Clark Company, 1961.
Larson, T.A. History of Wyoming. Lincoln: University of Nebraska Press, 1965, 20-25.
Rea, Tom. Devil's Gate: Owning the Land, Owning the Story, Norman: University of Oklahoma Press, 2006, 109-116.
Wagner, David. E. Patrick Connor's War: The 1865 Powder River Indian Expedition. Norman, Okla.: The Arthur H. Clark Company, 2010.
Illustration
The photo of the monument is by Danny Walker, from wyomingheritage.org.