Casper Mountain Ski History: A Century on the Slopes
This skiing story documents the role of a community that built a century of ski runs and trails, a ski area and the human infrastructures to keep them going. It is multi-generational, includes public and private efforts and crosses most segments of Casper society as it explores building physical and corporate structures—and long-term friendships.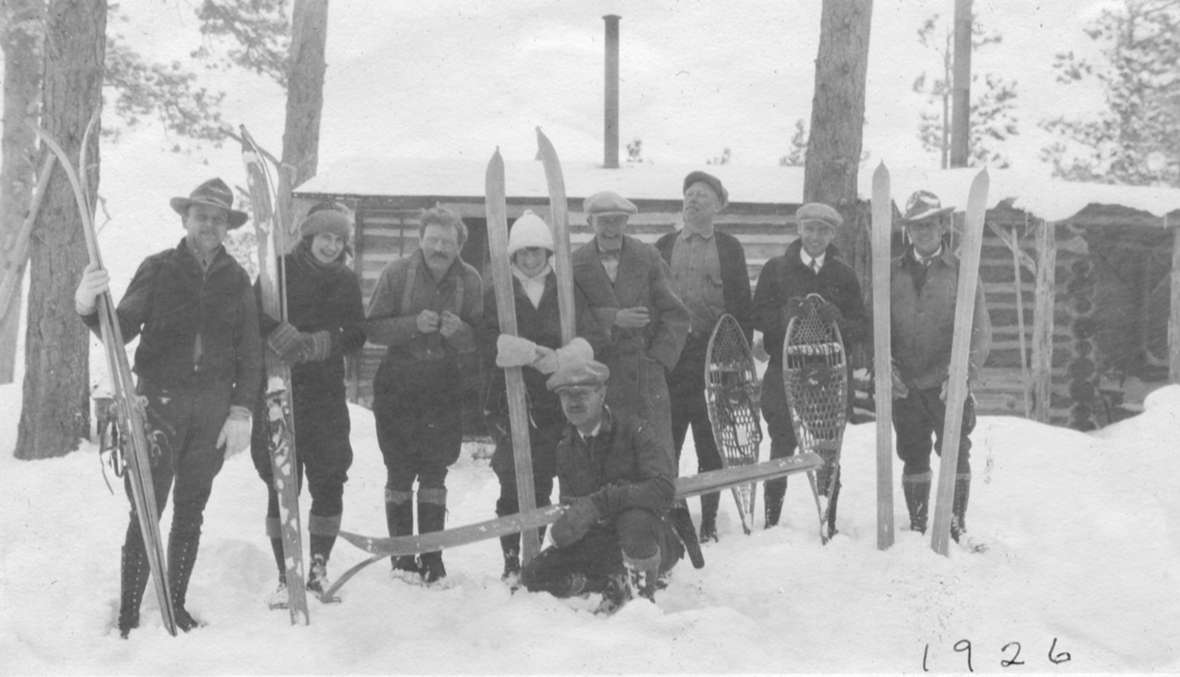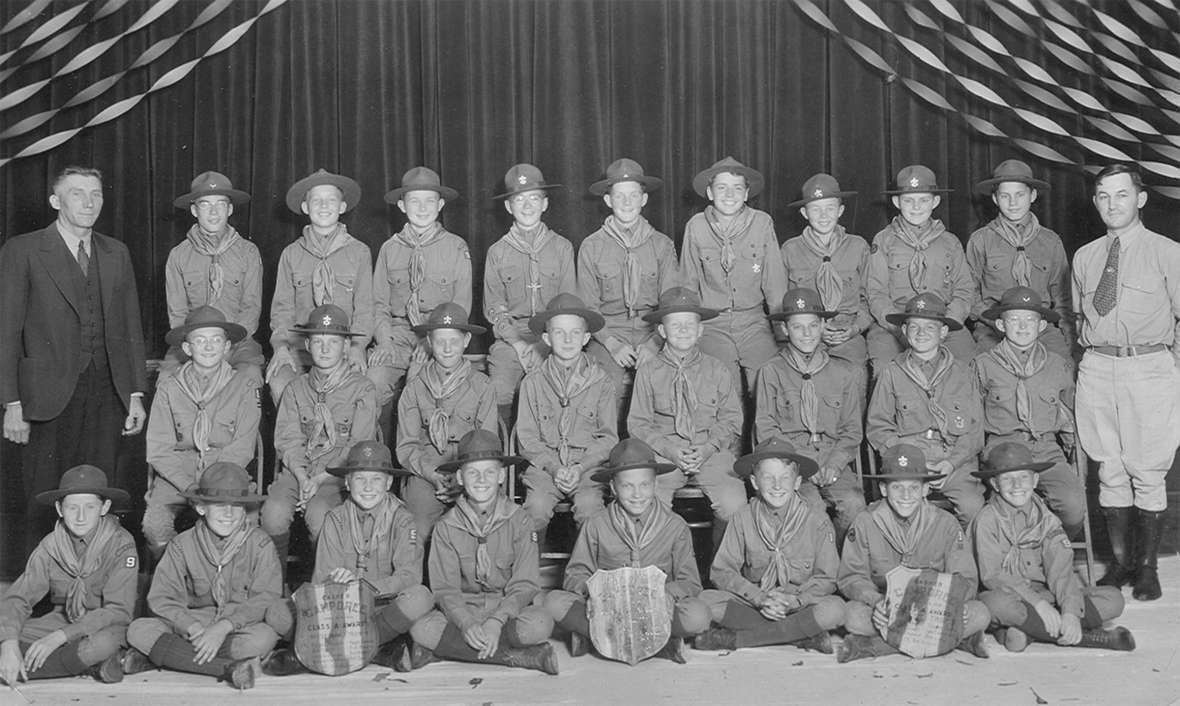 The Early years: To 1940
Since the 1880s, people have been skiing on Casper Mountain. The 10-mile-long mountain runs east-west a short way south of Casper, Wyo. Its north face is steep. Its highest point is about 8,000 feet above sea level and its top is relatively flat, with forested patches broken occasionally by meadows and sagebrush. Garden Creek and, further east, Elkhorn Creek run down to the North Platte River off the front of the mountain, near the center of its 10-mile extent. 
Initially, skiing was one of the ways people got winter access to the mountain for living and work. One of the early mountain residents was Davy Crockett—grand-nephew of the famous scout—who owned mineral claims on the center of the mountain. In winter, traveling from one mine to the next, he used 7-foot-long Scandinavian skis that he steered with one long pole. Another early resident, John Hogadone, cut a wagon road west of Garden Creek up the north-facing front of the mountain to the copper-mining hamlet of Eadsville. Hogadone also cut a second track up to the area that is now Hogadon Ski Area on the mountain front. In addition, this track provided access to Casper and to isolated homes. Skiing, in these early years, had a practical, rather than recreational, focus.
Beginning around 1918, with the arrival of Nils Fougstedt and a small group of skiing enthusiasts, the focus changed to recreation. Nils was a native of Skane, Sweden who in 1900 moved to the United States with his brother Ola (Ole). They settled in western Montana, working as landscapers and garden store owners. Both enlisted in the U.S Army in World War I, thereby becoming American citizens. 
Nils heard about a large tract of available land on Casper Mountain and bought it as an investment and as his new home. The cabin he built in 1920 on the north face of the mountain was a focal point for the early ski community. He constructed two ski runs, Spillway and Thunderbolt, on the east side of Garden Creek near the top of the north face of the mountain. Nils welcomed all who wanted to ski, including Cy Bon and his wife Gladys, Casper Mayor Frank Cowan and his wife Grace, Louis Keefe, Stu Wagoner and many others. They formed the core of the first group to create a skiing club and to collaborate with government and business interests to formalize access to this wintry recreation. That included road improvements in 1928 made and paid for by Natrona County.
When Nils died unexpectedly in 1930, his brother Ole inherited his land and his dreams. New residents Jack and Jewell Cummings purchased extensive holdings on both sides of the Elkhorn Creek canyon. After the Civilian Conservation Corps cut a fire break on a nearby slope, the Cummings family leased the land from the state. Joined by Ole and others, they built a new ski hill. The long, straight slope became Nursery, the premier race hill and a jumping-off point for cross country adventures. It's now familiar to Casperites as a popular sledding hill west of the road that leads to Beartrap Meadows and the Nordic center. In the 1930s, the CCC cut Bumps-a-Daisy, which included trails and a ski jump near Beartrap, which is now a Natrona County park. Young skiers also gravitated to it. Nursery got a rope tow in the mid-1930s and Bumps-a-Daisy in the 1940s.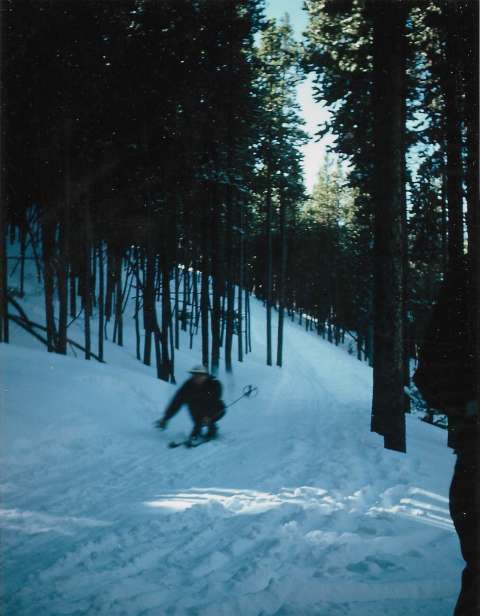 Between 1930 and the start of World War II, the younger generation discovered the joys of skiing. A number of them were members of Boy Scout Troop Nine, whose scoutmasters, Ted French and Bill Haines, Sr., began to train all of their scouts as mountaineers and skiers—and to make their own skis. Bob Hardesty, Bill Bon and twins Warren and Wayne Weaver were part of this group. Hardesty later became an early manager of Hogadon. Wayne joined the 10th Mountain Division in World War II, based on his knowledge of skiing and mountaineering. Warren was part of the community that created the Miner Run and the Hogadon Ski Area.
Other Early Ski Runs: 1941-1958
In the months after the Dec. 7, 1941 Japanese attack on Pearl Harbor, most of Casper's young men went off to fight in World War II. They were temporarily replaced by troops stationed at the Casper Army Air Base west of town. These young men and women raced on Nursery and braved the zigzag run that was Spillway. And they explored the mountain further, looking for more daring thrills. 
After the war, the skiers returned to their mountain adventures. They too were looking for better runs. They redeveloped Bumps-a-Daisy, originally cut by the CCC in the 1930s. George Peak recruited a group of young skiers to improve the trails and rebuild the ski jump there. The jump, according to many of those interviewed for a ski-history project, was a ferocious challenge. Many who took the jump for the first time felt they were taking their lives in their hands. They all survived but many came away with bumps and bruises and the occasional sprained limb. And they continued to look for the perfect multi-run area to develop.
In the meantime, members of the Casper Mountain Ski Club, including Rob Robertson, Warren Weaver, Duane Ludden and Thad Walker, organized the Casper Races. They cut a wide, long run that started just above Spillway and ran down to the west branch of Garden Creek. (See map.) They named the new ski hill Miner Run after Lee Miner, a young racer who lost his life in the war.
Miner and Spillway shared a rope tow powered by an engine donated by Rob Robertson, whose family owned Casper's Chrysler dealership. The downhill races ran on Miner and the slalom on Spillway. Both were challenging. After 1947, the ski club held its award ceremonies in the ski lodge built by Warren Weaver just downhill from Spillway and Miner. The round log building eventually became Eagle's Rest, the Weaver family home.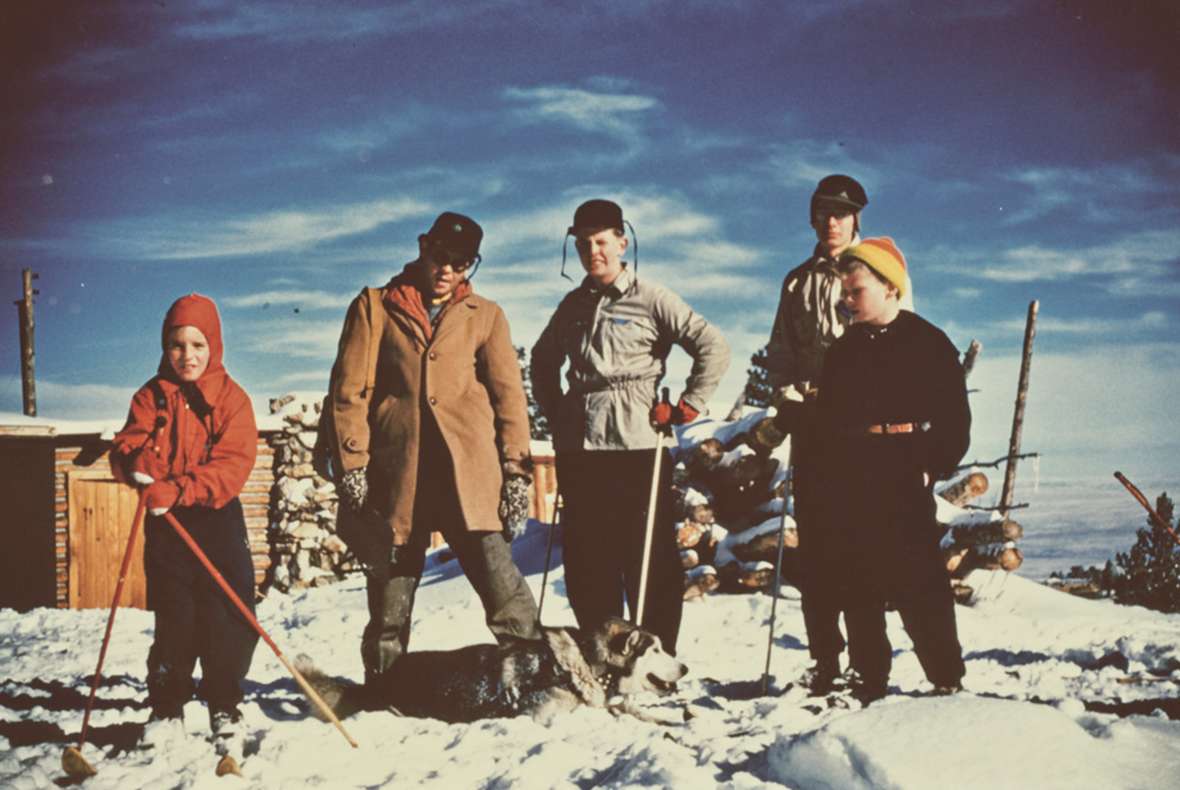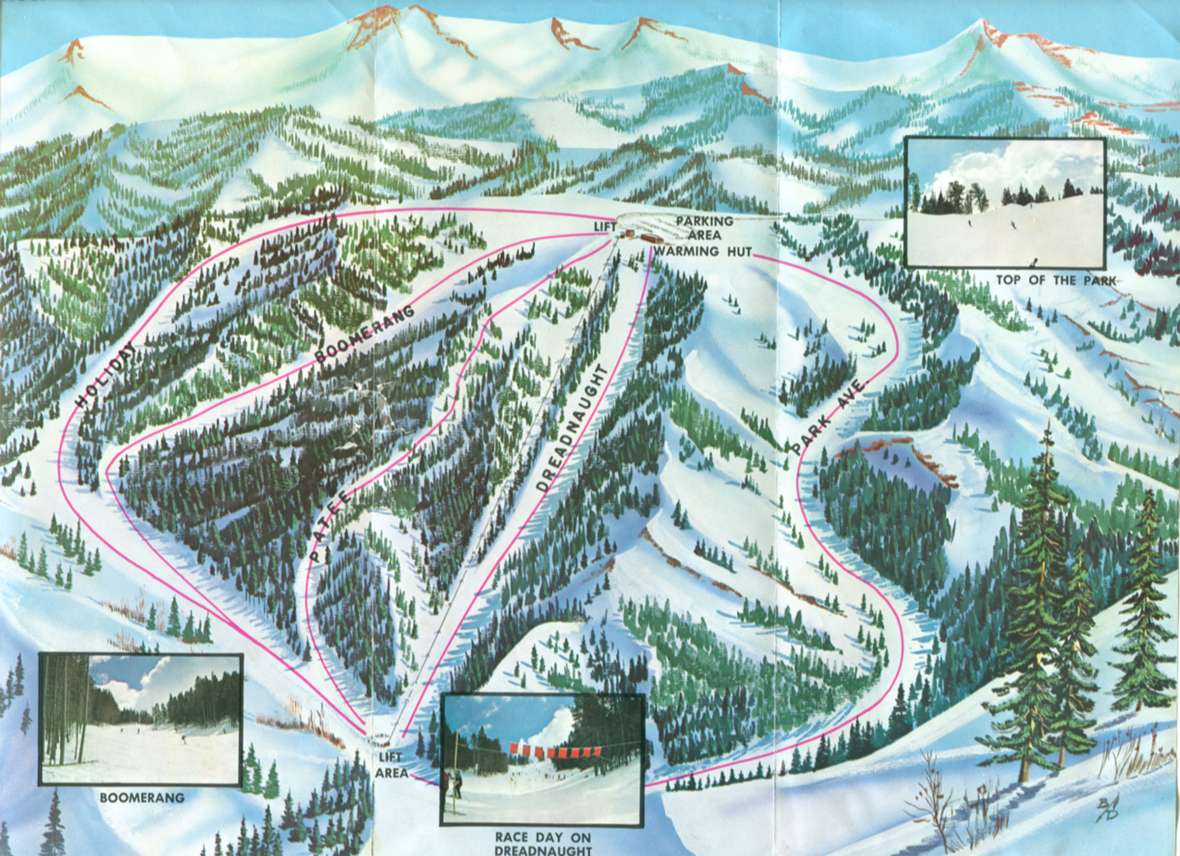 Inventing Hogadon
In 1958, business leaders including oilmen Tom Strook and John Wold approached the Casper Mountain Ski Club about incorporating a group to formally organize a multi-run ski area. Most had skied at Jackson Hole, Wyo., at Sun Valley in Idaho and at resorts in Colorado. They created the Central Wyoming Ski Corporation and sold subscriptions to pay for early expenses. They eventually sold 99,500 subscriptions at a dollar each.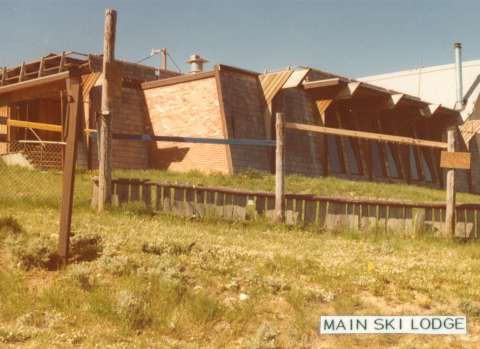 The group hired Pete Seibert, who helped create the ski resort at Vail, Colo., to help them find a good site. Lee Grace flew him over the whole area, even as far away as the Shirley and Pedro mountains, 50 miles south of Casper. On their way back they were flying north toward Casper. Seibert looked down, saw what's now the Hogadon area and announced that they should build right there. They spent a summer cutting trails, finding a source for a T-bar lift and rope tow and acquiring a building to use as a warming hut. 
Hogadon Ski Area opened on a limited basis in December 1958 and the group dedicated it on Feb. 14, 1959. It took its name from John Hogadone, the early road builder. And some of the land had once belonged to Nils Fougstedt.    
Ski Patrol
In the early years, safety on the slopes was haphazard but injured people were not left on their own. In the 1930s, an informal ski patrol was led by skiers with rudimentary training. Red Cross first aid training soon became more common. The patrol gathered equipment like limb braces and bandages, and Buck Weaver found a military-surplus toboggan to carry the seriously injured to cars for transport to town. After the National Ski Patrol formed in the late 1930s, its manuals helped to further regularize training. The Casper Mountain Ski Patrol joined the regional and national ski-patrol organizations after the National Ski Patrol formed the Rocky Mountain Division in February 1938.
When Hogadon opened, the patrol became much more formal. Patrollers got their own building and more equipment. Training became more rigorous. The Casper Mountain Ski Patrol not only turned out well-trained patrollers but soon gained a regional reputation for professionalism. In the twenty-first century, new advances in emergency medicine and stronger links with the Wyoming Medical Center in Casper have advanced both training and the complexity of rescues that patrollers can undertake. Over the years the ski patrol set up teams labeled A, B, C and D. The members of each team become fast friends and some have included multiple generations of the same family.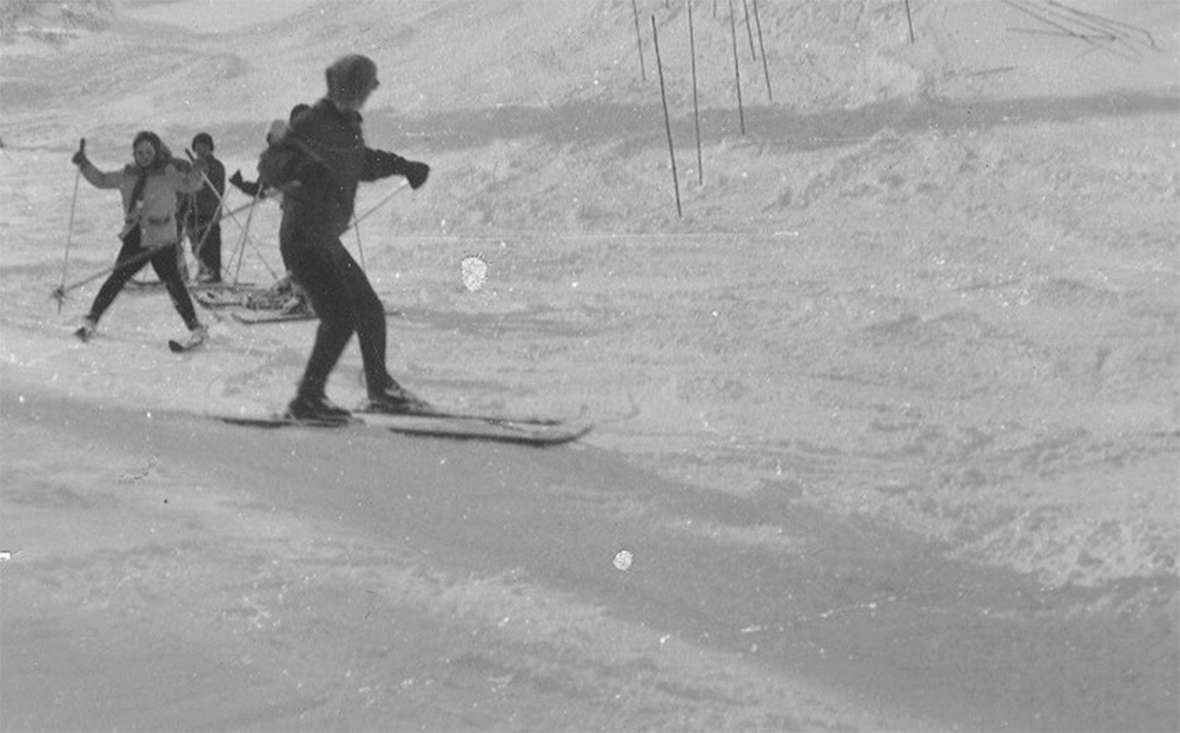 Ski School
Organized efforts to teach people to ski also began in the 1930s. In addition to the scout troop's training, Cy Bon organized the first ski clinic, bringing in outside experts. Angus Morrison went to Alta, Utah to learn how to teach from experts there. He later wrote a handbook that not only helped train Casper ski instructors but became a model for regional training as well. 
After Hogadon opened, the ski school formalized teaching. Early heads of the ski school were local volunteers, some of whom trained the newest skiers while others worked with racers. Bob and Bill Kidd and Fred Walters were three of the younger generation who showed promise as racers. When training racers became a big part of the ski school, they brought in professional teachers like Barry Corbet who was followed by Drew Jensen. Both came from Jackson, Wyo.
Teaching and racing went hand in hand. Not only did Casper high schools and Casper College have teams, but the Casper Ski Club created the Casper Mountain Racers in 1969.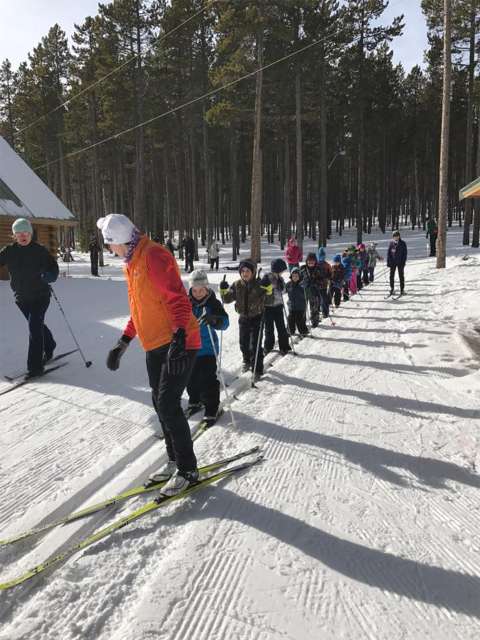 In 1987, Diane Neste worked with other parents and the Natrona County School District to create the Kinderski program. It ran for four years and trained kindergartners in skiing basics. By the time the kids were in high school, many on the high school teams had started in the Kinderski program. In the early 2000s, Gary VanTrease, who managed Hogadon, and Chris Smith, the ski school director, created a program for Casper fifth graders to learn to ski. It was part of the physical education program, not just for the Natrona County schools but for districts as distant as Wheatland, Wyo., 110 miles away. That program was still running in 2022.
The oldest racing program was the Casper Race. Started in the late 1940s, it was highly competitive. There were teen, adult and senior level races. Many of the seniors who won year after year were part of the older generation who had started it all.
Modern Alpine Skiing on the Mountain
In 1975, the City of Casper began running Hogadon. A new lodge opened in 2017, there are chair lifts and the skiing trails double as bike trails in the summer. Ski school and ski patrol have new, much more functional facilities. And snowboarding has been steadily on the rise for 20 years. From the beginning it has been a delicate dance as skiers and boarders learned to coexist, learning and respecting each other's ways of riding the slopes.
Nordic Skiing on the Mountain
Cross country skiing, also called Nordic skiing, has revived as well. While there are still people who just take off and blaze their own trails, there is now an extensive system of cross-country trails centered on the old CCC trails from the 1930s. By the 1970s the old trails were mostly grown in. At that time Dave Martin, working for the Natrona County Parks Department, began to clear them to encourage Nordic skiing. 
Much as on the downhill slopes, there have been bumps in the road. Snowmobilers and Nordic skiers did not mix well on the same tracks, so the public suggested a series of separate snowmobile trails. Trail etiquette dictates how skiers, hikers and bikers interact on the trails. 
Once people began to rave about the fun they were having on the ski tracks, Dave Martin's boss, Bob Adams, asked the county commissioners to fund more trails. In the years since, the system has grown and now offers 26 miles of groomed trails, with several of those miles lighted for night skiing. Cross-country is now one of the favorite winter sports on Casper Mountain.
Nordic is a family affair. A trails warming hut, completed in 2003, was a joint project of Kelley Eastes, Harry Brubaker and others, and served until 2020 as a social center for the Nordic community. That year, Natrona County Parks Department demolished it, citing structural problems the county commission decided would have been too expensive to repair. Plans are in the works for a new hut though financing, as of late 2022, is still uncertain.
Both Casper high schools field Nordic racing teams, which train and travel together. In 2015, a biathlon center, , accessible from the mountain's East End Road, was founded on land east of the older cross-country trails.  The biathlon center is world class and slated to host the U.S. biathlon championships in March 2023.
---
Resources
Hunt, Rebecca. Casper Mountain Ski History: A Community of Skiers. Nashville, Tenn.: Donning Press, 2022. The book was the result of a years-long oral history project. Its oral-history videos are available at the Casper College Western History Center archives.
Morton, Tom. "Natrona County to Replace Nordic Lodge on Casper Mountain." K2 Radio News, Sept. 3, 2020, accessed Dec. 8, 2022 at https://k2radio.com/natrona-county-to-replace-condemned-nordic-lodge-on-casper-mountain/.
"U.S. Biathlon Announces 2023 National Championships." U.S. Biathlon, June 13, 2022, accessed Dec. 8, 2022 at https://www.teamusa.org/US-Biathlon/News/2022/June/13/US-Biathlon-Announces-2023-National-Championships.
Illustrations
The photo of the 2017 lodge at Hogadon Basin Ski Area is from VisitCaspser.com. Used with thanks.
The map of Nordic trails on Casper Mountain is from the Natrona County Roads, Bridges and Parks Department. Used with thanks.
The rest of the images are from local collections loaned for the ski history book, for the documentary and for this article. Used with permission from the author and project coordinators. Thanks to all.