Carbon, Wyoming
Carbon, Wyoming Territory was founded in 1868 on the line of the Union Pacific Railroad, which was still under construction. The town was named for its coal mines. Coal was crucial to the railroad's operation; mines at Carbon, Rock Springs and Almy, near Evanston, were important factors in determining the railroad's route across Wyoming.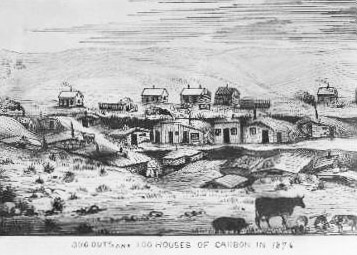 Carbon was located about halfway between Laramie and Rawlins. In its early years, it was a scattered, disorganized place of dugouts and rough cabins. Gradually these were replaced by frame and stone buildings. Carbon Creek ran only intermittently through the center of town; most water was hauled in on railroad tank cars to fill a cistern. Infectious diseases like typhoid, diphtheria and cholera were well known.
Thomas Wardell, Michael Quealy and William Hinton, owners of the Wyoming Coal and Mining Company, first operated the mines at Carbon. In 1874, the Union Pacific took over the mines.
Carbon was on the east side of Simpson Ridge, a hill so steep that the Union Pacific often added an extra engine to trains there so that they could make it up over the grade. During the town's heyday—the late 1860s through the 1880s—seven coal mines in the area fed the locomotives crossing the country.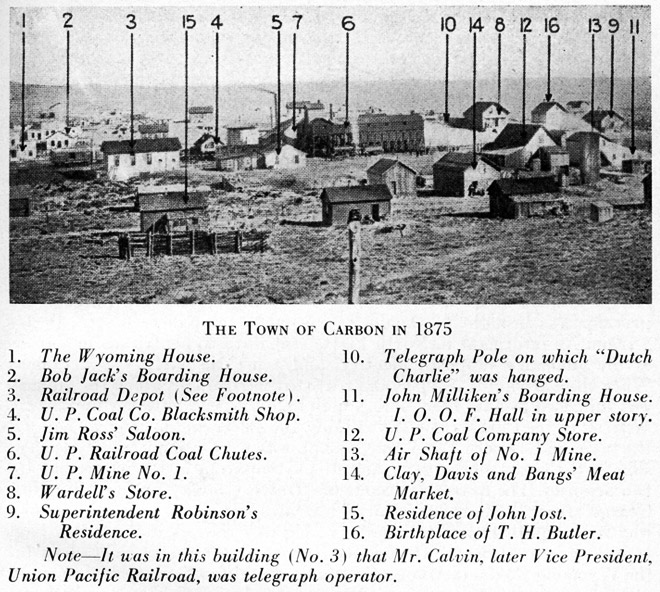 In the 1870s and 1880s, labor disputes with the miners, most of them recent immigrants from the British Isles, led the UP to hire more compliant Chinese miners in Almy and Rock Springs, and Finnish and other Scandinavian miners in Carbon. Finnish labor leader and politician Oskari Tokoi, chairman of the Finnish Senate in 1917, worked for several years in the mines in Carbon in the 1890s.
The town boosted its reputation for roughness in 1881, when angry miners mobbed a train and pulled off Dutch Charley Burris, who was en route to Rawlins to stand trial for the murder of UP special agent Tip Vincent and a popular deputy sheriff, Bob Widdowfield. The miners hanged Burris from a telegraph pole near the tracks.
Carbon by 1884 supposedly boasted 500 residents, many of them men with families, and a "floating population" that sometimes swelled the total to 1,000 or more.
Early in the morning of June 27, 1890, a drunken boarder in the one and a half story Scranton Hotel in downtown Carbon knocked over a kerosene lamp. The fire destroyed the entire downtown business section north of the tracks-- 20 buildings or more. Few of them were insured because the town had no reliable water supply and thus no fire protection. By then only one coal mine was still in operation. The town would never recover its former prosperity.
Carbon reached its peak population of 1,140 that year, according to U.S. Census figures. But production at its mines was declining. Also in 1890 the Union Pacific opened new coal mines at Hanna, about nine miles north of Carbon, and built a spur to Hanna from the main line west of Medicine Bow.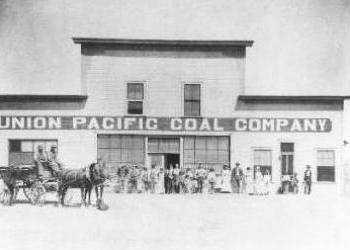 Beginning in 1899, the railroad company reconstructed its entire route from Omaha, Neb., to Ogden, Utah, straightening curves and reducing grades. Carbon and Simpson Ridge were bypassed; the new main line was routed instead through Hanna. Unlike Carbon, it was a company town. All the streets were straight and the houses identical.
In 1902, the mines at Carbon closed for good and the town was gradually abandoned, with a few people staying on for a decade or so longer. Old foundations, roads, mine ruins and the cindered roadbed of the original line of the Union Pacific Railroad may be found in the town today.
Carbon's cemetery also remains, and like the town, dates to the late 1860s. The graveyard has changed little since the 1940s, when its use became less frequent. Family and friends continued to maintain individual plots, however, and in recent years the Carbon Cemetery Association has refurbished the place, fixing the perimeter fence and standing up stones that had fallen over. The most recent burial occurred in 2011. Some people plan to be buried there in the future as well.
Resources
Primary Sources
Carbon's Great Loss." Laramie Daily Boomerang, June 27, 1890. Accessed Aug. 20, 2012, at Wyoming Places. (Link).
Secondary Sources
Anderson, Nancy, ed. "Time Line for Carbon and Hanna Basin." Hanna Basin Historical Society and Museum. Accessed Aug. 22, 2012, at http://www.hannabasinmuseum.com/hanna-basin-time-line.html.
"Carbon." Wyoming Places. Accessed Aug. 20, 2012. (Link).
"Old Carbon, Wyoming." Hanna Basin Historical Society and Museum. Accessed Aug. 20, 2012. (Link).
Ellis, Mrs. Charles. "History of Carbon, Wyoming's First Mining Town." Annals of Wyoming, 8:4 (April 1932): 633-641.
Lowe, Stephanie. "Carbon Cemetery." WyoHistory.org. Accessed Aug. 20, 2012, at /encyclopedia/carbon-cemetery.
Moulton, Candy. Roadside History of Wyoming. Missoula, Mont.: Mountain Press Publishing Company, 1995, 242-243.
Union Pacific Coal Company. History of the Union Pacific Coal Mines, 1868 to 1940. Omaha: The Colonial Press, 1940.
Van Pelt, Lori. "Carbon County, Wyoming." WyoHistory.org. Accessed Aug. 20, 2012, at /encyclopedia/carbon-county-wyoming.
Illustrations
The 1876 picture of Carbon's dugouts, log cabins and livestock, from a drawing by M.D. Houghton, and the undated photo of the UP Coal Company offices in Carbon are courtesy of the Wyoming State Archives and Wyoming Places. Used with thanks.
The photo of Carbon in 1875 with a key to its buildings is from page 39, History of the Union Pacific Coal Mines, 1868 to 1940, cited above. Used with thanks to Nancy Anderson of the Hanna Basin Museum.