Samuel H. Knight, "Mr. Geology of Wyoming"
Samuel H. Knight, geologist, educator and the University of Wyoming American Heritage Center's "Wyoming Citizen of the Century," was born July 31, 1892, to Wilbur and Emma Howell Knight. The Knight family moved to Laramie, Wyo. in 1893, when Wilbur was hired as a professor of geology at the university.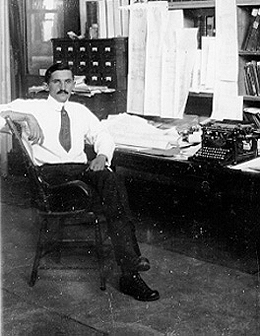 Wilbur Knight died unexpectedly of a burst appendix in 1903. Four years later, Samuel began studying at the University of Wyoming and received his bachelor's degree in 1913. He then attended Columbia University in New York from 1914-1916, where he earned his doctorate in geology.
Knight returned to the University of Wyoming (UW) in 1916 as an associate professor of geology and curator of the geological museum, but the outbreak of World War I interrupted his teaching plans. Beginning in 1917, Knight served as a first lieutenant in U. S. Army intelligence. During the war, he surveyed battlefield terrain and natural geologic boundaries in various places in Europe with his former professor from Columbia University, Douglas W. Johnson. In 1918 and 1919, Knight toured Wyoming in an army tank, giving rides to anyone who purchased war bonds.
After the war, he returned to UW and became head of the geology department, a post which he held until he retired in 1963. Knight's mother, Emma, was the first dean of women at the university from 1918 to 1920. From 1916 to 1926, Knight was the only geology teacher, but as his classes began to grow in size and popularity the geology department expanded, and more geology teachers were hired. Knight taught an estimated 10,000 students throughout his career and was known to many of them as "Doc," or more formally "Mr. Geology of Wyoming." He was famous for his 3-D drawings, and his ability to draw a perfect circle— freehand— on the classroom blackboard. He continued teaching as professor emeritus until 1966.
During Knight's 60 years at UW, he expanded the geology department and helped make it a nationally recognized program. In 1925, Knight established the University of Wyoming Science Camp, a geological camp in the Medicine Bow Mountains west of Laramie that attracted students from all parts of the country every summer. The camp was named after him in 1966.
In 1956, Knight acquired the remains of an Apatosaurus, known also as Brontosaurus, found in Wyoming in 1901 that had been in storage since that time at the Carnegie Museum in Pittsburgh, Pa. Knight, on nights and weekends, reconstructed the 15-foot-tall and 75-foot-long dinosaur, now the focal point inside the UW Geology Museum, also designed by the talented educator. In the early 1960s, Knight designed and constructed an 18-foot-tall Tyrannosaurus using copper plates. This dinosaur is still on display outside the S.H. Knight Building, named in the professor's honor in 1975.
During his lifetime, he was also a distinguished lecturer for the American Association of Petroleum Geologists, a member of the American Geological Society, and an honorary life member of the Wyoming Geological Association. He served as Wyoming's state geologist from 1933 until 1940. In 1953, he received the University of Wyoming's highest individual award, the Honorary Doctor of Laws. In 1999, Knight was posthumously named winner of the Citizen of the Century Award for Healthcare, Science & Technology from the university's American Heritage Center.
Knight died Feb. 1, 1975, at the age of 82, and is buried at Greenhill Cemetery in Laramie.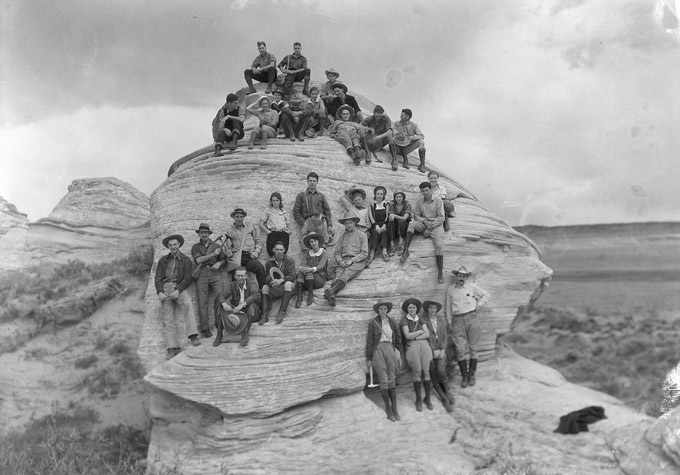 Resources
Primary Sources
Biographical File on Samuel H. Knight, American Heritage Center, University of Wyoming, Laramie, Wyoming. For an inventory of the holdings in the AHC's Samuel H. Knight collection—his scientific publications, research notes, correspondence, maps, films, photos and more—see http://rmoa.unm.edu/docviewer.php?docId=wyu-ah300044.xml.
Secondary Sources
Boyd, Donald W. "Paleozoic History of Wyoming," in Snoke, A. W., Steidtmann, J. R., and Roberts, S. M., eds., 1993, Geology of Wyoming: Geological Survey of Wyoming Memoir No. 5, p. 164-187.
"Honor Bestowed on Geology Professor," Casper Star Tribune, Oct. 25, 1975.
"Professor Emeritus Samuel Knight Dies," Laramie Daily Boomerang, Feb. 2, 1975.
Reckling, Frederick W. and JoAnn B. Reckling. Samuel Howell "Doc" Knight: Mr. Wyoming University. Laramie Wyo.: University of Wyoming Alumni Association, 1998, pp 25-78.
"S.H. Knight Virtual Exhibit." American Heritage Center, University of Wyoming, accessed 12/15/11 at http://ahc.uwyo.edu/onlinecollections/exhibits/knight/default.htm.
Illustrations
Both photos are from the Samuel H. Knight Papers at the American Heritage Center at the University of Wyoming. Used with thanks.
The picturesque crossbedded sandstone in the photo of Doc Knight with his students marks the type locality of a kind of bedding that Knight termed "festoon crosslamination" in a 1929 publication. The distinctive rocks are near the Wyoming-Colorado border south of Laramie. Our thanks to UW Emeritus Professor of Geology Jay Lillegraven for locating the site of the photo.