Emma Howell Knight
Emma Howell Knight, the University of Wyoming's first dean of women, was born Elizabeth Emma Howell on August 24, 1865 in Millbrook, Ontario, Canada. The Howell family moved to Omaha, Neb. when Emma was still a young child.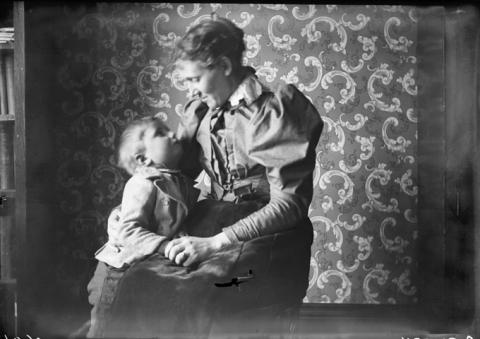 While attending the University of Nebraska, she met Wilbur Knight. They married on October 16, 1889 and moved to the Keystone mining district in the Medicine Bow Range about 35 miles southwest of Laramie. There, Wilbur had already been working for two years as a mining engineer at the Florence mine. Their first child, Florence, was born in 1890 and named for the mine.
In 1892, they moved to Laramie. Wilbur took a job the following year teaching mining engineering and metallurgy at the University of Wyoming. Emma and Wilbur had four children—Florence (who later changed her name to Wilburta), Samuel H. Knight, b. 1892, Everett Knight, b. 1894 and Oliver Knight, b. 1901. Emma was active in Laramie society and campus activities. She was the secretary of a women's club in Laramie and she played the organ during Sunday services at the Wyoming Territorial Prison.
In 1903 Wilbur died unexpectedly of a ruptured appendix, at the age of 44. To support her four children, Emma ran and was elected to the position of Albany County superintendent of schools in 1904. The job required her to travel the county frequently, inspecting schools—by horse and buggy in the early years and later by automobile. Often she took her children with her.
At the same time, she continued her undergraduate education, begun in Nebraska, at the University of Wyoming. She graduated with her BA in spring 1911, in the same class as her daughter Wilburta.
Emma Knight was appointed advisor of women and assistant head of home economics at UW in 1911, then assistant professor in 1913. "…[S]he has even routed the old idea," her students wrote of her in the 1911 yearbook, "that the dean of women should be the natural enemy of every male student. Now that's going some. We wish her every success."
In 1918 she became UW's first full time dean of women, a post that she held until her retirement in 1920. Emma died on September 24, 1928 at the age of 63.
In 1941 UW named the new women's dormitory in her honor. Knight Hall currently holds administrative offices. Emma is buried at Greenhill Cemetery in Laramie, Wyoming.
Resources
Reckling, Frederick W. and JoAnne B. Reckling. Samuel Howell "Doc" Knight. Laramie, Wyoming: University of Wyoming Alumni Association, 1998.
City of Laramie, Wyo. Greenhill Cemetery listings, accessed March 13, 2012 via http://www.ci.laramie.wy.us/index.aspx?NID=123.
Illustrations
The portrait of Emma Knight and her son, Everett, about 1900, is from the S.H. Knight Collection at the American Heritage Center, University of Wyoming. Used with permission and thanks.