Peggy Simson Curry, Wyoming's First Poet Laureate
She taught her students, "Writing is love," and wrote her first name on the blackboard at the start of poetry workshops with youngsters. People still refer to her as Peggy, and those who knew her speak of her and of her impressive accomplishments with affection and warmth in their voices.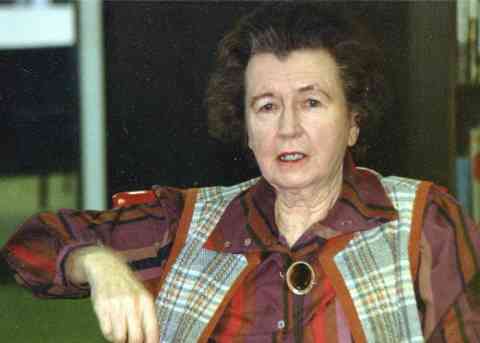 Her distinct, clear voice resonates through her poetry, fiction and articles about craft. She loved giving readings of her poems, and when Peggy Simson Curry read aloud, her tones and diction held listeners spellbound.
Curry became Wyoming's first poet laureate in January 1981, when Gov. Ed Herschler appointed her to the position. A decade before, she had spearheaded the Poetry-in-the-Schools program for the Wyoming Arts Council, appeared throughout the state as part of a traveling arts symposium and in 1976 served as the chairman for the Wyoming Bicentennial Commission—the state board responsible for local celebrations of the national bicentennial. Her remarkable publishing record includes two books of poetry, four novels, a textbook on fiction writing and numerous articles and short stories. She was one of only two women at the time who had won two Spur Awards from the Western Writers of America, and she earned those for her short fiction.
At the reception following her appointment, Curry was supposed to read a selection of her poetry, including poems about the landscape. However, the emotion of the day's experiences overwhelmed her, and she lost her voice. She asked her friend, poet Charles Levendosky, to read for her. She suggested her poem, "Jack Patton," written about a man she detested, but later came to respect. Patton taught her about working in the hay fields when she was a teenager and instructed her when doing any task to "do it right." The poem wishes all sorts of specific ills on the man, starting with "Lord, give him loose bowels squatting in a ditch/ before the president of the United States. …" and growing even more vivid. The audience was delighted.
Curry's son, Mike, said of his mother in a recent interview, "She really loved Wyoming, she really loved the West, and of course, she loved writing, and she especially loved being the poet laureate of Wyoming."
Peggy Simson Curry was born on Dec. 30, 1911, in Dunure, Ayrshire, Scotland, to William Andrew and Margaret Anderson Simson. She "never hesitated to admit" that she was born out of wedlock, Mike said. Her parents married in Scotland when she was just 3 years old. She and her mother moved to Colorado to join her father, who had been working for cousins there on a ranch in North Park, near Walden, before the wedding.
She attended the local Jackson County, Colo., schools and wrote her first poem in the fourth grade. She titled it, "I Hate School," because she longed to be out on the ranch instead. Mike Curry said that as a youngster, his mother "was charged with the responsibility of catching fish for dinner."
During haying season, with between 12 and 20 hungry men coming to the table, she had to provide. As a result, she developed great skill and loved fishing, something she enjoyed throughout her life. She also ran a trapline as a kid, her son explained, but she never liked to hunt because killing animals disturbed her.
She left the ranch to attend East High School in Denver. Later, she met William Curry while attending the University of Wyoming. She received her bachelor's in English and journalism in 1936. She and Bill married on July 23, 1937. Their only child, Michael, was born in 1939. The family lived in Illinois for a few years, but returned to Wyoming when they moved to Casper in 1946 where Bill took a job teaching English at Casper College.
At her heart, Mike said, his mother always "saw herself not just as a writer, but as a poet," and he explained, "She was very much connected to the land in a poetic sense."
She was also very much connected to people. Mike recalled that his mother was a "great conversationalist" who had "the unerring ability to focus and concentrate and listen to the other person in the conversation." She was "truly interested in what the other person had to say."
Nancy Curtis, owner of High Plains Press in Glendo, Wyo., was one of Curry's students. She recalled Curry loved to go to one of the Casper bars where she ran a tab. Curtis said, "She could speak to anyone. She loved the characters in Wyoming and talking to them." Curtis said she also found Curry impressive because "she was one of us, a Wyoming person publishing," and she was someone who didn't put on airs. "When she was writing, at that time, the way Wyoming was at that time, Peggy represented Wyoming. She was the writer."
During the decades of the 1950s through the 1980s, Curry's work appeared in a number of renowned publications like the Saturday Evening Post, the Chicago Tribune, The New York Times, Christian Science Monitor, Collier's and Boys' Life, among others. Her first novel, Fire in the Water, published by McGraw-Hill in 1951, was a tale about herring fishermen in Scotland where she was born.
Her imaginative narrative poem, Red Wind … of Wyoming, first published in 1955 by Sage Books, a division of the Swallow Press in Denver, blended the actual events of the infamous 1892 Johnson County War with fictional characters dreamed up when she sat with friends in a Casper bar one night. The book also included a selection of shorter poems.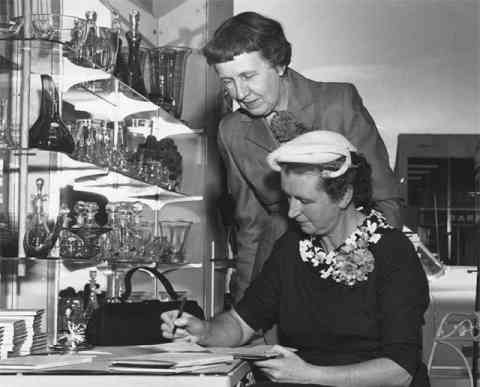 Her second novel—the one she considered her best work—So Far from Spring appeared in 1956. The book, published by Viking, was set on a ranch near Walden, Colo., in the early 1900s, similar to the one where Curry was reared. She won her first Spur Award in 1957 for her short story, "The Brushoff," set near Laramie, Wyo. Next came her third novel, The Oil Patch, published by McGraw-Hill in 1959. The story is set in 1936 in a small, oil-company town very much like Midwest, Wyo., where she, Bill and Mike lived briefly in the early 1940s when Bill held a supervisory position in the school there. Many years after the Currys had lived in Midwest, Peggy Curry drew on the experience in a different way when she wrote an article about Tulsa, Okla., for the trade publication Petroleum Today.
Her short story, "Geranium House," which critic Robert Barnes compared favorably to the work of Pulitzer Prize winner Willa Cather, was first published in an anthology in 1959 and adapted into a three-act play in 1966, which was presented in Casper by the Paradise Valley Players.
Her textbook on writing, Creating Fiction from Experience, was published by The Writer in 1964, the same year she received the Kappa Kappa Gamma National Distinguished Achievement award. She was named a University of Wyoming Distinguished Alumna in 1968.
Jack Patton became a character in Curry's juvenile novel, A Shield of Clover, published by McKay in 1969 and in some of the stories she published in the Saturday Evening Post and Boys' Life.
In 1970, she received her second Spur award for her short story, "In the Silence," set in the Bighorn Mountains.
In 1977, Spirit Mound Press in Vermillion, So. Dak., published a new edition of Red Wind … of Wyoming, with a different and somewhat shorter selection of other poems from the 1955 edition.
She received the Mountain Plains Library Association Literary Contribution award in 1984 for published work "which successfully furthers an understanding and appreciation of the Mountains Plains region."
Curry published and taught in the decades of the 1950s through the 1980s, when there were few writing workshops and events, and few women were writing and publishing their work. "There was Peggy's class and there were her workshops," Curtis explains. "For lots of years, she kept lots of people's dreams of writing alive through her generosity."
Curry taught creative writing classes at Casper College for more than 25 years. Many students returned year after year, and the class actually became a type of writers' group. Mike Curry remembered his mother's excitement when one of her students, who had worked hard for about a year on a 1,500-word article, finally sold the piece for $25 to a trade magazine. "She bought a bottle of champagne and took it to class," he said, and "they all drank champagne" to toast the student's success. Although his mother could be somewhat "unconventional" at times, and she was tough, he said, she was "not hard-edged."
Longtime student Betty Evenson, who was also a dear friend of Curry's, believed she was often toughest on those students who she thought could write. Evenson, who wrote confession stories, lived in tiny Hiland, Wyo., about 55 miles west of Casper, and drove to Curry's class every Tuesday night for 18 years. Mike Curry said that his mother often traveled to Hiland, where she would stay for as much as a week at a time walking through the sagebrush.
In 1981, Dooryard Press of Story, Wyo., owned by Tom and Barb Rea, published Curry's second collection of poetry, Summer Range. Another of her longtime students, Mary Alice Gunderson, who had worked with Curry in the Poetry-in-the-Schools program, later wrote that she advised students to keep notebooks and told them, "Relate your inner world to the outer world. Be open to everything that happens."
Gunderson explained her teacher's writing methods, noting that Curry worked steadily for several years on each of her novels, while "it was her habit quite often to complete a nearly polished short story draft in a matter of hours, she had likely planned it for six months or more, prior to writing a word. At times, Peg's poetry notebook bulged with forty or fifty poems in various stages of completion, as she waited for months—even several years—to turn a line, to choose the exact tone and texture of a word."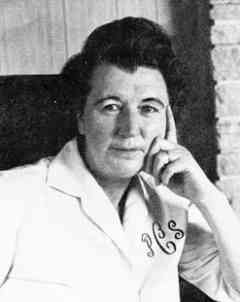 Curry lived with her husband in a one-bedroom log cabin at the foot of Casper Mountain for many years. Bill Curry eventually became the head of the Casper College English department and also served as a legislator from Natrona County for several years.
Their son Mike recalled that his parents lived modestly. They didn't have a dishwasher nor a washer or dryer, and his father took their laundry into Casper to the laundromat on Saturday mornings. His mother, he said, had earned some money from her writing, but money "had no very long meaning to her." His father never resented Curry's fame and achievements, but was always very supportive of her, and he often drove the car when she traveled with other artists to give workshops.
In 1983, Pruett Publishing of Boulder, Colo., released a new edition of Curry's novel So Far from Spring. Following a book signing in Walden, Colo., where much of the story took place, residents declared April 13 as "Peggy Simson Curry Day," and celebrated the event for several years afterward.
She kept journals and poetry notebooks even after declining health and surgery to repair a broken hip forced her to move to a local assisted living facility. She wrote a special poem to honor one of the other residents on her 100 birthday, according to Gunderson.
Peggy Simson Curry died in Casper on Jan. 20, 1987, and was buried in the cemetery at Walden, Colo., not far from the ranch in the high country where she was reared.
Levendosky reminisced about her in the Casper Star-Tribune in February 1987, and his remarks were reprinted the next year in the 20th anniversary Wyoming Arts Council report, which was dedicated to Curry's memory. Levendosky, who would succeed his friend as Wyoming's poet laureate, wrote, "When I first came to Wyoming from New York City 15 years ago to teach in the schools and colleges as poet-in-residence, it was Peggy who traveled with me and introduced me to the state and its people … Through her, I learned to love this land … Her love of the landscape was so infectious that even in winter austerity, it revealed its subtle beauty. She was of this land, marked by it. She gave it back to us in her poetry. …" Levendosky continued, "Peg is the spirit of the Rocky Mountain West for me. She embodied the spirit of this land. I see her in the landscape. And now she has returned to it. She left behind her work. And she did it right."
She did it so well that interest in her work continues today. In 1988, the story "Geranium House" was adapted into an award-winning reader's theater production. In 1992, Curtis' High Plains Press, in Glendo, Wyo., published LandMarked, a collection of Curry's stories collected by Gunderson, with entertaining segments written by Gunderson introducing each story.
Curry's posthumous honors included induction into the Western Writers Hall of Fame and recognition as a finalist for the University of Wyoming's American Heritage Center Wyoming Citizen of the Century award. Her writing textbook, although now out of print, is still used in some colleges, according to Mike Curry, who is negotiating for its re-release. Graphic Arts Center Publishing, a division of Ingram, will release another edition of her novel So Far from Spring in September 2015.
When Words First Spoke to Me 
By Peggy Simson Curry

When words first spoke to me— 
not out of human mouths 
or from the winds 
or tasseled in the webs 
of spiders spinning sun— 
when words first spoke to me 
as living symbols of myself 
there were three books: HOLY BIBLE 
POETRY OF ROBERT BURNS DISEASES OF CATTLE

Library in ranch wilderness 
thirty miles from town, 
many months deserted to dust and flies. 
More often we read the sky's 
templed ultimatums of spring 
omens of snow, 
portents of hail and rain. 
Wind scribbled messages on clouds, 
vowels came howling out of canyons, 
consonants lisped through clumps of grass.

By lamplight my father read "Tam o'Shanter" 
voice rich with dialect burr 
while mother embroidered flannel 
that I might sleep 
with bluebells on my sleeves.

One day she gave away the Bible, 
presented it to neighbor-trapper— 
rude gust from carcasses and creeks— 
that God and cleanliness might work together 
purifying him who praised her oatcakes 
and her tea. Sent him home with Book 
bandaged in clean white towel, 
passages underlined to help him into Heaven.

When words first spoke to me 
the rain was falling. 
In dusky afternoon I opened heavy book, 
DISEASES OF CATTLE, turned pages 
where small words danced like flies 
on screen doors sultry nights before supper. 
Two words rose up, looming large as mountain 
peaks beyond the meadows—HEMORRHAGIC SEPTICEMIA! 
Father! Father in the woodshed chopping wood 
tell me, tell me what they say!

A song of crickets and silver then, 
a sound of bees and moaning, 
a sadness of sick and bleeding cattle 
told from tiny mouths of letters.

Fevers furies fascination 
crystals in the ear 
bluebells ringing 
strokes of wonder on the tongue 
to say again again 
hemorrhagic septicemia hemorrhagic septicemia

A poem beat into the dusty road, 
dipped in handfuls from the water trough, 
scattered out with feed for chickens, 
embraced on bedtime pillow, 
taken in trust to sleep, to dreams— 
when words first spoke to me.

("When Words First Spoke to Me" published in Summer Range: Poems by Peggy Simson Curry, Dooryard Press, Story, Wyo., 1981. Reprinted here with permission from and thanks to Michael Curry.)
Resources
"Author Says Realism is Strength of Ranching Novel." Casper Journal, Jan. 14, 1984.
Barnes, Robert J. Twentieth-Century Western Writers, 2d ed. Detroit: St. James Press, 1991.
"Casper Author Given MPLA Literary Award," Casper Star-Tribune, May 9, 1984.
"Casper Poet Will Serve on Board," n. d., n. p. Peggy Simson Curry Collection, Casper College Western History Center, Casper, Wyo.
"Curry Given MPLA Award," Casper Journal, May 19, 1984.
Curry, Mike. Telephone interviews with author. March 6, 2015, and March 13, 2015.
Curry, Peggy Simson. "From the Sun Dance to the Cities," Design for Arts in Education, May/June 1979.
_________________."Sparks of Creativity." The Writer, August 1984.
Curtis, Nancy. Telephone interview with author. Feb. 23, 2015.
Gale Reference Team. "Biography—Curry, Peggy Simson (1911-1987)." Thomson Gale: Contemporary Authors Online (Biography), 2007. Accessed March 13, 2015, at
http://www.amazon.com/Biography-Simson-1911-1987-Contemporary-Authors/dp/B0007SB3FQ/ref=sr_1_2?ie=UTF8&qid=1426278350&sr=8-2&keywords=Peggy+Simson+Curry.
Gress, Kathryn. "Walden to Stage 'Peggy Simson Curry Day,'—Peggy Curry's 'Best' is Reprinted," SunDAY Magazine, Feb. 12, 1984.
Gunderson, Mary Alice, coll. LandMarked: Stories of Peggy Simson Curry. Glendo, Wyo.: High Plains Press, 1992.
Henry-Mead, Jean. Westerners. Evansville, Wyo.: Medallion Books, 2003, 75-80, 103-108.
Library of Congress. "U.S. State Poets Laureate, Wyoming." Accessed Feb. 2, 2015, at http://www.loc.gov/rr/main/poets/Wyoming.html.
Marshall, Diane. "Magic: Frontier Life Relived in a Legendary Poem." Casper Star-Tribune, April 14, 1979.
"Peggy Simson Curry." Casper Star-Tribune, Jan. 21, 1987.
"Visually Handicapped Get Author's Annual Reading," n.p., July 17, 1976. Peggy Simson Curry Collection, Casper College Western History Center, Casper, Wyo.
Western Writers of America. "Hall of Fame." Accessed March 13, 2015, at http://westernwriters.org/hall-of-fame/.
Wohl, Jane. "Peggy Simson Curry and the Poetry of Wyoming." Sheridan College, Faculty Series Lecture, video recording. Nov. 9, 2000.
Wyoming Council on the Arts. "The 20 Anniversary—Report." Cheyenne, Wyo.: Wyoming Council on the Arts, Feb. 1988.
For further reading:
Curry, Peggy Simson. A Shield of Clover. New York: David McKay Company, Inc., 1969, 1970.
________________. Creating Fiction from Experience. Boston: The Writer, Inc., 1964, 1975.
________________. Fire in the Water. New York: McGraw Hill Book Company, Inc., 1951.
________________. Red Wind … of Wyoming. Denver: Sage Books, 1955.
_________________. Red Wind … of Wyoming. Vermillion, So. Dak: Spirit Mound Press, 1977. Includes the long poem "Red Wind," as well as a selection of different shorter poems from the ones in the 1955 edition.
________________. So Far from Spring. Boulder, Colo.: Pruett Publishing Company, 1983, 1993.
________________. Summer Range: Poems by Peggy Simson Curry. Story, Wyo.: Dooryard Press, 1981.
________________. The Oil Patch. New York: McGraw Hill Book Company, Inc., 1959.
For further reading and research
The Casper College Western History Center includes an extensive collection of news clippings about, books and manuscripts by and photographs of Peggy Simson Curry. See below for more imformation on the center.
Illustrations