Robert Roripaugh, Wyoming Poet Laureate 1995-2002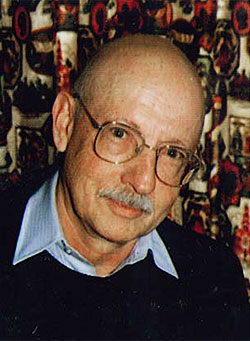 Robert Roripaugh was born in Oxnard, Calif., on Aug. 26, 1930. His father was a rancher and a petroleum engineer, and his mother was a schoolteacher who also wrote poetry and encouraged him in his writing. He had one brother as well. Robert graduated from high school in Midland, Texas, in 1947 and spent one year at the University of Texas at Austin.
In 1948-1949, Roripaugh's family bought a small ranch near Lander, Wyo. Life in the Wind River country for the next several years left a lasting influence on Roripaugh and his writing. In 1950, he transferred to the University of Wyoming, where he graduated with a bachelor's degree in English in 1952 and a master's in 1953. Also in those years, he published his first poems and short stories in the campus literary magazine.
After completing his master's degree, Roripaugh was drafted into the U.S. Army. During his service from 1953-1955, he spent a year in Japan, where his experiences made strong impressions on him and his work. While there, he met Yoshiko Horikoshi, whom he married in August 1956.
After his term in the military, Roripaugh returned to the University of Wyoming as a fellowship recipient in American Studies. In 1956, he moved to the University of New Mexico, where he undertook doctoral study, but after two years he returned to Wyoming to work in the English department. From 1958 until his retirement in 1993, he moved through the ranks, becoming assistant, associate, and finally full professor of English.
In his years as a faculty member, Roripaugh was a versatile and prolific writer, publishing numerous short stories, poems, reviews, articles and two novels. His novel A Fever for Living (1961) is drawn from his experiences in Japan, and his novel Honor Thy Father (1963) is set in Wyoming ranch country. After these works came a poetry collection, Learn to Love the Haze (1976), which contains a range of poems both personal and regional.
In 1995, two years after his Roripaugh's retirement from the University of Wyoming, Gov. Jim Geringer appointed Roripaugh poet laureate of Wyoming for a term lasting until Dec. 31, 2002. During that time, Roripaugh took his position seriously and made himself available to the people of Wyoming by giving public talks and attending large and small gatherings of writers.
Roripaugh continued to work in poetry and short fiction. He brought together a poetry collection, The Ranch (2001), which focuses on his experiences in the Wind River country, and he rounded out a short story collection, The Legend of Billy Jenks and Other Wyoming Stories, which contains stories published from 1953 to 2003.
In addition to his impressive publishing record, Roripaugh has received many national awards. On the national level, his short story "The Peach Boy" was published as a "first" in The Atlantic Monthly in 1958, in the era when that magazine showcased first major publications by promising authors; his novel Honor Thy Father won the Western Heritage Award from the National Cowboy Hall of Fame as the Outstanding Western Novel of 1963; his short story "Winter Days Are Long" earned Pushcart prize recognition for 1980-1981; his scholarly article on Melville received an award from the Western Literature Association for 1982; and his poetry collection The Ranch was a finalist for the Western Writers of America Spur Award for Poetry in 2002.
Throughout his career, Roripaugh has been a steady and multifaceted writer. His work is distinguished by finely tuned voice and viewpoint, careful use of language, a reverence for landscape and natural detail and a commitment to equality and justice. He writes about everyday people and experiences, just as in his work as a professor and then as poet laureate he found satisfaction in encouraging students and writers.
---
Resources
Primary Sources
Roripaugh, Robert. A Fever for Living. New York: William Morrow and Company, 1961.
-----. Honor Thy Father. New York: William Morrow and Company, 1963.
-----. Learn to Love the Haze. Vermillion, S. D.: Spirit Mound Press, 1976.
-----. The Ranch: Wyoming Poetry. Laramie: University of Wyoming, 2001.
-----. The Legend of Billy Jenks and Other Wyoming Stories. Glendo, Wyo.: High Plains Press, 2007.
Secondary Sources
Nesbitt, John D. "Robert Roripaugh," in Twentieth-Century Western Writers, 2d ed., ed. Geoff Sadler (Chicago and London: St. James Press, 1991), 594-95.
----------. Robert Roripaugh. Boise, Idaho: Boise State University Western Writers Series, no. 161, 2004.
----------. "Real Wyoming Stories," Foreword to The Legend of Billy Jenks and Other Wyoming Stories, by Robert Roripaugh. Glendo, Wyo.: High Plains Press, 2007, pp. ix-xvii.
Roripaugh, Lee Ann. "Between Lariat and Laureate: An Interview with Robert Roripaugh," South Dakota Review (Summer 2001): 94-102.
Illustrations
The photo is by Margaret Johnson. Used with thanks.