Jim Baker, Frontier Scout
When the frontier beckoned, young Jim Baker sought his fortunes in the West and found a life that brimmed with adventure, danger and romance.
Both Wyoming and Colorado claim him as their own because he is thought to have been the first settler in Colorado Territory, and he built what is often called the first permanent cabin in Wyoming Territory. And, though he was a white man and despite many hostile encounters with American Indians, he befriended some of them and married Indian women, which led to his being called "the red-headed Shoshone."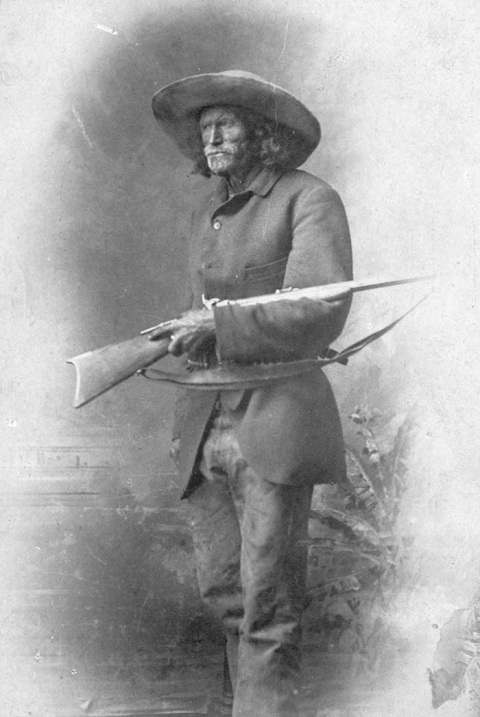 Baker's story begins in Belleville, Ill., where he was born on Dec. 19, 1818. Some sources indicate that his fascination with the West began in his youth, when he was exposed to the thrills of buckskin-clad Indian fighters in the words of one who survived to tell his tale in a local tavern.
Baker eventually headed to St. Louis, Mo., where he accepted an offer from frontiersman Jim Bridger to work for the American Fur Company in the waning years of the Rocky Mountain fur trade. The group left St. Louis on May 15, 1838, and journeyed by steamer. The 18-month contract allowed young Baker to travel and enjoy the outdoors. Baker learned quickly from Bridger and hunted with another famed frontiersman, Kit Carson, in the Uinta Mountains of what are now Wyoming and Utah. When his contract with the American Fur Company expired, he returned to Illinois.
But the excitement of the West had gotten into Baker's blood. In May 1841, he headed west once again. This time, he traveled with the Bartleson-Bidwell party, the first wagon train of settlers to journey overland on the Oregon Trail and reach California. Some sources indicate Baker also traveled alone part of the way.
In early August 1841, Baker joined Jim Bridger's camp at Henry's Fork of the Green River. Bridger expressed concern about a colleague, Henry Fraeb, sometimes referred to as Frapp. Fraeb had likely engaged in some inappropriate horse dealings, and Bridger thought hostile Indians had captured him, but the men learned that Fraeb was safe and camped with other trappers near the Little Snake River in what's now south-central Wyoming.
On Aug. 21, 1841, Baker and another man were hunting across the river from Fraeb's camp. When they saw the ominous sign of a rising cloud of dust in the mountains, they rushed to the camp. They soon became engaged in a fierce fight with Sioux, Cheyenne and Arapaho.
Fraeb was one of the first killed. Baker is credited with taking charge after that. During the two-day fracas, four trappers and most of the trappers' horses were killed. Some estimates claim as many as 100 Indians were killed, but historian William F. Stocks states the number is unknown and notes that it has seemed to increase as the story is retold over time. According to Stocks, more than 100 horses from both sides were killed.
On August 27, Baker returned to Bridger's camp with the other survivors. The now-defunct town of Battle in the Sierra Madres west of Encampment, Wyo., gained its name from the conflict, as did Battle Creek, nearby Battle Pass and the Battle Highway.
The latter part of the decade brought romance to Baker, who had camped with the Shoshone near what is now Medicine Bow, Wyo. He rescued the daughter of a Shoshone chief when she was kidnapped by a Blackfeet band and returned Marina to her father. Baker married the young woman in October 1847. The bride presented her buckskin-clad groom with a necklace made of bear claws—an emblem of bravery.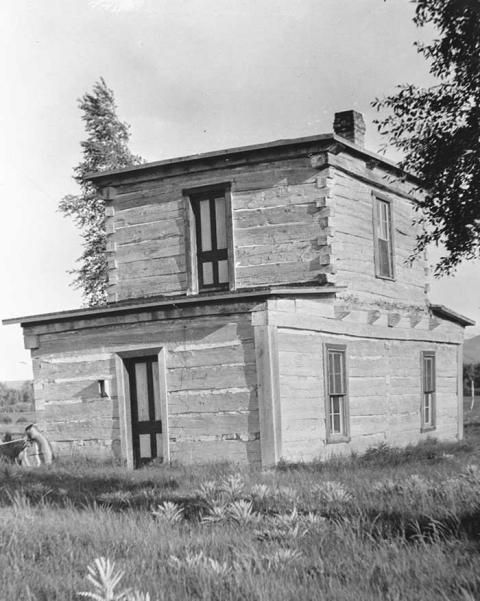 In the fall of 1852, a group of trappers, including Baker and Jim Bridger, met at Kit Carson's headquarters in Rayado, New Mexico Territory, and made a loop from the Arkansas River to the South Platte, North Platte, Sweetwater, and the Wind River. They wintered on the Green River, and in the spring trapped along the Green, the Little Snake and Yampa rivers before returning to Rayado. It was the last time these trappers assembled together. After the trip, Baker learned that his wife Marina had died.
Another story is told of a daring rescue that led Baker to romance. This time he saved a Sioux woman, Flying Fawn, her father Long Lance and her cousin, Flash of Fire, from an April blizzard. The Indians were traveling to the Grand Encampment rendezvous, but the storm caught them 20 miles downriver with no provisions. Flash of Fire grew jealous of Baker's love for Flying Fawn and prepared to shoot him with an arrow when the couple stood before her father to be married. However, Long Lance killed his nephew before Baker was harmed. Historian Nolie Mumey states in her book published in 1931 that Flying Fawn's name doesn't appear in research again, so it is not known if they were married.
Baker spent time as a scout for the military in the 1850s, serving as chief scout under General William Harney at Fort Laramie in 1855. In 1857, during the bloodless Mormon War, Baker guided a detachment of Col. Albert Sidney Johnston's troops to Fort Bridger in what's now southwestern Wyoming. That year, federal troops intended to march from Kansas to Utah to enforce federal law there, but made it only as far as Fort Bridger where, low on supplies and livestock, they stopped for the winter.
Late in the year, Capt. R.B. Marcy was sent from Fort Bridger to Fort Union in New Mexico to purchase mules, as so much Army stock had been stolen or run off by the Mormon militias. Baker guided Marcy's detachment from Fort Bridger southeast across what's now Colorado. Along the way they stopped at Fort Massachusetts in the San Luis Valley for supplies.
Marcy, quoted in a Salt Lake Tribune article, felt certain his troops would have died without the help of the expert scout "because of deep snows, intense cold and lack of food for themselves and animals, and because of the region being such a trackless wilderness in winter."
On the return trip from Fort Massachusetts in early 1858, Marcy's men discovered gold at Cherry Creek near Denver.
Baker appears to have left army service about this time. In 1858, he operated a ferry on the Overland Trail crossing of the Green River. In the Denver newspaper interview years later, he recalled that he charged $10 per wagon for the service. Historian Charles Leckenby related in his book, Tread of the Pioneers, that when a competitor moved in nearby, the men attempted to settle their differences by each swallowing a shot of whiskey before taking rifle shots at each other. Leckenby states that Jim Bridger intervened, but some sources indicate that Capt. Marcy did, and Baker apologized for the drinking.
In 1859, Baker settled in Colorado Territory, then filling up with gold miners and merchants. He later proved up his land under the terms of the Homestead Act in an area that would soon become Denver, and Clear Creek became known as Baker's Crossing. Years later, he told the Denver Republican that he "hauled into Denver the first load of stone coal that ever was taken out of the ground here."
But as more people came, Baker decided he craved more solitude. He told the newspaper that the railroad, which could haul freight at 2 cents per pound, had pushed him out of the area because he couldn't transport goods with mules so cheaply. In 1872, he scouted for a railroad survey party to Salt Lake. The next year, he returned to Wyoming Territory.
In 1873, he built a two-storey cabin of hand-hewn logs near present-day Savery, in the Little Snake River Valley of southern Wyoming near the Colorado line. The cabin resembled a fort, and for many years, a railing surrounded the second story. Baker raised cattle, using the JB brand.
A Cheyenne Daily Leader report of Jan. 17, 1877, described the nearly 60-year-old Baker as "a frontier character" who was as "gnarled and grizzled as one of the many old pines that have graced the mountain peaks." His rustic appearance was likely the result of fights with bears as well as men.
Indian troubles continued, and Baker's sturdy log cabin served as a fort for area settlers during tensions surrounding the 1879 Meeker Massacre in nearby Meeker, Co. There, Indian agent Nathan Meeker of the White River Agency and Maj. Thomas Thornburgh, among others, were killed during a battle with Utes. At this time, a third storey was added to Baker's cabin to provide a lookout post. Baker had guided Ute Indian agent Daniel C. Oakes to the place where the White River Agency would be located, and on a return trip, he led Col. Wesley Merritt and his 5th U.S. Cavalry's rescue mission there after Thornburgh's death.
Encampment-area artist Merritt D. Houghton took a photograph of Baker in 1879 and published the portrait in his later book, Views of Southern Wyoming. In the photo, the old scout holds his Sharps buffalo rifle. The Leader called the gun "his warmest friend and inseparable companion."
The Denver Republican report of June 8, 1893, called 75-year-old Baker the oldest living scout and described him as "tall, broad-shouldered, with light-colored hair allowed to hang to his shoulders, but never a gray streak in it, with a bright face." His walk, however, according to the newspaper, suggested great age. Some sources indicate he participated in as many as 100 Indian fights during his life.
Baker died on May 15, 1898, in his cabin. He was buried in the family cemetery at the base of the mountain that bears his name. According to author Leighton Baker (no relation), Jim Baker fathered 14 children by three wives. Marina bore his sons William and Joseph and a daughter, Jane. Baker and his second wife, Mary, had daughters Mary, Isabel, Madeline, Nancy, Kate, Liza and Elsie, and sons Thomas, Buck and Jim. Mary's sister Eliza bore Jennie.
While Baker is often described as rugged and tough talking—as might be expected from a frontiersman of his day—he also was known as kind, tenderhearted, trustworthy and loyal. Some referred to him as "Honest Uncle Jim."
After Baker's death, both Colorado and Wyoming wanted to honor him as a pioneer. Colorado historians chose to memorialize Baker with a stained glass window in the dome of the capitol, and they hoped to have his cabin moved to Denver. Wyoming historian Grace Raymond Hebard reported this, and residents of the state let their wishes to keep Baker's cabin be known.
In 1917, the Wyoming Legislature appropriated $500 to purchase the cabin and $250 to move it to Cheyenne. The logs were taken down and numbered; however, funds ran out before the items made it to a railroad. The Cheyenne Frontier Days committee helped rescue the stranded cabin that year. The building was erected and stood in Frontier Park in Cheyenne. But the timber began to rot, and Baker's cabin was taken apart again and stored.
Baker's canoe went to a friend, George Wren, who later gave it to the Wyoming State Museum. Baker used the 16-foot-long canoe, made of a hollowed-out cottonwood tree, on the Little Snake River near his home.
In 1976, after much persuasion and work by Little Snake River Valley residents, Baker's cabin was returned to the Little Snake River Valley as a Bicentennial project. Many of the tags marking the logs were faded, and the reassembly of the structure took about two months. The Baker cabin was named a National Historic Place in 1982.
From 1983 to 2001, Baker's canoe was displayed at the Little Snake River Museum, but was returned to the Wyoming State Museum in 2002, where it can be viewed today. The Baker cabin now stands on the museum grounds, about a mile from its original place.
Resources
Primary Sources
"A Frontier Character," Cheyenne Daily Leader, Jan. 17, 1877, 1.
"Jim Baker in Town," Denver Republican, June 8, 1893.
Secondary Sources
Baker, Leighton L. Jim Baker, The Redheaded Shoshone. Tavares, Fla.: Golden Lifestyles' Books, 1993.
Campbell, Ramsey. "Jim Baker's Trail: Uncovering the Saga of the Mountain Man." Orlando Sentinel. July 31, 1994. Accessed Dec. 16, 2014, at http://articles.orlandosentinel.com/1994-07-31/news/9407300154_1_jim-baker-jim-bridger-leighton.
Cheung, Han. "Red Headed Shoshone." Rawlins Daily Times, July 20, 2013, 2.
Fleming, Linda. "Echoes of the Past: History of Jim Baker 'Our Mountain Man.'" Snake River Press, March 28, 2014; April 11, 2014; May 9, 2014; May 23, 2014; and June 6, 2014.
"History of Baker's Life of Interest to All Westerners. Lived in Snake River Valley During Final Years." The Battle Miner, 2011. This brochure compiled by Dick Perue and published by the Grand Encampment Museum in Encampment, Wyo., contains information from J. Cecil Alter's Salt Lake Tribune article that quotes Capt. R.B. Marcy. This edition of The Battle Miner also explains more about Grace Raymond Hebard's interest in Baker's story. Bob Martin/Dick Perue collection, Historical Reproductions by Perue, Box 447/119 E. Walnut Ave., Saratoga, Wyo. 82331, rperue@saratoga-wyo.com.
Houghton, Merritt D. Views of Southern Wyoming, Copper Belt Edition. Grand Encampment, Wyo.: Herald Publishing Company, 1904. Bob Martin/Dick Perue collection.
Leckenby, Charles H., comp. The Tread of the Pioneers. Steamboat Springs, Colo.: Steamboat Springs Pilot, 1945. Bob Martin/Dick Perue collection.
"Little Snake River Museum—Self-Guided Tour Information," "Jim Baker Cabin."
Bob Martin/Dick Perue collection.
Miller, Mark. Hollow Victory: The White River Expedition of 1879 and the Battle of Milk Creek. Niwot, Colo.: University Press of Colorado, 1997.
Mumey, Nolie. The Life of Jim Baker 1818-1898, Trapper, Scout, Guide, and Indian Fighter. Denver: The World Press, Inc., 1931.
National Park Service. "Fort Union, Historic Resource Study." Accessed Dec. 29, 2014, at http://www.santafetrailresearch.com/fort-union-nm/fu-oliva-3b.html.
Stocks, William F. Ol' Frapp's Ghost: A Historical Account of the Battle Creek Fight. Savery, Wyo.: Little Snake River Museum, 1994. Bob Martin/Dick Perue collection.
Trenholm, Virginia Cole and Maurine Carley. Wyoming Pageant. Casper: Bailey School Supply, n.d. Bob Martin/Dick Perue collection.
Van Pelt, Lori. Dreamers and Schemers: Profiles from Carbon County, Wyoming's Past. Glendo, Wyo.: High Plains Press, 1999.
Illustrations
The photos of Jim Baker and his cabin are from the Frank J. Meyers Collection at the University of Wyoming's American Heritage Center. Used with permission and thanks.