Hotel LaBonte
The Hotel LaBonte, also known as LaBonte Inn, located in downtown Douglas, Converse County, Wyo., is privately owned and has always been used as a hotel and restaurant. Its architectural style is late 19th and early 20th century Revival or Neoclassical Revival, according to Betsy Bradley, author of the document nominating the site for the National Register of Historic Places. The hotel displays the community's aspirations for modernity and yearnings for security and stability.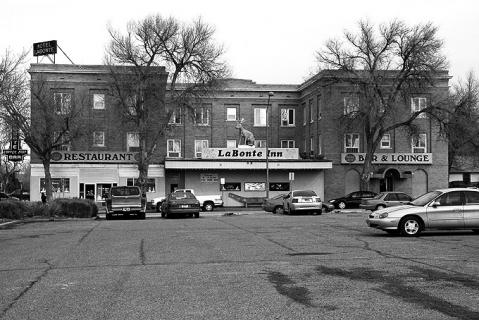 When Douglas was first developing, a hotel room was a valuable commodity. Douglas was a transportation hub, local government center and a ranching and marketing core for the region. Hotels were important: Ranchers coming to town, participants in county courthouse sessions and travelers along the Yellowstone Highway all needed them. To build the LaBonte Hotel—"a first class hotel"—as Bradley says, seven men gathered together and formed the Douglas Hotel Company. The corporation included Edward T. Douglas, mayor; state Sen. George H. Cross, a well-known stock grower; Alva C. Rice and Otto H. Bolln, local business owners; and George Smith, a business and saloon owner. The name of the hotel came from the LaBonte Pony Express and stage station along the Oregon Trail, which was located southeast of Douglas and named after a local hunter.
Construction on the hotel began in 1913, and the enterprise opened in January 1914. The architectural firm was Baerresen Brothers, which had offices in Cheyenne and Denver. Ed Reavill was the builder.
The hotel was built to be the finest in Douglas and the surrounding communities. The rooms all included the most modern technology of the time and were filled with luxurious furnishings. Each room had, and still has today, electric lights, steam heat and hot and cold running water. In the early days, telephones were placed in all 54 of the guest rooms. A renovation of the building was begun in 1967. When the hotel was purchased in 1968, the third floor was converted into ten apartments, and an elevator was added. In 1981, after a fire, partial reconstruction of the structure took place.
More history about ­­­the growth and development of Douglas can be found in the nomination. Nominations can be obtained online by searching the following website: http://wyoshpo.state.wy.us/NationalRegister/Search.aspx, or by contacting the Wyoming State Historic Preservation Office at (307) 777-7697.
Resources
Bradley, Betsy. Hotel LaBonte National Register of Historic Places Nomination Form, 15 July 2008, Converse County file. Cheyenne: Wyoming State Historic Preservation Office.
Illustrations