The World's Oldest Building: The Fossil Cabin at Como Bluff
The historic Fossil Cabin on U.S. Route 30/287 about five miles east of Medicine Bow, Carbon County, Wyo., was built in 1932 as roadside attraction on the Lincoln Highway. Today, the site still entices motorists to stop and explore. It is listed in the National Register of Historic Places for being unique and for being directly related to the nation's first transcontinental highway. The cabin is widely recognized as the only building constructed of fossilized dinosaur bones in the United States, according to Nancy Weidel, author of the document nominating the site for the National Register of Historic Places.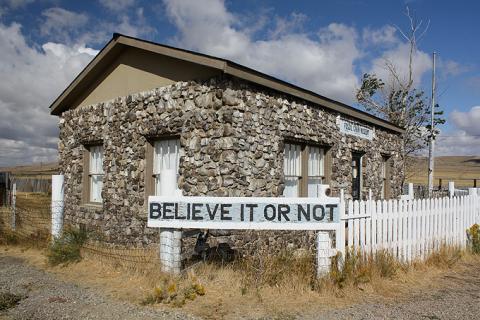 Thomas and Grace Boylan originally homesteaded near this site in 1908. Beginning about 1915, Thomas Boylan began collecting dinosaur bones from nearby Como Bluff, intending, eventually, to display a complete dinosaur skeleton to attract travelers to his gas station. But a University of Wyoming dinosaur specialist who examined the bones made it clear that Boylan did not have enough for a complete skeleton.
Boylan decided instead to build a house with his fossil bones. Reportedly, he used 5,796 dinosaur bones, and the cabin weighs 102,166 pounds. The Boylans lived in the stone house next to the Fossil Cabin and also operated a museum in their house until construction of the Fossil Cabin was finished.
Postcards were printed for travelers to purchase from the museum in 1935-1936. Some of the captions read: "The strangest building in the world;" "World's oldest building;" and the "building that used to walk." The cabin was so popular and unusual it was featured in the Ripley's Believe It or Not! feature in newspapers nationwide.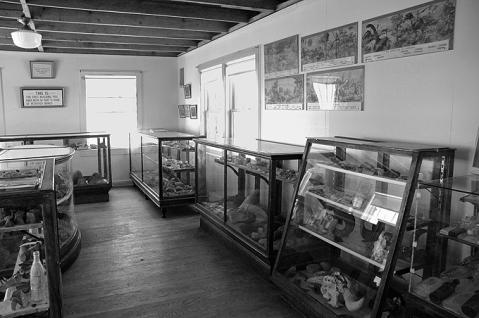 Thomas Boylan ran the gas station and fossil museum until he died in 1947. After his death, Grace Boylan took over the businesses and continued operating them until the late 1960s. Construction of Interstate 80 about 20 miles south of U.S. 30/287 was completed in 1970. As traffic correspondingly decreased along U. S. Highway 30, the museum lost business, and the gas pumps were removed.
Grace Boylan struggled to keep the tourist attraction open, finally selling the museum and surrounding buildings in 1974. The parents of the new owners lived in the house and operated the museum until 1992. As of 2011, the future of the Fossil Cabin is uncertain; the property is for sale and could possibly be moved out of the state. The Fossil Cabin is unique not only to Wyoming, but to the entire nation.
More history about ­­­the dinosaur bed at Como Bluff, the history of the museum and different owners can be found in the nomination. Nominations can be obtained online by searching the following website: http://wyoshpo.state.wy.us/NationalRegister/Search.aspx, or by contacting the Wyoming State Historic Preservation Office at (307) 777-7697.
Resources
Illustrations