Fort Fred Steele
In 1868, when laborers were hard at work building the Union Pacific portion of the transcontinental railroad across what soon became southern Wyoming Territory, the U.S. government established three new outposts to protect work crews and new communities along the route. One of these was Fort Fred Steele, named for an officer of the Mexican and Civil wars and located where the new railroad crossed the North Platte River. Structures included officers' and enlisted men's barracks, a commanding officer's quarters, two large warehouses and a powder magazine, and a number of smaller structures.
Fort Fred Steele remained an important settlement on the U.P. line because it provided protection for the railroad bridge across the North Platte. For some time the settlement was also an important shipping point for lumber and railroad ties cut from logs floated down the North Platte to the site. The fort closed in 1886.
In the 1890s, the Cosgriff Brothers, well-known area sheep ranchers, purchased the fort and its buildings. Later, a fire destroyed many structures. The remaining buildings were acquired by the Leo Sheep Company. Fire was not an unusual circumstance at Fort Fred Steele; sparks from passing trains often started blazes.
When the transcontinental Lincoln Highway reached the area in 1922, the famed automobile route took motorists straight through the middle of the fort's grounds. The highway was relocated in 1939 about where Interstate 80 passes the site today. Few structures remain, but visitors can see foundations of the fort's original buildings.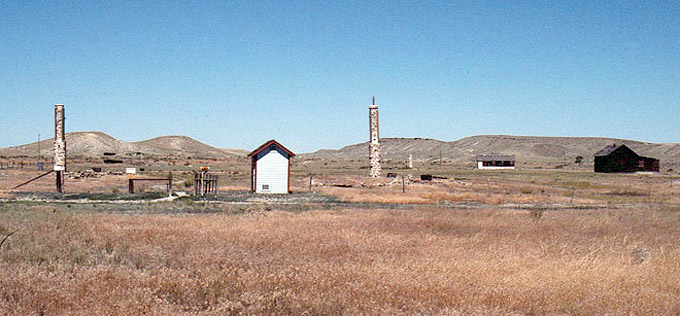 Resources
Illustration