Casper Odd Fellows Building
The Odd Fellows Building, on Wolcott Street in downtown Casper, Wyo., is important because it reflects community development and planning, social history and significant architecture within the town. Completed in 1952 and designed by Jan Wilking of Goodrich and Wilking, a local architectural firm, the building was used as a meeting hall, specialty store and a place of business. Privately owned, the building also includes commercial space on the ground floor.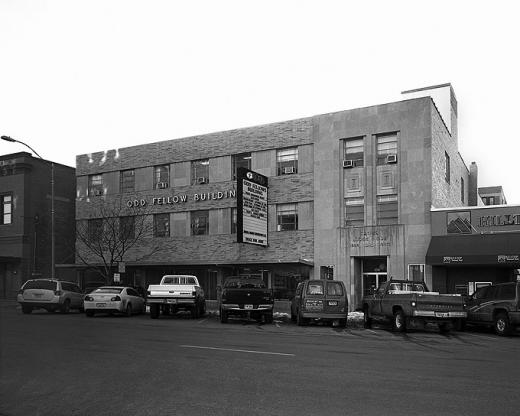 This structure was built next to the older Old Fellows Building—constructed during the early 1930s—and was meant to be an "updated version of the older building and provide a lodge room, ballroom, and space for casual socializing above retail space on the ground floor," writes Betsy Bradley, author of the document nominating the site for the National Register of Historic Places. The new building incorporated such modern services as hot water, baseboard heating and air conditioning in addition to the modern postwar storefront design and materials.
This building contributes to the story of Casper's post‑World War II construction boom, which was a result of the thriving local economy. As in many other cities around the nation at the time, people in Casper were financing and building were modern‑style buildings. The structure also continues a larger, multifunctional trend of downtown buildings, as it includes office, retail and restaurant spaces.
The main entrance to the Odd Fellows Building is an elevator lobby with corridors extending off this central point. The first floor houses commercial space designed around a shopping arcade, an unusual design in Wyoming. The second floor, used for the Odd Fellows Lodge, includes a large, double-height ballroom and a small kitchen. More offices are found on the third floor. Applied aluminum block lettering on the main façade reads: Casper Lodge No. 22. The Odd Fellows three-link chain symbol is seen throughout the interior of the building, reminding visitors of its historic use.
More history about ­­­the growth and development of Casper, including the building booms and the history of fraternal organizations, can be found in the nomination documents for the National Register of Historic Places. Nominations are available online by searching the following website: http://wyoshpo.state.wy.us/NationalRegister/Search.aspx, or by contacting the Wyoming State Historic Preservation Office at (307) 777-7697.
Resources
Bradley, Betsy. The Odd Fellows Building National Register of Historic Places Nomination Form, Natrona County file, 12 January 2009. Cheyenne: Wyoming State Historic Preservation Office. 
Illustration