Fur trade rendezvous sites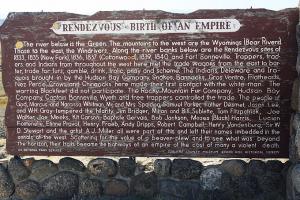 Fur trade enthusiasts will want to visit the fur-trade rendezvous sites. See a list here, with good photos and latitude/longitude locations. Many of these are also located on the Official State Highway Map of Wyoming, including:
1825 rendezvous site, the first rendezvous site, on Henry's Fork of the Green River near McKinnon, WY, in the southwest corner of Sweetwater County;
1834 rendezvous site, just west of Granger, WY in Sweetwater County;
1833, 1835-1837, 1839, 1840 rendezvous site on Horse Creek, a tributary of the Green River just west of Daniel, WY in Sublette County. This is also the site of the fur trade's Fort Bonneville, built in 1832.
1838 rendezvous site on Wind River near Riverton in Fremont County. The 1838 site sponsors an annual rendezvous.