Robert Russin: Legacy in Bronze and Stone
November 8, 2014
Celebrated Wyoming sculptor Robert Russin created works of all sizes in bronze and stone. Though not a native of the state, Russin lived and taught in Laramie for sixty years, and his work continues to influence artists, students, collectors and the public.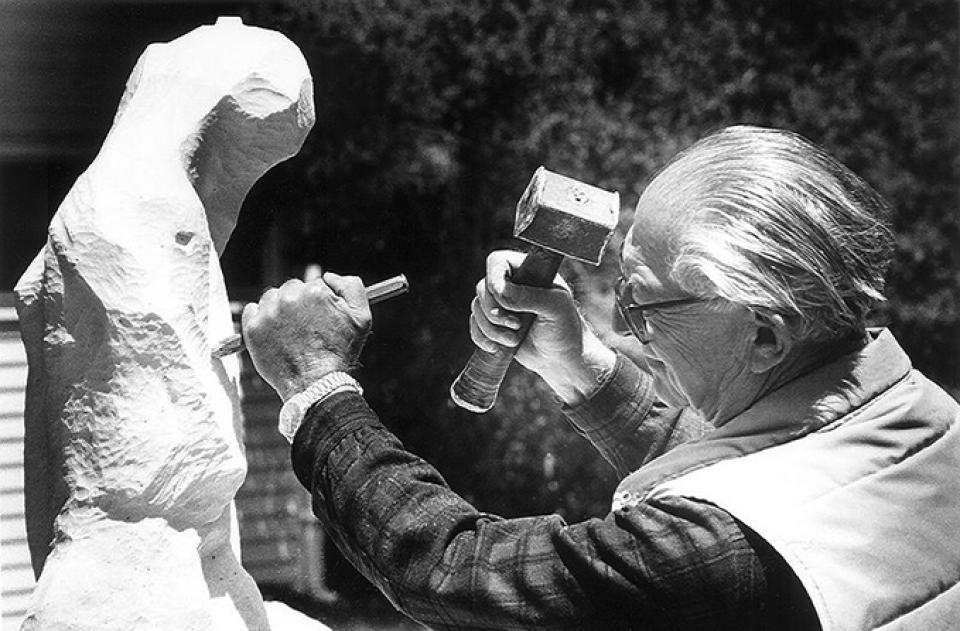 His life
Robert Isaiah Russin was born on Aug. 26, 1914, in New York City. World War I had begun just a month earlier; still, New York City was a bustling metropolis, already a center for the arts and a great place for a young artist to learn his trade. Russin would have been exposed to New York's many public sculptures, located in nearly every major public park.
A young Russin would have had access to some of the greatest works of sculpture from antiquity to modern times in New York's superb collections. No doubt such exposure would have had a lasting impact on the young artist.
Russin was educated at the City College of New York where he earned his bachelor's degree in 1933 and his master's in 1935. He completed additional graduate work at New York's Beaux Arts Institute of Design. Already accomplished by his mid-twenties, Russin won two national federal sculpture competitions. While still in New York, Russin taught at the Cooper Union Art School for three years. He later earned a Ford Foundation fellowship, which allowed him to study in Italy.
In 1947, Russin made a dramatic change and left New York for Laramie, Wyo., where he accepted a teaching position at the University of Wyoming. The young artist and his wife and children experienced quite a culture shock, relocating from the metropolis to a small, windswept university town, but the move was definitely a positive one. Russin came to consider Wyoming his home. He taught at the university for four decades.
Once retired, Russin assumed the position of resident artist at UW, continuing his relationship with the university while pursuing his highly successful artistic career. A dedicated educator, Russin created the Robert Russin Excellence Award in Figurative Sculpture, which continues his artistic and educational legacy to this day. The award can be a scholarship, or a fellowship for a post-bachelor student preparing a portfolio to apply for graduate study.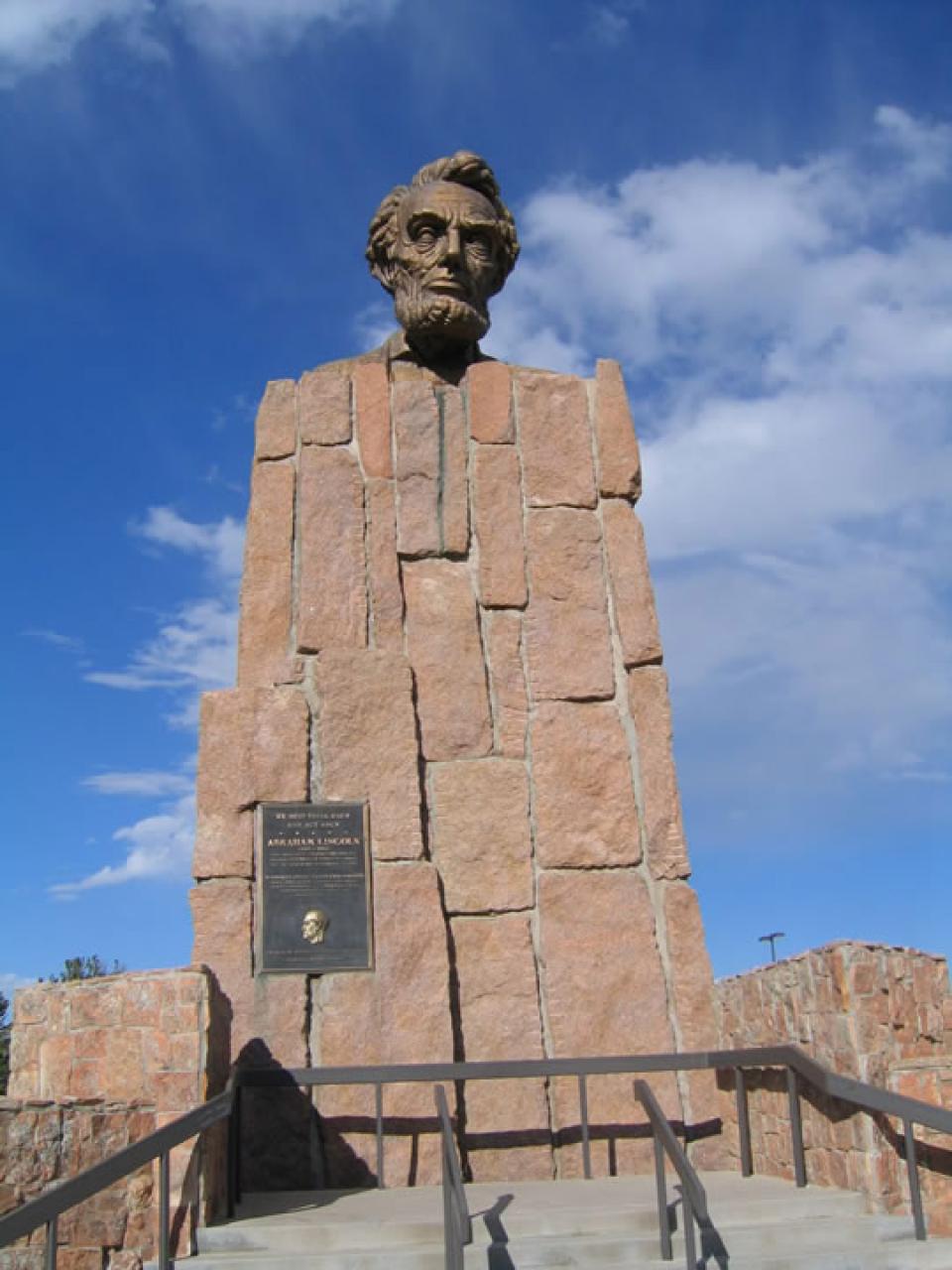 Russin died in 2007 at the age of 93, leaving as lasting legacies both his work and the countless students who had learned from a master. His ashes were interred inside the hollow granite base of the Abraham Lincoln Memorial Monument, one of his best-known works.
His work
To his students and fellow instructors at UW, Russin was best known as an educator, but the more tangible legacy is his sculpture. Though he is recognized largely for his work in bronze, he worked in a variety of media, including plastic and stone. His works range in style from realism to abstraction, often settling somewhere between the two.
Russin's sculptures can be found throughout the country and the world. Nationally known works are located at the Embarcadero Center and the City of Hope in California, the Menorah Medical Center in Kansas City and the United States Department of Energy Building in Washington, D.C. The largest concentration of his work, however, can be found in Wyoming.
The 13-feet-high Abraham Lincoln Memorial Monument, located on Interstate 80 between Laramie and Cheyenne sits atop a tall, hollow, granite base—with lightning rods for protection. The piece is comprised of nearly 30 individual sections that were assembled into the likeness of President Lincoln. The bust weighed more than 4,000 pounds; Russin spent more than a year working on it.
The sculpture was contracted for by the Wyoming Parks Commission and dedicated in 1959 to commemorate Lincoln's 150th birthday. It was located at the highest spot on the Lincoln highway from New York to San Francisco. Wyoming was not even a territory when Lincoln was president. He did, however, sign into law the Pacific Railway Act of 1862, which enabled the financing and, later, construction of the Union Pacific Railroad—the highest point of which was not far from where Russin's great sculpture was later located.
"The grandeur of the landscape recalls the nobility of his soul," Russin wrote of the 16th president. The bust was later moved less than a mile to its present location overlooking I-80, after that highway was finished in 1969.
While Russin may be known for his monumental works, he also created smaller, more intimate pieces. Laramie boasts several works by Russin including a sculpture of Benjamin Franklin.
His work, "The University Family" was created in 1983 for the University of Wyoming and resides at an outdoor commons area for students and visitors to enjoy. The sculpture depicts an abstracted image of three people holding hands. The white stone looks soft and Russin has conveyed a sense of movement in the motionless figures, linked together.
Perhaps the most endearing work by Russin is the stone "Fulfillment" at Ivinson Memorial Hospital in Laramie, which shows a mother embracing her young infant. The sculpture looks soft and warm despite the cold, hard materials chosen by the artist. The highly personal work was in the collection of the artist for some number of years before he donated it to the permanent collection of the hospital.
The Russin family donated the sculpture "The Beloved is Mine and I am His" in 2008 to the Nicolaysen Art Museum and Discovery Center in Casper, Wyo. The sculpture is based on the artist's interpretation of biblical passages from the Song of Songs and is one work in a series. The 3-feet-tall sculpture rests on a marble base, in Bryce Hall on permanent display.
Nicolaysen Curator Eric Wimmer says "Russin was an influential sculptor in Wyoming and having a piece in the permanent collection of the Nicolaysen allows future generations of visitors and artists alike to study and appreciate his contributions to contemporary art in the West."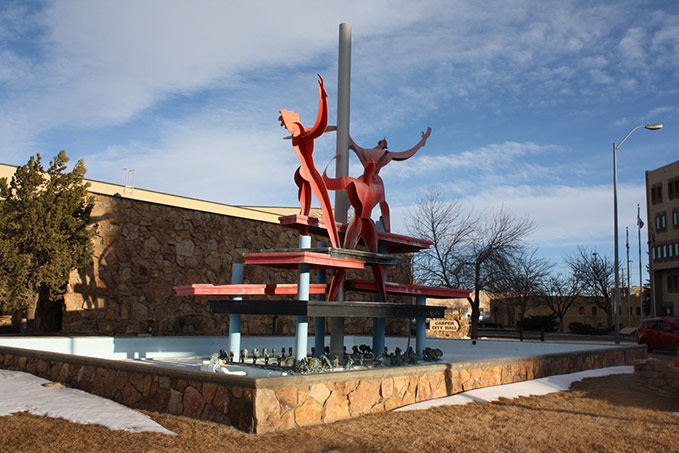 "The Fountainhead" is another large Russin sculpture and has become one of Casper's landmarks. It is located in front of Casper City Hall and features three figures around an oil well, actually a water fountain that runs in the warmer months. The work is a testament to Wyoming industry. The three stylized metal figures in red contrast nicely with the blue of the fountain. The angularity of the figures juxtaposes strongly with the flowing water.
Prominent in front of the Natrona County Public Library in Casper is Russin's 16-foot polished bronze "Prometheus," commissioned in 1975 by the Friends of the Library. The sculpture portrays Prometheus, the mythological Greek hero who gave fire and with it the spark of knowledge to humankind, diving head first with flames in his outstretched hands. A perfect choice in subject for the public library, the character Prometheus seems to be flame-like himself. The work has become entwined with the public image of the library.
His legacy
Russin's teaching and endowments have left a legacy of learning for Wyoming's artists and UW graduates that will carry on into the foreseeable future. His dozens of sculptures, scattered throughout the world on public and private display, continue to delight viewers. Wyomingites and visitors to the state will benefit from his public works as he has been woven into the fabric of the state's artistic history.
Of Russin, former senator Alan Simpson said, "The genuine notoriety that he has brought to our state because of his remarkable gifts" will live on "in the hearts of Wyoming people."
Resources
Notable Works by Robert Russin:
1. "Abraham Lincoln:" I-80 between Cheyenne and Laramie, Wyo.
2. "Prometheus:" Natrona County Public Library in Casper, Wyo.
3. "Benjamin Franklin:" University of Wyoming in Laramie, Wyo.
4. "A Wyoming Family:" Prexy's Pasture University of Wyoming in Laramie, Wyo.
5. "Wyoming Crystal:" Wyoming State Capitol in Cheyenne, Wyo.
6. "The Beloved is Mine and I am His:" Nicolaysen Art Museum in Casper, Wyo.
7. "Spirit of Life Fountain:" City of Hope National Medical Center in Duarte, Cal.
8. "Fulfillment:" Menorah Medical Center in Kansas City, Mo.
9. "Chthonodynamis:" The United States Department of Energy Building in Washington, D.C.
10. "Man and Energy:" Casper Chamber of Commerce in Casper, Wyo.
11. "The Fountainhead:" Casper City Hall in Casper, Wyo.
Primary Sources
"Family donates Russin piece to Nic," Casper Star-Tribune, Oct.5, 2008. Accessed Dec. 16, 2013, at http://trib.com/news/local/govt-and-politics/family-donates-russin-piece-to-nic/article_601d8884-decc-5e30-8a8a-c0ec19edee70.html.
"Robert I. Russin—2000--Outstanding Former Faculty." University of Wyoming. Accessed Dec. 13, 2013 at http://www.uwyo.edu/as/outstanding%20awardees/2000/russin-robert.html.
"Scholarships," University of Wyoming. Accessed Dec. 13, 2013 at http://www.uwyo.edu/art/academics/scholarships.html
"Sculpture, A Wyoming Invitational." University of Wyoming. Accessed November 2013 at http://www.uwyo.edu/artmuseumimages/educationimages/sculpture_tour_10_jul_2.pdf.
"Sculptures from the UW Art Museum Collection Scheduled for Installation in Laramie," University of Wyoming. Accessed November 2013, at http://www.uwyo.edu/uw/news/2008/07/sculptures- from-the-uw-art-museum-collection-scheduled-for-installation-in-laramie.html.
White, Phil, "Prolific Artist, Dedicated Professor: Famed Wyo. Sculptor Russin Dies at 93." Casper Star-Tribune, Dec. 15, 2007.
Wimmer, Eric. Curator, Nicolaysen Art Museum, Casper, Wyo. Interview by author, November 2013.
Secondary Sources
"Abraham Lincoln Marker Monument." Wyoming State Historic Preservation Office. Accessed November 2013 at http://wyoshpo.state.wy.us/MM/Index.aspx.
Jones, Walter R. A Window to the World: The First 100 Years of the Natrona County Public Library. Casper, Wyo.: Natrona County Public Library, 2010. Excerpt online accessed Dec. 16 2013 at http://www.natronacountylibrary.org/about/history/.
"Lincoln Highway: Interstate 80 and U.S. Highway 30." AARoads website, accessed jan. 10, 2014 at http://www.aaroads.com/west/us-030a_wy.html.
Mishev, Dina. "Abraham Lincoln Sculpture." Via magazine, January/February 2009. Accessed Dec. 13, 2013 at http://www.viamagazine.com/attractions/abraham-lincoln-sculpture.
"Robert I. Russin (1914-2007)." Ask Art. Accessed Dec. 16, 2013 2013 at http://www.askart.com/AskART/artists/biography.aspx?artist=111300.
"Robert Russin." The Nicolaysen Art Museum, plaque in front of "The Beloved is Mine and I am His," November 2013.
Illustrations
In the article, the Randy C. Bunney photo of Russin sculpting is from Wikipedia. The color photo of the Lincoln monument today is from AARoads. Both are used with thanks. The photo of "The Fountainhead" in Casper is by Tom Rea.
In the photo gallery, the photo of Russin with the Lincoln head and the two of the 1959 dedication ceremonies are from the University of Wyoming photo service, with permission and with special thanks to Marlene Carstens. The photo of "A Wyoming Family" on the UW campus is by Jan Yarnot. Used with thanks. The photos of "Prometheus" at the Natrona County Public Library and of "The Beloved Is Mine and I Am His" at the Nicolaysen Art Museum are by E.K. Wimmer, used with permission and thanks. The photo of "Chthonodynamis" is from a blogspt at DC Art Attack. Used with thanks.