History of Seminoe and Kortes Dams
Seminoe and Kortes dams, both on the North Platte River in Carbon County in south-central Wyoming, were built primarily for hydropower. While located in a remote region of the state, both reservoirs attract some tourists, especially fishermen.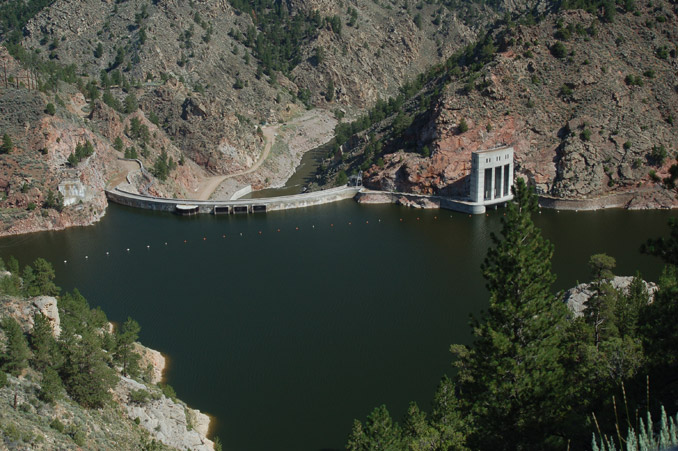 Seminoe Dam
Seminoe is the first dam and reservoir on the North Platte as it flows north from Colorado into Wyoming. The Bureau of Reclamation built the dam in the early 1930s in a steep, narrow canyon in the Seminoe Mountains, about 75 miles southwest of Casper, Wyo. The name comes from early Wyoming trader and trapper Charles Lajeunesse, who gave his nickname "Simono" to a mountain range, an Oregon Trail cutoff east of South Pass and a small trading post at Devil's Gate.
Seminoe Dam was part of the Kendrick Project, a federally funded plan authorized in October 1933 and intended to expand irrigation and generate hydropower in central Wyoming. The project included dams at both Alcova and Seminoe. The total appropriation of $12 million was part of the National Industrial Recovery Act, a nationwide effort to relieve hardships of the Great Depression.
Excavation began early the following year and proceeded slowly because of flooding at the dam site. The site was remote, about 20 miles east of the main road between Casper and Rawlins, in a rugged canyon in the Seminoe Mountains. There were no towns or settlements nearby. The construction work was dangerous. In November 1936, John Mabrite was killed when a rock fell on him while he was working in the spillway tunnel, and in March 1937, steel nipper Albert Barnes died when falling rock knocked him to the canyon floor.
The concrete arch dam, 295 feet high, was finished in December 1938. The first water was stored in April 1939. On Aug. 3, 1939, the first electricity was generated at Seminoe power plant. Seminoe Reservoir now contains some 985,608 acre-feet of water. An acre-foot is enough water to cover one acre of land a foot deep, about 325,900 gallons. The power plant now produces about 150 million kilowatt-hours of energy annually.
Kortes Dam
Kortes Dam, named for the nearby Kortes Ranch, is located in the Black Canyon of the North Platte, about two miles downstream from Seminoe Dam. The site, investigated at the same time as Seminoe and Alcova, was initially planned as part of the Kendrick Project. It was dropped from that project, but was authorized in early 1946 as the first unit in the massive Pick-Sloan Missouri River Basin Project, a federal project carried out by the Bureau of Reclamation and the U. S. Army Corps of Engineers. The Pick-Sloan Project was developed to provide both irrigation and hydropower to the West, but the main purpose of Kortes Dam was power generation.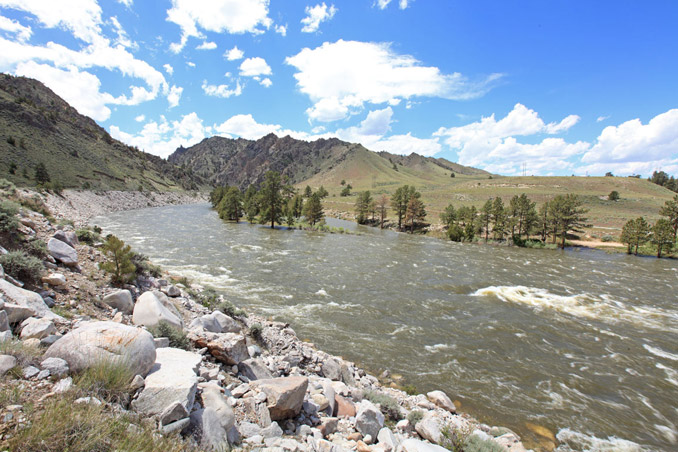 Construction of Kortes Dam began in May 1946. The site was in a steep canyon, subject to flooding, falling rocks and blizzards. Because of these hazards and high spring runoff in 1949, the construction took about two years longer and cost approximately $1.3 million more than initially planned. The official Bureau of Reclamation history of the project states that 117 injuries occurred to workers, resulting in over 19,000 lost man-days between 1946 and 1951, and that two workers (not named in the report) died during construction.
A regional shortage of electric power forced the Bureau of Reclamation to start up the generators at Kortes in June 1950, more than a year before the dam was officially completed, with temporary links to the power grid. Kortes was the first unit in the Pick-Sloan Project to begin electricity generation.
President Truman dedicated Kortes Dam on May 9, 1950. The structure was officially finished on Nov. 8, 1951. The concrete dam, 244 feet high, holds about 4,700 acre-feet of water—far less than Seminoe. The power plant has a generating capacity of 36,000 kilowatts. Kortes itself does not attract many visitors, but just downstream is the Miracle Mile, a stretch of river known for its excellent trout fishing. Water is released from Kortes to maintain sufficient flows to sustain this fishery.
Seminoe and Kortes were both constructed primarily for hydropower and have now successfully supplied it for more than six decades. Because of their remote locations, neither lake attracts as much tourism as Pathfinder or Alcova, downstream to the north. Secondary benefits of the reservoirs are water storage for the Kendrick Project, and flood control, although neither was constructed for those purposes.
Resources
Klajic, Leisl A. "The Kendrick Project (Casper-Alcova)." Bureau of Reclamation History Program, 2000. Accessed March 29, 2013, at http://www.usbr.gov/projects//ImageServer?imgName=Doc_1305056500619.pdf.
Simonds, William Joe. "The Kortes Unit: Oregon Trail Division, Pick-Sloan Missouri Basin Program." Bureau of Reclamation History Program, 1996. Accessed May 9, 2013, at
U. S. Department of the Interior, Bureau of Reclamation. "Kortes Powerplant." Accessed May 11, 2013, at http://www.usbr.gov/projects/Powerplant.jsp?fac_Name=Kortes Powerplant.
Illustrations