Finley Bison Kill Site
The Finley Site, located near Eden in Sweetwater County, Wyo., was used by American Indians to trap and kill bison. This place has been and continues to be important for archaeologists because it allows them to better understand the lifestyles of the early inhabitants of North America. Currently used primarily for grazing, the site is listed on the National Register of Historic Places.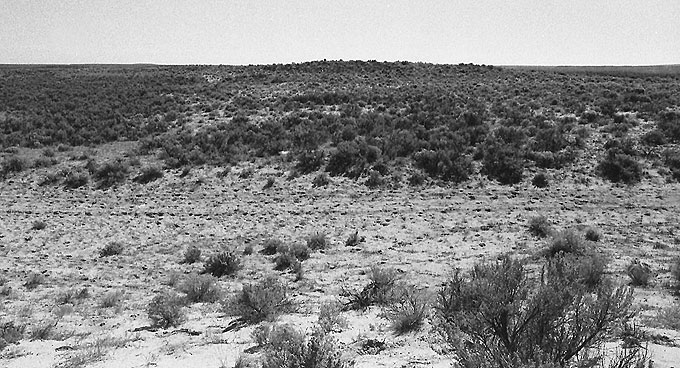 The Finley Site is an early Holocene Paleo-Indian bison-kill and processing area, dating back about 7,500 to 12,500 years before the present. In 1940, archaeologist Orion M. Finley found Eden and Scottsbluff projectile points on the surface of a sand dune here. The University of Pennsylvania Museum of Archaeology and Anthropology in Philadelphia, the University of Nebraska State Museum in Lincoln, Neb., and the Office of the Wyoming State Archaeologist in Laramie, Wyo., have all performed further testing and excavations at this site. This was the first place where Eden points and two kinds of Scottsbluff projectile points were found together, showing that the three were contemporaneous.
Archaeologists associate this location with the Cody Cultural Complex, a group of cultural sites from some 9,000 years ago and widespread throughout Wyoming and the northwestern plains, according to John Laughlin, author of the document nominating the site for the National Register of Historic Places. The Finley Site is the only known Paleo-Indian bison-kill site in southwestern Wyoming and consists of two bison-bone beds.
During the time period that the peoples of the Cody Cultural Complex lived in Wyoming, it is believed the climate was not as dry as it is today. Wetter conditions during the Paleo-Indian period would have led to an increase in forage for grazing bison. Prehistorically, the site area was attractive to these animals because of lush grasses and a spring nearby. The conditions of the past were vastly different from the conditions there today.
Nominations of Wyoming sites to the register may be obtained online by searching the following website: http://wyoshpo.state.wy.us/NationalRegister/Search.aspx, or by contacting the Wyoming State Historic Preservation Office at (307) 777-7697.
Resources
Laughlin, John. Finley Site National Register of Historic Places Nomination Form, April 2010, Sweetwater County file. Cheyenne: Wyoming State Historic Preservation Office.
Illustrations