Ranching for Fun and Profit
March 29, 2023
By Rebecca Hein
Dude Ranching in Wyoming, by Russell True and Christine Holden. Arcadia Publishing, Charleston, S.C., 2020, 125 pages. $21.99 paperback.
Wyoming's Historic Ranches, by Nancy Weidel. Arcadia Publishing, Charleston, S.C., 2014, 126 pages. $21.99 paperback.
Image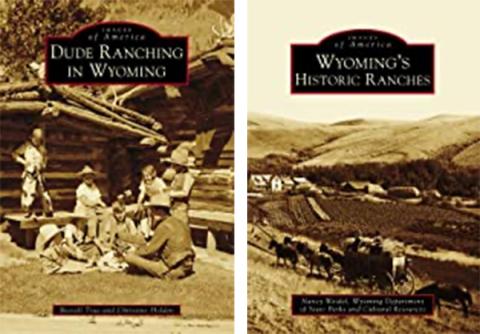 Arcadia Publishing issues numerous books about local history in the United States, most by local historians. Loaded with photos and long, detailed captions, these paperbound books are widely available at grocery stores, gift shops and discount stores throughout the state, as well as more traditional outlets.
Their titles include two books about different kinds of ranching in Wyoming: dude ranching and sheep and cattle ranching. The former capitalizes on spectacular scenery, horseback riding, fishing and hunting, and therefore caters to tourists. By contrast, sheep and cattle ranches are working ranches, where the owners raise livestock for profit. Working ranches often raise their own feed and depend on good markets for beef, lamb, mutton and wool.
Authors True and Holden note that in 1934, the University of Wyoming began offering a degree in "recreational ranching." Courses varied from cuisine to geology to veterinary science, and more. Dude ranchers needed a diversity of skills to succeed.
Many Wyoming dude ranches started as working ranches that gradually began housing and entertaining paying guests. Some continued as working ranches, since the romance and rough-and-tumble of ranching interested visitors.
As satisfied customers returned east for the winter, the list of prospective dudes for the coming season swelled. Former guests recounted their experiences to friends and business associates. Usually these people were as wealthy or wealthier than the original guests.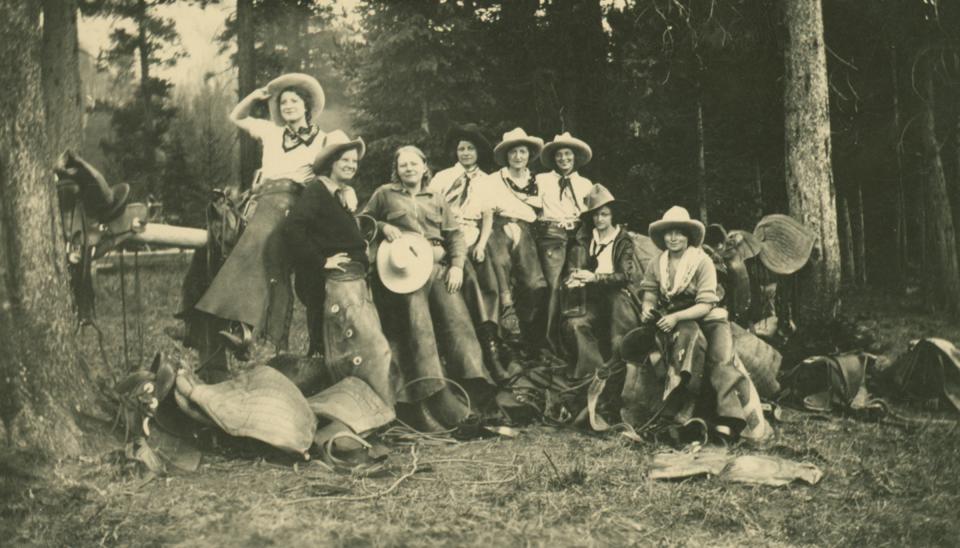 This exclusive crowd included writers and other creative artists. Barbara Stanwyck; Gutzon Borglum; Ernest Hemingway; Winthrop Brooks, heir to Brooks Brothers; and Douglas McKay, secretary of the interior in the 1950s, were among the luminaries. Some ranchers took new guests only if they had acceptable references.
Eatons' Ranch, in Wolf, Wyo., west of Sheridan, held rodeos for guests, and also had a swimming pool. The Valley Ranch, on the South Fork of the Shoshone River, counted 16,000 people on their guest list, offered polo, hosted children and even ran a prep school for students planning to take college board exams. The ranch also had an ice house for summer refrigeration and a 50-person capacity dance hall.
Of the 61 historic ranches profiled in Weidel's book, close to half are still operating, or are at least occupied—mostly by descendants of the original owners. Many ran, or run, sheep as well as cattle; she devotes an entire chapter to the the sheep business.
Ranches owned by better-known people include Henry Lovell's ML Ranch; movie star Tim McCoy's Eagle's Nest Ranch; the Remount Ranch, famous for author Mary O'Hara, who owned and operated the ranch with her husband, raising sheep, and horses for polo and cavalry; the Herschler family ranch (still operating); Charles Henry "Dad" Worland's ranch; and Otto Franc's Pitchfork Ranch—still operating, although it has changed hands more than once. The huge Swan Land and Cattle Company is also featured.
Chapters on the Cheyenne Club for wealthy ranchers—opened in 1881—and the Wyoming Stock Growers Association feature historic photos and a thumbnail history of the Johnson County War.
The most interesting photo in the book, page 107, shows an enclosed, heated wooden sleigh on the Ed Steele ranch, used for hauling winter feed.
Read more about Wyoming ranching in: